Author:
Arun Thomas
Arun is a full-stack developer at Fingent. He spends a workday experimenting with Jquery, CSS, HTML; and dabbles with Python, Node, and PHP. With a broad skill set ranging from UX to Design, and from front end to back end development, Arun enjoys working in challenging projects and is always on a go-to learn something new.
What are the most trending technology stacks of 2021?
What are the crucial things that you would consider when developing a software for your business or startup? Along with planning your budget, time, and effort, you need to choose the right technology stack to get your project off the ground successfully. 
What is a software stack? Why do you need to choose one? What are the popular development stacks out there in the current market? This post explores.
What is a technology stack?
A technology stack, also known as software stack or development stack is a data ecosystem that enlists the underlying tools, frameworks, and libraries used to build and run your application. For instance, Facebook's exhaustive application stack includes PHP, React, GraphQL, Cassandra, Hadoop, Swift, and a host of other frameworks. 
A tech stack is broadly divided into two: client-side (frontend) and server-side (backend). While backend technologies include web frameworks, programming languages, servers, and operating systems, frontend technologies include HTML, CSS, JavaScript, and UI frameworks and libraries.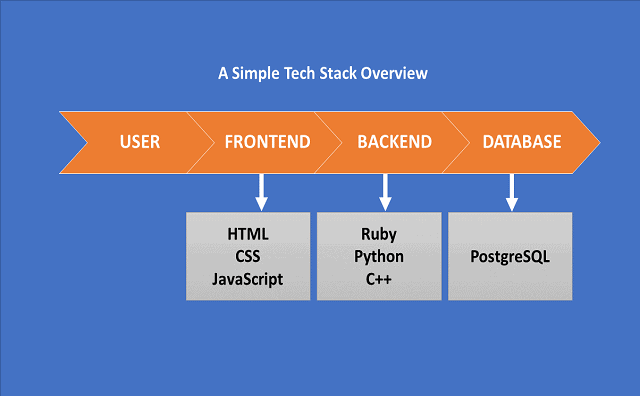 Why choose a software stack to develop your application?
Software stacks are to your applications, what a deep foundation and girders are to a building. The competitiveness and viability of your application depend upon the technology stack that you choose. Your software stack choice has a long say in your web application development as it influences:
How your app works

How it will behave in the future

The scalability of your product

The purpose of your project/business

Your choice of data and application storage (Cloud or Local)

The capacity of your server systems (whether it's made for high-read operations or high-write traffic)
As software development standards and trends change within the blink of an eye, it is important to be updated on the most popular tech trends that currently reign the market. By analyzing the strengths and weaknesses of popular application stacks, you can start developing your product with improved confidence, as you get to know the ways to mitigate development risks. 
So, what are the leading stacks of software development in 2021? Here they are:
1. The MEAN Stack
The MEAN (MongoDB, Express.js, AngularJS, and Node.js) is one of the most popular tech stacks of 2021. Being an end-to-end JavaScript stack, you use a single language throughout your stack. Thus, you have the opportunity to reuse code across the entire application, decreasing needless reinvention. Another advantage of using MEAN is that all the technologies are free and open-source with the support of a vibrant community. The applications of MEAN stack are perfect for cloud hosting since they are flexible, scalable, and extensible. The stack can be deployed easily as it includes its own web server. The database can be scaled on-demand to accommodate usage spikes temporarily. 
Read more: How we optimized a MEAN Stack project for better performance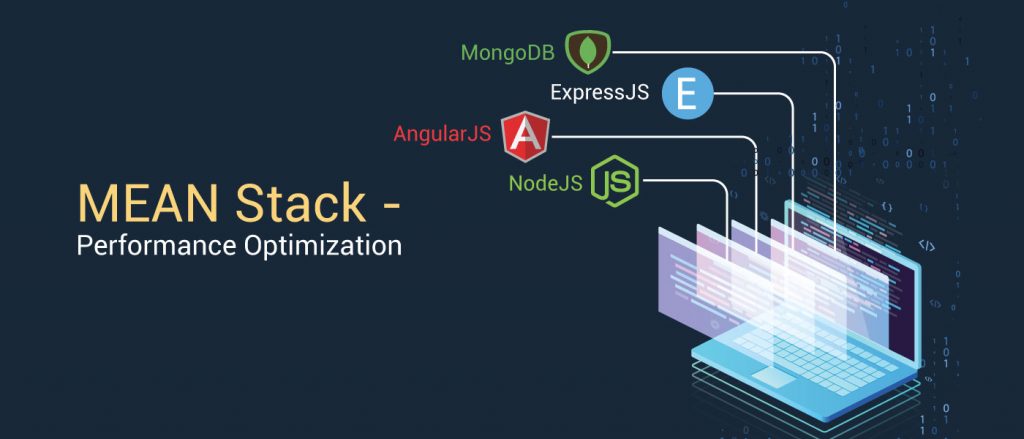 MEAN allows you to use a single team of JavaScript developers who can work adaptively. While MEAN isn't perfect for every application, it excels in various uses like calendars, mapping and location finding, and news aggregation sites.
2. The MERN Stack
The MERN stack is very similar to MEAN, in which React replaces Angular. Since React uses Virtual DOM, changes can be implemented easily. React uses JSX, which is a modification of JavaScript, enabling seamless component work. React is one of the most popular frameworks used for building high-end, single-page applications with interactive UIs. 
Since 2021 is all about enhancing UI, MERN stands to gain. However, while working with React, developers have to deal with limited core functionality since React is a library and not a framework. Hence most developers resort to third-party services.
3. The MEVN Stack
In this version of MEAN, Angular is replaced by Vue.js as a front-end framework. This framework has shown immense popularity over the last few years. Its popularity is expected to continue to 2021 as it is a lightweight solution compared to Angular. Vue.js offers basic out-of-the-box functionality. This functionality can be extended using third-party services. You can say that Vue.js combines the best features of Angular and React to give you great performance and a rich set of tools.
4. The LAMP Stack
The LAMP can be called a classic, time-tested stack of technologies – Linux, Apache, MySQL, and PHP. The LAMP still remains one of the most common ways to deliver web applications and was one of the first open-source software stacks which is still widely used. Popular open-source CMS such as WordPress and Drupal use LAMP. The stability, simplicity, and power that accompany LAMP have made it the platform of choice for developing new custom web apps. 
The LAMP stack can efficiently handle dynamic pages wherein the content changes every time it is loaded. LAMP being open-source and non-proprietary, you can choose components based on your specific business requirements. Instead of using Linux as the OS, you can use Microsoft Windows to form a WAMP stack or MAC OS to form the MAMP stack. PHP can also be swapped for Perl or the increasingly popular Python language.
Read more: Why Is It High-Time To Find Alternatives For Microsoft Silverlight?
Since the LAMP has been around for more than a decade, you can avail of the benefits of a substantial LAMP ecosystem.    
5. The Serverless Stack
2021 is the best time to build on cloud infrastructure or in other words- to go serverless. Serverless computing platforms provide all the services and tools thus making infrastructure management much simpler. You can easily scale up to hundreds of thousands of users overnight. AWS Lambda was one of the first serverless platforms. Google cloud is another significant provider of serverless computing services. 
6. Flutter for Web
Flutter for Web can be called a game-changer in the cross-platform development world. It uses the same UI and business logic on all platforms. With Flutter, you don't have to spend time on deployment. You can fix bugs, add new features, and build UI without compromising on speed. 
What should be your next step
Having learned the tech stack meaning and its impact on your application development, here are a few tips that will help you make a wise choice:
While building software or an application, employing a consistent, standardized software stack is of utmost importance. 

You have to create your backend with a set of tools designed to work together, reducing development time and streamlining resources. 

In today's overcrowded stack field, you are spoilt for options. You cannot go for a one-size-fits-all approach while choosing a stack for your project. You need to find a web stack that provides unique advantages for your application. 
Now that you've made it this far, do you agree that these are the most important tech stacks for software development in 2021? Can you think of any other names that need to be included in this list? Do let us know!
Here at Fingent, we set out to adopt the most efficient technology stacks that can make your software product highly competitive and fulfill your organization's unique requirements. If you have any questions left, our technology consultants are ready to offer you a piece of expert advice. Feel free to drop us a message, any time. 
Factors To Consider While Migrating Your Code To Python 3
It's clear that Python 2 will be sunsetting on January 1, 2020. The Python Software Foundation (the organization behind Python) has stated that Python 2 will not be improved anymore after that day and no support will be provided to existing Python 2 users even if they find a security problem. The only option is to upgrade to Python 3 as soon as you can. Migrating your business suite from an old to a new software version comes with its own challenges. How can you ensure a successful and smooth migration to Python 3? Here is a guideline that addresses the prerequisites and key considerations. 
Related Reading: Switching to Python 3: Is It An Apt Decision For Your Business?
Steps To Successfully Migrate To Python 3
The recommended steps or course of action is to follow intermediate steps in modernizing incrementally and addressing issues progressively. Simultaneously, it is also important to aim for cross-generational compatibility without replacing the code entirely. A seamless migration process requires the following steps:
1. Drop Support For Python 2.6 And Older Versions
It is to be noted that Python 2.6 is no longer supported freely and is not receiving fixes for bugs. Hence, solving issues that come across while working with Python 2.6 or older versions will be difficult. For instance, Pylint which is used for setting up a Linter coverage is not supported by Python 2.6.
2. Specify A Proper Version Support In The setup.py File
In the setup.py file, a proper trove classifier has to be mentioned. This will help in determining whether all packages are Python 3 compatible. 
3. Ensure A Proper Test Coverage
Proper test coverage can avoid many bugs at production. For instance, your test suite must have at least 80% code coverage. The code coverage will let you know how much source code is executed during testing. coverage.py is the best-recommended tool to measure your test coverage.
4. Update Your Code
Most projects will include multiple third-party dependencies. It is thus important to ensure that all third-party packages are compatible. You can make a choice between two tools namely, Futurize and Modernize to port your code automatically.  
5. Division 
Python 3 evaluates 5/2 == 2.5 and not 2. That means, all divisions of int values in Python 3 result in a float value. Going through your code and adding from_future_import division to your files and updating the division operator to // or using floor division will do the needful.
6. Understanding The Confluence Of Text And Binary Data
It is important to decide which  APIs take text and which of them take binary data. For instance, Python 2 made sure that APIs that take text work with Unicode and APIs that take binary data work with bytes. However, Python 3 takes text as str, and binary as bytes. Additionally, Python 3.5 adds the _mod_ method to the bytes type. 
7. Utilize Feature Detection Instead Of Version Detection
Relying on feature detection helps in avoiding potential problems of compatibility errors. For instance, suppose you require access to a feature of importlib that is available in Python's standard library since Python 3.3 version. Consider the fact that it is also available for Python 2 via importlib2 on PyPI. In this situation, it is very common to write code using the version. This will create issues with Python 4. It is thus better to utilize feature detection. 
8. Prevent Compatibility Regressions
Once the code is translated and made compatible with Python 3, it is important to ensure that the code does not regress. You can use the Pylint for the same. Example, pip install pylint.
9. Check For Dependencies That Can Block Your Transition
The caniusepython3 will help you determine all projects that directly or indirectly can block your transition to Python 3.
10. Continuous Integration To Ensure Compatibility
It is important to run your tests under multiple Python interpreters such as tox by integrating them with your system. 
11. Use Of Optional Static Type Checking
A static type checker such as mypy or pytype on your code will help in porting your code. It analyzes your code and checks whether it can run on Python 3 as well. For instance, if you tend to misuse a binary data type in one particular version of Python, running a static type checker will solve the issue.  
The Python Software Foundation offers a comprehensive guide on how to achieve cross-generational compatibility for enterprises that require Python 2 and 3 to run simultaneously. More guidelines and steps to be noted while migrating to Python 3 can be found in these places: 
To learn more about migrating to Python 3 seamlessly, stay tuned to our latest articles and blogs. If you are looking for a technology partner to help your business transform with the latest digital trends, then get in touch with our experts today!
4 Top Reasons for Organizations to Move to Python 3
Python is one of the most widely used programming languages on the planet. Over the years programmers have fallen in love with Python for its increased productivity and capabilities. However, a constant argument persists on whether Python 3 is better than Python 2 and would it be a wiser decision to completely shift to Python 3.
Although Python 3 has been in existence for over 7 years, programmers are quite skeptical about using it. Most programmers tend to cling to Python 2, completely ignoring the capabilities of the new version.
This blog will walk you through some major drawbacks of Python 2 and will pinpoint 4 top reasons on why to choose Python 3 over Python 2.
Why Is Python 3 On The Rise?
Before we dive deeper into the major advantages of Python 3, let's take a look at its origin. 
Released in 2008, Python 3 was introduced to overcome the flaws of Python 2. The major reason behind developing Python 3 was to clean up the codebase and remove redundancy. Although Python 3 is the newer version of Python, it is not necessarily backward compatible with code written in the 2.x version. 
Significant features of Python 3 makes it simpler, easier and incredibly efficient to use. Here's listing the major differences between Python version 3.0 and 2.0, and the reasons why Python 3 can make a better programming partner.
1. Unicode Character Encoding
As mentioned earlier, Python 3 was introduced to address the vulnerabilities and drawbacks of Python 2. Hence, it reduces the complexities of coding and improves speed and performance. 
Where in Python 2 the character encoding is done in ASCII format, Python 3 is Unicode based. In Python 2 the strings are by default stored in the form of ASCII values. Programmers are required to add 'u', to store strings specifically in Unicode format. In Python 3 strings are stored in UTF-8 format, enabling a large number of storage features such as character value storage, different language characters, and emojis storage as well. 
Dropped deprecated features which were frequent sources of bugs in Python 2 have also been replaced by superior alternatives and retained solely for backward compatibility. 
For instance: If a file is created by олга with non-ASCII characters in the name, for the below-mentioned code, if you are using Python 2 your code is sure to throw an error 500.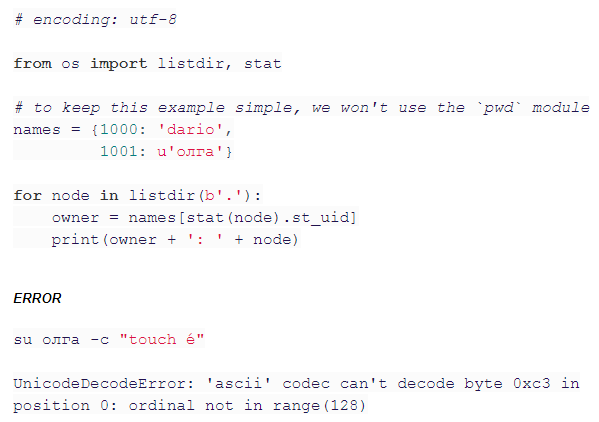 However, in Python 3  your error will be detected right away saving you the time on long code creation. Moreover, the error message is much easier to understand. Knowing that str object is owner and node is a bytes object, it is easy to recognize that the error is due to listdir returning a list of bytes objects. 

Adding listdir('.') would make the bug disappear as this would appear as a Unicode string in Python 3.
The difference in the behavior is due to the difference in how each version handles the string type. Whatever is lumped together in Python 2 is split in Python 3.
2. Improved Library Standards
When it comes to libraries, there is a huge difference between the two versions. Many libraries developed in Python 2 are not forward compatible. Hence, the new 3.x version is developed focusing on providing good compatibility. Moreover, most of the actively maintained libraries are strictly created for use with Python 3. Hence, it's suggested to keep codes compatible with Python 3 to help keep your test running on both versions. 
3. Improved Integer Division
Reducing a programmer's confusion and frustration, Python 3 is created with a syntax that's more intuitive. Python 3.x version has an elegantly designed structure that allows performing an action with fewer lines of code. Python 2, on the other hand, requires the exact input to perform a particular result or generate the expected results.
For instance: If you try a simple calculation like 5/2 (5 divided by 2), Python 2, after rounding up would give you the result as 2. To derive the exact result, that is 2.5, the input should be 5.0/2.0.
Whereas, Python 3 would right away, give you the answer 2.5 for the input 5/2, without converting the numbers to float data type.
4. End of Python 2 Support
Yes! Python 2 is expected to stop all support and maintenance by January 2020. Now, this is another major reason why you need to shift to Python 3 at the earliest. By end of support, we mean that all-new packages will be built on Python 3 and hence, it will be difficult to add any new features to the existing Python 2 projects. Major plugins are also being ported to Python 3 and thus, the upcoming updates of these plugins will be available only for the 3.x version. 
Moving forward, it will be difficult to find any Python 2 support services or developers. Also, the Python 2 hosting options will grow more scarce and costly. The Python 3.x version and the releases ahead are believed to have different syntax from that of the current version and thus, getting upgrades for existing features would be difficult to find.
Why Should You Stop Using Python 2?
Although programmers have widely accepted and loved working with the 2.x version of Python, there is quite a huge list of flaws and drawbacks experienced with it. Here's listing a few of them. 
1. Firstly, as mentioned in this post, the Python 2 text model is not Unicode capable. It doesn't handle non-ASCII files correctly. This is one of the major drawbacks of the version. Python 2 handles Unicode module names quite inconsistently, which is a source cause of multiple programming errors. That is why 3.x version of Python is designed to have a Unicode based string type by default.
2. In addition to not being Unicode capable, there is a large number of Unicode handling bugs in Python 2 standard library that might never be fixed. Fixing these bugs within the constraints of Python 2 is too difficult, and not worth the effort.
3. Python 2 iterator was designed long before the introduction of the iterator protocol. Thus, it has a lot of unnecessary and lengthy listings, which can now be made more memory efficient.
4. Programmers who have been involved with Python 2 for a long time might have noticed that the version interprets numbers in a strange way if they have leading zeros. Also, the version has two different kinds of integers. Python 2 beginners are often surprised to find that the version can't do basic arithmetic correctly.
5. The print and exec statement is also weirdly different from the normal function calls like eval and execfile. Moreover, you need parentheses to catch multiple exceptions.
6. Although list comprehensions are one of Python's most popular features, surprising errors arise on the local namespace. Also, if you tend to make a mistake in handling the errors, there might be chances where you'll lose the original error.
Eliminating all these persisting errors and flaws of Python 2, the new version 3.x is specifically designed to enhance the quality and efficiency of the programmers. Thus, it is highly recommended to start preparing for a complete shift to Python 3. For developers who would like to check on to the Python 3 upgrade packages, here's the command you can use:
[Don't forget to create a test-requirement.txt file when using the command.]
With increased competition and high consumer expectations, programmers are under constant pressure to improve software performance. With the efficiency and ease of use offered by Python 3, programming is sure to achieve greater success than before. Although Python 2.7 will be supported until 2020, the sooner the switch, the better.
If you are looking for a technology partner to help your business transform with the latest digital trends, then get in touch with our experts today!