Author:
Resmi Thoppil
Resmi has been involved in the Software development lifecycle for over 14 years as a developer, project manager and currently leads the Quality Assurance team in Fingent ensuring the quality of our projects. Her current responsibility includes optimizing quality processes, upskilling teams and managing line activities of the QA team.
What 2020 holds in store for software testing automation 
Enterprises are constantly on the hunt for trends that improve their application's effectiveness, expedite development cycles, reduce downtimes, and improve cost savings. In such cases, they often resort to methods that can automate mundane testing procedures. Why is it the right time to leverage test automation trends? Here we discuss a few software testing automation trends expected to dominate in 2020. 
The automation testing lifecycle
Automation testing provides testing teams the ability to improve the coverage of their software tests and additionally offers improved quality, cost savings, shorter testing cycles, and a multitude of other benefits. To reap benefits out of automation techniques, the key is to incorporate the right skills, planning, as well as the right testing tools.
Let us walk through the various phases involved in an automation lifecycle:
Selecting the right tool

Test planning, designing, and strategy selection

Establishing the testing environment

Development and execution of the automation test script

Analytics

Report Generation
Related Reading: Understanding The Different Types Of Software Testing
Factors that drive the adoption of test automation in 2020
Ability to strategize and plan.

Finding resources and skills to make use of automation tools and frameworks.

Ability to assess related risks.

Exploration of tools.

Providing instant feedback so that developers can gain insights into various areas that require improvement.

Conducting multiple tests throughout various phases.

Increasing efficiency to reduce risks.

Reducing defect fixing time and effort.

Investing more time for the development and enhancement of features.

Analyzing strategies to capture data to assess various releases.

Ensure API testing to determine the functionality, performance, security, as well as reliability of the application tested for.
Automation testing trends to watch out in 2020
1. Test automation to improve quality for Agile and DevOps
As businesses face constant pressure to meet the changing customer demands and expectations, agility becomes the key to success for coping with the transformation. Additionally, enterprises lookout for agile processes and software delivery approaches such as DevOps to ensure a faster delivery time of applications to the market. Agile-DevOps transformation has brought about higher levels of quality, flexibility, efficiency, and productivity to achieve faster release cycles, improved quality, and increased ROI.
Related Reading: Myths About Load Testing in Agile Environment
2. Usability testing to ensure improved user experience
Mobile and eCommerce applications are great enablers for businesses today. User Interface, as well as the operational flows, play a critical role in determining whether the visitors continue to be users or not. A quick application loading time can enhance your brand loyalty and improve customer experience and retention. 
3. Big Data testing to tackle huge volumes of data
Historical data helps enterprises gain critical insights on future plans and objectives and helps them to be proactive through predictive maintenance, machine learning, and AI techniques. Mining structured, as well as unstructured data, are hence important for effective testing. 
4.  IoT testing  for well-connected devices 
According to the latest reports published by Statista, the entire installed base of the Internet of Things connected devices is forecasted to amount to 75.44 billion worldwide by 2025. This figure was just 6.4 billion during the year 2016. This increase in the figures illustrates the massive requirement for effective IoT strategies in test automation. This testing includes testing of OS, various software and hardware of the IoT connected devices, different communication protocols, and so on. 
5. AI and ML testing  for technological innovations
The global AI software market is forecasted to grow to $14.7 billion by the year 2025. AI and ML technologies such as gesture recognition and speech recognition are taking over the world by storm. Similarly, technologies such as neural networks and predictive maintenance also require high-quality testing methodologies for technological innovations.
6. Blockchain Testing 
Blockchain Testing enables smart contracts and prevents fraudulent transactions, especially when dealing with digital currencies such as Bitcoin. Blockchain debugging is thus crucial for enabling streamlined and smooth financial currencies. 
7. Cyber Security Testing
Cyber vulnerabilities increase day by day and tackling them requires effective testing practices. (CEH) Certified Ethical Hackers with key security tools and technologies can safeguard applications from malfunctions and cyber attacks.
8. RPA Testing
RPA (Robotic Process Automation) testing ensures enhanced output, facilitates high-end performance and reduces the efforts required while performing end-to-end testing. For instance, robots can enhance a workspace with its capability to perform redundant tasks. RPA testing is thus crucial for effective applications with faster development cycles. 
Related Reading: Quality Assurance in Software Testing – Past, Present & Future
Integrating automation testing into your workflow requires you to take into account how it will impact the people, process, and technology of your organization. It's also crucial to measure if automation fits into the cycle of continuous integration and delivery and how it will merge with your software development lifecycle. Fingent helps you reap the benefits of test automation. Contact us to know more. 
Testing Types And Strategies: Choosing A Testing Method
Understanding the basics of software testing is crucial for developers and quality assurance specialists equally. To deploy a better software and to find bugs that affect application development, it is important to learn about the different types of software testing. 
Types Of Software Testing 
Testing is a process of executing a software program to find errors in the application being developed. Testing is critical for deploying error-free software programs. Each type of testing has its advantages and benefits. Software testing is broadly categorized into two types; Functional and Non-Functional testing.
Functional Testing Versus Non-Functional Testing
Functional Testing is used to verify the functions of a software application according to the requirements specification. Functional testing mainly involves black box testing and does not depend on the source code of the application. 
Functional Testing involves checking User Interface, Database, APIs, Client/Server applications as well as security and functionality of the software under test. Functional testing can be done either manually or by making use of automation. 
The various types of Functional Testing include the following:
Unit Testing

Integration Testing

System Testing

Sanity Testing

Smoke Testing

Interface Testing

Regression Testing

Beta/Acceptance Testing
Non-Functional Testing is done to check the non-functional aspects such as performance, usability, reliability, and so on of the application under test. 
The various types of Non-Functional Testing include the following:
Performance Testing

Load Testing

Stress Testing

Volume Testing

Security Testing

Compatibility Testing

Install Testing

Recovery Testing

Reliability Testing

Usability Testing

Compliance Testing

Localization Testing
The 7 Most Common Types Of Software Testing
Type 1: Black-box Testing
Black-box testing is applied to verify the functionality of the software by just focusing on the various inputs and outputs of the application rather than going deep into its internal structure, design, or implementation. Black-box testing is performed from the user's perspective.
Type 2: White-Box Testing
The White-Box software testing strategy tests an application with access to the actual source code as well as focusing on the internal structure, design, and implementation. This testing method is known by different names such as Open Box testing, Clear Box Testing, Glass Box Testing, Transparent Box Testing, Code-Based Testing, and Structural Testing. White-box testing offers the advantage of rapid problem and bug spotting.
Type 3: Acceptance Testing
Acceptance Testing is a QA (Quality Assurance) process that determines to what extent a software attains the end user's approval. Also known as UAT (User Acceptance Testing) or system testing, it can be testing the usability or the functionality of the system or even both. Depending on the enterprise, acceptance testing can take the form of either end-user testing, beta testing, application testing, or field testing. The advantage of acceptance testing is that usability issues can be discovered and fixed at an early stage.
Related Reading: Quality Assurance in Software Testing – Past, Present & Future
Type 4: Automated Testing
Automated testing is a method in which specialized tools are utilized to control the execution of various tests and the verification of the results is automated. This type of testing compares the actual results against the expected results. The advantage of automated testing is that it avoids the need for running through test cases manually, which is both tedious and error-prone, especially while working in an agile environment. 
Type 5: Regression Testing
Regression testing is a testing practice that verifies whether the system is still working fine, even after incremental development in the application. Most automated tests performed are regression tests. It ensures that any change in the source code does not have any adverse effects on the application.
Type 6: Functional Testing
Functional Testing tests for the actual functionality of the software. This type of testing focuses on the results of the system processing and not on how the processing takes place. During functional testing, the internal structure of the system is not known to the tester. 
Type 7: Exploratory Testing
As the name indicates, Exploratory testing is all about exploring the application where the tester is constantly on the lookout for what and where to test. This approach is applied in cases where there is no or poor documentation and when there is limited time left for the testing process to be completed. 
Related Reading: A Winning Mobile Testing Strategy: The Way to Go
All the methods mentioned above are only some of the most common options of software testing. The list is huge and specific methods are adopted by development vendors based on the project requirements. Sometimes, the terminologies used by each organization to define a testing method also differ from one another. However, the concept remains the same. Depending on the project requirement and scope variations, the testing type, processes, and implementation strategies keep changing. 
Like to know more about Fingent's expertise in custom software development and testing? Get in touch with our expert. 
Evolution of Software Testing
We all want quality in everything that we use. Quality is the standard of something measured against things of similar kind. It is the measure of the excellence of a product, process, service or experience.
Quality in the Olden Days
From ancient times, societies have made significant efforts to achieve quality in various strides of life. In the hunter-gatherer and agricultural economy, humans did not have much choice. During the middle ages, people started specializing in their own fields and became experts in them. The sheer sophistication of Greek construction and Egyptian architecture point to the standards that were established during those times.
In the pre-industrial era, markets were monopolized mainly by the Guilds, which were a union of craftsmen formed during the 13th century. The Guilds were responsible for maintaining or verifying the quality of goods and services provided by the members. The guild masters inspected the goods to make sure that the necessary standards were maintained.
Quality was person dependent during this era. Individual skill was the driving factor for quality. People took pride in their products and worked hard to maintain quality. This lasted until the late 19th century when industrialization gained a rapid foothold. Mass production broke the manufacture of goods into simple steps.
The division of work led to specialization and quality started becoming more process-oriented than people oriented. There was a reduction in labor costs as the unskilled workers could be trained to perform specific tasks. But, people lacked motivation and got weary with the monotonous and repetitive work. Moreover, as the jobs were split into different levels such as lower level tasks, the workers found it difficult to relate with and be proud of the final product.
They were general discontent among the laborers with the work they were doing and as a result, the quality of products started going down significantly. Mass production also led to manipulation and exploitation of unskilled laborers. Moreover, the process made workers dispensable and increased the power vested on the foreman and managers, which often led to misuse and exploitation.
Scientific Management
Frederick Winslow Taylor improved the industrial efficiency by using the Scientific Management concept, which consisted of training the employees, implementing documentation, dispersing work equally among workers and limiting quality control to few specific individuals. This management theory focused on improving the workflows by analyzing and integrating them, which sought to enhance economic efficiency and labor productivity.
Henry Ford emphasized implementing standard designs and components. Quality control was the responsibility of machine inspectors who covered quality checks at frequent intervals so that no faulty operations proceeded to longer intervals.
Walter Shewhart further improved the scientific management method and came up with the concept Plan-Do-Study-Act (PDSA), which is, plan the action, do the work as plan, study the output and take corrective action if needed. This concept gives focus to efficiency and quality. Using this method, General MacArthur along with W. Edwards Deming rebuilt Japan after the defeat in WWII.
In the early 50's, Joseph M. Juran who is considered as the father of quality management defined quality as fitness for use. Software development also became a field in its own right, during this period. Ensuring the quality of software became an important need. It progressed simultaneously with the developments in computing spearheaded by pioneers in the field during the final decades of the twentieth century.
From the first software to several high-level programming languages like Fortran, it ratcheted the personal computing era with the development of microcomputers. A notable impact on software development was made with the release of the Apple II, which was followed by numerous advancements.
Software Quality via Testing
Software quality is defined as the degree to which a system meets specified requirements or user needs and expectations. It includes a measurement of the quality of design used in the software and how it corresponds to the design. Software quality is mainly determined by analyzing several key variables, which are both internal and external.
The user experience constitutes the major part of external quality whereas the code forms the internal quality. Testing has become an important segment in the software development process to ensure its quality. Previously, the software developer and user were the same people usually a scientist. It was quite easy and quick to do the quality check on their own.
Software quality assurance was very efficient, user-centric, focused and had the fastest feedback cycle. It dealt with ensuring quality for the entire phase of software development by detecting and resolving weaknesses. Software testing has undergone an evolutionary process, which resulted in its advancement from its preliminary forms to the end-to-end framework based testing used today.
David Gelperin and Bill Hetzel in their study, 'The growth of software testing' asserts that software testing has undergone an evolution with noticeable changes in the testing process model. A similar proposition is mentioned in the white paper, 'The continuing evolution of software testing' by the authors Hung Q. Nguyen and Robert Pirozzi. The former discusses the evolution of software testing based on time while the later is based on processes, methodologies and tool usage.
Evolution of Software Testing – based on time
Software testing has undergone tremendous changes during the evolution process it went through. We can divide the evolution of software testing into various phases based on time.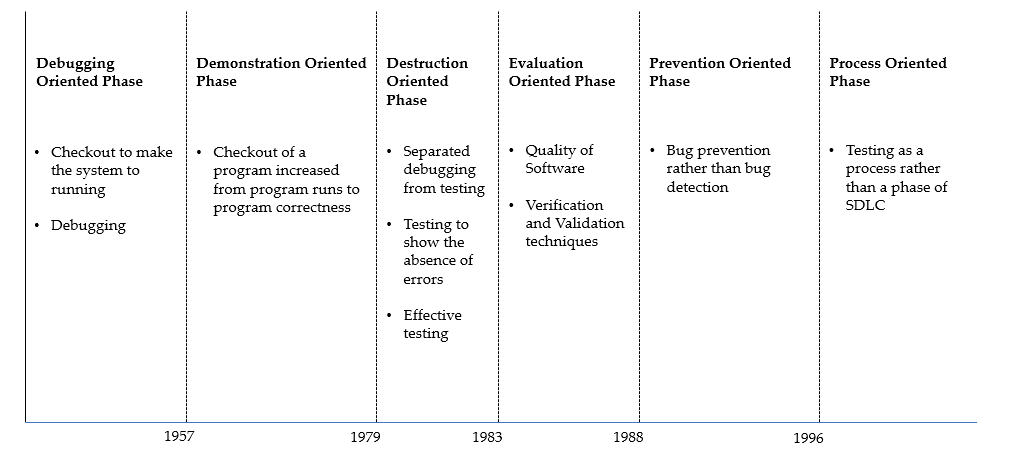 Debugging Oriented Phase
This phase is the initial period of testing. The term checkout was used for testing and it focused on getting the system to run. Programmers usually performed this themselves as a part of software development until they made sure the program was running fine. There was no clear distinction between software development, testing and debugging.
Demonstration Oriented Phase
The term debugging continues in this phase. Charles Baker pointed out that the purpose of checkout is not only to run the software but also to demonstrate the correctness according to the mentioned requirements. Thus, in this phase, the scope of checkout increased from program runs to program correctness. Moreover, there was a misconception in this phase that software could be tested exhaustively.
During this phase, the testing effort includes the detection, location, identification, and correction of faults. The first test team was formed by Gerald M. Weinberg in 1958 as a part of Project Mercury, the first human spaceflight program of the United States.
Waterfall model, a sequential development model for managing large software programs was also introduced during this time.
Destruction Oriented Phase
G.J. Myers changed the view of testing from 'testing to show the absence of errors' to 'testing to find more and more errors'. He separated testing from debugging and stressed on the importance of test cases to detect more bugs. This phase gave more importance to effective testing in comparison to exhaustive testing. The importance of early testing was also realized in this phase.
Evaluation Oriented Phase
Gradually people realized that it was cheaper to debug if the bugs were identified during the early stages of development, which involved the requirements gathering and design phases. This phase stresses the quality of software products such that it can be evaluated at every stage of development. The early testing concept was established in the form of verification and validation activities, which helps in producing better quality software.
Prevention Oriented Phase
By detecting the defects early and correcting them, we can prevent bugs in further development phases. Beyond this, bugs can also be prevented in future projects with the experience gained from similar projects. The prevention model utilized includes test planning and analysis. The test design activities play a major role here, unlike in the evaluation model where analysis and reviewing techniques are important.
Process Oriented Phase
In this phase, testing was established as a complete process rather than a stage in the software development lifecycle (SDLC). The testing process starts as soon as the requirements for the projects are specified and it runs in parallel to SDLC. The emphasis is also on the quantification of various parameters, which decide the performance of the testing process.
Evolution of Software Testing – based on processes and tools
Software testing is divided into three different phases based on this classification.
Software Testing 1.0
In this phase, software testing is considered a single phase after the software is coded in the development lifecycle. No test organization was there. A few testing tools were present, but their usage was limited due to the excessive cost. Management was not concerned about testing as there was no quality goal.
Software Testing 2.0
In this phase, software testing gained importance in software development life cycle and the concept of early testing also started. Testing evolved in the direction of planning the test resources. Many testing tools were also available in this phase.
Software Testing 3.0
In this phase, software testing evolved as a process, which gives a roadmap of the overall testing process. Moreover, it is driven by quality goals so that monitoring and controlling can be performed by managers. Thus, managers are actively involved in this phase.
Future of Software Testing
Today, testing constitutes one of the core processes in software development that involves several technical and nontechnical aspects including specification, design and implementation, maintenance, process, and management. Software testing is mainly done under limited resources in terms of time, budget or personnel. Hence, the test process should always be adjusted to fit within these limitations. These limitations highlight the importance of automation tools in the process.
Despite the significant changes that automation has created, manual testing still remains an integral part of the development lifecycle. Depending on the application, some tests can be automated, while some others still need to be done manually. And without a doubt, some types of software testing require total manual effort in the process.
For this, knowledge of tools will be a great asset to the testers as it will help them complete the tasks quicker and with precision. There are countless opportunities waiting for testers in the future who are ready to change their profile.
With software testing progressing rapidly with each year, testers can adopt these new trends by becoming more skillful and well versed in all the latest developments. The skills of a human tester are indispensable and automation is still far away leaving countless possibilities for the testers.
References:
    https://blog.smartbear.com/process/the-history-of-quality-assurance/

    The Growth of Software testing by David Gelperin and Bill Hetzel

     The Continuing Evolution of Software testing by Hung Q Nyugen and Robert Pirozzi

      Software testing – Principles and Practises by Naresh Chauhan