How can companies ensure cloud security amid cyber threats and malicious online activities?  
The explosion of the cloud has changed the face of the business process as we know it. Nearly 90% of companies rely on the cloud. And yet, there has been some skepticism around cloud security. With recent breaches and technological attacks, maintaining cloud security has become the foremost concern for businesses worldwide. 
Security experts at Fingent understand your concern, and so we have put together this blog about the importance of cloud security and the best practices which will ensure that you are secure on the cloud. 
Why is cloud security important?
According to a report by Cisco, cloud data centers process 94% of all workloads. Despite the popularity attained by cloud technology, most of these companies are skeptical about cloud security. There is a reason for this. Statista reports the number of data breaches in the U.S alone increased to 156 million in 2020. It has also been reported that hackers attack every 39 seconds. This can be fatal to businesses in the following ways:
1. Managing remote work
Remote work lets you hire talent from across the globe. However, this arrangement entails inherent security risks. Using personal devices may expose your data to malware and phishing attacks. If a malicious virus enters through them into your cloud system, the damage done could cut your company off at its knees.
Read more: Why It's Time to Embrace Cloud and Mobility Trends To Recession-Proof Your Business? 
2. Security breaches 
If your company chooses to run your application on a public or hybrid cloud, you are entrusting a third-party to take care of your data. This means you no longer have any control over data security. So it is critical to stay on top of things and ensure that your cloud computing provider is serious about this responsibility. Even when you know your provider will ensure top-tier security, it is your responsibility to verify that your data is secure as a client.
3. Comply with regulations
Data protection standards were put together to ensure the integrity and security of customer data. When you store your customer data on the cloud, it is your responsibility to keep it secure, especially if your organization belongs to a highly regulated industry like finance, insurance, banking, or legal. A data breach will destroy your reputation and brand because external parties will hold you accountable.
4. Build access levels
Unintentional leaks of data will compromise your business integrity and give your competition a leg up. Limiting data access only to those employees who need it can prevent errors that lead to data leaks.
5. Disaster recovery
Disasters such as flooding or fire can strike without warning. Unless your data is secured and protected, you could lose all your data. This may undermine customers' confidence in your organization, delivering a death blow to your otherwise successful business. 
Read more: How Secure is Your Business in a Multi-Cloud Environment

Best practices to ensure cloud security
Carefully choose a trusted provider
Review your cloud security contracts and SLAs
Understand your partnership of shared responsibility
Control employee access
Secure user endpoints
Maintain visibility of your cloud services
Implement a strong password security policy
Highest levels of encryption
"Cloud computing is a challenge to security, but one that can be overcome" – Whitfield Diffie, an American cryptographer.
True to Whitfield Diffie's words, cloud security measures can be taken to encrypt the system that will help achieve adequate cloud security.
1. Carefully choose a trusted provider
Partnering with a trusted provider is the foundation for cloud security. Choose a partner who delivers the best in-built security protocols and follows industry best practices' highest levels. You need to ensure that you confirm their security compliance and certifications. 
Learn more: Take a look at how InfinCE, an infinite cloud platform, ensures secured work-collaboration within an organization and helps enhance company efficiency & growth!
2. Review your cloud security contracts and SLAs
In an event, SLAs and contracts are the only guarantees of service and course of assistance. 62.7% of cloud providers do not specify that customer data is owned by the customer, creating a legal grey area. Read through the terms and conditions, annexes, and appendices to ensure who owns the data and what happens if you terminate the services. Also, seek clarity on visibility into any security events and responses.
3. Understand your partnership of shared responsibility 
When you tie-up with a cloud service provider, you enter into a partnership of shared responsibility for security implementation. Understanding the shared responsibility involves discovering which security tasks you will handle and which your provider will handle. It is important to ensure transparency and clarity in your partnership of shared responsibility.
4. Control employee access
Implementing strict control of user access through policies will help you manage employees who attempt to access your Cloud services. Cloud security best practice starts from a place of zero trust. Afford user access to data and systems only to those who require it. To avoid confusion and complexity, create well-defined groups with assigned roles. This will allow you to add users directly to the group rather than customizing access for each employee.
5. Secure user endpoints
Since most of your users access your cloud services through web browsers, it is crucial to introduce advanced client-side security to keep it protected from exploits. Implementing endpoint security solutions that include firewalls, antivirus, intrusion detection tools, and more will help to protect your end-user devices. 
6. Maintain visibility of your cloud services
Remember, you cannot secure something that you cannot see. Using multiple cloud services across various providers and geographies can create blind spots in your cloud environment. Make sure you implement a cloud security solution that provides visibility of your entire ecosystem. You can then implement granular security policies to mitigate a wide range of security risks. 
7. Implement a strong password security policy
Strong password security may sound basic, but it is an important element in preventing unauthorized access. Have a strong and strict password policy. To defend against most brute force attacks, enforce a rule that users update their password every three months. You may also implement multi-factor authentication. This would require a user to add two or more pieces of evidence to authenticate his/her identity allowing you to trust your users while ensuring that they are authorized users. 
8. Highest levels of encryption 
Your data may get exposed to increased risk while sending it back and forth between your network and the cloud service. You must consider using your own encryption solutions for data, both in transit and at rest. Encryption keys will help you maintain complete control over your data. 
Read more: 6 Proven Ways for Businesses to Combat Cloud Security Risks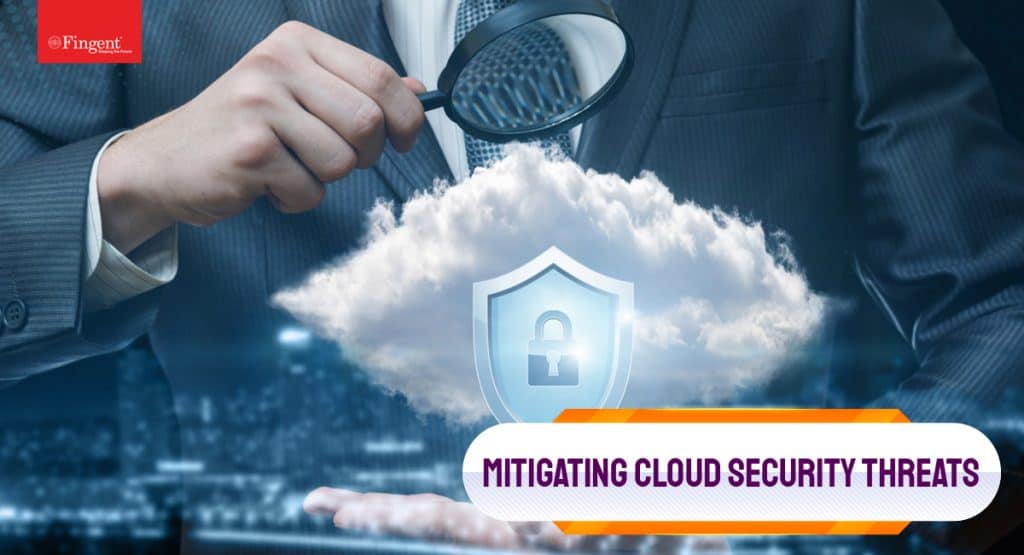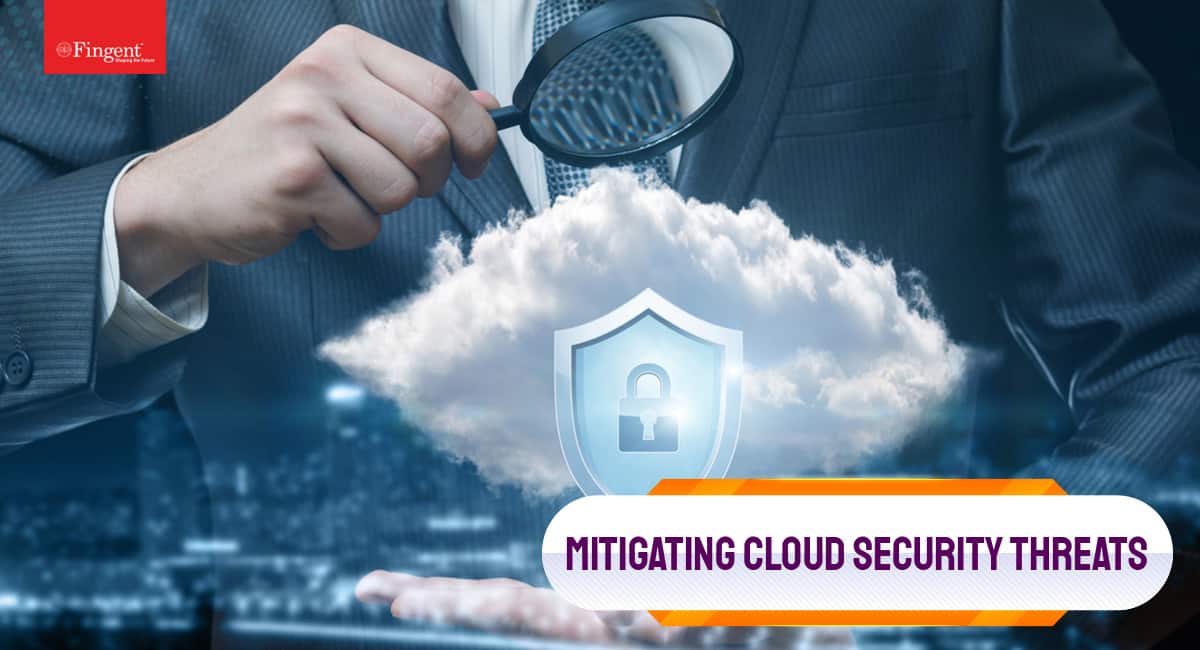 Don't wait till it's too late!
You never know when a stealthy hacker could attack your business and make you go under. All organizations, independent of their size, can benefit from these best practices and improve their cloud usage security. 
At Fingent, our experts go above and beyond to ensure that your business is hacker-proof and secure. If you need to discuss cloud security options, do not put it on the back burner! It could creep up on you and set your whole business afire, ruining your competitive edge and spelling doom for the future. Call our experts and discuss your options today. 
Cloud security threats: How to protect your data and mitigate risks?
Be it Google G-Suite, Dropbox, Adobe, Salesforce, or Microsoft Office 365, almost every business uses cloud services for their critical business requirements. Despite its rapid growth, cloud computing brings the possibility of severe security threats that can drastically affect an organization. According to Cybersecurity Ventures, cybercrime damages might hit $6 trillion by 2021. 1 out of 4 will experience a data breach, and on average, businesses are investing about $7.2 million on security breaches. These figures prove how devastating security threats can be if they are left unchecked.
While cloud systems, applications, and networks are not located within your control physically, the security responsibility and risk mitigation are definitely within your control.
Some of the latest security threats to cloud data management include:
Phishing attacks

Ransomware attacks

Insider threats

Asynchronous procedure calls

Distributed Denial of Service Attacks (DDoS)

Uneven security gaps
Why is cloud security important?
While cloud service providers protect your data, they can't protect your data when it leaves the cloud to interact with other systems.
Cloud security is essential to protect your data as well as the integrity of your business. According to a survey, 60% of breaches occur at patches that are available but not applied. You will need a team to continually monitor potential security threats to ensure that your cloud infrastructure is always up-to-date.
Regardless of your organization's size, it would be best to implement strong network security services to protect your organizational and customer data.
Read more: Why It's Time to Embrace Cloud and Mobility Trends To Recession-Proof Your Business? 
Six ways to protect your data and monitor your cloud environment
1. Set-up multi-factor authentication (MFA)
Stolen credentials make it easy for hackers to access your business data and applications is to steal your credentials. The combination of complex usernames and passwords alone is not sufficient to secure your user accounts from hackers.
So, protect your cloud users with two-factor authentication or multi-factor authentication to ensure only authorized people can access your cloud apps and have access to sensitive information. 
Deploying multi-factor authentication is an effective way to keep potential hackers from accessing your cloud applications. Most security experts believe that it is mandatory to implement MFA as it is also one of the cheapest security controls an organization can have.
2. Assign access controls
Not all your employees need to have access to every file, application, or data. By setting up proper authorization levels, each employee can only view or access applications or data required to complete their job.
Assigning access controls will ensure that your employees don't edit any information accidentally that they are not authorized to access. Additionally, it will also protect you from hackers who have hacked an employee's credentials.
3. Leverage automation to monitor, log and analyze user activities
Real-time monitoring and user activity analysis can help you identify any irregularities or abnormal moves that are not part of your regular usage patterns. For example, log in from an unknown IP or device.
Such irregularities could indicate a breach in your system, so it is essential to identify them early on to prevent hackers from hacking your system and help you resolve any security issues before they wreak havoc with your security system.
You can leverage data protection solutions to automate the process and support 24/7 monitoring and management.
Note: Every business has different needs for different levels of security services, so you may consider getting a third-party risk assessment before making significant investments. At Fingent, we identify and evaluate any loopholes in your current infrastructure and provide you with apt cloud infrastructure solutions using our unique approach.
Read more: Cloud Service Models Saas, IaaS, Paas – Choose the Right One for Your Business 
4. Provide anti-phishing training to your employees
Small Business Trends reports that 1 in every 99 emails is a phishing attack, which amounts to 4.8 emails per employee in a five-day workweek.
Hackers can easily steal employees' login credentials to gain access to secure information via phishing. In this kind of social engineering attack, the attacker sends fraudulent emails, texts, or websites to trick the victim into sharing access to sensitive information. Providing ongoing training to your employees to recognize a phishing attempt is the best way to prevent employees from falling prey to such scams.
5. Create a comprehensive off-boarding process for departing employees
Ensure that your departing employees no longer have access to your cloud storage, data, systems, customer data, and intellectual properties.
As every employee is likely to have access to different cloud applications and platforms, you need to set up a process that will ensure all the access rights for departing employees are revoked. If you can't manage this internally, you may consider outsourcing this task to a credible vendor.
Learn more: Take a look at how InfinCE, an infinite cloud platform, ensures secured work-collaboration within an organization, and helps enhance company efficiency & growth!
6. Cloud-to-cloud backup solutions
There is no doubt that there are legitimate risks associated with any cloud application or platform. However, the odds of you losing data due to your cloud provider's error is low compared to human error.
Say, an employee deletes your data accidentally, and a hacker obtains the account password and corrupts the information, or an employee clears her inbox and folders. In such cases, cloud providers can do nothing much past a specific period. Most cloud providers store deleted data only for a short time.
You can check with your cloud provider about the time frame and whether they charge any fees to restore the data. If your company must abide by strict regulations or be concerned about being liable for corrupted data, you can consider cloud-to-cloud back-up solutions.
Read more: Cloud Migration Strategy: 7 Steps to Accomplish a Flawless Transition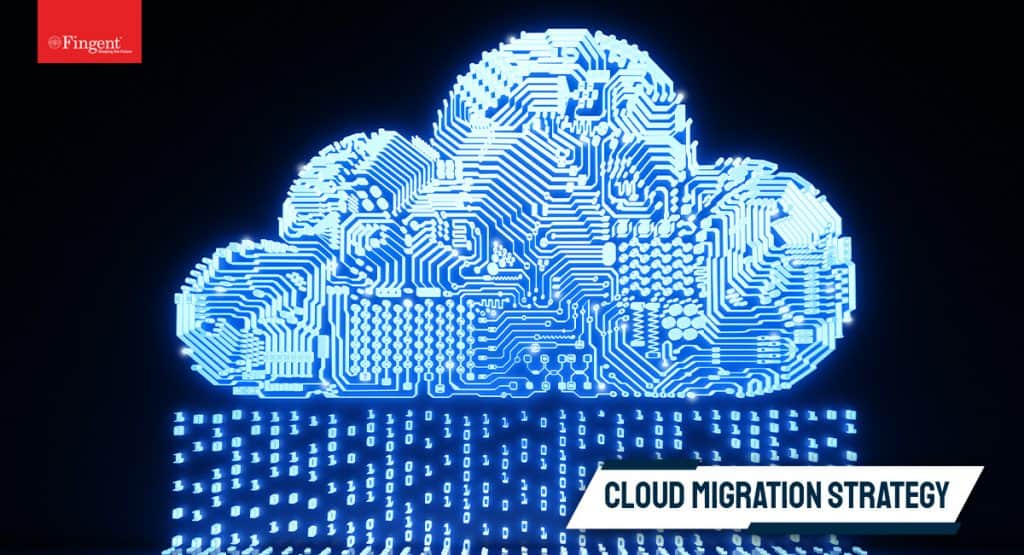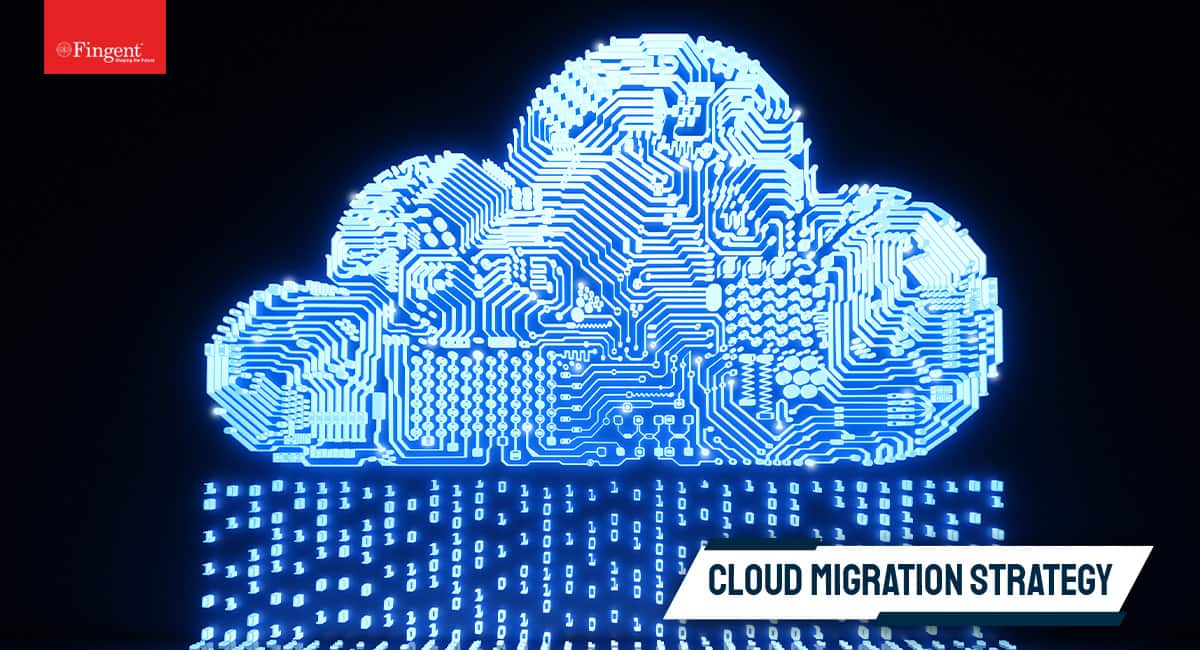 What Next?
There's no denying that cloud computing is one of the most cost-effective options to maintain a high level of security for your sensitive data. At Fingent, our experts can help design a comprehensive cloud computing strategy that will help achieve your business objectives and provide you with ongoing management to keep your data protected. Contact us now and get started. 
A Quick Guide on the Cloud Service Models – Saas, IaaS, Paas!
The future of computing is in the cloud. What it implies is that you adapt your business to fit in the cloud model. Missing out on it can leave your business behind, especially in today's world, where technology is imperative and unavoidable.
Once you sign up for cloud service models Saas, IaaS, and Paas, you can leverage its wider possibilities to bring the flexibility and efficiency that pushes your business growth. An enterprise cloud platform like InfinCE can always help you seamlessly embrace the power of the cloud to streamline and run a business efficiently, within a secured environment. 
Over the years cloud services have witnessed exponential growth worldwide. The global public cloud services revenue in 2018 alone, is estimated to be over 305.8 billion dollars with 411.4 billion dollars growth projected in 2020.
This year, Gartner forecasted the worldwide public cloud services market to grow 6.3% by the end of 2020 to total $257.9 billion, up from $242.7 billion in 2019. Desktop as a service (DaaS) is also expected to have the most significant growth in the coming years, increasing 95.4% to $1.2 billion in 2020. Here's a peek into the Worldwide Public Cloud Service Revenue Forecast Table put up in Millions of U.S. Dollars.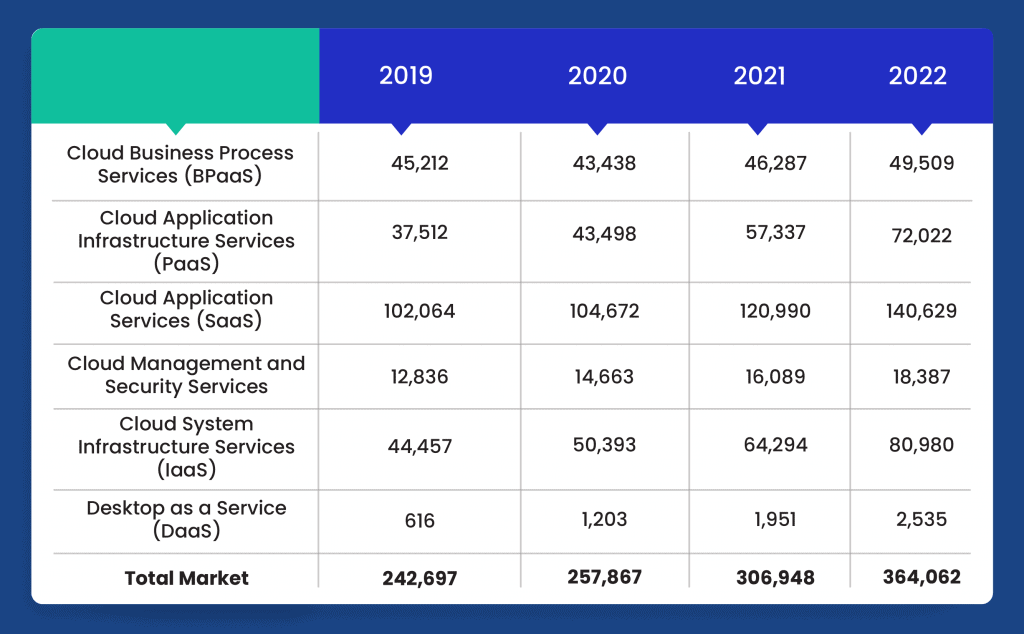 Fig.1: Worldwide Public Cloud Service Revenue Forecast (Millions of U.S. Dollars)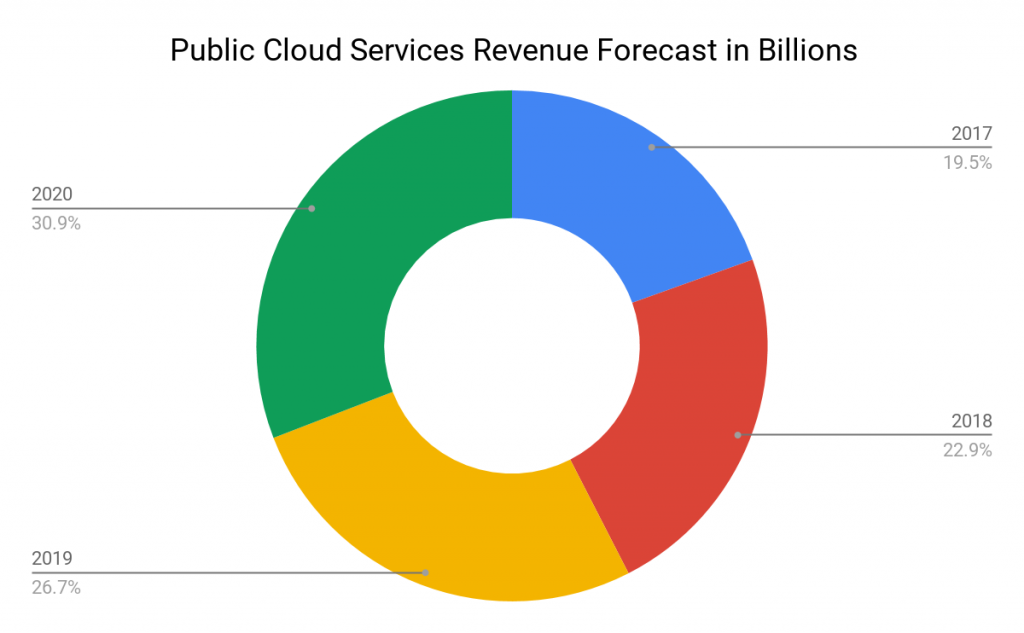 Fig 2. Global Forecast of Public Cloud Services Revenue, Source – Gartner
What these reports signify is a steady adoption of cloud services by businesses across the world to tackle the entire range of operations that they do. Application development in cloud computing provides an extensive, flexible, and affordable way to implement cloud service models. Meanwhile, numerous leading players in the information technology sector now compete to deliver flexible cloud services for both the public and enterprises.
Increasing competition means better delivery of services and innovations, which can deeply benefit scaling up your business. Hence, now is the right time to deploy a cloud model into your business infrastructure.
What's Ahead?
An Overview of Cloud Benefits
You must be wondering! Why do you need to adopt cloud service for your enterprise and what could it possibly do to widen the scope of your operations? Well, the pros of cloud adoption far outweigh its cons, which is one reason why you should consider it in the first place. Here are 3 major advantages of cloud adoption.
Scalable – A cloud service allows quick scaling up and down of computing resources to accommodate your changing needs.
Affordable – You pay less for a cloud service, as it eliminates unnecessary costs involved in hardware upgrades and maintenance.
Secure – By signing up for a cloud service, you are essentially making your data more secure using their industry-grade security protocols.
If you have envisioned a goal of making your business more dynamic, then the cloud is the way. And the question comes down to this: what type of cloud service model would you implement and which one will fit your unique business requirements?
Read more: How InfinCE, an integrated cloud platform, simplifies business management & collaboration!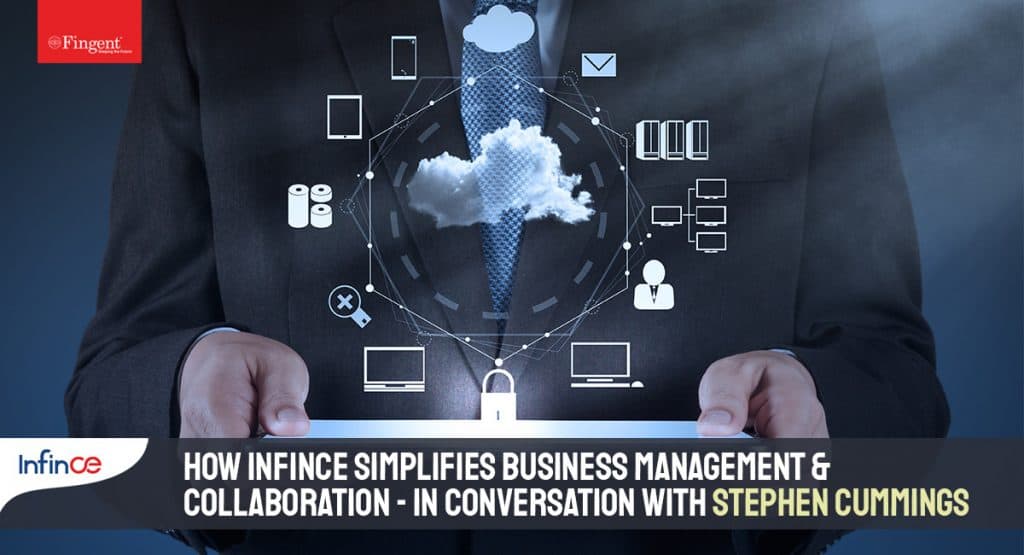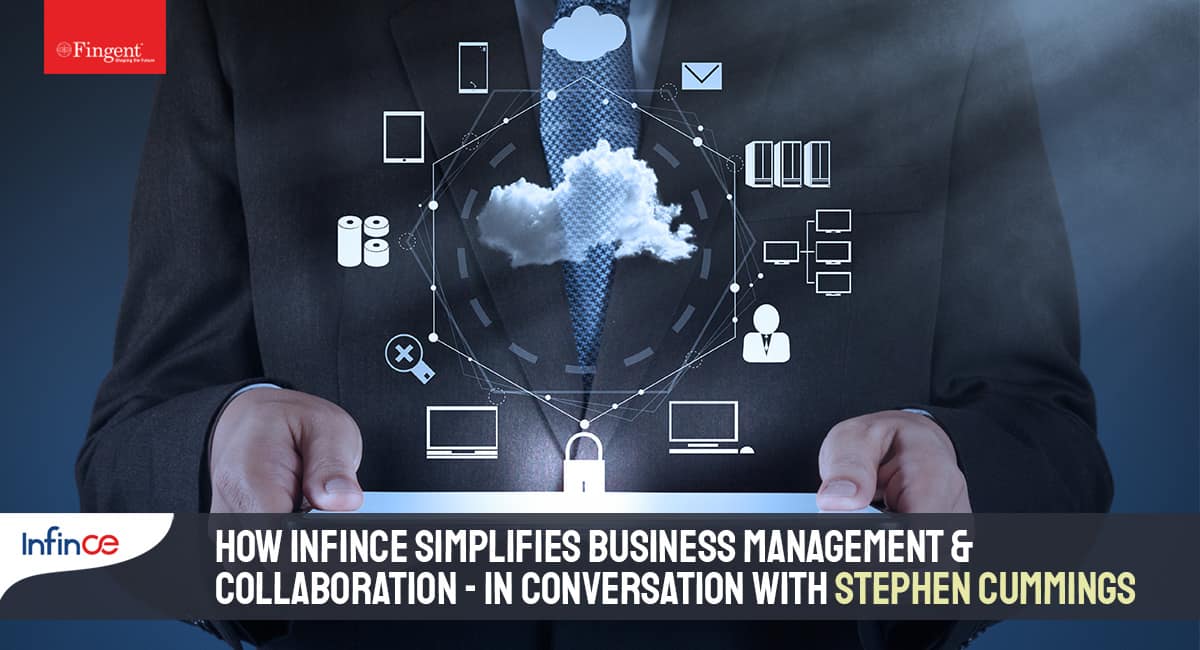 Cloud Service Models Saas, IaaS, PaaS
Cloud computing services come in three types: SaaS (Software as a Service), IaaS (Infrastructure as a Service), and PaaS (Platform as a Service). Each of the cloud models has its own set of benefits that could serve the needs of various businesses.
Choosing between them requires an understanding of these cloud models, evaluating your requirements, and finding out how the chosen model can deliver your intended set of workflows. 
Looking for Cloud Strategy Consulting?
The following is a brief description of the three types of cloud models and their benefits.
1. SaaS
SaaS or Software as a Service is a model that gives quick access to cloud-based web applications. The vendor controls the entire computing stack, which you can access using a web browser. These applications run on the cloud and you can use them by a paid licensed subscription or for free with limited access.
SaaS does not require any installations or downloads in your existing computing infrastructure. This eliminates the need for installing applications on each of your computers with the maintenance and support taken over by the vendor.  Some known examples of SaaS include Google G Suite, Microsoft Office 365, Dropbox, etc.
2. IaaS
IaaS or Infrastructure as a Service is basically a virtual provision of computing resources over the cloud. An IaaS cloud provider can give you the entire range of computing infrastructures such as storage, servers, networking hardware alongside maintenance and support.
Businesses can opt for computing resources of their requirement without the need to install hardware on their premises.  Amazon Web Services, Microsoft Azure, and Google Compute Engine are some of the leading IaaS cloud service providers.
3. PaaS
Platform as a Service or PaaS is essentially a cloud base where you can develop, test, and organize the different applications for your business. Implementing PaaS simplifies the process of enterprise software development. The virtual runtime environment provided by PaaS gives a favorable space for developing and testing applications.
The entire resources offered in the form of servers, storage, and networking are manageable either by the company or a platform provider. Google App Engine and AWS Elastic Beanstalk are two typical examples of PaaS. PaaS is also subscription-based and gives you flexible pricing options depending on your business requirements.
Adopting Cloud – Choosing Between SaaS, IaaS, and PaaS
Going through the details of what SaaS, PaaS, and IaaS may have given you a general understanding of these three cloud models. Each of them differs and has a range of advantages and disadvantages that may or may not fit in with your business model.
By correlating each of these cloud models sides by side, you could derive at a conclusion whether it suits your business requirements.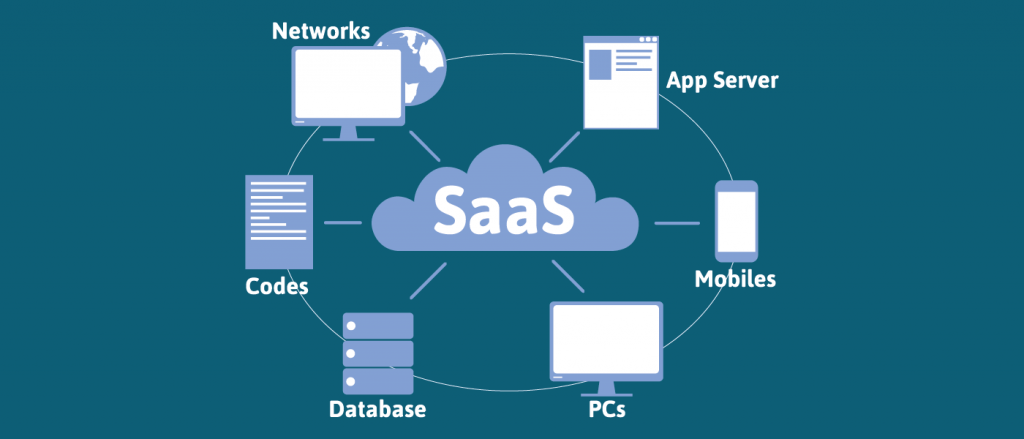 SaaS
Benefits:
Affordable –

SaaS is affordable as it eliminates the costs involved in the purchase, installation, maintenance, and upgrades of computing hardware.

Anywhere Accessibility –

With SaaS, you can access the services from anywhere using any device such as smartphones, which eliminates the constraints set by on-premise software.

Ready to Use –

You can quickly set up SaaS services so that they become functional in no time. All it takes is that you sign up for the service to get access to fast and powerful computing resources.
Why Should One Opt SaaS?
With SaaS, communication, transferring of content, and scheduling meetings are made easy. SaaS is the ideal choice for small-scale businesses that do not have the necessary budget and resources to deploy on on-premise hardware. Besides, companies that require frequent collaboration on their projects will find SaaS platforms useful.
Studies reveal that Supply Chain Management, Business Intelligence, Enterprise Resource Planning (ERP), and Project and Portfolio Management will see the fastest growth in end-user spending on SaaS applications, through 2022.
Things to Consider Before SaaS Implementation
Opt for

configuration

over

customization

within a SaaS-based delivery model. The configuration will allow you to tailor without changing the core product, whereas, customization will make it challenging to scale with the constant updates and documentation.

Understand the adoption and usage rates carefully, and set clear objectives to be achieved with the SaaS adoption.

Compliment your SaaS solution with integrations, and security options to make it more user-initiated.
Read more: Top Trends That Will Transform Cloud Computing in 2020 and Beyond!
IaaS
Benefits:
Minimize Costs –

Deploying an IaaS cloud model eliminates the need to deploy on-premise hardware that reduces the costs.

Enhanced Scalability –

As the most flexible cloud computing model, IaaS allows you to scale the computing resources up or down based on demand.

Simple Deployment –

IaaS lets you easily deploy the servers, processing, storage, and networking to make it up and running in no time.
Why Should One Opt IaaS?
IaaS being the most flexible of cloud models gives the best option when it comes to IT hardware infrastructure. IaaS is the right option if you need control over the hardware infrastructure such as in managing and customizing according to your requirements.
Whether you are running a startup or a large enterprise, IaaS gives access to computing resources without the need to invest in them separately. However, the only downside with IaaS is that it is much costlier than SaaS or PaaS cloud models.
According to Gartner's latest report, the worldwide infrastructure-as-a-service (IaaS) market grew 31.3% in 2018 to total $32.4 billion, and in 2019 it's projected to be worth $38.9 billion. This growth will continue well into 2022, where it's expected to be worth $76.6 billion.
Things to Consider Before IaaS Implementation
Clearly define your access needs and the bandwidth of your network to facilitate smooth implementation and function.

Plan out thorough data storage and security strategy to streamline the process. 

Ensure a disaster recovery plan so that your data remains safe and accessible at all means.
PaaS
Benefits:
Minimal Development Time –

PaaS reduces the development time since the vendor provides all computing resources like server-side components, which simplifies the process and improves the focus of the development team.

Multiple Programming Language Support –

PaaS offers support for multiple programming languages, which a software development company can utilize to build applications for different projects.

Enhanced Collaboration –

With PaaS, your business can benefit from having enhanced collaboration, which will help integrate your team dispersed across various locations.
Why Should One Opt PaaS?
PaaS is the preferred option if your project involves multiple developers and vendors. With PaaS, it is easy to create customized applications as it leases all the essential computing and networking resources.  Being a different model, PaaS simplifies the app development process that minimizes your organizational costs.
Besides, it is flexible and delivers the necessary speed in the process, which will rapidly improve your development times. A typical disadvantage with PaaS is that since it is built on virtualized technology, you will have less control over the data processing. In addition, it is also less flexible compared to the IaaS cloud model.
A study by Market Reports World estimates that the global PaaS market will grow at a CAGR of 24.17% during 2019-2023 and will get valued at 28.4 billion USD by the end of 2023.
Things to Consider Before PaaS Implementation
Crucially analyzing your business needs, decide the automation levels, if it needs to be self-service or fully automated.

Clearly determine whether to deploy on a private or public cloud.

Plan through the customization, and efficiency levels.
Cloud Application Development?
What Should You Know About DaaS?
Desktop as a Service or DaaS is desktop virtualization provided through the cloud. DaaS is similar to the server deployment done in IaaS. However, it strictly specializes to offer desktop operating systems. As mentioned earlier in this blog, according to Gartner, DaaS is expected to have the most significant growth in the coming years, analyzing the 95.4% increase in Worldwide Public Cloud Service Revenue in 2020.
Providing device accessibility from anywhere and at any time, DaaS enables workforce mobility and enhances flexibility. Its offerings are mostly simple pay-as-a-go subscription models which makes it easy to scale up. With DaaS, an organization can rely on data security, disaster recovery, optimum performance, cost savings, and mobility. Enabling an easy to manage and simplified IT environment for desktop solutions, DaaS is now widely adopted amongst small businesses.
Benefits:
Security –

Along with easy accessibility and simplified management of desktops and applications, DaaS ensures enhanced security of data.

Flexibility –

As mentioned earlier, DaaS enables easy accessibility from anywhere allowing maximum flexibility. Seasonal or remote workers and contract employees can stay productive at all times with streamlined access to applications, remote desktops, and data on any cost-effective device.

Cost savings –

Providing easy monthly and yearly subscription plans, DaaS reduces the capital expense and makes operational expenses more predictable.

Business continuity –

Providing disaster recovery support, and easy access to apps and desktops to the workforce, DaaS helps running a business at all times, even during natural disasters and pandemics.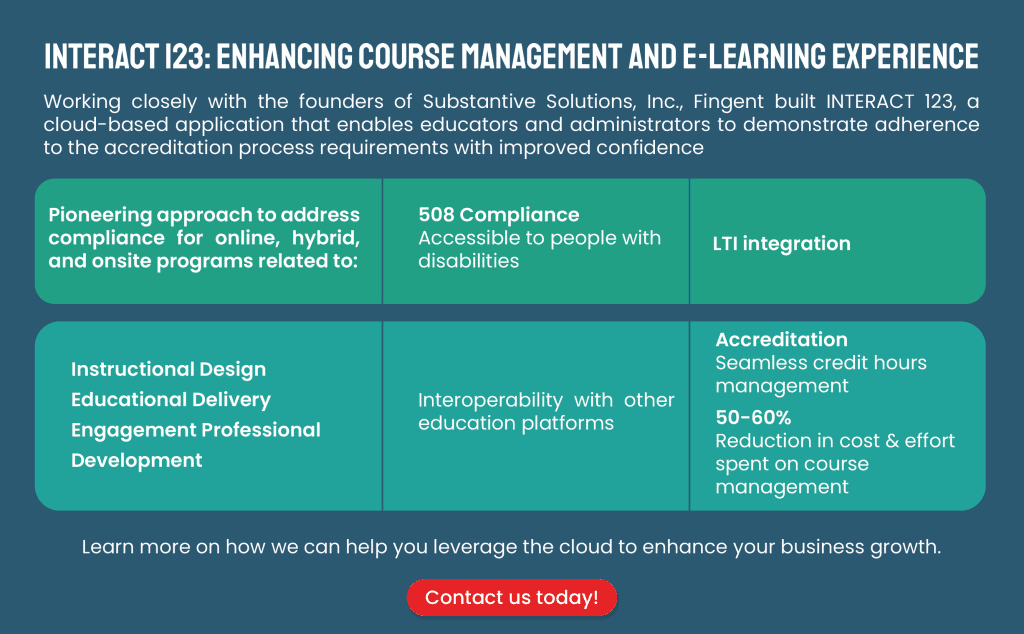 Cloud Service Models SaaS, IaaS, or PaaS: What Fits your Business?
The growing adoption of cloud services is a sign of the rapidly changing business environment. The forecasts and reports shed light on how the cloud is going to become the primary computing resource for enterprises in times to come. So, that suggests that your business should quickly adopt a cloud platform to leverage its wide-reaching benefits and in turn help you grow.
But, what cloud model would be apt as a solution that delivers the results that you are looking for. The above-mentioned details about SaaS, IaaS, and PaaS may have provided you with a peek into the nature of these cloud models. Each of them differs and it is up to you to address your business requirements and select one that you find apt for your needs.
Summarizing, SaaS would suit your business well if you need cloud-based software like email, CRM, and productivity tools. IaaS is the perfect option if you require a complete virtual computing platform with powerful resources. If your requirement is a platform to develop and test your software and applications, then it is better to opt for PaaS.
Get in touch with our experts today to know more about our cloud services.