Your Financial Service business needs software solutions that fully consider all the individual features of your services.
Why?
The best financial advice must be provided in real-time and should be based on customer behavior. Their services must be original and unique for successful business development. This is what will make you different and will help you stand out from your competition and emerge a winner.
How do you achieve that?
Custom software for financial firms can solve complex challenges of business workflow. With custom software leading the way, the finance industry is seeing a significant shift in multiple areas including customer experience and business operations. 
You see, to stay competitive it is important not to cut corners when dealing with customers. To win a customer and retain his financial services, you need versatile capabilities that will help you stay customer-centric despite the rigid nature of the industry.
A financial custom software application can help financial services match customers' high expectations while managing the company's unique needs. They offer simplified transactions between people and enable financial institutions to create a wider customer base. 
In this article, you will find out how you can deliver services that separate you from your competition. 
Read more: Digital Transformation in Financial Services: All You Need to Know!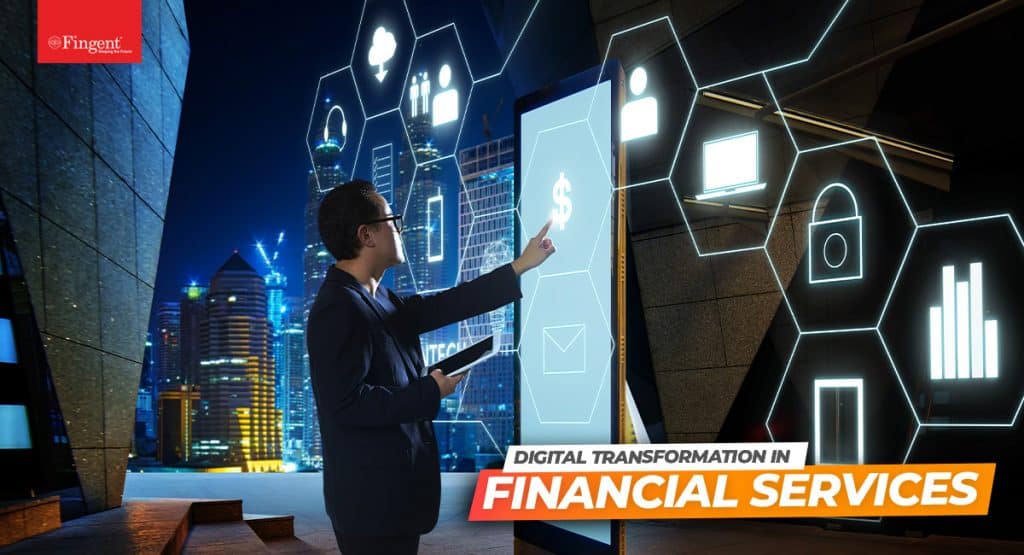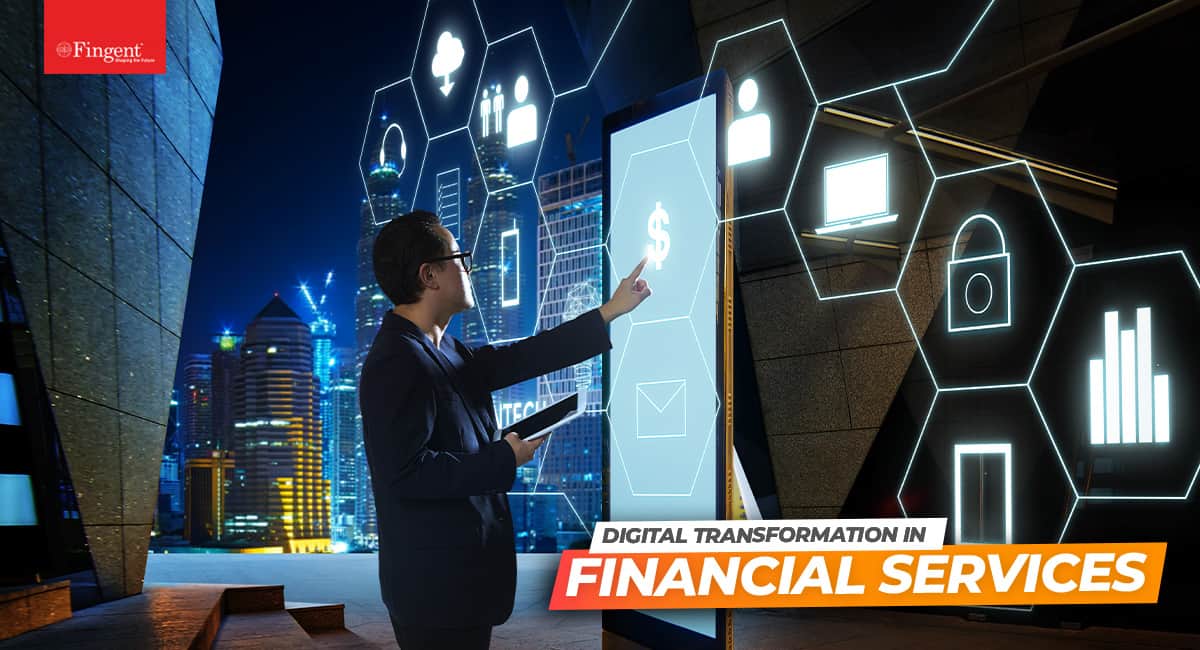 What Is Custom Software and Why Do You Need It Now?
Unlike off-the-shelf solutions, custom software is designed and developed exclusively for each customer's tasks and requests. The custom software solution can be designed to handle the roadblocks specific to you. Given that, you can choose to eliminate features that your business does not need.
1. Custom software is built around your business landscape
Off-the-shelf applications are rigid and do not allow you to adapt quickly when market dynamics change. Whereas custom software can be responsive to your customer base and market advancements. 
2. Ensures robust data protection
The foundation of financial services is based on trust as it deals with private and sensitive data that demand robust protection. Custom software gives you control over the level of security you need to keep your customer's data and your reputation uncompromised. 
Trust is a fragile thing in the finance industry. A small mistake or a performance issue can drive your clients away from you to your competition. Essentially, one mistake due to data vulnerabilities can cost your company and your customer millions. 
There are hordes of hackers looking for opportunities to steal financial data. Custom software ensures your security requirements are adjusted to keep your customers' data secure. 
While keeping your customers' data secure is of paramount importance, those measures should not jeopardize customer engagement. This balance can be achieved through custom software development as it allows you to create an engaging digital tool that also helps keep your data safe. 
3. Competitive advantage
Custom software is dedicated to achieving the results that you want. So, it is a strategic initiative and investment that allows you to align with your business. When you custom-build your software with a futuristic outlook, your business can outperform your competitors in the long run. 
4. Address errors in real-time
When customers encounter a bug while making a transaction, they will expect an immediate resolution. Custom software allows your team to provide a quick response without depending on scheduled maintenance. 
5. Scale up as required
The market is always in flux with changing customer demands. Responding quickly to those changes is only possible if the software is flexible and agile. Custom software can be built with the ability to scale as and when required. It allows you to add new features and integrate 3rd party services that enhance your app's performance. The ability to scale as required can support rapid business growth.
6. Seamless customer experience
Today's customers expect convenience, speed, and seamless experience across multiple touchpoints. Custom software can make it easy for your organization to intelligently and adequately handle any business challenge.
To become customer-centric, financial services need to integrate digital capabilities to keep up with market dynamics. It provides the technological backbone that can adapt to your organization's growth. 
Custom software is personalized to meet customers' business needs. With a simplified business process, and operations your customers will find it easy to use. As a result, tailored software always scores high on the customer satisfaction front. 
Read more: FinTech: Safeguarding Customer Interest In The Post Pandemic World.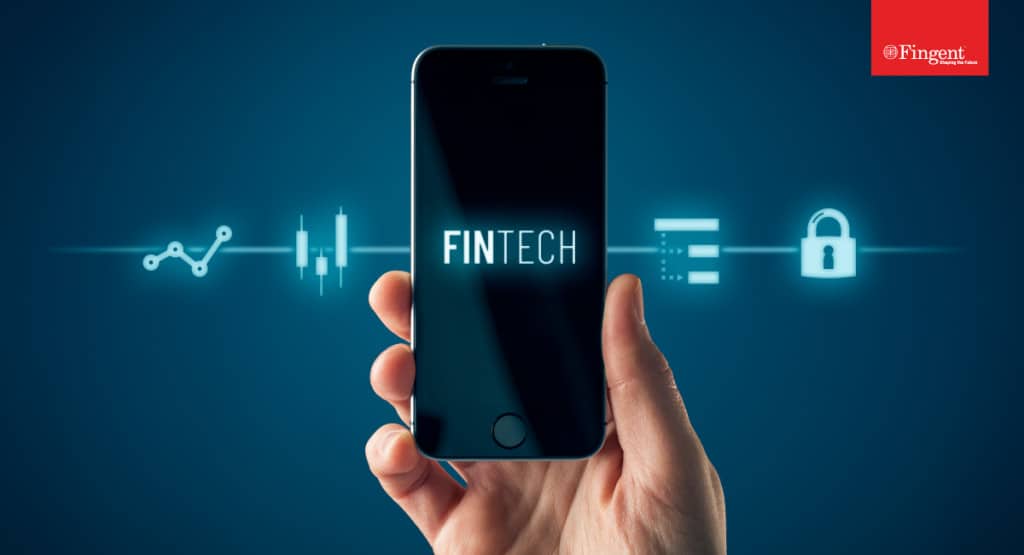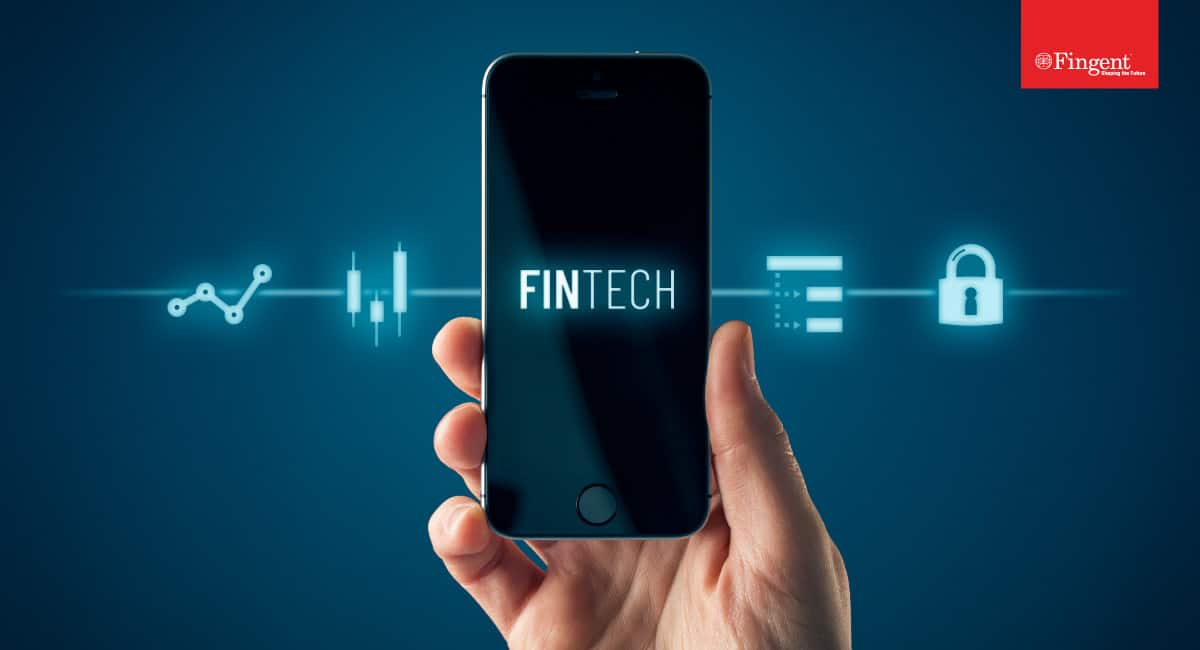 7. Technologies under control
Preconfigured software does not offer much control over the choice of technologies. But custom software can make any technology more competent, sustainable, and efficient. You can tailor it to meet your expectations and deploy it into your existing business process. 
8. Exclusively yours
Each finance service is unique, and fulfilling the unique needs of the business is only possible with tailored software. This makes customized software a requirement and not an option. 
It will work exactly the way you want it to work. Instead of you adjusting your business process according to the software, custom software fits right into your business process to help you achieve your business goals. 
9. Optimized cost control
As mentioned earlier, customized software allows you to choose preferred features and functionalities based on your business priorities. 
You are at liberty to opt-out of a particular functionality if you feel it is irrelevant to your business. So, you pay only for the features and functionalities that you need. This can considerably save your technology investment costs. 
10. Real-time reporting
Finance services rely heavily on reporting. You may have to spend hours digging your way through a number of excel sheets and other files. Customizing your software can spare you that pain and save you time as it can give you a summarized report.
11. Compatible with your existing process 
You may have been using many useful tools and technologies. Creating custom software does not mean you have to revamp your entire business process. 
Conversely, since the custom development process involves consideration of the various tools that you already have, the software can be built to be compatible with your existing process.  
12. Reduced risk factor
With off-the-shelf software, your business will be highly affected if you decide not to maintain your application, or your business goes bankrupt. During such dire circumstances, you will have to either change your business process or find another vendor to develop another software. 
This can mean extra expense on your business investments. On the contrary custom software can be maintained as long as you need it to be maintained.
13. Relieves you from constant concern
Each business has its own concerns. When a custom software does its work perfectly and serves its purpose optimally, you will be relieved to focus on your core job instead of spending enormous amounts of time finding solutions to your routine business concerns.
An Essential Boost for Your Business
Custom software is the right decision for your business and within your budget. It works more efficiently and can provide your business model with the much-needed lift. 
So, take time to analyze the needs of your business and choose the right software for your business.
Give us a call and let's discuss what that is for you.  
The Future of FinTech Looks Promising: Here's Why!
The COVID-19 pandemic has caused significant disruption and has also cast doubts on the future and growth of the FinTech industry. Despite the devastating impact of the coronavirus pandemic on the global economy, FinTech leaders remain cautiously optimistic about the industry's growth. They forecast that as people, businesses, and leaders tackle the ongoing outbreak of the pandemic, market fluctuations will experience stability. As soon as the crisis situation is settled, the market is forecasted to start experiencing growth. FinTech solutions are foundational to how we transact in the current scenario and tackle the future market. It is vital for financial institutions to up their game to deliver smarter, quicker, and safer solutions. 
What are the upcoming FinTech opportunities that will impact everything in the financial ecosystem? 
The 'Digital-Only' Era
1. Digital payment services 
The coronavirus crisis has brought the significance of cash management to the forefront. There are massive technical and fundamental shifts taking place that are quickly becoming the new normal. Digital-only banks are one of the many such shifts and they increase efficiency and convenience. Nobody is expected to visit the bank physically, stand in long queues, and go through a lot of paperwork. With digital-only banks, you can create an account or transfer money at a location and time convenient for you. Some of the amazing features of digital-only banks are a quick review of account balance, account transaction history, bill payments, and real-time analytics. They offer P2P payments with no transaction fees. They also offer Ethereum and other cryptocurrency transactions. Digital-only banks have a deep connection with technologies such as blockchain.
Read more: How Digital Finance Could Boost Growth in Emerging Economies 
2. Digital lending 
Digital lending is one of the FinTech opportunities that's prospering while shutdowns and layoffs across the globe resulted in a cash crunch for most individuals and households. Governments have provided some help. However, it is largely left up to financial institutions to provide loans to individuals and businesses. Fintech companies perform better than their traditional counterparts in the lending segment by leveraging AI technology. They can use AI to screen applicants and rate their credit-worthiness. It allows loan applicants to secure loans quickly and conveniently. 
Financial institutions must partner with FinTech application development service providers to leverage self-service, multi-channel digital lending processes. This includes loan processing, screening, collection, and credit scores. As an end-to-end process, it will provide customers with a smooth onboarding and approval lending experience.
3. Digital investing 
Retail investors around the world are more active in the stock market now than ever before. Access to information that was previously restricted to more advanced investors, has fueled an exponential increase in retail investing. This trend will continue.
Read more: FinTech Innovation: What Is In-Store?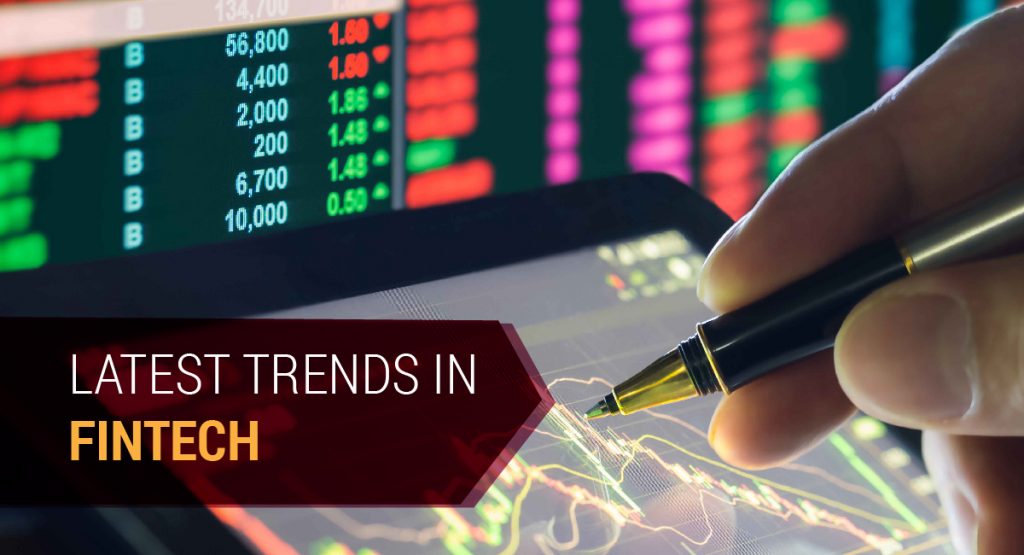 The Era of Blockchain Technology 
Identity theft and fraud have been the bane of financial institutions for many years. Blockchain technology plays a crucial part in saving the industry from these problems. The rapid growth and adoption of blockchain is making it an integral part of financial institutions' operational infrastructure including digital payments, trading shares, smart contracts, and managing identities. Blockchain features such as global reach, speed, and security are motivating its faster adoption among financial institutions. 
Companies must build trust and display transparency in contracts and the supply chain. Using blockchain helps them gain visibility throughout the supply chain. It also takes care of quality control and performance benchmarks. It is crucial that financial services quickly adopt blockchain into their systems and search for opportunities to increase FinTech partnerships. 
Read more: Leveraging Blockchain Technology to Transform Supply Chain Industry 
Impact of Regulation
Regulators are needed to balance innovation with customer interests. Regulators have been proactive in helping businesses deliver greater customer value by defining data privacy rules. This has fueled a massive shift in how people spend, buy, save, borrow, and invest. Given the enormous innovation in this sector, the FinTech arena is divided into five broad categories:
Deposit, lending, and capital raising

Payments, clearing, and settlement

Investment management

Insurance

Market support
We know that compliance with regulations will become mandatory for banks. This makes it important that banks adopt a flexible and robust digital strategy in order to solve regulatory challenges. Leveraging digital transformation and FinTech innovation will help banks to evolve as a modular body that becomes highly responsive to political and social pressures.
Read more: Digital Transformation in Financial Services: All You Need to Know!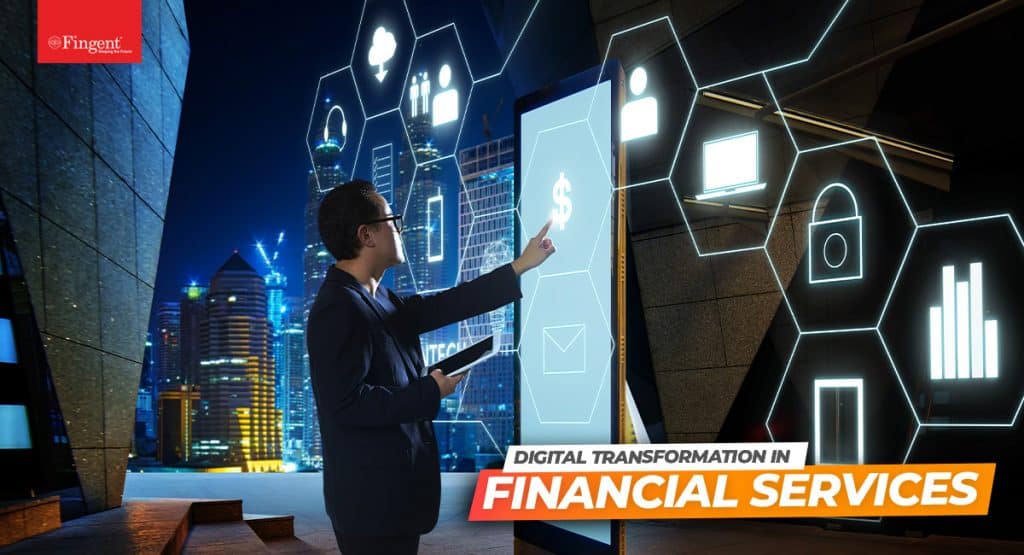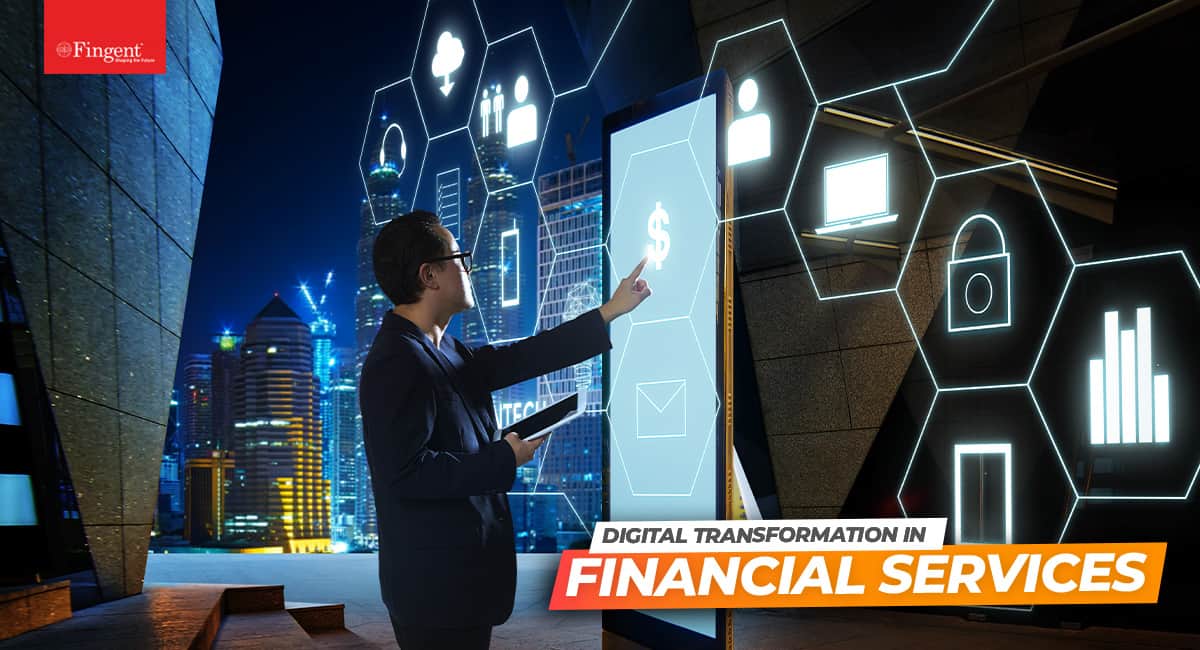 Robotic Process Automation
Robotic Process Automation (RPA) can automate repetitive processes in banking, insurance, and other financial services. This will lower the risk of common errors and inefficiencies while increasing productivity and ROI. RPA does not require programming. Efficiently programmed software robots can automate repetitive processes. Intelligent automation technology goes a step ahead to observe human actions and automate directly, the entire process. IA can be effectively used in the administrative section for the customer onboarding process, risk assessment, data analysis, security checks, and more. 
Read more: How Robotic Process Automation Is Revolutionizing Industries? 
What must you do to take advantage of these opportunities? 
Here are a few things you can do to leverage the massive opportunities made possible by the digital-only era:
1. Infrastructure
Financial institutions must invest in the right technical infrastructure. With multiple technology options available in the market today, it is imperative for financial institutions to make the right decision based on the company's needs and objectives.
2. Market proposition
Develop a clear market proposition. You must partner with FinTech companies to develop robust and scalable apps. Having them as trusted advisors will help you retain your customer base. 
3. Partnership
Before partnering up with FinTech companies, you must examine their needs and plan on how they want to execute them. This will help you derive greater benefits from the partnership.
4. Product hierarchies
Incorrect product or service information can damage the good reputation of your company. Have a clear definition of products and services and outline their use and cost. This will minimize reputational risk and maximize the opportunity to retain and acquire customers. 
5. Switching 
Most bank customers may want to switch their accounts. You must allow switching and help your customers to switch seamlessly between products. 
6. Educate your customers
Your customers may not be aware of the digital services you provide. Hence, it is important that you educate your customers regarding the use, safety, and implications of your digital technology. 
Read more about our Case Study: How Fingent enabled NEC Financial Services to take advantage of the FinTech revolution?
Explore FinTech opportunities
Access to data presents new opportunities for growth. With continuous technology penetration, financial services will see steady growth resulting in the expansion of FinTech. In many ways, FinTech contributes to the revolutionization of the financial sector and the way customers interact with your business. It offers your customers a hassle-free experience and helps your employees to be more productive. 
Read more: FinTech: Safeguarding customer interest in the post-pandemic world 
FinTech will help you keep your focus on customer experience and personalization that can drive user loyalty. For a technology partner who will get you to reach new heights in this new era of Fintech, call us! 
The impact and significance of digital transformation in financial services
Changing customer expectations, increasing regulatory complexity, stiff competition, and other factors are constantly pushing businesses for renovation and innovation. Also, the rising number of FinTech companies and solutions over the last few years have completely transformed the financial services landscape. Rather than just technology, digital transformation in financial services has now become an integral part of a successful business strategy. Digital transformation in the financial industry has improved employee and customer experience by helping meet regulatory deadlines and ensure cost-effective operations while remaining highly competitive.
If you consider how banking has transformed over the years, you will understand how digital transformation in banking and financial services has grown to benefit everyone with convenience. From simple branch offices to ATM and mobile apps, digital transformation has offered greater convenience, choice, and experience. Today, customers are gravitating more towards digital experiences and products.
What is the importance of digital transformation in the financial industry?
According to a recent report by Global Economic Prospects, the global economy will contract by over 5% in 2020 due to the COVID-19 pandemic.
However, the crisis has accelerated economic transformation, leading to an increase in the adoption of digital financial services.
Although the digital transformation was a development priority even before the COVID-19 crisis, it has now become indispensable for both short-term as well as long-term sustainable recovery efforts. 
Here are four fundamental shifts that are forcing financial institutions to accelerate the rate of digital adoption.
1. Forced adoption of online and mobile channels
Social distancing and lockdowns are forcing people to stay indoors or go outdoors only to buy essential items. This has forced the rapid adoption of digital technology across the globe.
Deloitte reports that the United States, which has traditionally lagged in digital adoption is experiencing an all-time high in the number of check deposits and mobile logins. Interestingly, the major contributors to this growth are baby boomers and senior citizens who have been typically slower to adopt the digital channels.
For example, Goldman Sachs reported a 25% increase in the number of active users on the bank's institutional platform. Also, the country has seen a spike in call center interactions as customers seek protection from the financial crisis caused by the pandemic. 
2. Digital and contactless payments
The lockdown has witnessed a race among retailers to set up e-commerce capabilities to capture sales. With consumers shifting to online purchasing, there has been an acceleration towards digital and contact payments. 
While MasterCard reported over 40% growth in contactless payment across the globe, Visa reported a staggering 150% increase in the U.S alone. Hygienic payment modes such as digital wallets, scanning QR codes, click/tap-to-pay, etc. have taken off well to encourage contactless payments during the pandemic.    
Read more: FinTech: Safeguarding customer interest in the post-pandemic world 
3. Virtualization of the workforce and ways of working
Previously, financial institutions hardly imagined their workforce working remotely. But, the COVID-19 pandemic has forced financial services companies to build a remote work model.
Wells Fargo and Bank of America have pushed almost 70% of their employees to work from home and have established contingency locations for those employees who are into trading and operations. Standard Chartered Bank has kept most of its employees working from home, increasing its VPN system capacity to 600% to keep pace.
Bandwidth issues aside, this transition has been largely successful due to digital disruption in financial services. Most financial companies have even committed to making the remote working model permanent. 
4. Evolution of economies and underlying market structure
Even though financial companies have been enjoying stability for years, the COVID-19 pandemic has fuelled margin pressures for companies.
On one hand, insurers are fighting lowered premiums and high claim costs due to the market scenario, while on the other hand, banks are affected by reduced interest rates. Though it is difficult to predict the duration of the economic downturn, it is forcing financial services companies to operate effectively and efficiently to remain competitive in the market. 
Moreover, as the market dynamics continue to evolve, "big tech" is likely to reinforce its foray into financial services leveraging its scale, size, and expanding its role in the consumers' day-to-day activities. Also, smaller FinTechs could be at risk with their funding models. All these evolutions will have a substantial impact on buying, building, and partnering decisions for many incumbents as well as start-up financial companies.
Top 6 digital transformation trends in the financial industry
1. Mobile banking
The digital banking environment allows customers to transfer funds, deposit checks, and apply for loans easily from their mobile devices. Today customers prefer to do online banking at their convenience instead of visiting the brick-and-mortar banks. More and more customers prefer to use mobile banking as it allows 24/7 access, almost negligible waiting time, and ease of use. Mobile banking has changed the functioning of banking and financial institutions to a great extent and is expected to grow further in the coming years.
2. Blockchain
Blockchain is gaining momentum steadily and will play a crucial role in digital payments, loan processing, escrow facilities, etc. Additionally, Blockchain will be used in RegTech (a new technology that uses information technology to streamline regulatory processes) to avoid unnecessary regulation breaches.
3. Big data
Big data is everything. Financial institutions including banks are using machine learning to process data and drive analytical solutions effectively. Big data helps banks and other financial institutions to serve their customers efficiently by tailoring their services based on the insights gathered. Eventually, this can help financial institutions to bring in more investment and create a great work environment for both employees as well as customers. 
4. Mobile apps
While everything in banking and other financial services is going mobile, there are third-party financial service providers who are competing with the banks. They could be financial managers, unconventional leaders, or financial budgeting mobile apps. Banks will have to consider ways to integrate these third-party services- what information to provide, the companies they want to partner with, and which services they are likely to offer to their customers directly without the need of the middle-man.
5. Automated Wealth Managers
Artificial Intelligence (AI) is disrupting several industries with automation and numerous other possibilities. Wealth bots or automated wealth managers use complex algorithms to calculate the best investment opportunities, best loan providing institutions, best interest rate, etc. Automated wealth managers have made financial planning a breeze and are also helping people achieve their business objectives accurately and with great returns.
6. FinTech (Financial Technology)
FinTech is a modern technology adopted by banks and financial companies to deliver financial services efficiently. It has improved drastically since its ATM and credit card days to the latest digital banks and blockchain technology.
FinTech along with automated technology and machine learning algorithms are revolutionizing the world of finance. Digital technologies such as customer service chatbots, expenditure tracking, and online budgeting tools are some examples of how far financial services have come today. 
How Fingent can help you?
As your digital solutions partner, we will help you navigate industry disruption and equip you for future challenges. We apply our extensive experience and deep industry knowledge in fintech to guide you to see digital transformation through fruition. Here, we ensure to maximize value with minimal disruption to your existing infrastructure to help achieve your goals. Get in touch with us to learn more.