Fingent Takes Up the Title Sponsorship of Kerala's First Women's Cricket Team's Maiden UAE Tour
Amid the uncertainties posed by the COVID-19 pandemic leading to the cancellation and adjournment of cricket tours, Kerala witnessed its first-ever women's cricket team make its maiden UAE tour, in December 2020. Fingent proudly announced to be the Title Sponsor of the team, giving it the name, The Fingent Pathbreakers!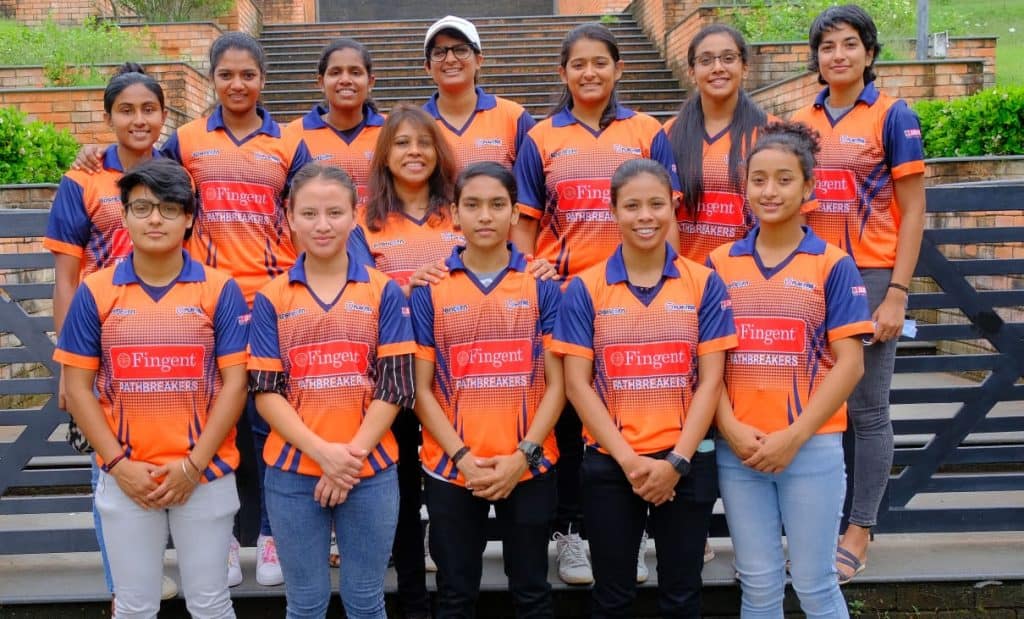 The tour was organized by a player-management company, Play True, as part of their girls-empowerment initiative, "For HER"; in association with Dubai-based G Force Cricket Academy. The 10-days long cricket tournament, which commenced on December 18th, saw the team Fingent Pathbreakers play a series of six friendly matches in Ajman, Sharjah, and Dubai against various cricket clubs and academies in the UAE.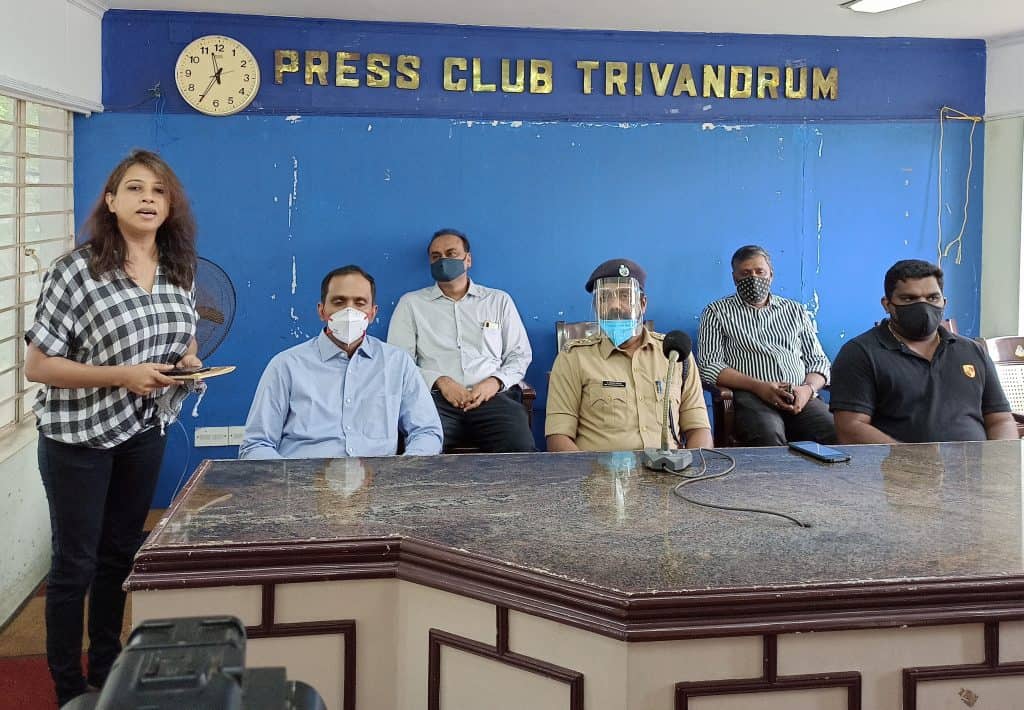 The team was flagged off by Stuart Keeler, Assistant Commissioner of Police (Control Room), at the Press Club in Trivandrum on December 18, 2020. The team's playing jersey was also unveiled by Dileep Jacob, Sr. Vice President – Global Operations Fingent, and other co-sponsors, during the press meet.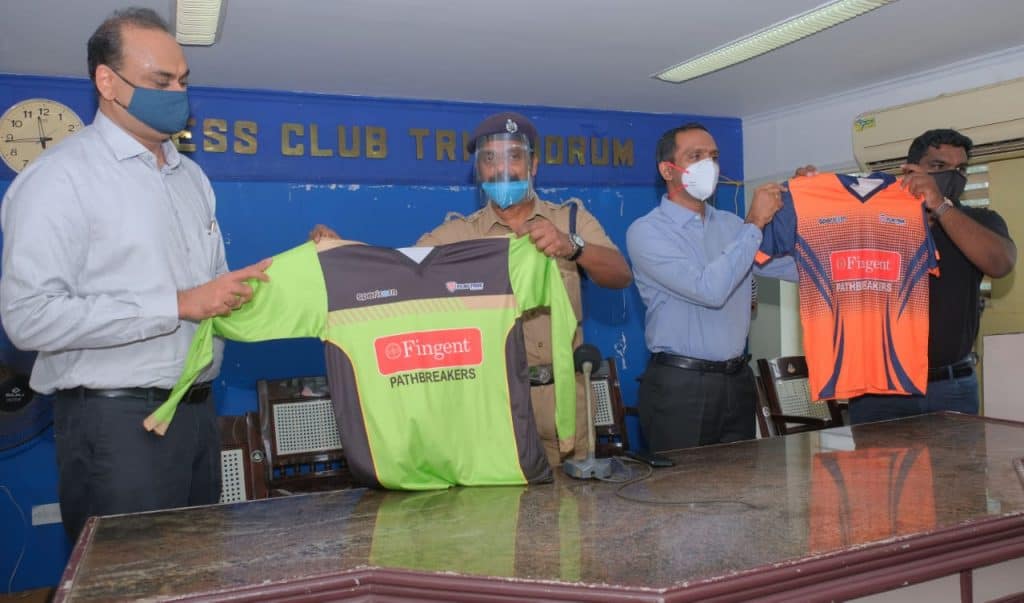 Here's a peek into the press meet conducted at the Press Club, Trivandrum on December 18, 2020.
"Social impact is one of our core values, and this pioneering tour fits the bill. We are truly honored to be a part of this women empowerment initiative", said Dileep Jacob in the meet. He also went forward to express how Fingent is driven by its core values that aim to influence clients, peers, family, and society. This initiative, also aiming to bring a positive change in society, perfectly aligns with Fingent's core values, and it gives the company great pleasure in supporting the team in its splendid journey.
Watch more: Fingent Pathbreakers at UAE, Empowering Women in Indian Cricket!
The press meet was covered in various local news channels, and news articles highlighting how the event was made possible with the support of the sponsors, and how the platform empowered women athletes with this amazing opportunity.
Here's more on the journey of the players.
Source: Mathrubhumi
It is the first time ever in India that women players have been given such an opportunity to tour overseas and explore their capabilities with strong teams over friendly matches. Thus, this extraordinary story made way to several popular online channels and articles, including The News Minute, and Kerala9.
Watch more: The Fingent Pathbreakers share their experience of the International tour!
A few blogging channels, Krbuzz, and the Magzter have also covered the story illuminating how the idea came in place and what challenges the team and the organizers faced in making the event a success.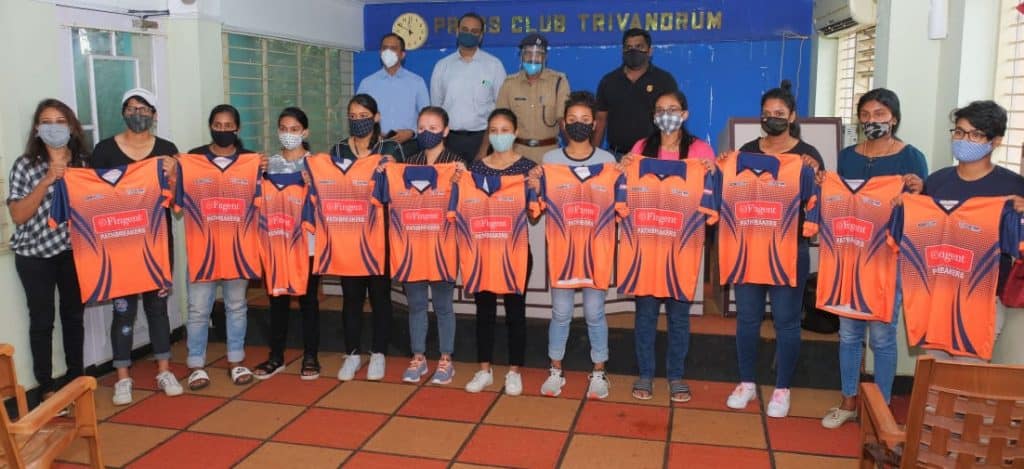 The team Fingent Pathbreakers, formed by state players from Kerala, Meghalaya, UP, and Karnataka, with their captain, Debasmita Dutta from Meghalaya, showcased a splendid performance during the series, winning four out of the seven matches, against Spring Sports Academy's women team, UAE.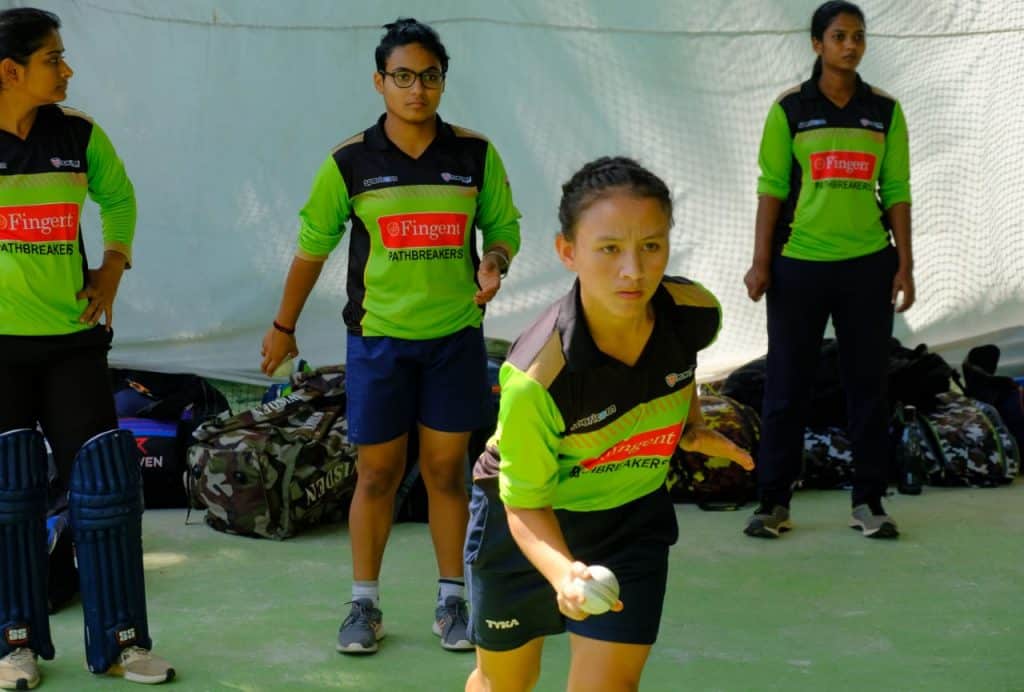 The matches displayed impressive skills of the players, especially of Saee K Purandare, who pulled 321 runs in seven innings at an average of 107, which included three half-centuries; and KK Aparna, an off-spinner, who showcased a deadly spell of six wickets in one of the matches.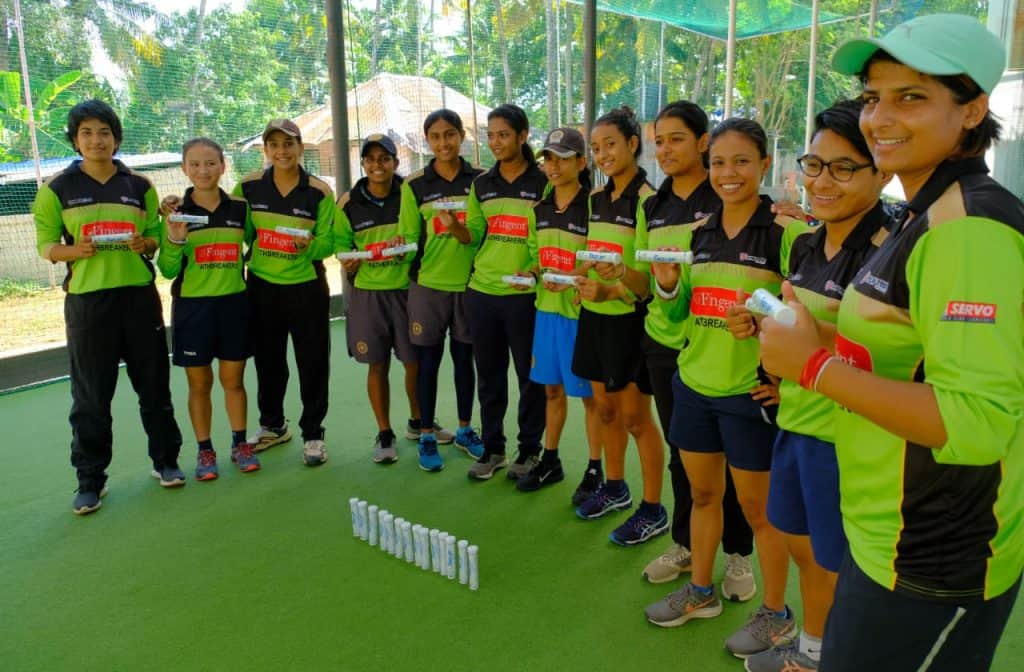 When concluding the successful event, Sonia Anirudhan, CEO and Co-Founder of Play True, thanking the sponsors and inspiring the players of the team, said: "Play True's vision of empowering girls through sports is based on growing evidence that women and girls who play sports are increasingly likely to excel in both, on the playing field and in life."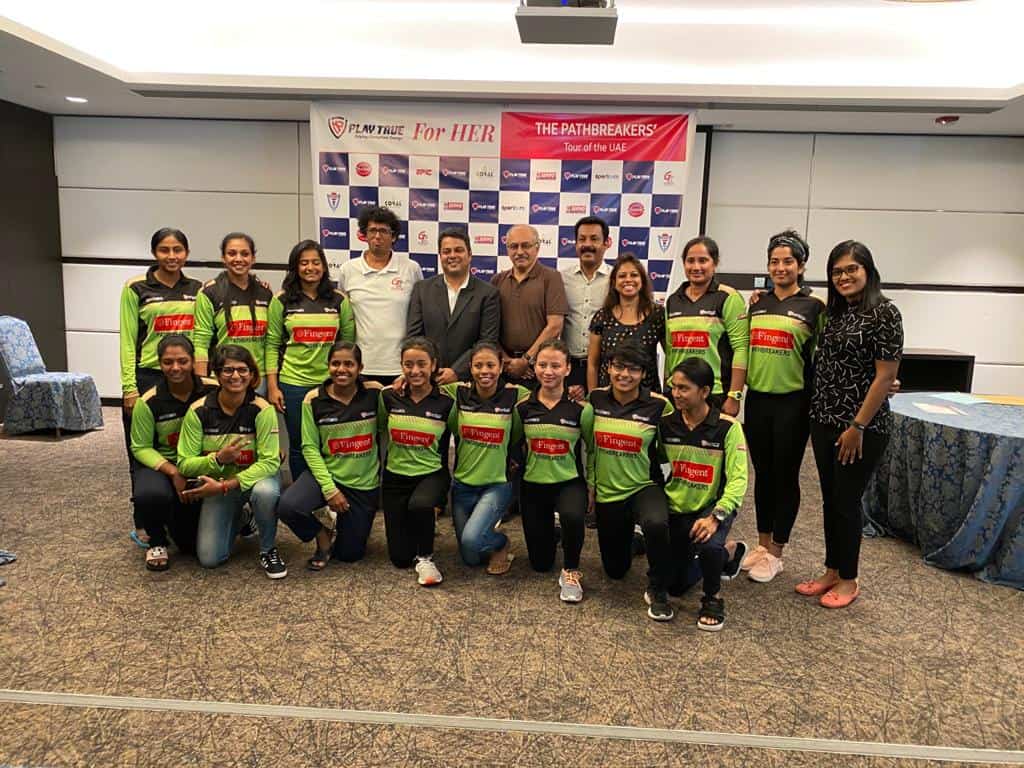 Fingent has always believed in creating a difference with innovation, be it for businesses, or society as a whole. Being a part of such an innovative idea, that is backed by inspiration and empowerment, was truly a pleasure for Fingent.
Watch more: The Fingent Pathbreaker's massive victory in UAE!
Top Challenges Logistics Managers Face Everyday
In the present scenario of global economics, logistics play a key role in facilitating trade and, by extension, ensuring the success of business operations. However, changing consumer demands, complex business models and growing client demands are just some of the top factors that pose a challenge in streamlining logistics management. So, how can logistics management personalize a conventionally standard service? Well, that is perhaps the top challenge that the industry has been facing in the last few years among others.
"Factors like the growing demands of the client, changing needs of consumers, and complicated business models pose challenges for logistics companies"
Infiniti
In their struggle to ensure optimum results, here are the top challenges faced by logistics managers today:
Cutting Transportation Costs
Growing fuel prices increased wages, and peaking inflation indexes all work in tandem to increase transportation costs daily. Cutting a few corners here and there does not always help in meeting the cost-cutting goals for transportation. Adopting a strategic approach to eliminate or reduce bottlenecks can prove pivotal in revamping network designs and consequently cutting down on transportation costs.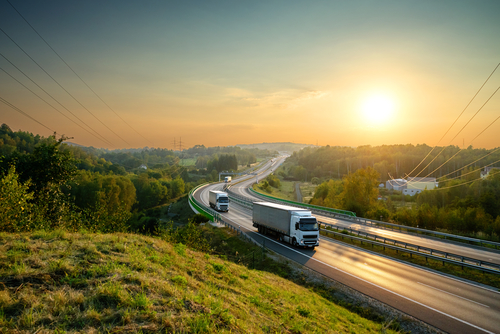 To implement these strategies well, logistics managers need reliable information on existing and future orders. Using a visibility software can help in simplifying these challenges. For a small business, relying on a cost-effective third-party transportation agency that caters to air, ocean, rail and road transportation is sometimes the best bet for accessing quality services in a cost-effective manner. For one, it rules out the added expenditure of maintaining a fleet of delivery vehicles, paying salaries to the transportation staff as well as dishing out freight charges and other taxes. You just pay a lump-sum to an expert third-party and they take care of the rest.
Related Reading: Take a look at how a Transportation Management System can ease out the challenges of a 3rd party logistics service provider here
Processing Enormous Amounts of Information
Logistics managers have to deal with a lot of figures and data on a daily basis, besides coordinating smooth discharge of operations. The scope of their work includes ensuring the safety of the fleet and staff, fleet loading, cross-checking route maps, sanctioning fuel bills and so on. When done manually, this can be a time-consuming and tedious task that can take your focus off from attention to details. Investing in an automated solution or application for data entries, fuel bills, loading and unloading ledgers can go a long way in streamlining operations by allowing logistics managers the luxury of time to look at the finer nuances of operations.
Streamline your operations
Fingent's expertise in custom software solutions has streamlined and automated tedious tasks of numerous industries. Get in touch with our experts today to know more.
Get A Free Quote!
Offering Segmented, Customized Services
 Thanks to globalization, logistics management is turning into a multi-layered job where managers are expected to keep tabs on multiple supply chains simultaneously. You don't just need to deliver goods on time but also offer customized services to different suppliers and customers in terms of packages and pricing. With the increase in customer expectation, some top rated shipping companies are striving to consistently provide maximum consumer satisfaction. A study by statista shows the 2017 and 2018 American customer satisfaction index (ASCI) scores for consumer shipping companies in the United States.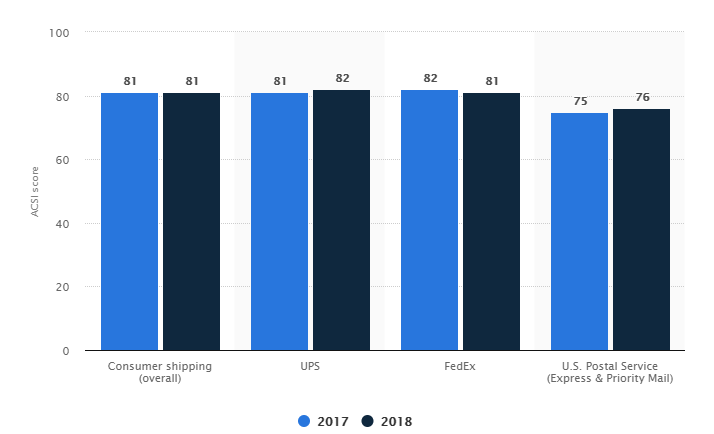 The keyword for success in this scenario is flexibility. Logistics operators need to offer personalized experiences to multiple segments of customers. Using a logistics management software that can automate the process of projecting different services to different customers can not only save time and effort on the managerial level but also bring added accuracy to data compilation and compliance.
Related Case Study: A constantly growing market like logistics cannot be managed only from a single device. How mobility solutions can ease logistics management and reduce its challenges is a read worthwhile. Find out more on iOS and Android development for logistics and supply chain company.
Manpower is the trickiest of management responsibilities. You must maintain a humane approach toward the employees while keeping the best interest of your organization in mind. That can be a complicated equation in any managerial setup, but especially so in case of logistics management, as the drivers and staff are often placed in different geographic locations to maintain swift supply chain velocity. Decentralization of responsibilities, by appointing logistics managers in key locations, with appropriate work-order management solutions can help in more efficient management. For instance, work order software like ReachOut, helps logistics managers manage team utilization, team schedules, show proof of work, generate quotes and invoices and do much more. Managers can easily keep everyone on the same page and notify the staffs immediately about changes or provide them with live info they need.
The future of supply chain management How will technology and AI shape tomorrow [Source: University of Liverpool Online]
Compliance with Regulations
Transportation rules, regulations and security norms can vary from city to city, state to state, and quite obviously, from country to country. If you are a business catering to a global clientele, keeping up with these varying rules and regulations and familiarizing your staff with these, can pose a grave challenge. Collaborating with an efficient audit software can help eliminate these pains and improve your compliance, audit results and lead to quality investigations, thereby saving you from the trouble of getting on the wrong side of the law.

With the landscape of business operations continually changing, there is a shift in the ensuing challenges as well. Staying abreast with these changes and taking preemptive measure to ward off these challenges, is a sign of sound logistics management. However, solving logistic issues is not an impossible mission. Focusing on 3 major factors- Data, Process and Technology, can solve the biggest challenges of logistics.
For prompt and apt logistic solutions and to enhance your technology adoption in logistics, get in touch with Fingent now!
So, You– one of the key decision makers of your company, have a cool idea, a plan or a requirement for a software application, a mobile application for your business, a website, or need to automate an ineffective business process. You might have an overview of what you need, but can't do it yourself, or you don't know any good connections doing the job.
What would you do?
How will you choose that perfect custom software development company which can provide the best solutions among the millions of other custom software development firms out there? I am sure that you know there is a lot of difference between finding a software firm and finding the best software development company for your requirements.
The majority of the established firms out there are masters of their art providing excellent solutions and service. They are all well-experienced in creating software or applications from scratch to enterprise levels. Most of these have spent a considerable period in the industry, know the trends and are constantly striving in a market that is highly competitive and advancing day by day. So, how do you select that one provider from these many experts out there in the market? It's indeed a very tricky job and should be done with caution. However, you will find great use of the points given below to select your right software outsourcing partner.
 Identify your Needs
How can you choose the best when you don't know what you want? Identify your business needs properly, talk to your employees, evaluate the problems and analyze the solution. Form an outline of the solution you want to meet the objectives. Depending on the nature of your project, the requirements and reputation choose offshore or onshore providers.
 Check the Company's Technical Skills and Expertise
Gather information about the company – the skill , knowledge of the team members and their portfolio working in the latest technologies in similar domain as yours, company's experience handling projects in the particular niche/ domain, company's skill in decoding your requirements into apt solution, the communication effectiveness, adherence to deadlines, and the like. Look for teams providing direct access to developers who can communicate well with you. Software houses with teams experienced in agile or hybrid agile methodologies are always better choices. Have casual getting to know each other kind of chats, but gather solid information in the course of your interaction, that clearly showcases their efficiency in previous works.
 Check their Reputation with Others
Of course, you want to partner with the best custom software development company, but would you go for a company that is not polite and nice to work with? How scalable are their solutions? Know the company's flexibility to get on with different atmospheres by looking at their client base and client relationship history. Check the clients' and customers' testimonials/reviews on platforms like Clutch, GoodFirms, etc. or connect with one of their clients through social media channels to know their opinion about the company, talk to real people via online forums, discussions and other social media to know their opinion, direct or indirect experience with this company. Doing these will sometimes leave you confused with overwhelming responses from different people, nevertheless, take an average of pros and cons and decide what cons can you overlook for better pros of the company that aligns with your requirements.
The Budget
Cost is always as important as the company's expertise. Determine whether the cost of the project falls in your budget. Unless confident on the guaranteed ROIs, you don't want to go bankrupt buying an over expensive software that automates parts of your business. That said, you don't have to compromise on the quality of the software for low costs either. Certain companies price their solutions for the sheer fact of overcharging to seem like a bigger and better company. Do not forget to look for hidden or additional costs in the contract, like additional fees for documents management, annual setup/ maintenance in addition to monthly support charges, in-person training, etc.
Support your Core Business Functions with Efficient KPO Solutions.
 Size of your Software Project
Is your project small, medium, large or huge? Not all companies undertake any size of custom software development projects. Certain software development companies commit only to big fishes, providing them giant, multi-year, million dollar projects. These are usually famous brands and industry experts. Whereas many smart small to medium size companies take multi-year projects. Such companies' growth curve over a small period of time shall showcase their competency and potential. Has the company been growing fast or diminishing in size or stagnant over this period?
 How Passionate are they to Develop the Solution
The company to which you outsource must understand your requirement in a way you understand and aspire to. Are they as passionate as you about this project? Are they completely dedicated to making a quality product or are they just doing a duty for money they take? These are evident from the way they suggest added features which can be included, future scopes for the product, or deny with an idea that is not quite useful. However, make sure they back their opinion with proper facts and reasons that convince you about their dedication and is not just to 'make the task easy' for them.
 What happens in the Case of Divorce?
Jon Lincoln, business development specialist at Etfile says that, "Some vendors try shady tactics by holding your data hostage (as if they own it!) or charge an exorbitant amount to sway you from leaving". Get proper agreement on safety and security issues and how you get your data back in case you leave the vendor. Expect some charges especially if the data was encrypted, but it shouldn't make you bankrupt in any case.
Quality of After- Sale Support and Services:
Even the most perfect solutions guarantee only 99.9999% up-time. Unfortunately, there are no 100% perfect solutions. Even though too small, there is always a fraction of the chance that things might go wrong after delivery, especially in the case of software. So make sure your vendor company provides direct access to the technical team and offer good support, maintenance, cloud-based updates and upgrades and troubleshooting services for a fair period of time after sales.
Evaluate your Software Package Now!
 Take a Test Drive
Most companies these days provide a free trial to ensure the quality of the features, benefits, and usability. Ensure that the software meets your requirements, have necessary features and functionality. During the trial, feel free to ask your vendor all the questions and doubts you may have.
Your first stepping stone to establishing your goal is choosing the right custom software development company. A fault here might lead to devastating results. So, take no chance, do thorough research and study based on the factors mentioned above. Based on our experience developing and deploying custom software for a wide range of industries and organizations of varying sizes, we believe that the Best Company is that which deliver a solution blending with your business process to the highest degree, within the stipulated cost and time and without a compromise on quality!
Mobile applications have become mandatory for every business in the current times irrespective of the nature and size of the business. These apps allow businesses to create a direct marketing channel and to provide them with an opportunity to enhance the customer base. There are various business organizations in every sector and the utility of their respective mobile apps provide a competitive edge over the rest of the industry. Customer engagement along with the brand value also improves with the presence of a usable mobile app. Because of these reasons, it is of utmost importance that the mobile app is designed in such a manner to fulfill certain parameters to emerge out as a winner in the market.
The Lifecycle of a Successful Mobile App
A successful mobile application is an amalgamation of latest technology, tactful planning, and management along with the excellent user experience. There are different phases in the creation of a successful mobile application
Planning & Analysis: It is necessary to ensure that extensive planning and analysis are involved in the design, development, and deployment of the mobile app for a business. Business requirements along with the target audience shall be identified at this stage to make sure that the outcome is as per the client's specifications. Problem statement shall be carefully analyzed and a solution according to the same shall also be planned. Features of the app shall be classified in three broad categories as functional requirements, non-functional requirements, and user-interface requirements.
Feasibility study of the application in terms of technical, operational and economic feasibility shall be carried out as the first step.
Identification of Mobile Platforms & Revenue Model: There are various mobile platforms and devices that are available and are being used by customers. The mobile app that has to be developed for a business shall identify the target mobile devices and platforms in terms of device support, performance and other quality parameters.
The primary purpose of the development of a mobile app for any business is to enhance the customer base and earn maximum revenue out of the application. The revenue model shall be pre-identified such as paid application, in-app advertisements, pay per download and likewise.
Type of Application: There are primarily three categories of mobile applications as native apps, web apps, and hybrid apps. Native apps are platform-dependent apps that require significant effort, cost and time to be developed. These apps score high in terms of user experience but also come with higher costs. Web apps are the applications that are cheaper and can run on multiple platforms. However, these are less powerful in comparison with the native apps. Hybrid apps are the amalgamation of native and web apps that combine the web code with the native language. The type of the app shall be decided as per the business specifications and the target users.
Mobile User-Interface (UI) Design Parameters: The design of the mobile app plays a key role in its success or failure. It is necessary to have a responsive and visually appealing design to provide the best user experience. Consistency is one of the primary design principles that shall be reflected in the mobile application. The layout, styling, and navigation shall not vary from one screen to another. Users shall feel connected with the application and therefore, it is necessary to have a match between the mobile app and the real-world scenarios. Also, the users shall be provided with considerable control and freedom in terms of the application usage. Visibility is also one of the prime principles that must be included in terms of system feedback to the users. Use of error messages will boost the application design and will also lead to the avoidance of the problems. Application designers must avoid the use of excessive scrolling or overload of content on any of the application screens. Users shall be able to easily recognize the application flow and they shall also be provided with the flexibility and ease of usage. Help and support documentation must be included in the application to gain customer trust.
Offline Access: Users do not wish to spend a lot of data on any application and like to access certain features of the application in the absence of network connectivity. The application that is developed for a business must grant users access to app features in offline mode too. It will enhance the application availability leading to higher customer satisfaction.
Marketing Strategy: Development of an accurate marketing strategy for any mobile app is very important for the success of the application. It is required for the business to make the customer familiar with the features of the app so as to enhance the number of app users. There are various marketing mediums that are available such as tele-media, social media, and print media and so on. Identification of the marketing channels along with marketing strategy shall be developed for the required marketing of the app.
Mobile Application Testing: Testing of the mobile application shall be carried out before its deployment. The application developers shall not restrict to system and integration testing in case of the mobile app. Other forms of testing such as load and performance testing, security testing and UI testing shall also be carried out to avoid any defects in the functional specifications along with the system qualities and UI parameters. Customers shall also be included in the testing processes to gain their valuable feedback. The final release shall not include any of the bugs identified in the testing procedures.
Data Analytics Tools: There are various automated tools that have been developed for data analysis. Such tools shall be integrated with the mobile app developed for business so as to analyze the customer data and identify the customer preferences, choices, patterns, and trends. These results will allow the business to improve their strategies and practices. Also, the app shall be developed as per the customer requirements and preferences.
Mobile applications have become an integral part of the modern-day businesses. It is, therefore, a prime concern for businesses to develop mobile apps to be omnichannel and to offer amazing user experience with all necessary features and functionalities. Responsive web design shall be used during the development of the mobile apps to achieve higher customer satisfaction. A phased approach shall be used by the mobile application development team which shall include planning & analysis, designing, development, testing and deployment as the primary phases.
Fingent Corp. is one of the top enterprise app development companies across the globe. A reliable and affordable Web and Mobile Development company for enterprises and mid-sized organizations like SONY, PWC, Johnson&Johnson, Rentmoji, WRI, CBN, vLocker, and much more.
Fingent has been in the IT industry since 2003 and has grown to help hundreds of mid and large size organizations implement software solutions that increase productivity and profits.
Some of the top researchers in the IT industry has listed us as the top enterprise app developers:
If you are looking to develop an app for your business then get in touch with us your requirements.
Technology has literally touched every single aspect of our lives now. Any industry you take, you will find a significant technological revolution, that has completely changed the entire industry. Be it retail, healthcare or education, technology has played its role and left the results for all of us to see and experience.
One of the less talked about industries when it comes to technological influence is Agriculture – the world's oldest industry. It might seem like a far-fetched idea to at least some of us, incorporating technology into agriculture. But then, weren't all technology ideas far fetched for any industry, initially?
Jim Swanson, CIO of Monsanto, leads a digital revolution in the world of agriculture, through his organization. He has been the CIO of Monsanto for almost two and a half years now and has been dealing with all the IT systems and data that extend across Monsanto, who have their presence over 67 countries worldwide. His focus, throughout the digital transformation, has been on 5 basic pillars that define digital opportunity: operational efficiency, customer centricity, business productivity, revenue enablement and disruptive innovation.
So, how did Jim Swanson go about leading the technological revolution, focused on these areas?
The Slow Shift From Analog To Digital And Working With Growers
As the agriculture industry is pretty huge and old, moving from analog to digital was quite exciting for Monsanto.
Jim Swanson, says, "You think about the seven and a half billion people on the planet, growing to nine billion in a relatively short period, and growing the amount of food we need, and doing it sustainably is an important mission that Monsanto has."
What Jim's team did on the fields was a kind of extraction of useful data and information insights, which they utilized to come up with new and better ways to do agriculture, than what was done in the past. For that, they needed information, science and technology, and used every single resource that they had. They set up the connectivity in their fields that enabled them to collect real-time information, so that they could asses the performance of their combines. They also used data analytics to generate better insights on their products as well as their sustainable business practices.
They digitized their internal processes so as to connect more easily and freely across the agriculture ecosystem, with the help of sensor technology, data, and insights that have literally changed the way farming is done. The impact was also quite big, in terms of yield, reduced inputs and bringing about sustainable agriculture.
The farmers or the growers, being the scientists that they are, are always curious about ways to increase their output, and hence assess and test everything to see if it works for them.
Monsanto made the effort to work with them, understand and grow their thinking around how technology can be applied. They were able to learn with the growers, and analyze what works and what doesn't. They did more of what worked, and evolved what didn't, to make them better. This way, they developed a great partnership with the growers, which went a long way in digitization.
Achieving Operational Efficiency Through Simple Techniques
From a holistic perspective, they came up with a simple solution as one of the means to improve operational efficiency. They fixed sensors on their semi-trucks which transported products from their farms into their manufacturing plants, which enabled them to track the products wherever they were in the process. This allowed them to understand if certain semi-trucks were getting hot. They could provide real-time information through dashboards and information analytics to their plant, to move a hot semi-truck forward in the queue, and get it unloaded, thereby avoiding a possible loss of product or yield. This basically shows the value of digitizing the supply chain and its impact on business.
Such technologies and ideas can be used on the research or commercial side as well. It allows agriculture companies to analyze and make important decisions well in advance, while providing growers with real-time information as and when they need it. This facilitates sustainable improvements in business.Every organization has a mission and a strategy to achieve the mission.
Every organization has a mission and a strategy to achieve the mission. Monsanto is a yield based company, and hence, for them, digital yield is at the top of their mission and strategy. It is under this mission, that the rest of the company's processes to unlock the digital yield take place. For example, IT to provide the digital platform to facilitate the processes and their work with customers and growers, come underneath. To assess the value of that digitization, as mentioned before, they also created five value pillars – operational excellence, centricity, business productivity, revenue enablement and disruptive innovation.
Jim Swanson is a role model for all those CIOs working in the agriculture industry. I'm sure we could never think of ideas to automate agricultural activities in the past. Now, we have the capabilities to develop custom software applications for almost everything in agriculture. This is just a start to what could be a worldwide revolution in agriculture.
Source: Forbes
The healthcare industry is already half way through a huge transition, leading to more effective and efficient healthcare practices. I'm talking about Electronic Health Records (EHR), the much-needed change that healthcare organizations were looking for, at one point of time. As with any technology, they needed some time for the people to get adapted to it.
Now, a few years into its introduction, there are still mixed reviews regarding its benefits. According to an EHR user satisfaction survey by the American Academy of Family Physicians (AAFP), only about half of the respondents were satisfied with their EHR systems on the whole. The survey also showed that many EHR providers had scope for improvements along with some of the main features that doctors found most useful.
So how can you make sure that the healthcare system you are planning to adopt will provide the required results? How can you make sure that you don't end up being a dissatisfied healthcare application user?
Here are 5 essential elements that you need to consider while looking for an effective healthcare application:
Customization – An effective healthcare application should be capable of being customized to the specific needs of an organization or a physician's practice. Only then can it help in improving patient care, without creating even more work for you and your employees. An off-the-shelf healthcare system may need extra modifications from your side in order to be effective. According to the AAFP survey, 78% of the users were satisfied with the customization capabilities of their EHR systems. Hence, it is one of the most important factors to look for in any good healthcare application.
Integration – This is an extension of the customization factor because, with customization you can make sure that your healthcare application is well integrated into the organization or practice workflow, the accounting and revenue management functions. A fully integrated system can streamline the entire process of health care right from scheduling appointments to processing payments and checkout. As all the processes get automated, it becomes much easier for your employees to keep track of patients, allowing them to concentrate on patient care.
Software support – According to the AAFP survey, only 39% of the respondents were satisfied with the support and training they received from the EHR vendors, which shows how important customer service is to users. A majority of them were least satisfied with the software support. This means that customer service and support makes a huge difference in the overall satisfaction level of the software users, and as a healthcare practitioner, wouldn't you want software support to be at your constant beck and call in case you need help?
Connectivity – The survey showed that about 70% of the respondents found the e-prescribing and electronic messaging functionalities of their current healthcare system as most beneficial and satisfying. These are two functions that play important roles in improving the speed and quality of care delivered to the patients, thereby improving patient satisfaction. Such capabilities and link ups with pharmacies can help decrease the number of patients who are reluctant to fill out prescription forms to get their medicines and bring up the effectiveness in patient care. Hence, you need to make sure that you have enough connections to make treatment easier for your patients in every possible way.
Quick implementation – The implementation and training process of your healthcare application should be quite quick, so that they don't cause disruptions in your work and practice. Cloud-based systems can actually help you save on the high costs as well as the IT efforts of installation. It should also be easy to use as you need to finish off your staff training quickly and efficiently.
These basic factors can help you find the right healthcare solution for your organization's needs and it can be a start to improving patient satisfaction and quality of care, today, as well as in the long run.
Looking for the perfect solution to improve patient care in your organization? Our healthcare application experts can help.