Tag:
supply chain technology
Logistics is a precision business, where success depends on making accurate moves at the right time. A high level of contextual awareness, backed up by highly optimized processes are the essential ingredients of success. Efficiency is the end result, which comes as a result of such heightened levels of workflow optimization, allowing companies to streamline their logistical operations right from its core. Here are five trends logistics managers need to co-opt to their business immediately, for success in a highly competitive and challenging business environment.

Related Reading: Having a clear picture of the challenges involved in logistics management will give you an overall insight into the industry. Read on to know more about it here.
1. Warehouse Majors Invest in Automation in a Big Way
Today's business has increasingly become fast-paced. Highly demanding customers seek instant gratification on one side, and businesses, in a quest to do more with the finite resources on hand, try to optimize and accelerate their supply chain, on the other side.
All this means not just larger volumes to process, but also a significant increase in the number of issues warehouse and logistics management needs to deal with in a day. Side-by-side, competitive pressures mean wafer-thin margins, leaving warehouses bereft of the luxury of spending more to cater to the increased workload.
The solution to overcoming such challenges is automation.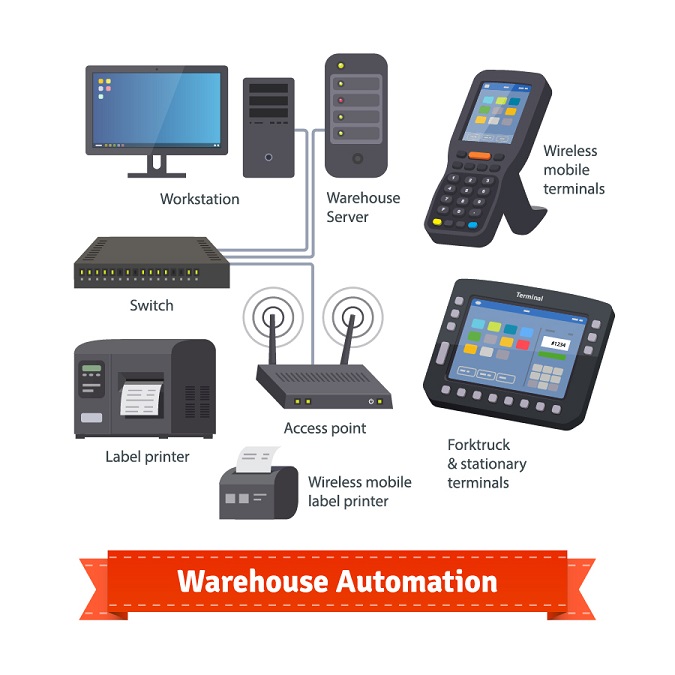 The single biggest task for warehouse executives is determining fleet deployment, matching fleet deployment with cargo based on loading capacities, fuel consumption, and more. Another critical task is monitoring fleet movement.

Automating these functions, by using the latest software to intelligently route different data sets and data streams improve accuracy, leaving the managers free to focus on other things where their core competencies and interventions would be more productive. Such warehouse automation solutions improve the efficiency, accuracy, and velocity of warehouse operations manifold.

Major logistics players are already adopting warehouse automation in a big way to move things. Amazon's KIVA robots grab items from shelves in a highly efficient manner, and its yet to be released automated drones will deliver items to addresses within 30 minutes of an Amazon center.
Uber, Waymo and other companies are already undertaking successful test-runs of self-driving vehicles such as cars and trucks, indicating the shape of things to come.
Related Reading: Understand more about how emerging technologies like AI continues to redefine the logistics and supply chain industry here.
2. Logistics Providers Make Better Decisions with Big Data
Big data analytics unlock a wealth of possibilities for enterprises. For logistics companies, insights from big data are invaluable in optimizing routing, identifying perennial bottlenecks in the supply chain, and streamlining the flow of goods and resources at the warehouse.

Real-time traffic, climate, and other data could identify the best route to a destination, factoring in route congestion, diversions, fuel prices, and much more. Predictive analytics help identifies whether the addressee is likely to be at home to sign for the shipment, avoiding repeat visits, and more.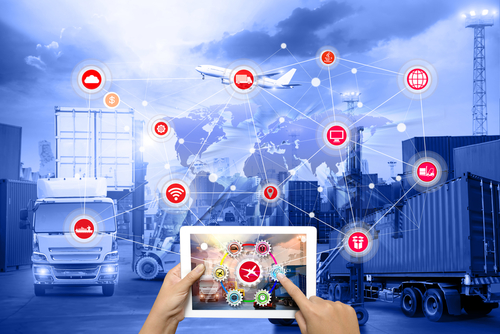 Logistics major UPS saves 10 million gallons of fuel and emits 20,000 tonnes less carbon dioxide, while delivering 350,000 more packages every year, ever since they started to apply big data analytics in their routing.
Several logistics players use big data analytics extensively to improve last mile delivery. The last mile of the supply chain is known for being inefficient, and cost up to 28% of the overall delivery cost of a package. Logistics players may apply big data to unearth patterns at play to optimize delivery routes and strategies and identify the best delivery modes and time for any specific address.
A whopping 98% of 3PLs regard improved data-driven decision making as essential for successful supply chain activities and processes.
Related Case Study: Restructuring of existing processes centered around an enterprise mobility solution has become the need of the hour. Know more about how we helped a logistics company streamline and restructure their processes to facilitate better communication and drastic speed improvements.
3. Omni Channel Logistics Facilitates Smarter Deliveries
Today's consumer journey typically moves across channels, based on their preferences. The various channels operate independently, and even as businesses try to optimize the experience across the various channels, variation in service levels, pricing, and customer experience, are inevitable.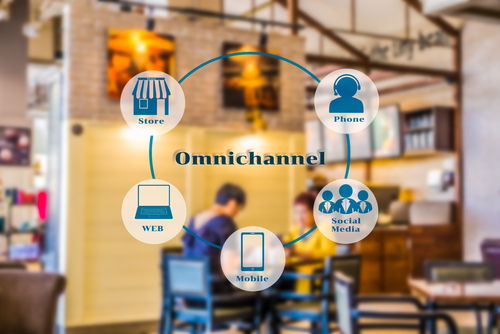 The omnichannel approach entails convergence of the hitherto separate channels into a single seamless channel, using a central hub to route all movements, and using different channels for delivery, as appropriate. The orchestrated product flow delivers a highly personalized shopping experience. However, delivering a consistent customer experience across different channels is challenging, and makes the omnichannel approach more complex than the multi-channel approach.
Effective knowledge sharing on a real-time basis is critical to the success of the omnichannel approach. A critical requirement towards this end is transparency, to make explicit the status of the inventory and shipment in real time. Significant effort and investments to create cross-channel visibility and establish sound business rules are essential prerequisites, as is a warehouse management system (WMS). Different stakeholders in the ecosystem, such as logistics provider's, warehouse, and shipping service usually have their own WMS, accessible by the logistics provider through a portal.
Streamline Your Logistical Operations
Fingent's expertise in crafting innovative software solutions helps measurably enhance the efficiency of your logistical operations. Get in touch with us today to implement the right solutions for optimizing your logistics and supply chain processes.         
Get A Free Quote!
4. Making Collaboration Work
The role of robust collaboration can never be understated, especially in today's supercharged business environment where tasks are complex, speed is of the essence, and any delays can have huge implications, if not lost business. Moreover, the supply chain is now increasingly becoming global, and no single stakeholders can realistically hope to cover all ground. In such a scenario, successful supply chain relationships deliver not just economic conveniences and cost efficiencies, but also the ability to meet customer demands in double-quick time, and realize agility in business operations.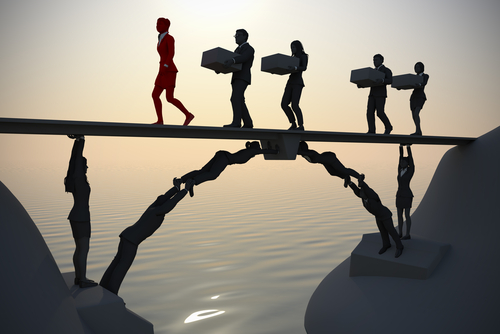 In fact, successful collaboration can make the difference between long-term sustainability of the business and short-run dissolution. As competition increases, supply chain partners are toying with several innovative ways to make collaboration work for mutual benefit. Such innovations may take the form of new products or processes, but needn't always be big breakthroughs. It could also be innovative combinations of existing tactics, relevant for the specific market.
5. Moving to Service Chains
A supply chain is an ecosystem of people, enterprises, activities, information, and resources, working in a coordinated way to move the product from one stage to the other, from supplier to the customer. However, a well-oiled supply chain, though indispensable, is no longer enough in today's highly competitive business environment. Businesses are forced to focus on strategic quality management, aimed at re-engineering inefficient work processes and continuous quality improvement of existing processes.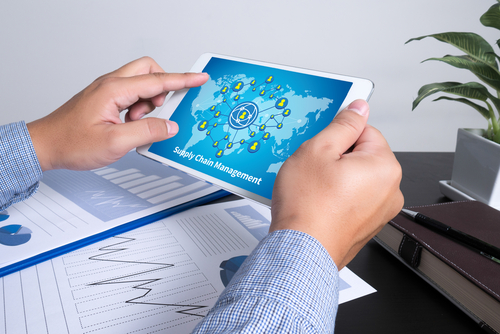 The complexity of the supply chain is in direct proportion to the complexity of the business. The overriding aim of moving to service chains is to reduce such complexities and ensure faster and efficient delivery of services, which would contribute to seamless supply chain operations. Ways to achieve such a state include setting up of a network of strategic centers facilitating same day deliveries, deploying intelligent warehouse automation solutions for forecasting and planning, instituting a comprehensive supply chain technology encompassing all bases, and more.
Doing so requires a sound technical partner to deliver warehouse automation solutions, and other supply chain technology to further supply chain efficiency, crunch big data, and more.
Digital Logistics and Supply Chain Trends [Source:SAP]
The transformative impact of blockchain remains much underestimated. While the concept is now associated with Bitcoins, the underlying technology could very well become the most important disruption since the arrival of Internet.
Blockchain in its purest essence is a distributed database, containing digital data. Users may access, inspect, or add to the data, but cannot change or delete it, making it tamper-proof. The original information remains as it is, leaving behind a trail, or a chain of transactions. Any single transaction would be a "block" in a never-ending chain, with the chain distributed across the internet, outside the control of anybody. Businesses leveraging block chains have an easier and safer mechanism to conduct transactions.
How Viable is Blockchain in the Supply Chain?
One area where blockchain technology is in the throes of making a big disruption is the supply chain of industries. In the existing system, the database is updated every time a movement or change takes place in the supply chain. With blockchain, every time a product changes hands, the transaction is documented, creating a permanent history of a product, from the point of origin to sale. In a traditional supply chain, each stakeholder maintains their respective records. With block chain, the records are distributed across the cyberspace, allowing for smart contracts. The distributed database runs on multiple servers, constantly checking the security and integrity of each transaction.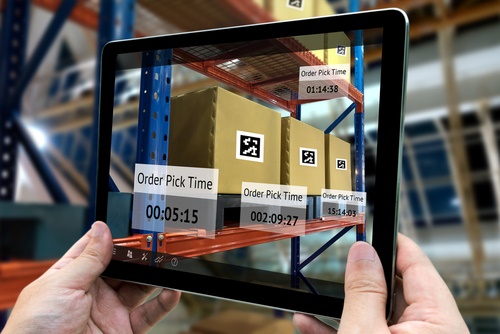 The application of blockchain technology in supply chain manifest in many ways:
Real-time live recording of the quantity and transfer of assets, such as trailers, pallets, and containers

Continuous tracking purchase orders, receipts, shipment related notifications, and other trade-related documents

Assigning digital labels to physical goods, such as bar codes, serial numbers, RFID tags, and more. Blockchain allows connecting digital product information such as the source of origination details, batch numbers, factory and processing data, expiration dates, storage temperatures and shipping detail in a robust and inseparable way.
Improved Transparency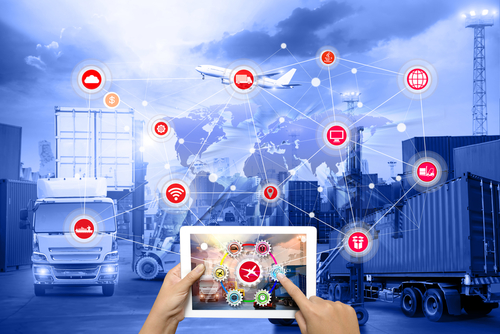 Blockchain brings about greater transparency in the supply chain. The log reveals the origins and touch points of each product, disseminating information on the manufacturing process, movements, and delivery, to all stakeholders. Such in-depth and finer details are not easily available now, and the potential applications of such transparency are earth-shattering:
For perishable commodities, such as fish, blockchain records for each process, such as how and when the fish was caught or raised, whether it has been handled in a compliant manner, whether harmful formaldehyde was used in storing it, and more, increases consumer confidence and safety manifold. Walmart's new Food Safety Collaboration Center in Beijing, where the company tied up with IBM and Tsinghua University to apply blockchain technology, to ensure food supply chain traceability and authenticity is a case in point.

Blockchain logs make explicit the genuineness of a product, as in whether the product is really organic as claimed.

An audit of blockchain logs make explicit whether the product was made using child labor, whether workers were paid fair wages, and whether there are any other ethically and/or legally reprehensible associations.

Blockchain logs enhance safety. For instance, customers can track the components in their vehicle has come from an authorized manufacturer and has passed all recommended tests, increasing confidence, and reducing the risk of injury.

In the case of defective products, the trial makes it easy to pinpoint the source of the problem and make effective amends. For instance, Blockchain production records enable tracing the place and time when a specific automobile airbags were made, allowing automakers to reduce their liability.
The trust and transparency that block chain infuses across the value chain become a new nexus for value exchange.  
Security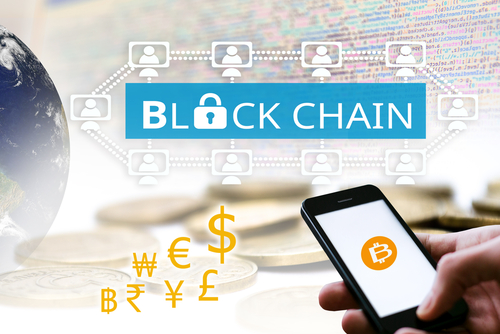 One major impact of blockchain in the supply chain is improved security and accountability.
The chain of logs ensures the authenticity of the product, and customers can verify the same automatically. With transactions tracked from the origin, a duplicate product or an unauthorized transaction is immediately flagged as counterfeit or theft.

The permanent registry and verification assign tamper-proof individual identifiers to high-value products such as jewelry, making theft easily attributable. It also helps identify insurance fraud, which is a $60 billion industry in the USA.

Blockchain serves as an escrow account, requiring all parties to confirm transactions. It eliminates the need for third parties, usually involved in the mix to ensure both parties honor their part of the contract. A shared, indelible ledger with codified rules also eliminates the need for audits.
The blockchain is on its way to enable more agile and secure value chains, with closer cooperation among stakeholders.
Process Improvements
The application of block chain in supply chain contributes greatly to process improvements.
Blockchain logs make it very easy to detect errors or problems, and subject the supply chain movements to analytics to improve efficiency, on a dynamic basis. It also facilitates effective planning to improve processes.

Blockchain delivers a decentralized architecture, which creates opportunities to innovate. For instance, intelligent block chain contracts query other nodes in the blockchain for the best pricing, delivery times, and other particulars. Smart shippers are already finding ways to leverage innovations to increase profits and strengthen relationships across the supply chain.
The application of blockchain technology enables tapping into rules-based intelligence, for executing business functions. Stakeholders may apply intelligent program code to embed conditions and other logic into contracts and other transactions, implemented automatically, with 100% accuracy. Manufacturers and other stakeholders can spare themselves of the copious amount of time, money, and other resources they presently spend to negotiate and communicate with other stakeholders.
The effectiveness of blockchain technology, however, depends not on blindly applying the technology per se, but developing solid and reliable apps that leverage the technology. The blockchain is only a facilitator, and it still requires cutting edge mobility solutions to power your supply chain to greater heights. Get in touch with a reliable partner for your business and mobility solutions requirements.