A Detailed Guide to Understanding Digital Business Transformation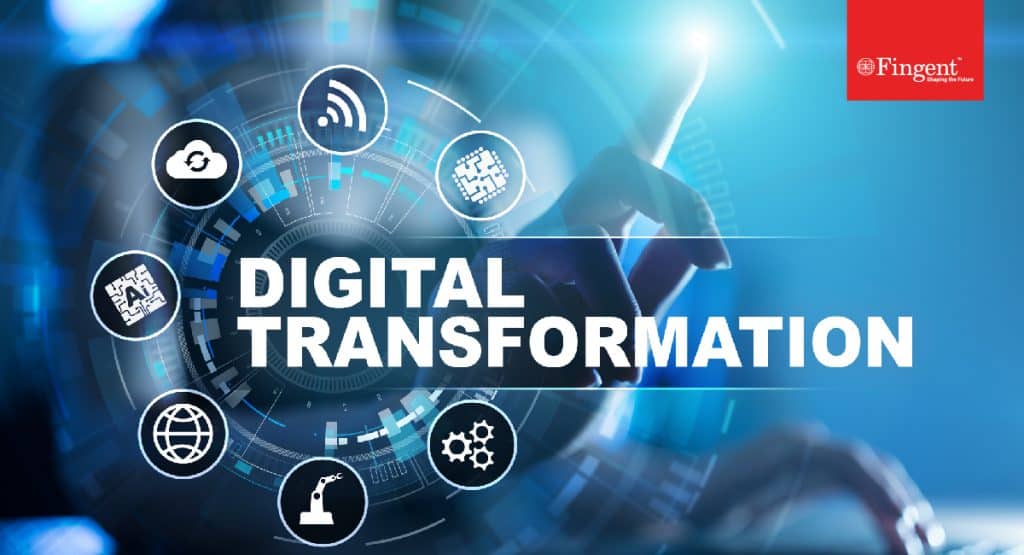 Digital business transformation: Why Digital Strategy for Business is a Must Today? 
What is digital transformation?
Digital transformation is the process of integrating digital technologies to create a new business model or modify existing business processes to meet changing business requirements. Digital business transformation is also a cultural change that enables an organization to challenge the status quo, experiment, and accept failure as well.
While digital transformation may involve many technologies, the hottest topics currently are cloud computing, big data, the Internet of Things (IoT), and Artificial Intelligence (AI). Many companies have already started to transform digitally and by 2023, it is estimated that such organizations will contribute to more than half of global GDP.
According to research published by IDC, despite the COVID-19 outbreak, the global spending on digital transformation technologies and services is slated to grow from 10.4% in 2020 to $1.3 trillion. In fact, the pandemic has compelled businesses to increase operational efficiency and improve customer experience. Both of these aspects are not just major goals of the digital transformation of business but also deciding factors that influence a company's fate during an economic slowdown.
In general, digital transformation is not just about disruption or technology and not even about transforming for a digital age. In this guide, we help you understand the essence of digital transformation for business and why you should implement it.
Read more: A Road Map To Digital Transformation in 2020 
What is digital disruption?
In simple terms, digital disruption is nothing but transformation due to emerging digital technologies and business models. This can cause a significant change in customer behavior and market context, requiring the need for re-evaluation.
Consider these examples of digital disruption:
The film photography and photo processing industry underwent digital disruption with the arrival of digital cameras.

The traditional services like taxis and food delivery were disrupted by Uber that pioneered on-demand services.

Companies like Netflix and Amazon caused disruption to the subscription-based economy model by transforming how content is accessed by people and monetized by advertisers.
Both digital disruption and digital transformation present immense opportunities for businesses to gain a competitive advantage. 
Causes of disruption and digital transformation
1. Technological innovations
Digital business transformation is more impactful than ever before. Again, it is important to remember that neither does technology drive disruption nor does it cause transformation. It depends on how digital technology in business is used and adopted by partners, customers, competitors, and stakeholders. These technologies primarily include Artificial Intelligence, IoT, virtual and augmented reality, edge computing, and blockchain.
2. Customer behavior
The demand for customers' convenience and simplicity in dealing with businesses is not a new concept. It existed even before the internet era. It will not be wrong to add that transformation is simply catching up. Customer behavior and needs are also affected by disruptions at the societal level.
3. Innovations and inventions
Be it science, technology, business or even non-technological context, innovations and inventions can be disruptive. For instance, the invention of the locomotive and the printing press led to drastic changes in our society in the past centuries. Today, we're experiencing the biggest transformation in every sphere of life with the invention of smartphones, social media, software applications, and so on.  
4. Ecosystem
Organizations are part of business as well as natural ecosystems. So, any economical changes, evolutions towards collaborations, regulatory changes, and even a pandemic can impact and drive the need for digital transformation. Most of the organizations that were either postponing or canceling their plans to switch to cloud-based infrastructure have now started migrating their legacy systems to cloud increasingly since the COVID-19 onslaught. 
Why should businesses leverage digital transformation?
Businesses must focus on digital transformation to steer themselves towards growth, stay ahead of the competition, and make themselves ready for the future. 
Undergoing digital transformation helps your business gain the following advantages:
1. On-demand services
Never have we seen these many businesses demanding more agile hybrid IT services and agile networking capabilities to provide a better user experience. This is not limited to just the usability of applications for employees or customers, it includes the experience of working with the IT team and tools as well.
2. Improves productivity
Digital technology enables employees to become more effective in their primary roles.
Digital transformation helps core business functions such as HR and finance to automate crucial areas such as payroll, enabling leaders to focus on more productive opportunities.
It also enables remote working and provides access to technology and services on demand, which is important to create an environment that helps employees to be efficient.
3. Security
Data security is one of the biggest concerns of many IT leaders. While this is a highly complicated task requiring stringent enforcement around access, data compliance, and protection from attacks, it is useless if network forces have to go elsewhere for faster speeds and flexibility.
So, businesses must surround themselves with technology partners as well as cybersecurity experts that understand the business objective and can operate honestly and transparently to achieve those objectives.
Read more: How IT-as-a-Service Boosts the Digital Transformation of Enterprises 
4. Strengthen business partnerships
Demands of customers are changing more than ever before and so is the competition within industries. Most companies are relying on each other, working with suppliers and distributors, contractors, and specialized consultants to produce a myriad range of products and services to attract customers.
Though these partners can be managed via document-based communication, it is an exhausting obstacle to efficiency. However, technology can be used to streamline and redesign the process and make it more transparent, accurate, and timely.
With the digital process set at an early stage, businesses can stay ahead of the competition and make themselves available to future partners. Internal processes can be streamlined and over time, digital transformation for small businesses can produce tools to generate time and resource gains that will help strengthen business partnerships.
Read more: InfinCE – Digital Transformation for Today's Small Business 
5. Informed decision making
Most organizations have access to greater volumes of data today. This data can be converted to valuable business insights and used to make more informed and faster decisions.
The famous American food brand McCormick & Company's "FlavorPrint" is a smart platform that allows consumers to discover personalized recipes and receive product recommendations. This use case shows how digital transformation helps McCormick to make informed decisions driven by data. Through personalization and added insights, the FlavorPrint program helps meet consumer needs with an enhanced and relevant food experience.
Leveraging AI-based technologies, analytics, and the Internet of Things (IoT) can support leaders in their endeavors to make quicker and better decisions resulting in progression.
How to start your digital transformation journey?
A few steps to set off your digital transformation journey:
1. Determine what digital transformation means to your business
First, identify all the challenges your business is facing and then figure out the likely digital solutions that will help you achieve your business goals.
Read more: 5 Questions that Define Your Digital Transformation 
2. Define a digital strategy for your business
Once you have identified the challenges your business faces, the next step is to evaluate the various digital transformation solutions that you can consider for your case. For instance, it could be front-end transformation such as products and customer experiences, or back-end transformation such as cloud and IT.
3. Give importance to executive buy-in
Make sure to obtain executive buy-in within your company after you have defined a digital strategy for your business. Executive buy-in is one of the most reliable signs of your company's commitment to digital transformation.
4. Identify partners for your digital transformation journey
Partners or stakeholders are critical to your digital transformation success. A reliable and strong partner can support your journey by:
Delivering capabilities to help you transform

Offering consulting services to help integrate digital technology

Assisting you to navigate the digital transformation landscape

Sharing successful approaches and practices 
5. Communicate your plan to your employees
To gain the trust of your employees and obtain intrinsic buy-in, you must ensure to communicate the value of digital transformation to your employees. Make sure to provide your employees with a clear structure and plan, and train them adequately to prepare them for the digital transformation.
6. Execute your digital transformation
Start executing your digital transformation plan at all levels of your organization, that is, from the top-level leadership to your employees. It is important to remain committed throughout the journey to ensure successful digital transformation. Setting your sights on the end vision and working towards the future business success and growth will help you deliver a more unified experience to your customers as well.  
Digital transformation trends to embrace in 2020
IT leaders should be prepared for DX-centric shifts in the IT service provider sector. They should get ready to embrace Artificial Intelligence and insight-driven innovation and explore the benefits of public cloud adoption. Here are a few trends that digital transformation companies must consider:
1. Digital operating models
CIOs need to adapt and include integrated cross-functional teams to lead the culture change within the organizations and create the digital backbone having the capacity to power the transformation.
2. Big data
The increasing volume, variety, and velocity of data can be overwhelming. Storing massive amounts of data is also a challenge. While cheap storage makes data collection easier, it is not recommended. Also, new regulations such as GDPR (General Data Protection Regulation) demand more careful data management. So, proper planning and management of data streams is a must as it can result in significant data privacy and compliance risk.
3. Leverage AI
Artificial Intelligence will have to take center-stage and deliver business outcomes with digital transformation. From sales, marketing to HR and Finance, AI will permeate all functions.
IT leaders should consider leveraging advanced machine-learning algorithms by incorporating them into their outcome-driven data analytics strategy. This will help them churn the data extensively and garner valuable insights. Both AI and machine learning can be leveraged to automate and mitigate the data governance problem.
4. Merger and Acquisition
The IT outsourcing industry has increased the merger and acquisition activity as traditional IT service providers are acquiring digital marketing and engineering companies to offer new services to their clients.
Experts believe that acquisitions will transform the landscape for CIOs and the service providers they collaborate with. It will also be a source of disruption for CIOs as they will have to identify the potential and integrate digital capabilities into their product lines.
5. New allies
The digital transformation era will see vendors teaming up on marketing and improving branded spaces within their design studios and innovation hubs. According to some analysts at Technology Business Research Inc, some consultancies may even have to become 'frenemies' and create partnerships where each party uses its strength and provides depth in the domain to deliver expertise.
Read more: Fingent Speaks: What it Takes to Build a Successful Digital Transformation Strategy 
Conclusion
A digitally transformed workplace can revolutionize any business. So, it is crucial to adopt digital technologies and experiment using social media, big data analytics, cloud computing, and mobility. You may hire digital transformation services companies for your digital business transformation.
Read more: Prepare for the Future of Digital Innovation with these 10 Services From Fingent 
At Fingent, we provide digital technology solutions and services for complex business problems across many industries such as retail, healthcare, finance, education, and more. Our comprehensive apps, platforms, analytics, and solutions expertise have helped us assist companies in their digital transformation journey. Connect with us to learn more.
Related Post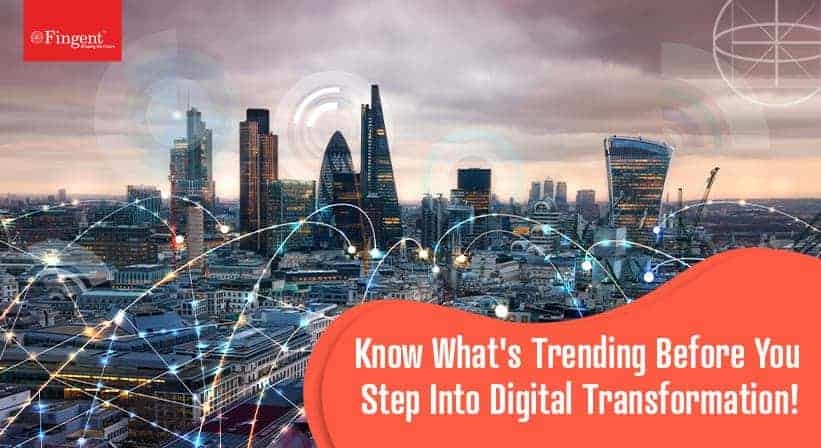 Digital transformation has become indispensable, more so now than ever……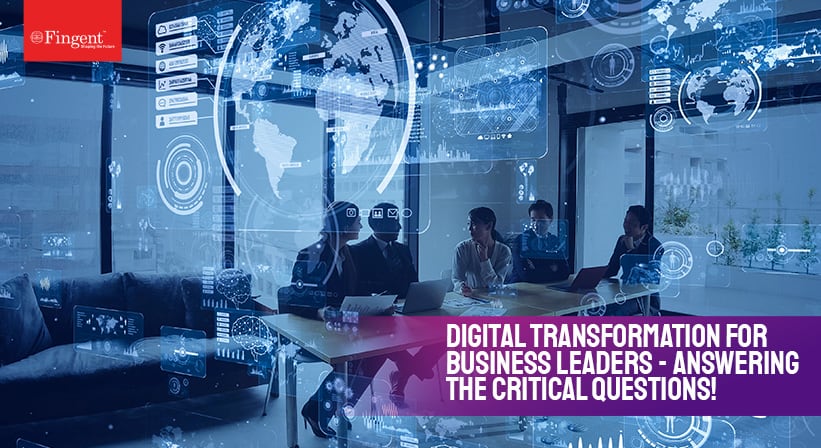 Digital transformation is pervasive. It is hard but absolutely crucial.……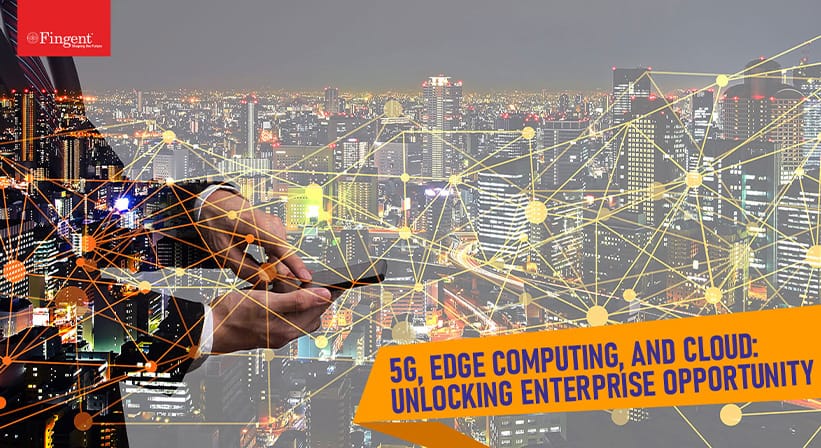 Everyone in the manufacturing world faces the fear of going……