Custom software and analytics solutions for sports organizations to boost athletic performance and create engaging fan experiences
Digital fan and sponsor engagement
AI-powered analytical tools and data solutions
Integration of digital tools for real-time access to live games
Enhance visibility of players and sports associations
Expand social footprints with engaging sports content
AR and VR to augment in-stadia experience
Simulate experiences on mobile devices
Statistical analysis, video analytics and predictive insights
Fan voice and social sentiment analysis
Manage dynamic sports data across various touchpoints
Wearable tech and trackers for athletes and coaches
Membership and event management systems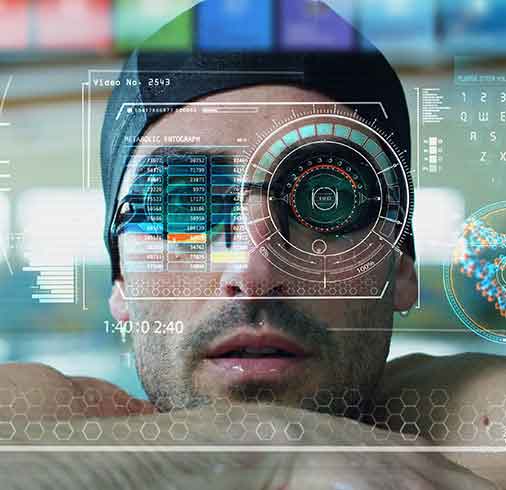 Delivering Competitive Advantage in Sports With Technology
Technology is drawing fans closer to their favorite sports and games through innovative and customized experiences. It's time for sports organizations to capitalize on the newer opportunities created by advanced technologies by broadening their content reach across multiple devices through new distribution platforms. Sports organizations need to offer exciting and personalized viewing experience to fans, engage sponsors with crucial insights, deliver messages at the right moment with greater effectiveness, and unlock new revenue streams.
As your technology and innovation partner, Fingent offers the right skills and expertise to drive your success. We offer a wide array of custom software solutions for sports organizations which help them manage their basic to the most complex business challenges. Some of our solutions include membership management, loyalty management, sale of tickets and sports merchandise, sponsor management, immersive content experiences with AR and VR, identifying real-time marketing opportunities through analytics, enhancing training methods through immersive technologies, and wearable tech.
Challenges Affecting the Sports Sector
How We Help Our Customers
Use Innovative Tech for a Home-Field Advantage
We help athletes reach new heights through cognitive computing, taking advantage of self-learning algorithms, data mining, natural language processing, and pattern recognition for key insights that can deliver higher performance.
Cognitive Computing for Specialized Training
Through cognitive computing, we help athletes draw up customized training programs and scheduling, in a highly personalized effort to meet each athlete's needs. By using apps with cognitive computing, taking into account personal factors, we enable athletes to decide the duration and intensity of training, and draw up a specialized schedule.
Integrated Digital Solutions
We use technology to gather important biomarker data, preventing injuries and foreseeing future athletic capabilities. With this information, athletes can respond to stressors in real-time.
Delivering Stories for Fans
We help organizations leverage AI platforms to determine the highlights of sports games and distribute them to fans in real time. We also help them utilize language platforms to translate data into stories.
Hundreds of leading businesses have derived strategic advantages from our transformative solutions.
The entire engagement was completely transparent and very systematic. It's been an exceptional working experience.
Their team is completely committed to our success as a client, and they do that with their dynamic team.
They've also been great at meeting the needs of our timeframe versus theirs.
They go above and beyond what the typical developer interaction would be.
They were highly responsive to our needs.
We found their project management solid.
Reviews from engineers testify that their code was consistently solid and comprehensively documented.
I have been very pleased with Fingent Corporation's user experience and design capabilities.
Fingent's project team demonstrated passion and commitment throughout the dev cycle and it was very evident in their work.
They're an honest company to deal with … they were always fair and reasonable.