Custom Healthcare Software Development Company
Custom healthcare software development solutions to build a robust and connected healthcare ecosystem
Choose The Right Healthcare Software Development
Electronic health records (EHR)
Electronic medical records (EMR)
Health information exchanges (HIE)
Custom web, cloud, and mobile applications
Healthcare analytics solutions
Real-time monitoring solutions
Hospital information dashboards
Appointment management system
Healthcare regulatory compliance solutions
Invoice management systems
Claims processing platforms
Patient information systems
Connected healthcare solutions with IoT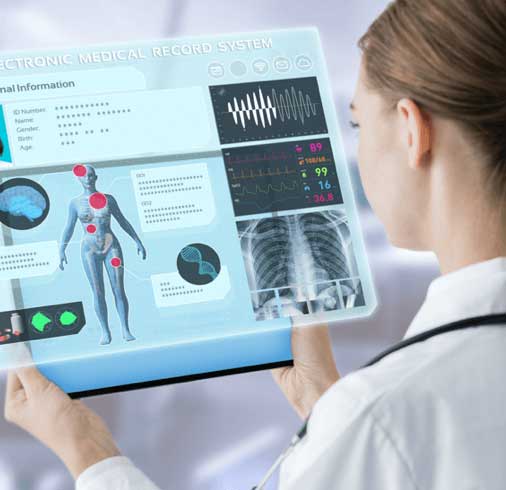 Challenges Affecting the Healthcare Sector
How We Help Our Customers
Custom Healthcare Information System
We help incorporate custom software solutions to meet the needs of healthcare consumers. We offer effective healthcare apps to streamline communication between patients and healthcare providers, including analytical dashboards powered by machine learning to improve clinical transparency, financial transparency, and better decision-making.
Improvement in Health Literacy
With online platforms and custom application development, we help empower individuals with the health literacy they need to enable streamlined workflows and enhanced patient-caregiver interactions.
Custom Healthcare Software Development
We provide customized apps to help patients access more control on healthcare with easy appointment scheduling systems and enquiry ability. At the same time we also ensure physicians are better able to diagnose and monitor their patients. Our custom software development enables both doctors and patients to empower technology for enhanced healthcare.
We provide integrated platforms to improve medical care offered by nonprofits, by automating and systemizing their cash flow management. Automating approval requests, managing and monitoring funds, and streamlining these fund requests, are just a few of the benefits our customized platforms offer.
Hundreds of leading businesses have derived strategic advantages from our transformative solutions.
The entire engagement was completely transparent and very systematic. It's been an exceptional working experience.
Their team is completely committed to our success as a client, and they do that with their dynamic team.
They've also been great at meeting the needs of our timeframe versus theirs.
They go above and beyond what the typical developer interaction would be.
They were highly responsive to our needs.
We found their project management solid.
Reviews from engineers testify that their code was consistently solid and comprehensively documented.
I have been very pleased with Fingent Corporation's user experience and design capabilities.
Fingent's project team demonstrated passion and commitment throughout the dev cycle and it was very evident in their work.
They're an honest company to deal with … they were always fair and reasonable.