SAP ERP Central Component, commonly referred to as SAP ECC is one of the most valued possessions of SAP. It is an on-premise enterprise resource planning system that helps integrate digital information from multiple business units in real-time.

By offering a unified view of enterprise resources, SAP ECC allows organizations to make data-driven decisions and provides them with great control over their key business processes. ERP modules can communicate with each other to create fully integrated solutions that cater to the specific needs of diverse industries.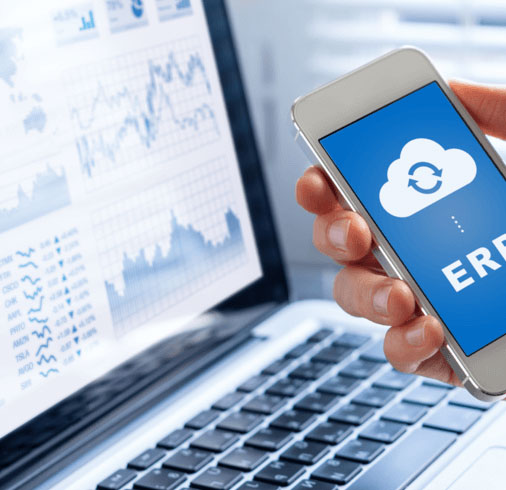 Consulting and Implementation Services
Implementing SAP ECC represents a major change in the way you manage vital information and processes. We understand how important an ERP system is for you to run your day-to-day operations. That's why we've designed our implementation program around quality, experience, and customer focus. Our experts help you identify the modules and functional components required to run your business processes efficiently, and implement a rapid, low-risk, and cost-effective adoption of SAP ECC.
Support Services
Our support projects are led by leaders who're part of SAP's core engineering team. The technical expertise of our individual consultants combined with a robust process and infrastructure for addressing customer requests ensure that you gain maximum returns on your investment. Our support process is driven by a customer-oriented approach that helps us deliver simple and stable fixes for all your SAP issues. We also provide training support to help you manage your workforce efficiently.
Innovation and Advisory Services
As new technologies become mainstream, you need to take advantage of them. Fingent's SAP ECC innovation and advisory services are designed with a deep understanding of how our customers can utilize them to enable new business models and growth. Let it be Artificial Intelligence (AI), Internet of Things (IoT), cloud solutions, predictive analytics, machine learning or blockchain, we help you explore the novel ways to stay competitive and grow while enabling you to reap the full value of your SAP investments.
Technology and Industry Expertise
With deep product knowledge, industry experience, and implementation expertise for SAP ECC, Fingent offers strong innovation experience and turnkey solutions across multiple lines of business. We deliver comprehensive, scalable and customized solutions backed by professional project management practices. Transform your business and realize faster time to value using our methodologies, tools, accelerators, and automation techniques.
Why innovate your business with us
Consistent high-quality results with robust agile teams and dedicated QA practices
Highly cost-effective and best-of-breed solutions with no last minute surprises
Transparent project management with maximum adherence to deadlines
Our Unique Approach & Process
By initiating your project with Fingent, you get a dedicated and skilled team backing you up round-the-clock. All our processes are customer-oriented, designed to reduce the cost of business operations, address IT resourcing challenges, and offer you a competitive edge. We start with a deep analysis of your requirements and continue our relationship with post-launch support and updates.
1
Research and Discovery
2
Validating and Shaping Idea
3
Design and Prototyping
4
Development
5
Testing and Quality Assurance
6
Maintenance and Support
Hundreds of leading businesses have derived strategic advantages from our transformative solutions.
The entire engagement was completely transparent and very systematic. It's been an exceptional working experience.
Their team is completely committed to our success as a client, and they do that with their dynamic team.
They've also been great at meeting the needs of our timeframe versus theirs.
They go above and beyond what the typical developer interaction would be.
They were highly responsive to our needs.
We found their project management solid.
Reviews from engineers testify that their code was consistently solid and comprehensively documented.
I have been very pleased with Fingent Corporation's user experience and design capabilities.
Fingent's project team demonstrated passion and commitment throughout the dev cycle and it was very evident in their work.
They're an honest company to deal with … they were always fair and reasonable.