SAP Leonardo is a digital innovation system from SAP that enables customers to benefit from intelligent emerging technologies such as Internet of Things, Machine Learning, Blockchain, Analytics, and Big Data. The platform offers software, microservices, APIs, and accelerator packages to help you leverage these technologies and drive enterprise digital transformation.

Fingent's goal is to transform our customers' organizations into intelligent enterprises by helping them take advantage of the power-packed features of SAP Leonardo. We work along with our customers to understand their needs, assess their opportunities, optimize their processes, and realize new innovations.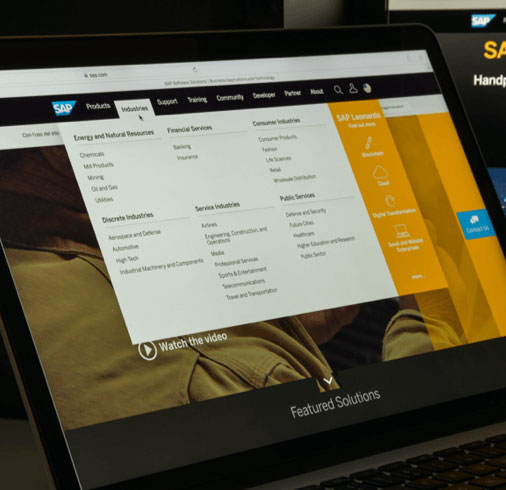 Our SAP Leonardo Services
Intelligent Apps for Various Functions
SAP Intelligent Technologies help you establish an intelligent enterprise for managing customers (CRM), supply chains, networks, employees (HCM), and core processes. SAP Leonardo artificial intelligence and machine learning solutions have applications in finance, human resources, customer services, marketing, payroll, and several other key modules of an enterprise.
Consulting and Development
We help you develop and implement SAP Leonardo-powered intelligent solutions for your specific business needs. Our solutions are designed to extend your enterprise capabilities with a focus to maximize the power of human-machine collaboration. Fast-track your business outcomes with our innovation-led development approach.
Intelligent Information Management
Leveraging artificial intelligence and machine learning, SAP Leonardo enables you to extract value from distributed data. By integrating siloed data assets across your enterprise as well as various modules and functions, we help you implement an intelligent information management system in your organization.
Cloud and On-premise Deployment
SAP Leonardo can be integrated with open source machine learning frameworks. Due to its serverless architecture, services are not bound to the operating system. We help you deploy your solution across any cloud or on-premise environment. The platform also supports flexible pipelines with structured, unstructured or streaming data in real-time.
Why innovate your business with us
Consistent high-quality results with robust agile teams and dedicated QA practices
Highly cost-effective and best-of-breed solutions with no last minute surprises
Transparent project management with maximum adherence to deadlines
Our Unique Approach & Process
By initiating your project with Fingent, you get a dedicated and skilled team backing you up round-the-clock. All our processes are customer-oriented, designed to reduce the cost of business operations, address IT resourcing challenges, and offer you a competitive edge. We start with a deep analysis of your requirements and continue our relationship with post-launch support and updates.
1
Research and Discovery
2
Validating and Shaping Idea
3
Design and Prototyping
4
Development
5
Testing and Quality Assurance
6
Maintenance and Support
Hundreds of leading businesses have derived strategic advantages from our transformative solutions.
The entire engagement was completely transparent and very systematic. It's been an exceptional working experience.
Their team is completely committed to our success as a client, and they do that with their dynamic team.
They've also been great at meeting the needs of our timeframe versus theirs.
They go above and beyond what the typical developer interaction would be.
They were highly responsive to our needs.
We found their project management solid.
Reviews from engineers testify that their code was consistently solid and comprehensively documented.
I have been very pleased with Fingent Corporation's user experience and design capabilities.
Fingent's project team demonstrated passion and commitment throughout the dev cycle and it was very evident in their work.
They're an honest company to deal with … they were always fair and reasonable.