Taking Your Business To The Next Level With Odoo
Powerful ERP platforms have become the nerve center of business operations worldwide. Businesses that have an ERP solution can improve sales and deliver administrative aspects for higher productivity, visibility, and efficiency.

Odoo is an all-in-one platform that automates and assists the management of crucial business operations. Embedded within Odoo are more than 10,000 apps that can cover most of your business requirements. Being open-source, Odoo allows developers to come up with custom third-party apps that can be easily integrated with each other.

Fingent is an official partner of Odoo and has hands-on expertise in consulting, implementation, and customization of Odoo for clients all over. Our team is fully trained in Odoo and has access to Odoo Enterprise source code. We make use of Odoo's powerful features and modules to cater to your requirements through custom applications. Over the past decade, we have delivered apps to a large client base to manage different areas of operations, from sales to inventory management. Here are the custom products that we built using Odoo.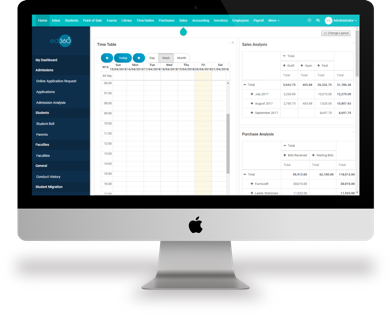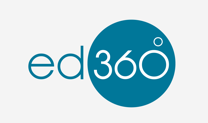 Ed360 is an all in one learning management platform developed by the multifarious team at Fingent. We strive to create a conducive atmosphere using this platform, which fosters learning among students and improves their interactions with the teachers.

We built Ed360 using Odoo to accommodate the complete needs of educational institutions. Processes like admission, attendance, student profiling, classroom, and teacher management get extensively simplified with the custom extensions that we built using Odoo.

Using the Ed360 platform, teachers can continuously monitor their students' academic performances and elevate them to meet the standards set by the institution.
Fingent's odoo implementation projects are tailored for easy adaptability. The emphasis we lay on maximizing the efficiency and user-friendliness of applications has made us a trusted partner for various organizations. The array of applications that we develop helps businesses achieve their daily organization and management goals.

We focus on research and user experience prior to the development of the app. Using this approach, our team has been able to point out several additions to make the platform more dynamic as well as address many of its shortcomings.

Maximized user engagement and swift data processing are the end results that endow the flexibility and efficiency that you are looking for. So, get in touch with us to plan the next dependable Odoo application that will assist in your daily business operations.
Customer Relationship Management
The customer-centric CRM of Odoo gives you accurate data useful for functionalities like tracking leads, generating forecasts, and scheduling activities. This actionable data can help improve the customer relations of your business. The multifunctional tools and features of Odoo will help you tackle CRM effectively.
Inventory Management
Odoo's inbuilt inventory management tools can keep track of your inventory fairly easily. Inside Odoo are powerful features like the smart double entry inventory system that essentially makes the process a lot more efficient and secure. Better management of your inventory definitely translates to an improvement in performance with zero chances of any delays.
Project Management
Simplifying project management is what Odoo is all about. The simple open-source interface allows you to schedule, plan, and organize your project effortlessly. You can utilize the data for forecasting and collaborate with your partners via its intuitive user interface. Odoo's dynamic project management features equips you with the right skills and resources to elicit the best results.
Accounting
Odoo takes accounting one step forward with its powerful software. It can help facilitate faster transactions with its automated invoicing and follow-ups. Odoo's accounting software comes with a bundle of features such as professional invoice generation, integration with banks, and expense management. This saves valuable time and helps you deal with the financial aspects of your business effectively.