Today's business demands an intelligent IT infrastructure that's more connected, reliable, efficient, secured, and flexible. On-premises infrastructure enables organizations to be fully in charge of their data, empowering them to evolve with accelerating technology and adapt to the ever-changing market conditions.

The on-premises IaaS model offers increased security, visibility, and control over your data and applications, compared to the public cloud model. With Fingent, you can set up and integrate business practices with an intelligent and intuitive on-premise environment, seamlessly. We provide customizable platforms that cater to the specific IT requirements of your enterprise.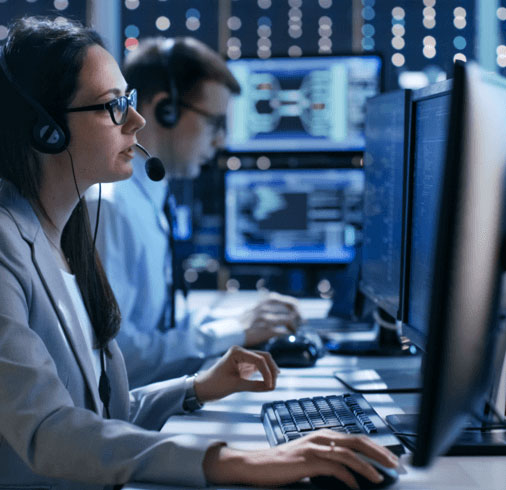 Our On-Premises Infrastructure Services
Improved Data Control and Security
With on-premises infrastructure comes greater control and security over your company data. Our team of data experts works to ensure that your organization leverages the stronghold on intelligent data to drive meaningful insights and embrace faster decision-making capacity.
Enhanced Efficiency with Limited On-Going Cost
On-premises infrastructure promises greater efficiency, sustainability, and flexibility at a minimum on-going cost on subscription, ownership, and support services. Fingent ensures your organization makes use of these benefits and remains upfront at all times, without worrying to make additional investments on IT maintenance.
Customizable with Changing Needs
Granting immense flexibility, the on-premises model is excellent at integrating with third-party software and applications. Fingent helps you benefit from the evolving technologies by customizing apps to fit in your workflow for enhanced productivity. Adapting further to the changing market environments, we also help you build hybrid cloud expansions on existing on-premises infrastructure.
Easy Compliance and Regulatory Controls
Compliance and regulatory controls are necessary to abide by companies, regardless of their shape and size. Implementing Fingent's on-premises infrastructure services makes such compliance and regulations simpler with complete in-house control and maintenance of company data.
Why innovate your business with us
Consistent high-quality results with robust agile teams and dedicated QA practices
Highly cost-effective and best-of-breed solutions with no last minute surprises
Transparent project management with maximum adherence to deadlines
Our Unique Approach & Process
By initiating your project with Fingent, you get a dedicated and skilled team backing you up round-the-clock. All our processes are customer-oriented, designed to reduce the cost of business operations, address IT resourcing challenges, and offer you a competitive edge. We start with a deep analysis of your requirements and continue our relationship with post-launch support and updates.
1
Research and Discovery
2
Validating and Shaping Idea
3
Design and Prototyping
4
Development
5
Testing and Quality Assurance
6
Maintenance and Support
Hundreds of leading businesses have derived strategic advantages from our transformative solutions..
The entire engagement was completely transparent and very systematic. It's been an exceptional working experience.
Their team is completely committed to our success as a client, and they do that with their dynamic team.
They've also been great at meeting the needs of our timeframe versus theirs.
They go above and beyond what the typical developer interaction would be.
They were highly responsive to our needs.
We found their project management solid.
Reviews from engineers testify that their code was consistently solid and comprehensively documented.
I have been very pleased with Fingent Corporation's user experience and design capabilities.
Fingent's project team demonstrated passion and commitment throughout the dev cycle and it was very evident in their work.
They're an honest company to deal with … they were always fair and reasonable.