SAP Benefits for Business: 8 Ways SAP ERP Software Helps Business
The One SAP Benefit That Makes it The Perfect Choice for Businesses
One of the biggest advantages of SAP over other technologies is its ability to seamlessly integrate with other systems and applications, providing a unified view of an organization's data and enabling faster decision-making. With its flexible architecture and extensive customization options, SAP can be tailored to meet specific business needs, making it an ideal solution for businesses of all sizes and industries.
With businesses transforming themselves digitally, SAP ERP systems have seen a rise in popularity for the past few years, especially since 2019. What makes the system so unique? For one, SAP ERP can be implemented by all businesses, big or small, and reap the benefits of the software. That said, SAP software provides solutions that help companies to adapt to the ever-changing technology landscape.
SAP stands for Systems, Applications, and Products in data processing. SAP is the market leader among ERP software providers. SAP ERP comprises several modules that help companies gather, maintain, store, and interpret data from functional areas such as-
In other words, the
SAP ERP system
produces a precise process that offers a complete perspective (internal and external) of your business.
SAP's Three-Tier Client-Server Framework
SAP ERP is generally brought into action in a three-tier client-server framework consisting of the presentation tier, the application tier, and the database tier.
The Power of SAP: Eye-Opening Statistics on How It Can Revolutionize Your Business
With a global presence in over 180 countries, SAP has a customer base exceeding 400,000.
Companies implementing SAP have reported a significant boost in productivity by 20%.
Companies that haven't integrated SAP into their supply chain processes may miss out on up to 90% of the potential cost savings.
SAP systems are capable of achieving a remarkable improvement of up to 95% in data accuracy.
80% of SAP users experience better decision-making processes, giving them a competitive edge in the market.
Reports indicate that businesses utilizing SAP software can achieve a remarkable 200-400% ROI.
Integrating SAP systems into a business's operations can lead to a significant increase in sales of up to 25%.
70%+ of SAP users experience better customer satisfaction, showing the software's effectiveness in elevating customer experiences.
SAP offers businesses up to a 40% boost in operational efficiency.
Beyond Just The Benefits: Real World Uses of SAP ERP Software
Companies mostly use SAP for information flow, effective data processing, business process management, and operation solutions. It shines brightest in the fields of Finance, Human Resources, Sales and Distribution, Programming, Warehouse Management, and Cloud Technology. SAP also performs exceptionally in handling information for organizations. Software like
SAP S/4HANA
leverages in-memory computing to process vast data volumes and simultaneously supports advanced technologies such as machine learning and Artificial Intelligence (AI).
8 Benefits Of Implementing SAP ERP Software Into Your Business
In comparison to its competitors, SAP is known to be much more flexible. This makes it a viable option for companies of any industry or size. SAP has also proven to provide booming benefits to its users, eight of which are listed below:
The ERP system will eradicate repetitive tasks and take them off the employee's hands, allowing them to focus their energy and concentration on more important tasks. It performs mundane tasks with precision and efficiency that enhances the company's day-to-day operations and reduces errors and costs significantly.
Data security is a growing concern in modern business as cyber security breaches and hacks increase dramatically with the growth of technology. For this reason, the SAP ERP system is built to improve data security by providing limited access to relevant information through built-in security systems and firewalls. On the other hand, data is consistently backed up and centralized to prevent any failure that may lead to loss of information.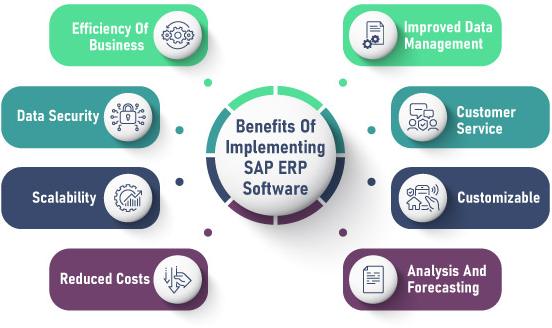 Scalability is a crucial feature that allows users to adjust their data processing system as their company expands and contracts. Whether they are exploring a new market field or simply expanding their customer base, SAP software eases the transition ensuring that businesses have the flexibility they need. Users can create a simple integration and seamlessly scale up according to their industry specifications with the help of SAP.
As seen time and time again, SAP ERP has the ability to cut costs for the company on a large scale due to its features of automation, centralization, and minimization of administration and operation expenses. When repetitive tasks are assigned to an SAP system, fewer complications arise, allowing businesses to operate more deftly.
5

Improved Data Management
Since Data Management is the primary reason businesses choose to implement SAP, it more than holds its end of the deal. SAP ERP systems organize and store a company's scattered data in a single location. This makes data easily accessible and quickly reviewable. ERP also wields a level of automation that enables staff members throughout the business to view shared data without retaining manual records.
Maintaining customer satisfaction and effectively managing your sales and inventory can be taxing, especially when your customer and inventory data are stored on separate systems. When implementing ERP systems, your client information is centralized and streamlined, giving your sales reps a good footing to build quality client relationships. It also offers a quicker traceable feature.
One of the flashiest features of SAP ERP is its high customizability. It can be bent and shaped according to a business' requirements down to its specific needs. It allows the business to choose the components it needs and discard the rest. Its adaptable nature means it is easy for employees to comprehend and utilize. The system is available on almost all electronic gadgets, making it available to employees or management to use from anywhere.
8

Analysis And Forecasting
Accurate analysis and reporting can be a grueling task for employees. By implementing an SAP ERP system, information risk is eliminated as there is no duplication of data. The system provides instantaneous reports of every task in an organization. It also offers risk assessment with accurate performance reports.
Those mentioned above are only a few significant benefits of implementing the SAP ERP system into your business. Other advantages of this technology include improved collaboration, better planning and reporting, innovative technology, upgraded transparency, excessive mobility, and many more.
Fingent top
custom software development company
is a certified SAP Silver Partner authorized to deliver a broad range of
SAP consulting services
across the wide spectrum of solutions offered by SAP. We enable our clients to customize and implement SAP ERP solutions to accelerate their digital transformation journey. We also provide continuous support, SAP AMS, and quality management services to monitor your ERP environment.