AI in Private Jet Chartering
Flying high with AI- How Customized AI Solutions are reshaping private jet businesses
AI in Private Jet Industry: Overview
Chartering a private jet is probably the most luxurious and comfortable way to travel. The thought of private flights brings one's mind to an exclusive flying experience with cleaner cabins, extra legroom, and enhanced safety. However, to keep such travel safe and comfortable, ensuring effective flight planning and dispatching is imperative. One could not be completely satisfied with their private jet charter experience if they had to wait a month long to get their bookings confirmed!
The private aviation industry has turned quite competitive in recent years. However, the slow adoption of digitization is holding the industry back from effectively managing the rising demands. 'Empty legs' and streamlining flight requests and bids remain crucial challenges for the industry. Most private aviation companies operate with limited staff, making it more difficult to ensure ease of management and efficiency. Although digital tools like online booking systems are streamlining some functions, the lack of implementation of the right technologies restricts the industry from evolving and thriving in the digital age.
AI in Aviation: Common Challenges Faced By Private Aviation Companies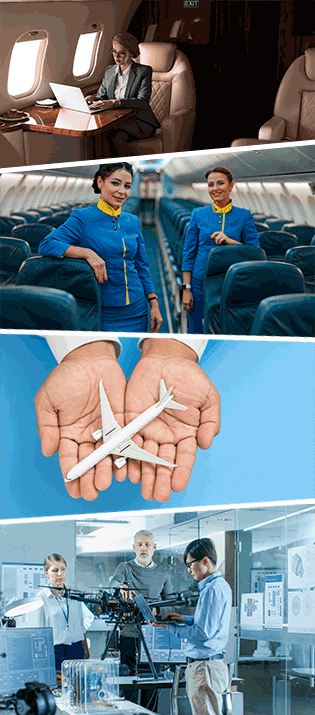 Sustaining the 'Empty Leg' scenario : 'Empty leg' is a continual challenge private aviation companies face due to the need for repositioning flights. Although it seems impossible to avoid this challenge, proper planning can acutely balance operational costs. It is a wasted opportunity otherwise and a major loss for the operators to fly aircraft without enough or no passengers.
Effective management with limited staff : Most aviation companies operate with limited staff. With increased demands, operators are often overwhelmed managing flight requests and ensuring effective customer service. Often, the digital platforms used fail to filter out the best opportunities, leaving the operators with more tasks.
Balancing the supply and demand: Travel safety has become a major concern since the recent pandemic, due to which now the private aviation industry is experiencing a sudden boom in demand. Managing large flight requests, ensuring aircraft availability, and streamlining maintenance, thus have become a strenuous processes.
Lack of right technology implementation: Technology has undoubtedly done effective flight planning and dispatching possible. However, the industry still struggles to identify and leverage new capabilities with emerging technologies. Most private aviation companies implement readily available software that fails to cater to their specific operation needs, leaving them all the more challenged with complex workflows.
Are you struggling to identify business opportunities with AI?
Breaking New Grounds In Private Jet Business Operations with Artificial Intelligence
Artificial Intelligence is revolutionizing industries now more than ever. AI chatbots have already proven to be immensely effective in improving customer engagement. Other features like automation, predictive analytics, and smart processes are turning AI into fundamental business technology. Today, private aviation companies are most challenged by time management and promptness in effectively planning flights. Can Artificial Intelligent help enable smart operations for private jet businesses? Let's find out!
Most private flight requests are received through emails, leaving operators with the tedious task of checking emails every hour. It is also time-consuming to manually read through each email and identify the best opportunities. AI components can read through the inbox and filter out emails that best suits the company services, enabling the team to respond to flight request faster and plan out flight schedules much easier.
Private jet companies face unexpected fluctuations in demand due to rapid market shifts. Managing price scales becomes challenging in such situations. AI-based pricing modules can apply price surges automatically based on demand, enabling private jet operators to quote sales more effectively and timely.
Is Custom Software The Key To Unlocking New Potentials For Private Aviation Companies?
Opting for off-the-shelf software might often seem like an easy option for private jet companies, especially with limited brokers and operators involved. However, such solutions often fail to unlock complete potential, leaving loose ends that disrupt effective management in the longer run. Most off-the-shelf software has complex features that are difficult to adapt to, have limited or no integration capabilities at all, and restricts functionalities leaving operators to choose manual ways of doing tasks. Ultimately, private jet companies using off-the-shelf software face high costs on technology implementations with no real benefits gained.
But a custom software solution tailored to your private aviation business needs can streamline your operations, ease management, and help improve sales. With enhanced scalability and flexibility, custom software solutions can enable private jet companies to discover new potentials with seamless integration and new technology adoption.
Benefits Of Using Custom Software Solution In Private Aviation Business
Custom software solutions are built to solve specified challenges and can be tailored to accommodate the required user experience. Thus, they can be easily implemented without disrupting business continuity.
In today's digital world, effective operations depend on multiple tools. With seamless integration, custom software allows private jet companies to utilize the benefits of third-party flight planning tools, payment solutions, and more.
Empower with new age technologies
New age technologies like AI, AR, VR, and more are bringing new opportunities for industries each day to thrive in the digital world. Custom software that is scalable and flexible makes it easier to leverage the rising capabilities of these technologies.
When you opt for a custom software solution, you are backed by a technology partner or team that walks you through the implementation process and supports you with regular bug fixes and app maintenance.
Fingent believes in enabling industries to identify opportunities and redefine processes with emerging technologies. With simple-to-use and quick-to-implement software solutions, we empower businesses to think beyond digitization and build innovations that transform lives. We follow an agile methodology to develop high-quality, reliable, cost-effective solutions that make a difference!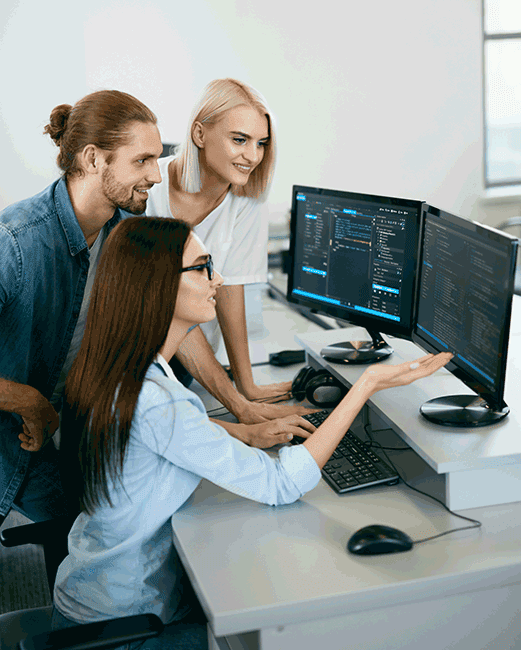 PREDICTABLE RESULTS ADHERING TO DEADLINES
Transparent project management
Warranty-assured deliverables
Carefully defined project plans
Handle unexpected challenges
COST-EFFECTIVE, BUDGET-FRIENDLY SOLUTIONS
No last-minute surprises
Efficient operations
Good coding practices
24/7 tech back up
ADVANCED TECH EXPERTISE
Expertise in new age technologies
Top-notch developers
Adherence to QA best practices
Easy implementation