Property Management: Overcoming The Challenges Using Custom Solutions
Streamline. Simplify. Succeed: The Modern Approach to Property Management
Pioneering Property Management: Overview
Embarking on the property management journey is a formidable feat for real estate companies as they navigate a thrilling ride filled with challenges at every turn. From overseeing a diverse portfolio of residential and commercial properties to managing the intricacies of day-to-day operations, maintenance, and financial aspects, the needs can be overwhelming for both residents and property managers.
However, the tides are turning with the advent of sophisticated Property Management Software. This game-changing solution is unlocking a new era of efficiency and effectiveness, making property management a breeze for both tenants and property managers. From streamlined rent collection and automated maintenance requests to seamless communication, it alleviates the challenges of managing properties. Get ready to embark on a hassle-free journey where property management becomes a harmonious symphony of convenience and satisfaction.
What are the Common Challenges Faced by Property Management Services?

Finding reliable tenants: Finding and screening tenants who fit the property's requirements is time-consuming and challenging. Conducting thorough background checks, verifying rental history, and drafting lease agreements are vital but demanding tasks.
Keeping up with maintenance requests: Addressing maintenance issues promptly and maintaining properties in good condition is crucial. Coordinating repairs, handling maintenance requests, and conducting regular inspections can be a logistical challenge, especially when managing multiple properties.
Timely rent collection: Collecting rent and managing property finances on time can be complex. Tracking payments and managing expenses, such as mortgages, taxes, insurance, and utilities, require careful attention to detail and financial expertise.
Tedious administrative works: Property management deals with a myriad of demanding administrative tasks that devour valuable time and resources. From meticulously handling invoices, agreements, and legal documentation, the administrative burden can feel never-ending.
Maintaining effective communication: Handling inquiries, resolving conflicts, and addressing concerns in a timely manner can be demanding, especially when managing a large number of tenants across various properties.
Regulatory compliance: Compliance with laws related to fair housing, safety standards, eviction procedures, and property-specific regulations adds complexity to property management responsibilities.
Level up your real estate game with simplified operations - let's make it easy!
Property Management Perfected With Software Development
Embracing software development has positioned property management businesses as pioneers dedicated to delivering unparalleled customer experiences. Through customized software solutions, property managers now deliver seamless interactions, unrivaled convenience, and enhanced customer satisfaction. Likewise, landlords or residents enjoy streamlined processes and rapid responses, ensuring their needs are met promptly. With self-service options and online portals, residents have the power to access information, make payments, and communicate effortlessly. The real estate industry has redefined excellence in service and customer satisfaction with the power of technology.
Property managers need to manage their staff effectively and productively. Features such as employee scheduling, task assignment, and performance tracking help streamline internal communication, monitor workloads, and ensure efficient collaboration among team members.
Property managers can focus on the core aspects of property management, like overseeing their property portfolio, tracking occupancy rates, handling lease agreements, and managing property maintenance and repair time effectively.
Property managers can effectively manage all aspects of residents, including tenant onboarding, lease renewals, tracking rental payments, and communicating important information to residents.
Ensures prompt resolution of maintenance issues and helps to track the status of requests. It streamlines the process of managing maintenance and service requests from tenants and facilitates effortless communication between tenants and maintenance staff.
Property managers can focus on the entire financial side of the properties- keep track of income and expenses, handle rent payments, generate financial statements, and gain insights into their financial performance.
Property managers can efficiently manage their relationships with vendors and contractors with functionalities such as vendor onboarding, work order management, invoice processing, and maintaining a database of trusted service providers.
Provides a visual overview of key metrics and performance of the property management operations. Reports offer detailed insights and analytics on various aspects, such as financial performance, occupancy rates, and maintenance history, that help to make informed decisions.
Online Listing and Marketing
Property managers can effectively showcase their properties and attract potential tenants by creating and managing property listings, publishing them on various rental platforms, tracking leads, and streamlining the tenant screening process.
How Custom Software Empowers Property Management Businesses: Benefits
Automation of Manual Processes
Custom software streamlines and automates various property management processes, such as property listings, tenant screenings, lease management, rent collection, maintenance requests, and financial reporting. This improves operational efficiency, reduces manual errors, and saves time and resources.
Enhanced Customer Experience
Custom software is focused on delivering an exceptional customer experience- personalized interactions, self-service options, and convenient communication channels for tenants and property owners. This leads to higher tenant satisfaction and improved retention rates.
Data Security and Privacy
Robust security measures are implemented in custom software, such as user authentication, access controls, encryption, and regular data backups. With custom software, businesses can prioritize data security and comply with privacy regulations, instilling trust and confidence among customers and tenants.
Scalability and Flexibility
Custom software allows for scalability as the business grows, ensuring that the software can handle an expanding portfolio of properties and increasing user demands. Additionally, it can be easily adapted and updated to incorporate new features or functionalities as the business evolves.
Custom software gives property management businesses a competitive edge by providing unique functionalities and tailored solutions that differentiate them from their competitors. It aligns the software with their specific workflows, business models, and customer requirements, setting them apart in the market.
Fingent is committed to revolutionizing the real estate industry by leveraging emerging technologies to identify opportunities, redefine processes, and drive meaningful innovations. Our user-friendly and efficient software solutions enable businesses to go beyond digitization and create transformative experiences that positively impact lives. We deliver high-quality, reliable, and cost-effective solutions tailored specifically for the industry and help businesses unlock their full potential.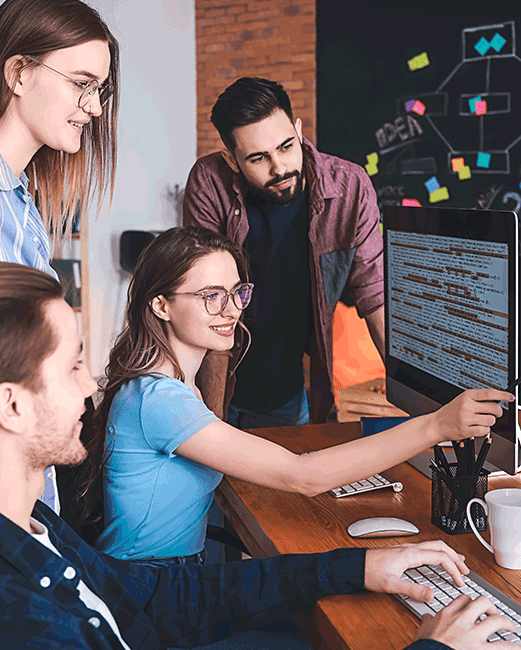 PREDICTABLE RESULTS ADHERING TO DEADLINES
Transparent project management
Warranty-assured deliverables
Carefully defined project plans
Handle unexpected challenges
COST-EFFECTIVE, BUDGET-FRIENDLY SOLUTIONS
No last-minute surprises
Efficient operations
Good coding practices
24/7 tech back up
ADVANCED TECH EXPERTISE
Expertise in new age technologies
Top-notch developers
Adherence to QA best practices
Quick and easy implementation