Augmented Reality In Business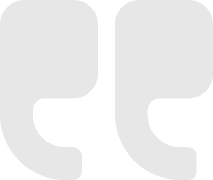 "Technology, like art, is a soaring exercise of human imagination."
– Daniel Bell
Human beings consistently find new ways to make life more exciting and awe-inspiring. One of these grand inventions is Augmented Reality. It is one of the fastest-growing technologies by far and has found a permanent place in many areas of daily life. Businesses, industries, institutions, and companies all around the world are adopting this brilliant innovation. Why? Let's find out …
According to, approximately 1.07 billion AR device users existed by the end of 2022, and by the end of 2023 the numbers are predicted to go up to 1.4 billion. This gradually progressing train will only move further along so it would be smart to hop on as soon as possible.
– a report by Statista
In this article we will discuss what Augmented Reality is, how it benefits a business, how to imply it to a business plan, all the top industries utilizing it to their benefit, and much more.
What Is Augmented Reality?
Augmented Reality essentially is a highly enhanced, interactive version of a real-world environment created with advanced digital audio and visual elements, and other sensory stimuli via holographic technology. It combines real-world and computer-generated content to give the user a more dynamic experience. Think Pokémon Go – the famous game where users are tasked to search for Pokémon in their real-life neighborhoods while animated characters pop up on their phone or tablet.
Augmented reality has innumerable applications in the business world, from marketing and manufacturing to training and logistics, and with such a wide range of applications, it has enormous untapped potential that almost any business can apply and benefit from.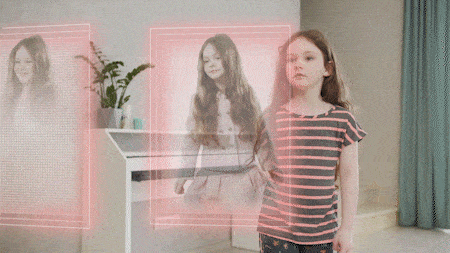 Difference Between Augmented Reality And Virtual Reality
Virtual Reality is widely famous as it has held the crown for a very long time, which could explain the common misconception that Augmented Reality is the same as Virtual Reality. There is one major difference between the two that sets the record straight – with virtual reality people can place themselves in virtual settings using their electronic gadgets but with augmented reality people can enhance real life with technologically created elements.
A few of the other notable differences between the two are that Augmented Reality users can control their presence in the real world while Virtual Reality users are controlled by the system. Augmented Reality enhances both the virtual and real world while Virtual Reality only focuses on fictional reality.
Examples of How Augmented Reality Is Making a Difference in Businesses
The expectation that AR will overtake the market in no time is based on the fact the hardware required for this technology already exists and is widespread in its own way. Almost everyone has a mobile phone in their hands these days which is not only used for entertainment but also training, work, and business. People simply have to install an AR application or a standard Augmented Reality Browser to enable them to become part of the mixed reality.
Listed below are a few of the many business areas in which AR has flourished:
With AR, employees can undergo advanced-level training where they don't just read about the situation they may encounter but actually experience them.
AR in education
allows companies to develop training that's customized for individual employees and boosts the employee's competence and confidence in their roles.
A working application of this is seen in the medical field. CAE Healthcare is already working on a way to implement Microsoft's HoloLens into training programs thus allowing physicians to practice complex medical procedures in a 3D environment before the actual surgery. This could quite literally change the way the world works.
Businesses invested in designing and modeling will most likely benefit the most from AR. It can proffer companies with the ability to lay over 3D models into physical spaces thus allowing them to deliver stronger presentations and sales and marketing material. AR can also be used by designers to view a precise model of the product in the early stages of product design and development ensuring their plans are foolproof.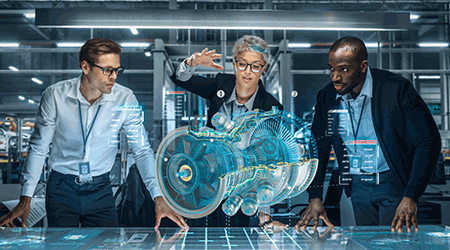 Very often we find ourselves disappointed with a purchase we make and have to deal with the hassle of returning the product. AR is a brilliant fix for that.
AR in retail
offers a way for customers to try products before they buy. This boosts the brand or company's customer satisfaction and ultimately raises sales.
Sephora exemplifies this application with its app that allows customers to see how their makeup products will look before they can purchase them.
Discover the future of shopping in smart malls with hyper-personalized experiences powered by Augmented Reality (AR). Immerse yourself in virtual try-on sessions, where you can visualize how clothing, accessories, and cosmetics look on you. Explore product visualization, allowing you to preview furniture and decor in your own space. Receive personalized recommendations based on your preferences and behavior, making your shopping journey truly tailored. Navigate effortlessly with AR-powered wayfinding, ensuring you easily find stores and amenities. Engage with interactive promotions and augmented displays, creating memorable and interactive moments. Experience the next level of shopping innovation.
With the aid of AR, even inexperienced people can identify problems and perform repairs by following simple step-by-step instructions using AR overlays. This ultimately improves customer satisfaction by reducing downtime and the associated costs.
Hyundai was the first mainstream automaker to launch an AR owner's manual in 2015. The app contains how-to-videos, 3D images that appear when customers scan defective areas of their vehicle, and a number of informational guides.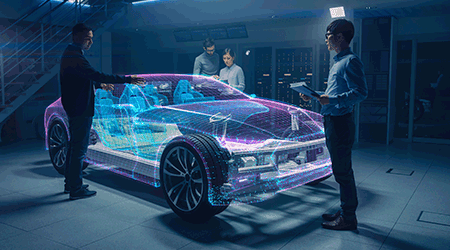 AR in industrial markets radically transforms the performance of many jobs. Technicians in the field will be able to communicate with remote staff and garner live support. It eradicates the grunt and guesswork from manual work and impressively streamlines processes.
An inspiring example of this is NASA's approach to removing the need for manuals and complex instructions by using Microsoft's HoloLens while constructing new spacecraft.
Similar to employee training, recruiting people can also be enhanced with AR. It will give the company a more detailed look into candidates' skills, and potential and immerse them in a real work simulation to analyze them.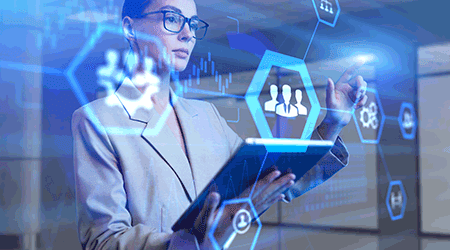 Top Benefits Of Implementing Augmented Reality
There are 9 major benefits of AR that cannot be undermined in any way. They are integral and have attracted innumerable brands because of their tangible and measurable results.
Top Industries Utilising Augmented Reality To Their Benefit
The world does not stop for anyone. It is fast growing and even industries that once seemed like they would have no use for AR have found benefits from the technology.
Listed below are a few of those industries and why they believe they immensely benefit from these innovative AR technologies.
1. Manufacturing and Construction
AR has deep potential in the construction industry and in its operations because manufacturing industries require immense attention to detail and great expertise. Augmented reality can help with intricate designs, making alterations, preventing rework, saving building costs and effective training. It can also improve safety and make sure that projects are complying with the right standards.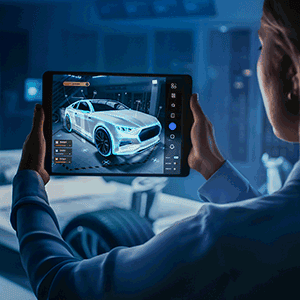 Embark on the journey of designing your dream cabin with a 3D web configurator. Customize layouts, materials, colors, and fixtures to bring your vision to life. Experience the power of real-time updates and interactive exploration, allowing you to make informed decisions about your cabin's design. Estimate material costs and align them with your budget, ensuring a well-planned project. Collaborate effortlessly by sharing your cabin design with family, architects, or contractors, fostering effective communication.
For the longest time in history, we have used the same methods and regulations in education. Students and teachers are looking into different ways to make the tedious process of learning more engaging and beneficial. Students have started adopting AR/VR applications for a more interactive learning experience from the comfort of their own homes.
Augmented Reality makes it possible to augment graphics generated by computers into the real environment on screen, meaning it does not necessarily replace the complete physical environment with a virtual environment. Instead, it simply integrates virtual objects into the real world.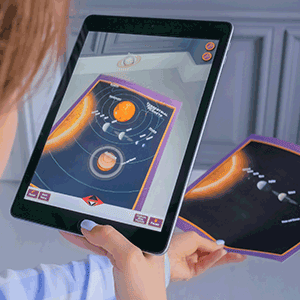 Students studying geometry can use AR applications to manipulate 3D geometric diagrams. Students can also use AR to learn global perspectives through virtual field trips. This enables them to interact more actively with other cultures. AR can be used in many levels of education, starting from schools where complex sciences such as biology, anatomy, physics, and even math can be made more interactive and engaging.
At the college level, students studying medicine can learn anatomy and practice on virtual bodies with an AR app representation of the human body, universities providing courses in engineering, math, design, astronomy, and many more use augmented reality for a more engaging educational process. Additionally, AR also helps with distance learning and work training.
The field of Healthcare is brilliantly exploiting the advantages of AR technology as it possesses vast potential when applied correctly. Healthcare professionals, especially surgeons often find their attention divided between surgery and patient vitals. AR tools such as head-mounted displays, allow surgeons to concentrate on the surgery while having all the information they need about patient vitals right in front of their eyes.
Medical students can also gain a more realistic hands-on experience with anatomy using holograms of bodies thus broadening their learning experience. AR-based medical applications assist people in learning about basic anatomy and first aid for unprofessional individuals and even professionals ranging from dentists to surgeons use these applications.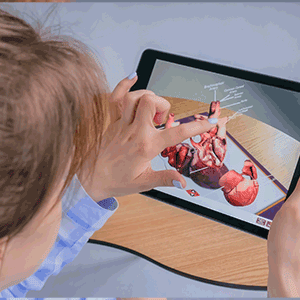 In a more practical sense,
AR in healthcare
can be used in the field of medicine while; training residents, preparing surgeries, medical diagnosis and imaging, innovative drug information, and many more. There is great scope for AR in the field of medicine and every day it seems to be transforming the traditional medical process into more liberal processes.
The entire process of real estate hunting is ludicrous and tiring, AR has a way of making even this process easy and quick. Essentially everything from virtual property staging and property showcasing to 3D architectural visualization, AR is swiftly taking over the entire spectrum of transactions within the real estate market. People prefer to look for properties using a mobile website or app because of their busy schedules and as a result, there is great potential in taking advantage of innovative AR technologies to boost the consumer experience.
AR gives clients the option to explore several properties with just a few clicks and enables them to tour all these properties virtually. This teleportation ability of AR saves valuable resources of time, energy, and money.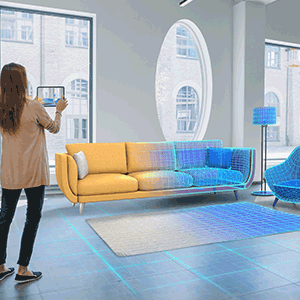 People prefer to look for properties using a mobile website or app because of their busy schedule and as a result, there is great potential in taking advantage of innovative AR technologies to boost the consumer experience.
The current world population of 7.9 billion and according to statistics over 2.14 billion shoppers now buy items online, which means that 27% of all people that are alive are digital buyers.
The utilization of AR in online shopping heaved during the Covid-19 pandemic, due to restrictions on opening retail shops and lockdowns. Consumers had nowhere to go except resort to online shopping. Once customers were exposed to the immersive experiences of online shopping, they were dramatically attracted to the real-time interaction of products while staying at home on the couch.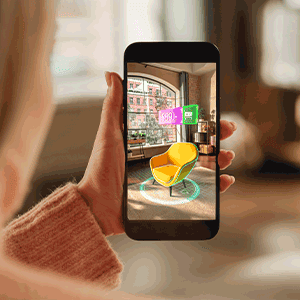 For most customers, the inability to try the products tends to block them from proceeding with the online purchase. Here AR can help brands and companies design software or apps that will give customers the chance to try the product before they enter their debit card number.
Ikea, Nike and Sephora are leading examples of brands that use Augmented Reality to make their customer experience better and more effective.
Just like any other industry, the automobile industry has found ways to adapt AR into its plan. AR applications created for automobile manufacturing can improve training, throughput, and quality while also giving modern manufacturers a competitive edge.
There is a rising demand for enhanced driving experience and safety concerns; AR is benevolent here with its AR Heads Up Displays (HUDs) and AR applications on smartphones for basic repairs and safe driving guidance. Companies can allow customers to customize and choose the car of their dreams without the necessity of physically going to the dealership.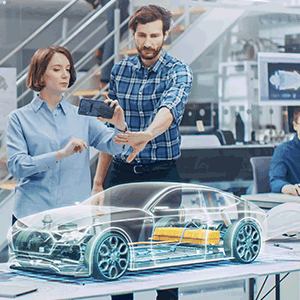 7. Food And Beverages Industry
AR has surprisingly empowered restaurants, delivery services, and other vendors in the food and beverage service industry. It is involved in a variety of aspects, from streamlining staff training, enhanced information and inventory, all through visualizing dishes, live food packaging, and attractive menus ultimately enhancing the customer experience and making marketing campaigns viral.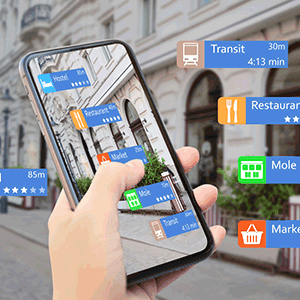 Traveling fundamentally is all about exploring new places, sightseeing, and basking in whatever beauty the destination has to offer. Here AR can enhance or even replace these experiences in various ways. From storytelling to GPS and navigation, AR can assist a user throughout their travel.
AR plays a very crucial role in managing the tourism landscape and enhancing travel experiences for tourists. In today's world, tourists and frequent travelers and everyone in the middle would love to be relieved of searching and booking tours with poor or mediocre assistance.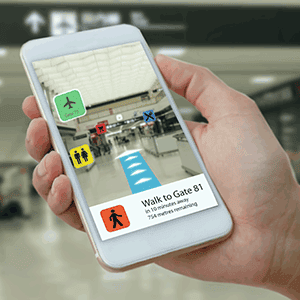 The progression of AR in tourism looks rather promising and it has immense potential to transform innumerable aspects of traveling.
Very often we find ourselves disappointed with a purchase we make and have to deal with the hassle of returning the product. AR is a brilliant fix for that. AR offers a way for customers to try products before they buy. This boosts the brand or company's customer satisfaction and ultimately raises sales.
Augmented Reality moves along sales by allowing customers to virtually wear or try the products before purchase. This is usually applicable in the world of clothes and makeup. It has many other applications too. For example, AR drastically helps with purchasing new furniture for your house. It assists in fitting rooms, detail product information, and builds brand awareness as well.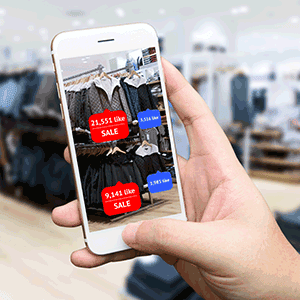 Augmented Reality has become a game changer in virtually every sector. Businesses have made creative use of this technology to design products that are helping them improve the customer experience, streamline their operations, accelerate growth and up their innovation factor. Here are some great examples.
Implementing Augmented Reality For Your Business [Step-by-step Process]
Diving into a new technology may seem intimidating and daunting at first. But when you divide the process into simple executable chunks and take small basic steps, mastering a new technology becomes easy.
Augmented Reality is an extremely futuristic technology and it gets us closer to the realization that it is bound to change every human interaction and every business process. While implementing AR, it is important to keep your teams, their mindset and knowledge, business goals, and strategies aiming toward the future.
Here is a 5 step process that a business can effectively follow to successfully implement Augmented Reality in their Business Plan.
1. Start With Small Pilot Projects
Technology has the inevitable tendency to change every few years. Understandably, your teams may not be well-versed or up to date with AR and VR implementation, business impact, and consequences. It is unfair to expect teams to come up with a lucrative business plan using augmented and virtual reality overnight. Hence it is exceptionally important to implement small projects with small consequences to study and understand AR's complete potential and to equip your teams with the technology.
Augmented Reality will require a fully hands-on team but with a diligent and dedicated team almost anything is possible, so scout out and build your invincible team. Taking into consideration that the nature of the technology is rather new, you can either choose to create teams from inside your business' technology team or hire new people who have a good understanding of the technology and are ready to explore it further.
When the technology is as new as AR, it is imperative to adequately educate and train your team as the technology progresses. Training and skill development should not only be reserved for the employees who are working on implementing augmented reality but also across all business functions and operators for proper assimilation and seamless functioning.
4. Strategize a Business Plan
Having a solid business strategy is always important, especially when planning on implementing AR. Research well about the technology and how companies around the globe are utilizing and benefiting from it. While making this strategy, it is also vital to understand your customer's needs, how they are using AR, and what business impact it would indent. Initially, you may not see a return on your AR and VR projects. Regardless of this, create strategies around conditioning your customer base and keeping them engaged, and look for small victories before advancing to bigger projects.
Last but certainly not least, talk about it! Inform all internal and external stakeholders that your company is a technology-focused company and it is investing in augmented reality to create business value and enhance customer satisfaction. Maintain a continuous flow of information to ensure they are consistently informed about the pivot projects and the future outlook for both the company and the industry in relation to
augmented reality services.
Choosing The Right Augmented Reality Technology Partner
If you plan on implementing AR into your business it is vital to know who to trust with your project. Something as important as this should not be taken lightly, any mishap could cost your business a fortune to fix. Any partner can hamper your hard work if they do not hold the same values for their products as you do.
Here are 5 important things to consider when choosing a technology partner.
Fingent top
custom software development company
has a proven track record of enabling clients to deliver seamless experiences to their customers by leveraging technology to its fullest. Their AR Solutions effortlessly bridge the gap between consumers and sellers.
Fingent provides in-store advanced experiences, AR product visualization, and interactive user manuals. With our expertise around ARTKit for IOS Platforms, Spark AR, Lens Studio, Vuforia, Web AR Solutions, and AR core for Android Platforms we create powerful user experiences that give clients a sharp competitive edge. Call us today and let's discuss how AR can be used to revolutionize your business.