Pfizer became the world's largest sterile injectables supplier during the pandemic because the company excels in its logistics management. Without logistics software management, neither can they store, transport, and distribute the COVID-19 vaccine to multiple countries, maintaining ultra-low temperatures.
In today's fast-paced environment with growing transport volumes, logistic management software play a key role in digitizing every touchpoint of the supply chain- monitor shipments, optimize delivery routes, communicate with partners, handle a gamut of operations, and oversee distribution with complete transparency. Investing in logistic management software streamlines your processes and eliminates workflow headaches, yielding positive results with significant changes in processes, procedures, and distribution.
In this article, we will cover everything that you need to know about logistics management software.
What is Logistics Management Software?
Logistics management is a part of the supply chain that uses planning and implementation to store and deliver goods and services to the customer. Typically a logistics management system administers inbound and outbound transportation management, warehouse management, fleet management, processing orders, inventory control, managing third-party logistics service providers, and planning supply and demand. It coordinates several critical activities of the supply chain that range from product development to commercialization, such as production planning, sourcing, procurement, packaging, and dispatching. It also involves finding a suitable means to deliver goods and services to the end user.
Logistics Management Software (LMS) simplifies logistics operations by refining the production cycle and making it easier to access important information quickly. Logistics management software helps businesses manage the various processes in the production cycle, from delivering raw materials to shipping the finished products to the consumers.
Logistics Management Software Market has witnessed tremendous growth in USD million from 2017 to 2022, with the highest CAGR estimated to reach USD in 2029.
Source: Industry Research
Logistics software has become broader in its scope and functionality to deal with a vast array of operations and processes. It shares similarities with supply chain management software (SCMS), which contains tools that help deal with transactions, processes, and suppliers. The functionality of logistics management software extends to areas such as
Logistics management software can get rid of all the conventional approaches like paperwork and spreadsheets to simplify management. Consequently, logistics will become more refined and fast, changing how materials, goods, freight, sales orders, inventory, and production are managed. It has three variations:
warehouse management systems
, enterprise resource planning systems, and integrated supply chain management suites.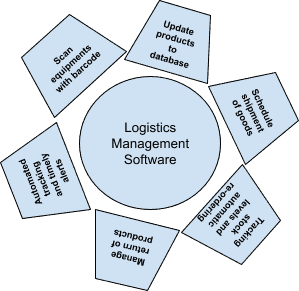 Companies with an in-house logistics or supply chain division and third-party logistics providers utilize any of these different versions according to their requirements to efficiently manage their logistical and supply chain operations.
Key Features of Logistics Management Software
A logistic and supply management company must have powerful and functional management software to manage its operations, planning, procurement, and distribution of products, data information, and finances. If your company is looking to procure or build a logistic management solution, ensure it includes certain features necessary for the smooth functioning of shipment. Some of the key must-have features of Logistics Management Software include-
Business Benefits of Using Logistics Software
Proper planning, sourcing, production, delivery, and return are required to improve supply chain performance. Handing these processes to logistics management software provides operational fluency to the supply chain. With logistics management software, a company or 3PL (third-party logistics) provider can avail of the following benefits.
How To Overcome Logistics Challenges with Logistics Software
The logistics industry is complex and involves a lot of complicated processes and hassles. With the pandemic, businesses were compelled to rely more on logistics management software to pace with changing demands and provide essential items to customers. To address the pressing challenges in logistics management, a modern logistics software solution promises to add increased scalability, speed of delivery, efficiency, and accuracy.
1

Rising transportation costs
With the hike in fuel prices, the cost of transporting goods increases substantially. The logistics industry is greatly impacted by the challenge of maintaining low shipping costs for delivering products to customers.
The route optimization feature in logistics software can help the logistics industry overcome this chaotic challenge. With the right implementation, companies can easily detect the fastest route to deliver goods and save fuel expenses. Hence, this is economical for the logistics company and customers, as they can avoid paying high shipping costs.
Another important problem is the inadequate waiting time for products. Due to climatic conditions, factory shutdowns, port capacity issues, or other disruptive events, delivery of products may be slowed or sometimes comes to a standstill.
Logistics software makes it easy to automate your delivery processes and increase efficiency. Get timely updates on the movement of products using tracking software or real-time visibility of shipments. This helps to give a bigger picture of when the goods are dispatched, procured, and when they will be delivered. Automation saves your time lost when working manually and provides accurate data and tracking, thereby improving the overall delivery process.
3

Lack Effective Coordination
The major problems in the logistics industry creep in from its inconsistency and fragmentation. With multiple parties involved in the logistics supply chain- manufacturers, storekeepers, drivers, managers, and customers, it is difficult to have centralized control over their communication path.
Such issues can be alleviated by adopting effective communication and real-time visibility software systems that can be integrated directly into the warehouse management system, providing access to partners and clients. This puts everyone in the loop with proper visibility of the various stages in production and distribution.
4

Meeting the demand surge
Demand surges or panic buying influences inventory stock levels and customer service satisfaction and can also impact the entire supply chain. Filling the inventory stock on time is a massive operation and requires proper planning.
Forecast accuracy and automation help get a proper inventory stock overview and meet perpetual demand fluctuations. To fulfill growing delivery volumes and maintain customer satisfaction, logistic software with a digitized system helps to orchestrate these operations effectively and flawlessly.
5

Warehouse management errors
Flaws in warehouse management are common such as misplaced products, packing or shipping wrong products, incomplete orders, or damaged items during delivery. Such human errors can become costly when they are not regulated.
The best way to reduce such mistakes is by leveraging an effective and updated warehouse management system. Logistics companies must invest in modern technologies like artificial and augmented intelligence, advanced analytics, automation, and warehouse robotics to manage their inventory and improve business scalability and competitive edge.
Future trends that Reshape Logistics Management
"It is not easy for businesses to make a thoughtful decision to move out from their legacy system and quickly transform their IT processes. Hence, it is imperative to make a comprehensive approach to
legacy system migration
with proper planning and strategy"
The demand for logistics software management has peaked with the widespread popularity of eCommerce in 2021. The onset of COVID-19 is also a reason behind the peak in demand for logistics technology. As a result, logistics is constantly evolving to accommodate each industry's rising requests that depend on it. One area where logistics has transformed is the digitization of its processes and resources. In the coming years, the industry is expected to embrace the cloud, mobile, and emerging tech to transform logistics operations. Here are some future tech trends that will influence the logistics and supply chain industry.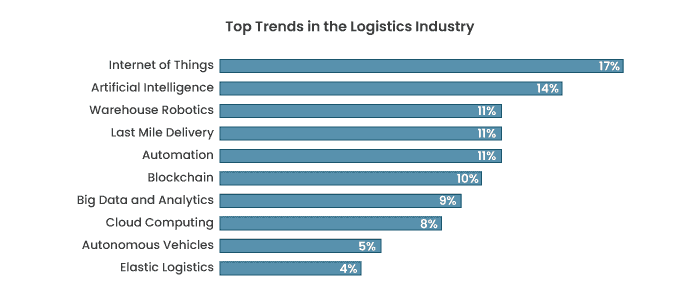 Choosing the Right Logistics Management Software
With the trends shifting logistics management in a progressive direction, the need for software solutions in the field has become indispensable. Businesses, whether focussing on e-commerce or delivering services, can benefit from having logistics management software. However, the real question is finding the right kind of logistics software since the requirements vary for each business.
Before settling on software for logistics management, it is vital to understand the daily requirements and challenges a business faces. Carrying out a detailed analysis can help identify deficiencies in the existing logistical operations of a business. Besides that, it can suggest measures to redeem any discovered shortcomings in the cycle.
There are several essential factors to consider when deciding on logistics management software. Firstly, it should contain a basic set of functions that can aid in simple logistical management operations. Besides that, numerous other things should also be present in the software to tackle the wide base of a business's logistical operations and processes.
Compatible Multi-Client Architecture
Logistics software with multi-client architecture support is necessary if a business handles multiple customers. Since it deals with several customers simultaneously or in different phases, software with inventory and purchase orders has more emphasis.
Demand Forecasting
Finance Integration
Inventory Tracking
Customizable and Streamlined Interface
CRM
Bill of Lading Creation
Refer to the chart below to get a grip on the overall profile of any software logistics management:
With logistics pushed to the forefront of business operations, leveraging the right technology can make your business compatible with the changing environment.
Outsourcing to a software development vendor will help deploy scalable software for logistics management into your entire supply chain operations. A global software solutions provider like Fingent can give you the advantage of custom logistics solutions based solely on your requirements.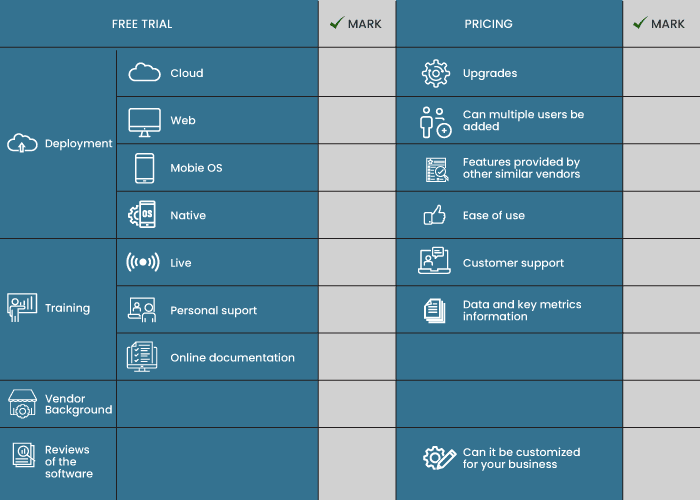 Common Business Applications of Logistics Management Software
#1
Quickly respond to logistics RFQs
Employ automated chatbots
#2
Identify financial discrepancies in invoices
Use of AI or ML techniques
#3
Cargo movement & collection
Implement warehouse automation
#4
Better customer service
Use of chatbots and virtual assistants
Employ AI-powered predictive analytics
#6
Good inventory control
#7
Displaying route information on drivers' windscreen
Challenges Faced By Companies Implementing Logistics Software
Adopting digital technologies is still not as rampant a practice as it should be in the logistics industry. Many key decision-makers in companies link the process with the chaotic deployment of complicated technologies. Logistics companies plan to invest 5% of their revenue per year in digitalization. But the industry's low profitability makes such funding challenging.
50% of US importers still use spreadsheets to manage their complex international supply chain.
Adopting logistics management software would mean considering many things, from employee reactions to their impact on customer relations and costs and how they align with the business objectives. Navigating these considerations can be easier said than done, as logistic companies must tackle some serious mindset blocks to go ahead with digital transformation. Some common challenges companies face in implementing logistics management software are
Fingent enables logistic companies to implement a custom logistic solution that guarantees modernizing traditional business processes and automating mundane tasks to increase efficiency and improve the business's overall productivity without disrupting the existing system.
How Custom Logistics Management Software Can Benefit Your Supply Chain
Like every other industry, there is no one size fits all solution for logistics management, as the requirements vary from business to business. Logistics management software refers to a wide range of technology solutions like order management, transportation management, inventory management, warehouse, operations, and fleet management. Some logistics and transportation companies turn directly to ready-made or off-the-shelf logistics solutions. However, some prefer to choose customizable logistics management software to improve their services.
Custom logistics management software is tailored just to your business and meets your exact specifications. They provide personalized logistic solutions that focus on fixing not just the general logistic issues faced by businesses but the ones that are specific to your company. These logistics solutions are based on the analysis of your business operations, requirements, and challenges you face, and then provide solutions to those needs.
Why choose custom logistic software?
Fingent Builds a Custom Logistic Management Software
We helped built a custom warehouse management and order processing software to simplify what was once considered complex order processing. It allows customers to place orders quickly and warehouses to track every order with improved efficiency and sophistication.
A personalized transportation management system lets our customers view their order status in real-time and access up-to-date shipping data.
It's time to re-imagined logistics and supply chain operations with customized software solutions.
Top Benefits of the Solution:
Transitioning into Cloud-Based SaaS: The Future of Logistics
Cloud computing is gaining momentum unveiling a whole new way of processing data. Tech innovations have influenced the supply chain and logistics operations. Increased supply chain and logistics solutions adoption will shift from the on-premise model to the SaaS model.
Predictions estimate that a subscription-based SaaS model will dominate supply chain management in the future. Adopting a cloud-based supply chain solution offers benefits in the form of flexibility, robustness, and affordability. Free and open-source software adoption has made the cloud the primary choice for logistics providers and organizations worldwide.
Cloud-based SaaS supply chain solutions offer numerous benefits. It gives a comprehensive outlook on logistics operations by making processes more transparent and collaborative. Implementing a cloud system reduces upfront and operating costs. It also offers the ability to scale up with the business needs and enhances supply chain efficiency.
Opting for a logistics solution is one step to simplifying the entire cycle of logistical and supply chain operations. Effective management of each process, from procurement to delivery, requires a custom logistics management solution that can accommodate each provider's demands. For instance, an organization lacking an in-house logistics department needs a software management tool to wrap around its existing methodology and improve it.
Businesses can deploy logistics management software tailored to their requirements by partnering with a vendor specializing in software development. Pioneers in
custom software development
like Fingent can assist companies from wholesalers to distributors to e-commerce with the advantage of custom logistic solutions. Get in touch with us to spearhead your operations swiftly and efficiently.