5 Exciting New Features of SharePoint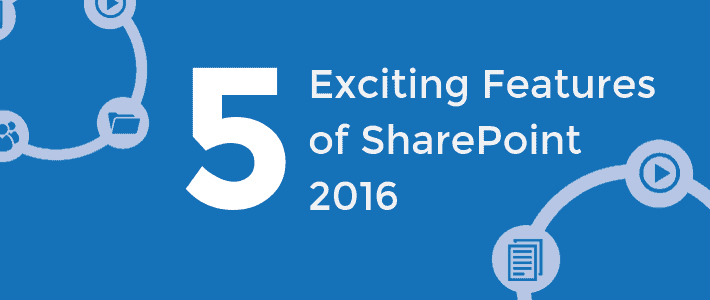 Sharepoint has had a long evolution over the years with new enhanced features for every release. The most updated version, Sharepoint 2016 comes with an enhanced set of features. It enhances the hybrid infrastructure taking advantage of the recent innovations in cloud technology. It enables teams to work anywhere, anytime, and from any location breaking the shackles of the traditional office environment.  It is hard to ignore the growth of the SharePoint community over the recent years.
Let's have a look at the top 5 features of SharePoint:
1) Going Hybrid with Cloud and On-Premise data
Forrester Research Report 2017 claims that, of 1,000 technology decision-makers in North American and European enterprise infrastructure, 38% were building private clouds, 32% were building public clouds, and 30% would build some form of cloud in the next 12 months. Microsoft intends to stay at the forefront of this exciting change with its suite of cloud offerings. SharePoint 2016 allows your organization to integrate Online and On-premise solutions to deliver a superior solution.  It also allows users to use Office 365 and utilize some of its existing features like OneDrive for Business, Search, etc. They have termed this as "Hybrid", which gives the privilege to segregate access and data storage between On-Premise and Cloud.

2) Managing Old and Out-of-date content
Coordinating across teams to identify out-of-date or irrelevant content across the organization is often expensive and cumbersome. Thus, companies usually neglect scoping out old vs required content. SharePoint 2016's content audit finds a solution for this problem by leaving behind any obsolete content in the old system. This improves the integrity of business data and helps organizations make their SharePoint more efficient and relevant as they migrate to the new version.
3) Higher Upload and DB size limits
The earlier version of SharePoint did not support uploading of files larger than 2047 MB (2 GB); the default file Upload Limit was 250MB with a maximum 2GB. With the new release,  the permissible size has been increased to 10 GB. Another attractive feature is that the Content Database now supports terabytes of data. As the world moves to rich media, this increase in limits will ensure that SharePoint can support documents without having users work around archaic limits of the past.
4) A Better Mobile Experience
Enterprise mobility is no longer a consideration, but a crucial element for businesses as employees and stakeholders increasingly demand mobile-first solutions. Until 2016, Microsoft never had a mobile app or a responsive design, hence the mobile experience was nothing to write home about. However, with SharePoint 2016 Microsoft addresses this pain point with responsive designs that adapt to the screen size and with mobile apps.  Recently, Microsoft has been focusing on user experience. These recent changes will help the user be more productive from an easily accessible mobile platform.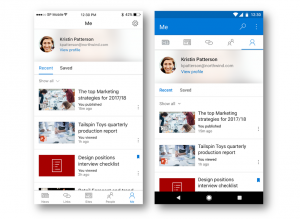 SharePoint Migration and Customization Services
With in-depth and hands-on expertise in SharePoint development, Fingent's dedicated team for SharePoint has helped enterprise organizations facilitate collaboration within departments, integrate custom workflows and manage documents.  Talk to our experts today!     
Get A Free Quote! 
5) Zero Downtime Patching
For IT teams managing the SharePoint server, this feature will come as a pleasant news – Microsoft has reduced the number of packages and their sizes immensely. They have also removed the downtime required to update SharePoint servers.
How does the upgrade to Sharepoint 2016 work?
If you have decided to migrate to Sharepoint 2016, make sure you have a checklist prepared to ensure a smooth migration.
Firstly, upgrade your license. If you are on Sharepoint 2013, upgrade your license to 2016. But, for those on 2010 the steps are a bit longer – you will have to first migrate from 2010 to 2013 and then to 2016.

Once you have the license, the next step is to install and configure 2016. Ensure that the hardware requirements are in line with the Microsoft's requirement. Check out the official

site

for the specs.

SharePoint provides you with three migration strategies: the first one is manual, the second one is automated, the third one is a mixture of both. Now, the question is which one to go for. Well, we really can't say since it depends on a case by case basis.

Automated would require no manual effort and you can use paid tools for this process. It is recommended to do purely on a project basis as this might not work for all projects.

Manual migration is the simplest of all and the most painful too. It's a process of cutting and pasting and copying content.

Last migration strategy is a mixture and is probably the best of all. Some of the areas will be migrated manually and the others will be automated.
SharePoint 2016 from Microsoft has evolved to mature as a platform which companies can adopt to share data, communicate and manage workflows, and work seamlessly with other Microsoft products. The cloud-first, mobile-first approach should improve efficiency for organizations and make Sharepoint 2016 relevant to modern users.
If you are considering migrating to SharePoint 2016, get in touch with our consultants to learn more and understand your readiness.