Photo-Blog: Top 5 Field Service Power Metrics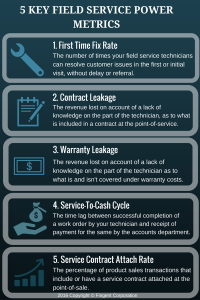 In Field Service industry, where the technicians are face to face with customers everyday, good operational efficiency, productive staff, and effective resource management are all interconnected and are important aspects of the business. Businesses should carefully measure all these areas that indicate the health of their field service. Data and analytics thus recorded, needs to be evaluated to drive more informed business decisions. So, how do you measure these to drive more insights from it?
This photo-blog lists five unique field service power metrics to identify and monitor your company's performance.
Related Post

Artificial Intelligence (AI) is the simulation of human intelligence processes……

Think of field service operations, and the odds are of……

It has been proven, way back in 2011, that in……