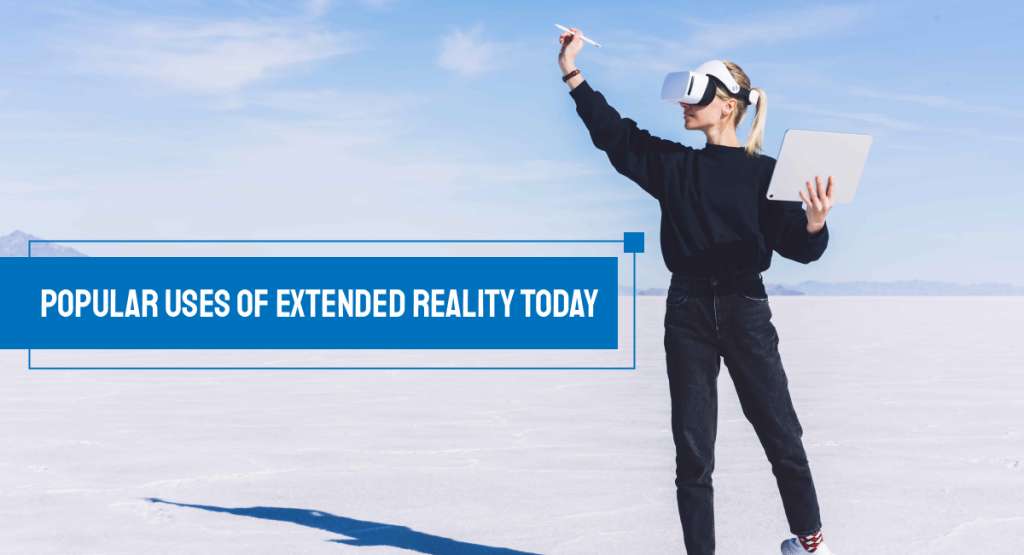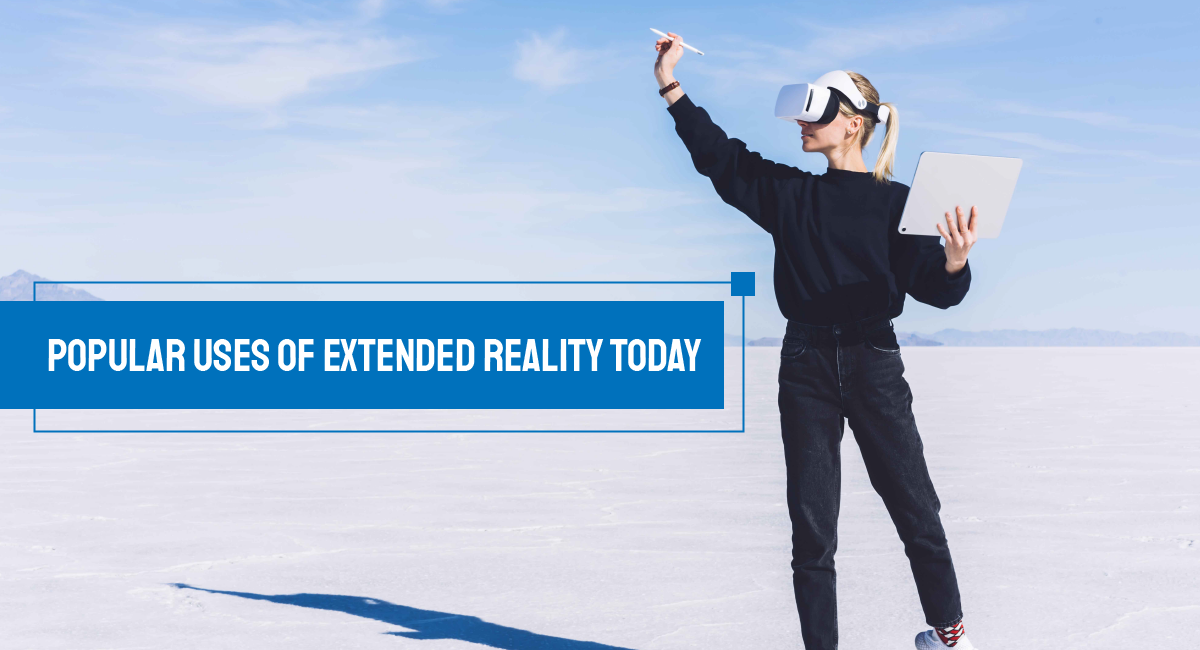 How Extended Reality Is Transforming Business Environments?
Picture yourself diving into crystal-clear Grecian waters or taking a walk on the moon, all the while sitting in the comfort of your home.  As fantastical as this may seem now, Extended Reality is making this possible as we speak. What is Extended reality and what are its powerful real-world applications? Let's check.
Understanding What Extended Reality Is
Extended Reality is a blanket term that encompasses all virtual and real environments generated by computer technology. This includes components such as Virtual Reality, Augmented Reality, and Mixed Reality. Extended Reality is poised to completely revamp the way businesses interact with the media and has the potential to allow seamless interaction between the real and virtual worlds allowing its users to have a completely immersive experience. 
Three Remarkable Components of Extended Reality
These components fall under the category of immersive technologies that can affect our perceptions. Here is a little bit about them:
Virtual reality: Virtual reality transposes its users to a different setting through a simulated digital experience. It makes use of a head-mounted display (HMD) to create an immersive experience by simulating as many experiences as possible.  Industries such as healthcare and real estate have started using virtual reality significantly. 
Augmented reality: As the word suggests, augmented reality takes the existing reality and overlays it with various types of information, enhancing the digital experience. It could be categorized as marker-based, marker-less, and location-based. It has proven useful in medical training, design, modeling and numerous other areas.
Mixed reality: Being the most recent advancement among reality technologies, mixed reality is experienced through mixed reality glasses or headsets where you can interact with physical and digital objects in real-time. 
Related Reading: Augmented Reality Vs. Virtual Reality – The Future Technology
The implementation of these technologies through extended reality is enabling businesses to create innovative solutions and increase customer engagement, reduce human error and improve time efficiency. 
5 Powerful Real-World Applications 
"The market for Extended Reality is expected to have a compound annual growth rate of more than 65% during the forecast period of 2019-2024," says Mordor Intelligence. 
Check out these five real-world applications of extended reality:
1. Entertainment and Gaming
The entertainment and video games industries are the foremost users of Extended Reality. Camera tracking and real-time rendering are combined to create an immersive virtual environment, allowing actors to get the real feel of the scene, thereby improving their performance. The extended reality also allows for multipurpose studio environments, thus reducing the cost of an elaborate movie set.
Video gaming is enhanced by the ability of Extended Reality to create a comprehensive participation effect. This allows users to dive into a completely different reality. Other entertainment events such as exhibitions and live music can also be enhanced by the capabilities of Extended Reality. 
2. Employees and Consumers
Training

: Extended Reality allows employees to be trained and educated in low-risk, virtual environments. Medical students, surgeons, firefighters, pilots, and chemists can closely simulate risky scenarios with minimal risk and less expense. The experience they gain will prove invaluable when they handle real-life situations.

Information

: Replacing physical manuals, Extended Reality can enable technicians to focus on the task without having to flip the pages of a manual. It can even connect an expert remotely to the real-time issue for his expert advice. This would save organizations a whole lot of money, and more importantly save them valuable downtime as they wouldn't need to wait for experts.

Improve customer perspective

: Simulating virtual experience brought on by specific diseases and impairments can help doctors and caregivers receive empathy training. 
Related Reading: How Top Brands Embrace Augmented Reality for Immersive Customer Experiences
3. Healthcare
Extended Reality is improving healthcare by streamlining medical procedures while enhancing patient care. Allowing surgeons to visualize the complexities of the organs in 3D, it is enabling them to plan each step of a complicated surgery well in advance. Essentially, it is ensuring that surgeons can perform surgeries in a more safe, effective and precise way.
4. Real Estate
Extended Reality makes it easier for real estate agents and managers to close a deal by enabling prospective homebuyers to get a real feel of the property. The layout scenarios that are enabled by Extended Reality enhance customer experience while providing strong business opportunities. 
Related Reading: AR and VR- Game Changers of Real Estate Industry
5. Marketing
Extended Reality enables marketers to give their consumers a 'try before you buy' experience. It allows consumers to be transported to a place, immerses them in that world and motivates them to explore it. As an example, Cathay Pacific used a 360◦ video with hotspots to help potential customers experience the brand firsthand. That increased customer awareness by 29% and brand favorability by 25%. 
Face the Future with Extended Reality
There are many more advancements and applications to be discovered with Extended Reality, and it is soon going to be imperative to competitive advantage. Make sure your business isn't left behind. Talk to our expert today. 
It's Time to Bid Goodbye to the Legacy Technology!
The decade's end has seen numerous inevitable changes in the technology market. It hasn't been long since we bid adieu to Python 2, and now Microsoft Silverlight is nearing its end-of-life!
This surely brings a million questions to your curious mind! 
Why did Microsoft decide to end all support for Silverlight? What are the next best alternatives available in the market? And most of all, is it okay to still keep using Silverlight? 
Read on as we answer it all!
What is Microsoft Silverlight?
Silverlight, an application framework designed by Microsoft, has been driving rich media on the internet since 2007. Created as an alternative to Adobe Flash, this free, browser focused developer tool facilitated web development by enabling computers and browsers to utilize UI elements and associated plugins for rich media streaming. With the emergence of video streaming platforms like Netflix and Amazon Prime, Silverlight turned out to be a great option to enable sophisticated effects.
So What Led To The Demise of Microsoft Silverlight?
A couple of things, but mostly Silverlight could not catch up with the rapidly evolving software market!
When Microsoft Silverlight was released in 2007, it looked like a huge success. Especially with the successful online streaming of the huge Beijing Olympics coverage in 2008, the political conventions of 2008, and the 2011 Winter Olympics, Silverlight was on a roll, later pulling in major video streaming platforms like Netflix and Amazon Prime onboard.
However, Silverlight could not shine for long. A few problems started to surface soon. Bugs in several applications were just one manifestation. The worst issues came about with Microsoft misjudging the real requirements of the market.
Although Silverlight reduced the user's dependency on Flash to access rich graphics, animations, videos, and live streams online, it did so with a heavy reliance on Microsoft tools at the backend. Using Microsoft .Net Framework and XAML coding format, Silverlight offered the support for Windows Media Audio(WMA), Windows Media Video(WMV), advanced audio coding and the rest. 
This seemed difficult, as well as risky for developers, especially to depend on a single vendor's framework. Meanwhile, constant push to upgrade Silverlight made things more complicated, leaving developers more comfortable adopting low cost opens source alternatives like Flash and JavaScript over Silverlight. With HTML5 -and other browser standards on the rise, Silverlight became an outlier in the market.
In 2013, the Redmond giant stopped the development of Silverlight but continued to roll out bug fixes and patches regularly. In September 2015, Google Chrome ended support for Silverlight, followed by Firefox in March 2017. Microsoft-edge does not support Silverlight plug-ins at all, and with modern browsers transitioning to HTML5, Microsoft did not see any need to keep maintaining this application framework.
So, it's official! Microsoft has announced the support end date for Silverlight to be on October 12, 2021. 
And what is Netflix going to do? Well, Netflix currently supports Silverlight 4 and Silverlight 5. So Netflix viewers, using it on Windows XP or Windows 7 PC (both themselves now unsupported) can use either the Silverlight plug-in or HTML5 player.
What Happens After October 2021?
Not to worry, there won't be a big boom on October 12, 2021! 
It is true that Silverlight will be completely unsupportive after the said date and will no longer receive any future quality or security updates. But however, Microsoft is not preventing or terminating any Silverlight applications for now.
So should you still be using Silverlight?
Well, no! Fewer users will be able to still use Silverlight driven apps. However, this would turn worse, with developers wanting to work in a dead-end development environment, which will immensely raise the cost of supporting Silverlight apps.
What Are The Next Best Options?  
No doubt Microsoft Silverlight has served as a great option for developing rich apps. However, with the end of support for Silverlight, here's listing a couple of new tech stacks that promises to be more reliable alternatives. 
AngularJS, a popular framework maintained by Google is simply a great option for developers around the world. It is an open-source framework designed to address the challenges of web development processes and offers ease in integrating with HTML code and application modules. Moreover, it automatically synchronizes with modules that make the development process seamless, and following a DOM methodology, it focuses on improving performance and testability. Adding to this, AngularJS uses basic HTML that enables building rich internet applications effectively. Also, with an MVC built architecture and various extensions, this technology proves to be a great option for designing applications that are dynamic and responsive.  
ReactJS is another application framework that can easily be labeled as a "best seller", based on the popularity and affection it has gained in the developer community. Launched in 2013, the ReactJS framework is today well regarded and used by leading companies like Apple, PayPal, Netflix, and of course Facebook. React Native is a variant of the ReactJS JavaScript library that combines native application development with JavaScript UI development, to build web pages that are highly dynamic and user-responsive. While native modules allow implementing platform-specific features for iOS and Android, the rest of the code is written with JavaScript and shared across platforms.
Related Reading: React Native Or Flutter – The Better Choice For Mobile App Development
With technologies running in and disappearing from the market, it can be quite difficult to decide on the stack of digital tools that would best fit your business. Our business and solution experts can help ensure that you transform with the right technology to meet industry challenges and enhance your revenue opportunities. To discuss more on how we can help you identify the right technology for your company, get in touch with our experts today!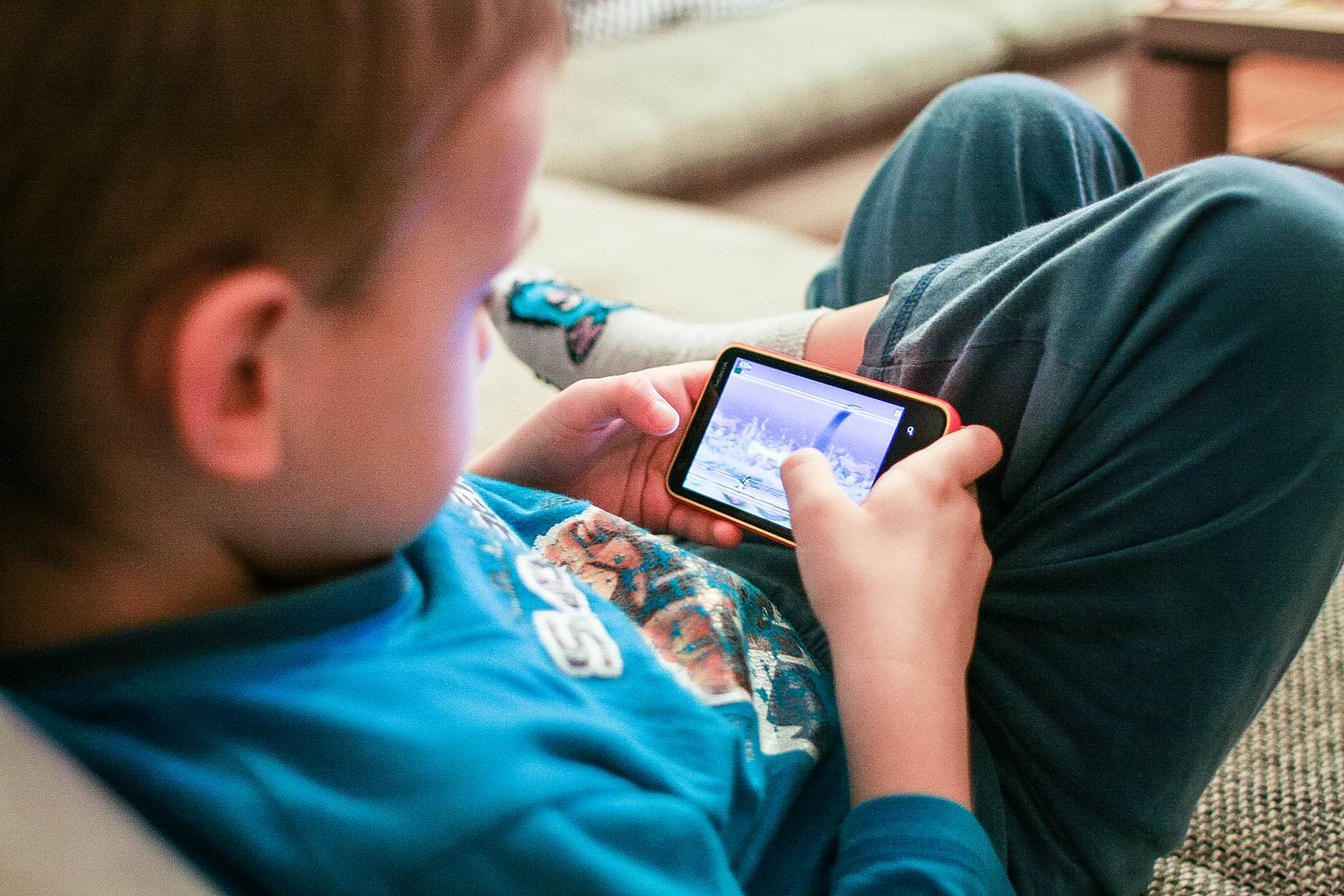 Most often mobile games, appearing to be innocent recreations, later on, turn out to be huge addictions, affecting the mind and life of a person. People have gone to the extent of having to consult a doctor, due to excessive addiction symptoms like negligence of personal hygiene etc. We all have at some point in our lives been victim to one of those mobile games. How does it affect our lives so much, or what causes this addiction?
Games are designed to cause a certain level of addiction, not in the medical sense of the term, but in a way that makes you want to come back and play it over and over again. Game designers are constantly searching for ways to make their game more challenging and interesting, although they make sure to make it just enough challenging so as to keep players interested. There is a lot of thought that needs to be put into designing a game because of these factors that drive the player's interest and addiction. Here are some of such factors, that get you addicted to mobile games. Basically, the factors that game designers make sure they pay attention to:
Role play in games – Most often, when there is a role to play for the player which involves creating a character and attributes for the character, being a part of a whole story, designing the course of the story etc, it gives the players a sense of attachment. It allows the players to do more than play, by making them a part of the game. Eventually, there forms an emotional attachment to the character and story, making it harder for the players to stop playing.
Beating the high score – The high score in any game is one of the easiest possible hooks. Whether it is a score set by a co-player on the global scoreboard, or by the player himself, beating it is something that keeps most people coming back.
Level up – Levels in games are meant for the players to feel a sense of accomplishment and the difficulty of the levels are meant to keep it challenging. As the players achieve a certain point, they are given a chance to explore a higher level which would be more difficult. They are also given badges for their achievements so that they keep coming back to earn more.
Online groups – Most mobile games give players the opportunity to mingle with other players and build or be a part of online groups or communities. This allows them to compete with other players as well as play with them and share accomplishments etc. which further adds to the entertainment factor as well as the addiction factor.
Another major addiction factor for some mobile games is the fact that they are never ending. They allow the players to keep playing by adding newer and more challenging levels. Unlike some other games which have an ultimate goal, and which get completed once the goal is achieved, never ending games always keep the players coming back. Moreover, some of them are multiplayer games, which allows them to play with their friends as well.
Some of the most popular mobile games and their addictive features are:
Angry birds – We are all familiar with the birds and the pigs and the sling shots. From the day they were introduced, the idea of slingshots and the angry birds has been caught up in our minds. By bringing about updates with every season or festival in the area, they further secured a place among the list of popular games. The most addictive factors of the game include the increasing levels of difficulty, the stars on winning a level and the idea of destroying the pigs and hearing them squeal to our triumph.
Fruit Ninja – As the fruits are flung at you, you get to slice them and dice them like a Ninja and you are awarded extra points for combos. The idea of slicing the fruits plus the combo points makes you keep playing it over and over again.
Cut the rope – The main factor that keeps you coming back to this game is Om Nom the hungry and adorable little creature. Again, the difficulty levels and the scoreboard keep you addicted to this game as well.
These are some factors which make mobile games so popular these days. Although, it adds to the popularity of games, addiction is also a matter that needs to be kept in check, especially among children and adolescents. Game designers are coming up with more innovative and addictive programming for games these days. Hence, if the addiction problem is kept under check, mobile gaming can be a fun-filled, exciting as well as learning experience.