Meeting the HR Requirements With Odoo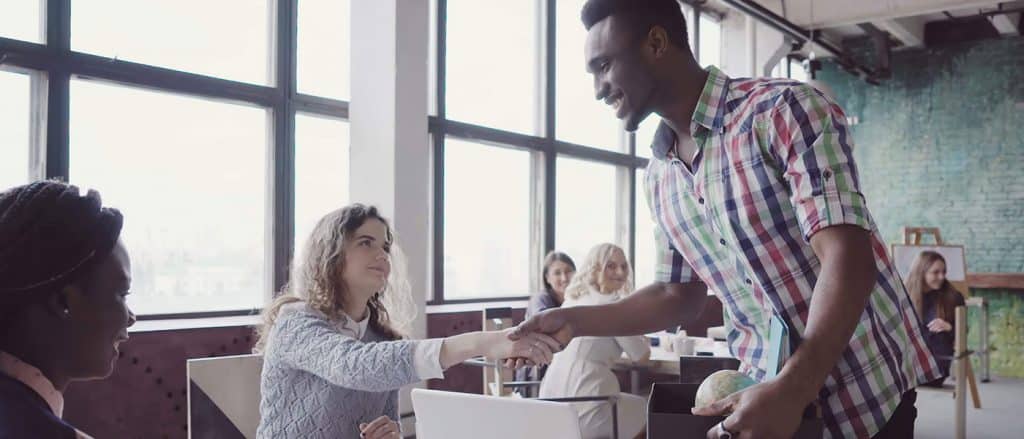 HR plays an important role in all businesses nowadays. Traditionally, the department has played a supportive role and does not take part in any number-oriented departments like marketing and business development. Today's organization have realized the further potential of the HR department to enhance and develop a business enterprise.
HR deals with the management of the most important and valuable asset to any organization viz, human capital. HR is being considered an employee's sponsor or advocate. The department continuously monitors and finds out the talent needs of an organization and fills the gap that is being formed usually by hiring employees with a specific skill set to match the needs. In addition, HR act as strategists in the organization contributing to the development and accomplishment of the business plans and objectives.
The HR personnel is responsible for designing a working system in which people succeed and contribute. Establishing a favorable and safe work environment, culture and climate in the organization where the people feel competent, concerned and committed to serving the customers well.
The Payroll function of the HR Department is considered as very important. Payroll is the process of compensating employees, balancing the payroll data, wage deductions, reporting taxes, record keeping, verifying the payroll data, calculating reimbursements, bonuses, overtime, holiday pay, etc.
The HR section keeps all the records of the employees in the organization. Performance appraisal is a function of HR Department by which job performance of an employee is documented and evaluated. Decisions like transfer, salary hike, promotions, etc. are all taken by an HR person.
As the functions of HR is complex and important to the business organization, it needs to be done effectively and efficiently throughout the organization. The need for proper integration of the activities of every department in order to carry out the process led to the implementation of ERP software systems in organizations.
ERP- Meaning
ERP or Enterprise Resource Planning is software providing integrated management of core business processes mediated through software and technology. It allows the organization to use integrated applications in order to automate back office functions and minimize the replication of work. ERP is a single system where all the information is stored in a single database, which can be accessed by all the functional areas in an organization.
Nowadays, almost all the large business enterprises have ERP software or else it is close to impossible to handle the complexity of the data by the personnel alone. ERP has different modules that mimic the different functional areas of business. Microsoft Dynamics AX, Oracle Enterprise Resource Planning, Odoo, WebERP are some examples of ERP systems. Odoo is an open source ERP.
ERP- Functional Modules
ERP has different modules that mimic the different functional areas of a business. Common ERP modules that are found implemented are: Financial Module (FI), Human Resource Module (HR), Materials Management Module (MM), Production Planning Module (PP), Quality Management Module (QM), Sales and Distribution Module (SD), Controlling (CO), Supply Chain Management (SCM), General Logistics (LO), Project System (PS), Plant Maintenance (PM), Customer Relation Management (CRM), E-commerce (E-COM), Advance Planner Optimiser/Advance Planner Scheduler (AO/APS) etc. These modules comprise several submodules.
ERP Assisting Human Resource Planning
Companies use an HR module for creating and maintaining a complete list of employees, track their performance, streamlining compensation, etc. It helps to track the workforce of an organization real-time. Variable compensation plans can be prepared based on qualification, role and work experience in order to motivate the employees. Managing leaves is never been easier. More importantly, it streamlines the process of recruitment easily.
OPEN SOURCE ERP/ ODOO
Out of all ERP's in the world, Odoo has its own place. Because of its free license to use, easy customization and quick implementation, Odoo is highly preferred by enterprises with less capacity to invest in ERP packages like SAP, Microsoft Dynamics, Oracle etc.
Leave Management
Using this module, it is easier to track the leaves taken by each employee. Employees can request for leaves and the manager can approve or reject them with a note of explanation. The agenda of each employee is updated accordingly.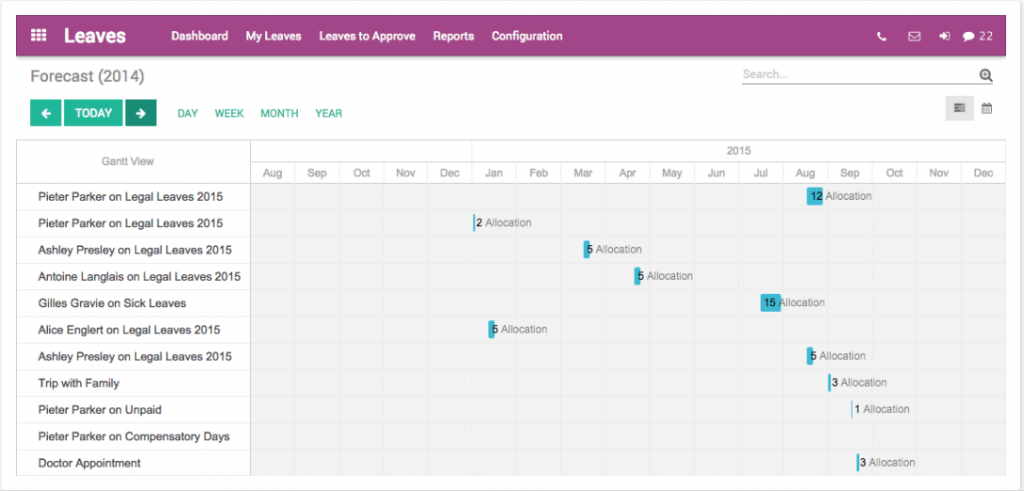 The manager can view the leaves of his/her own team and also forecast the distribution of future tasks accordingly. The module creates statistics, reports based on request type, employee, department or even for the whole enterprise. You can plan for the upcoming to make sure that the company runs at the highest level of productivity.
Recruitment
The recruitment process can be a bit of a headache for HR people in an enterprise. Odoo can handle this process easily right from the sourcing to contract. Just as we did previously, you need to install a specific app to use that feature.  By installing Recruitment Process App, you can create job positions and set objectives in terms of recruitment for that particular position, assign responsibility to an HR manager, create an email to generate applications automatically from emails received at this email address, add job descriptions and requirements and customize the process in order to fit your environment. Odoo can also help in the interview process by scheduling the first interview date, adding appreciation, expected salary and internal role. 
After the first interview, an HR manager can add department manager in the loop to schedule a second meeting with the applicants. After the next action, maybe briefing with the manager, the manager can look at the message received and open the application forms. After the meeting, a manager can add an internal note asking the HR manager to hire the applicant.
Indexation of resumes is another feature where you can search for certain keywords and you'll get CV's that contains that keywords. It helps in finding applicants having required qualification and skills from all the applications received.
Employee Directory
This is a core application of HR in Odoo. It keeps records of all the employees in one place. And it is very easy to manage and maintain these records. To use, first you need to install the Employee Directory App and then you can start creating new employees on the list. You can set up departments and assign managers to each while also creating job positions within each department. Keeping track of all the employee details is easy with Odoo.
Payroll
With the Payroll app of Odoo, it becomes easy to manage allowances and deductions, configure basic/gross/net salary, managing employee payslip, maintaining payroll register. Moreover, it comes integrated with holiday management.
Timesheets
With this module, you can implement a timesheet within your system. A Timesheet is a method of recording the amount of time a worker spent on each job. Each employee can encode and track their time spent on each project or assignments. It is completely integrated with the cost accounting module.
Attendances
This module manages the employee's attendances based on actions performed by them like check in/check out.
Employee Appraisal
Employee performance appraisal or performance review or performance evaluation is a method of evaluating and documenting the employee's performance. Through Odoo Employee Appraisals Application, you can manage employee evaluation, set up a periodic employee evaluation and appraisals. You can create surveys right from the app and collect employee's answers. There are several templates to choose from or you can create one of your own. Employees can send these evaluations to subordinates, juniors as well as to their managers. You can create evaluation plans with a clear schedule to automatically generate interview requests. You can specify which employee or department or level in the hierarchy can answer the survey. Then allow managers to review the content and finalize the evaluation.
Expense Tracker
Odoo Expense Tracker provides online expense management, which allows you to manage your employee's daily expenses, whether it is travel related or any other costs. You can access all your employees expense details such as the fee notes and validate or refuse them. Employees can add copies of the receipts and proofs directly to the expense records to avoid losing them. As a manager, you can follow the expenses recorded to keep an eye on the costs and make sure to keep the target and budget. The workload can be shared among employees, managers, and accountants as they are included here to save time.
Fleet Management
Fleet or vehicle management includes management of vehicles such as cars, vans or trucks, private vehicles, also known as the grey fleet, aviation machinery such as aircraft, ships, rail cars etc. Fleet management includes various functions like driver management, vehicle financing, speed management, fuel management, health and safety management, etc. It helps to minimize the risks associated with vehicle investment and reducing transportation and staff cost. 
Odoo Fleet Management helps the manager supervise the organization's vehicle, contracts, costs, insurances etc easily. It provides a specialized tracking system for company vehicles such as Odoo's Smart App which can keep track of fleets.
Other Third Party Apps
There are over 14,000 apps in the Odoo App store to choose from. There are many third-party applications available. Following is the top 10 in Odoo App Store:
Common Calendar: Synchronize different objects in one calendar such as meetings, tasks, holidays and other custom models.
Employee Workload Calculation: Employee calculation and notification for next given days based on project tasks.
Employee Overdue Task Reminder Mail: You can see the total on employee kanban and form also.
HR Payroll Dashboard: View, edit and compare all your company payslips in a page.
HR Config: Add HR configuration Company form.
Open HRMS Core: Bring all the Open HRMS modules.
HR Dashboard: Dashboards for HR managers and Officers.
Biometric Device Integration: Integrates Biometric Devices with HR Attendance (face + thumb)
Payroll Slip Reporting: Payslip Pivot view report.
HR- LinkedIn Integration: Integrates LinkedIn with HR Recruitment.
Some applications are free and some are paid. The main advantage of Odoo is that it can be easily integrated.
Why Odoo?
Odoo is indeed a comprehensive platform that efficiently manages different business applications. Being opensource, it is available in the enterprise version, online model and community version which is open source.
Odoo has many advantages like easy and simple navigation, keeping up the pace with business operations, availability of 1000 + modules, flexibility in the sense, implementation and addition of basic and new modules, easy integration, good user experience, up-to-date technology and most importantly, budget-friendly.

Summing Up
Odoo has about 700 partners and over 2 million users because of its error-free nature and proven quality. Small Business or Startups, which find themselves hard to manage their finances and operations can choose Odoo without any doubt. But if you have a higher capacity and budget for investment, you can go for more conventional and fully established ERP systems like the SAP. The decision comes down to your company's requirements and needs.