Tag:
enterprise mobile apps
With the internet, especially mobile internet now a way of life, businesses are going overboard developing enterprise apps. A 2015 Gartner survey reveals 79% of enterprises increase their mobile spending by 36%. These numbers are increasing every year and for good reasons.
Here are the basic reasons why enterprises are going overboard, developing mobile apps for their internal and external stakeholders.
1. Enterprise Apps Improve Productivity and Efficiency
Very few businesses can get away with slack in today's highly competitive business environment. Enterprises looking to remain competitive have no option but to go all out in improving internal efficiency and boosting employee productivity, and enterprise apps contribute in a big way on both these fronts.
Enterprises apps increase employee productivity, help to optimize business processes to bring in process efficiency, and unlock insights which drive new business models. It facilitates a lean business model, with greater transparency, facilitating operations with reduced inventory and just-in-time inventory fulfillment practices.

Often, employees hit a roadblock in their quest to do something by being unable to access the required data. Enterprise apps make it easy to retrieve data. Moreover, one of the important pre-requisite before developing enterprise apps is removing data silos and fostering transparency, for apps to retrieve the data in the first place.
Mobile apps simplify what would otherwise be convoluted and even confusing processes. Armed with an app, the employee would know exactly what to do and how to do, without the risk of errors or procedural delays.
The single biggest drag on employee productivity is searching for information, preparing reports, and other routine "maintenance" tasks. Enterprise apps automate most of these processes, leaving the employee free to work on their core responsibilities.
2. Enterprise Apps Empower Field Workers

Today's businesses are extremely mobile. They often work from multiple locations and have no option but to become go-getters, reaching out to customers at their site rather than expect them to visit their premises. The importance of sales and service has also increased manifold. A vast number of businesses, from delivery services to long-haul truck drivers, and from airport mechanics to courier companies, have agents or technicians on the field.
Until recently all these businesses were constrained by lack of real-time access to their technicians. Scheduling remote work was hit-and-miss, with the site visit depending on many variables with the main office having no control or visibility into what is going on.
Smart devices, such as tablets and smartphones, powered by enterprise apps, not just allow remote workers to remain connected to their office, but also offer real-time insights into the process. They feeding first-hand data from the ground to the enterprise system, and get analyzed data, in a recursive cycle, to gain unparalleled insights. At the customer end, full transparency and visibility into the field workers movements make the wait for service to arrive less agonizing.
Sales executives get all insights related to the customer he or she is about to visit. Their mobile app taps into all relevant data, subject it to real-time analytics and makes it available in easily consumable formats. Likewise, the executive, during the course of the meeting, can crunch data, make follow-ups, make commitments, or show projections, instantly, without having to make follow-up visits and lose the momentum.
It gets better. With IoT soon coming into the mix, remote devices can communicate with the main office, sending signals on what exactly is wrong, allowing field service technicians to make the site visit with the right tools and spares, sparing the need to make re-visits. Likewise, augmented reality (AR), artificial intelligence and other cutting-edge technology enable even rookie field service technicians to perform complex tasks, with support from experienced hands situated even in another continent, with AR powered enterprise apps offering seamless connectivity.
3. Enterprise Apps Increase Engagement and Sales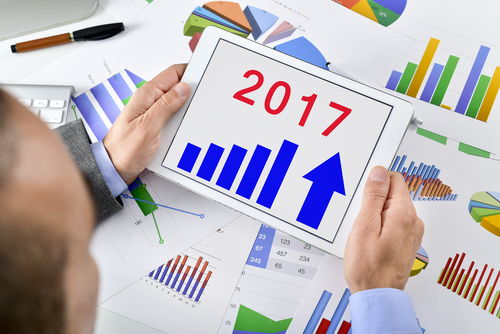 Customer facing enterprise apps drive sales and improve customer satisfaction manifold.
E-commerce apps make it easier for customers to buy. Often customers, wanting to buy a product, are put off by the complexity of the whole process, or the need to take time out to visit the e-commerce website. The easy-to-use mobile app makes the product available in just a few easy and convenient swipes. The same convenience holds true for reaching out to the company to make inquiries, and log complaints or support tickets.
4. Enterprise Apps Unlock New Insights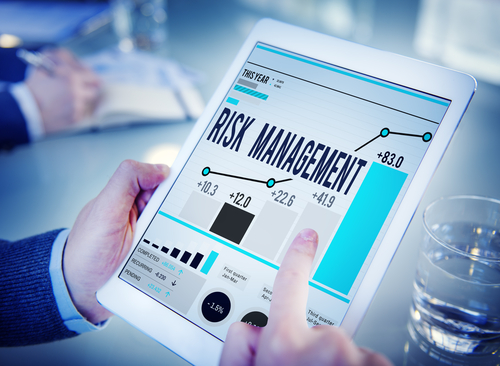 In today's information heavy age, all businesses end with up tons of data. Such data could be a source of competitive advantage if subject to analytics, to derive actionable and relevant insights. Much of the big data is unstructured in nature, in the form of MS-Word documents, emails, videos, and embedded sensor data. Using intuitive enterprise apps powered by highly intuitive analytic tools,  business managers and executives may subject such data to backend analytics, and gain actionable insights, allowing them to make more informed decisions that take guesswork and "gut-feelings" out of the equation.
An automated data analysis and presentation system collect data from a variety of sources, from shipments to warranty claims, and from failure analysis reports to bills, analyze the data automatically, and offers the insights to those who benefit from it. It requires custom apps to establish the data flow, make the required analysis and personalize the presentation mechanism.
For instance, when a customer enters a store, the executive who engages with the customer enters the customer's name or telephone number into his app, which runs on a tablet or smartphone. The intuitive backend gathers all information residing internally, including purchase history, customer support ticket information and more, and also access the latest social media information to understand current taste and information. Such information is processed in real time, analyzed to identify the product range, price range and other preferences of the customer, allowing the executive to showcase relevant products and offer deals that really strike a chord. Without an app, powered by analytics backend, such information would be near-impossible to obtain, and definitely not in real-time.
5. Rolling out Enterprise Apps is Pandering to the Market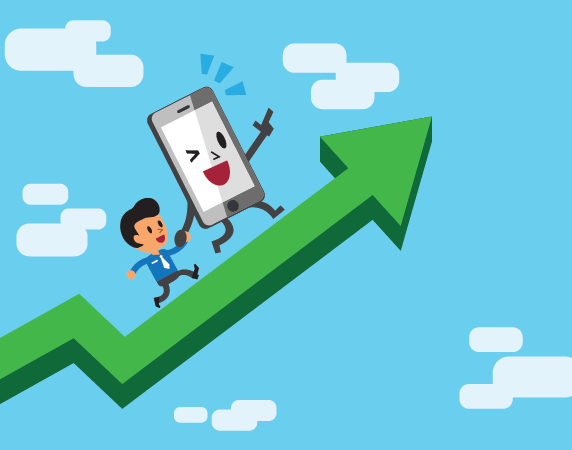 As the adage goes, "nothing is as powerful as an idea whose time has come." Mobility is an idea that has gained currency and is now well entrenched. Today's sophisticated users, both internal employees and external customers prefer simple interfaces as a means to deal with the underlying complexity, and they see intuitive web apps as the solution. Businesses who does not invest in enterprise apps stand the risk of alienating their stakeholders.
While conventional web-based interfaces may offer a solution to a limited extent, the changing nature of business and internet, especially the increasing number of people on the move make mobile apps expedients. Most users today anyway expect a higher level of usability and performance than what a web-based interface can deliver.
The best enterprise software is reliable, robust and up-to-date. Blindly rolling out apps left, right, and center, for the sake of it does no good. The enterprise app strategy succeeds only when there is clarity on what an app actually delivers that other touch points cannot, and then executing the app development process well, with an easy interface and powerful functionality. It helps to outsource the app development process to a competent agency who has experience and expertise in the work, and for whom developing an app won't be a distraction from their daily routine.
Mobility is the rage among enterprises, as the benefits of anywhere-anytime connectivity and productivity-efficiency improvements start to sink in. However, amid the hype, the hard reality of user engagement is starting to bite. The challenge is to produce mobile apps that drive user engagement and produce it quickly, to keep pace with the fast-changing business requirements.

Driving user engagement requires offering a compelling experience for the target users. Here are the ways to do so, and thereby meet enterprise mobility demands in a successful way.

Fix the Scope
The very purpose of rolling out apps, as an alternative to the website, is to offer enterprise users the convenience to focus on a specific function or purpose, without being cluttered or distracted by unnecessary features. As such, the scope of any app is all important. A proper definition of the scope of the app, or what the app does, can make or break it.

The apps in highest demand by enterprises, cutting across industries are customer relationship management apps for sales, marketing and services, customer engagement and general employee productivity apps. However, even within such classification, the best apps facilitate only specific tasks.

A key consideration when deciding on the scope is to evaluate the benefits various segments of the workforce expect from the app, and how such benefits sync with the overall objectives of the enterprise.

Although employee job satisfaction is critical, the success of the app ultimately depends on the scope of the app, and deployment decisions having a direct correlation with the overall business objectives, be it improving customer service, increasing productivity, driving costs down, or anything else.

The best mobile apps leverage the power of simplicity. They may have a complex backend, with integration and cross-links to several enterprise function and resources, but still deliver a simple, neat, and clean user interface.  The user gets a clear cut menu, allowing them to do powerful things with amazing simplicity. User experience is ultimate to ensure high adoption

Demolish Data Silos
An app is only as good as the data it handles. Even the most intuitive of apps will not gain sufficient traction if it is unable to access meaningful data. A big bane of enterprises and a key reason why enterprise apps fail is data trapped in inaccessible silos. Demolishing data silos, and centralizing data to an easily accessible location is an important prerequisite before launching enterprise apps.


It is also important to deliver content in a mobile experience that ties into the content management system, to ensure seamless sync. For instance, a mobile app to offer added value to a field marketing executive, he needs to access the latest information regarding the client, when engaging with the client at the client's office. Likewise, the information of such meeting needs to be updated into the CRM in real time, for the enterprise to take action on the latest and updated information.

Need for Proactiveness
No matter how intuitive apps are, users need to be coaxed into using it. The most successful apps are "proactive," leveraging an integrated set of engagement services such as in-app messaging, push notifications, dynamic use of analytics, and more. The best apps keep tracking what the user will most likely do, and issue timely reminders and prompts in this direction.

Method in the Madness
With the craze for apps, an enterprise will invariably find themselves saddled with a plethora of apps, and things can quickly get out of control. An average enterprise in Europe and USA would deploy around 10 or more enterprise mobile apps during the next two years. A good way to manage existing apps is by leveraging the mobile capabilities of Adobe Experience Manager, which helps to centralize all apps in a singular, unified dashboard.

A Hybrid Strategy
Most enterprises have limited capabilities to conjure up intuitive mobile apps on their own. Their in-house IT team in almost all cases is invariably neck-deep in routine tasks without having time to take up the time-consuming app development process.

Enterprises always have the option of promoting a resident mobile app team, by either hiring the right talent or investing in training the right people with the required skill-sets. However app development skills are hard to come by, and technology is any way in a constant state of flux for investment in any specific skill set to deliver long-term ROI. Other limitations such as budget and resourcing limitations, legacy infrastructure, technology fragmentation and immature lifecycle workflows also contribute to making internal development teams a non-starter.

Outsourcing the development task to a contractor is a far more cost-effective, and offers enterprises the best of both worlds – access to talent without the associated overheads of hiring.

Considering such factors. it comes as no surprise Forrester Research estimates enterprises spent $18 billion to contractors in 2016 to build and maintain mobile apps. The global market for enterprise mobility is expected to touch $284 billion by 2019, a four-fold jump from the present levels of $72 billion. Even large companies, with personnel requirements for app development and maintenance, and budget on their hands, adopt a hybrid approach, using outsourced skills to build mobile apps, and side-by-side train employees on building and maintaining mobile apps.

However, unless the enterprise selects the right contractor, the money spent goes down the drain. Ensure the contractor has the right expertise and has a  track record of having implemented successful mobility projects. We tick all boxes, bringing with us our wealth of experience, a pool of highly talented and resourceful development team, and the latest cutting-edge tools to get the job done well in double-quick time. App development is our core competence, and our team comes fully conversant in the latest development styles, user experience best practices, and more.