Tag:
top software development company
Clutch Hails Fingent as India's Top Software Developer for 2021
We are thrilled to announce the news!!!
Fingent is once again recognized by Clutch for its many innovations and robust industry solutions. And this time we are ranked as the Top Software Developer for 2021, in India!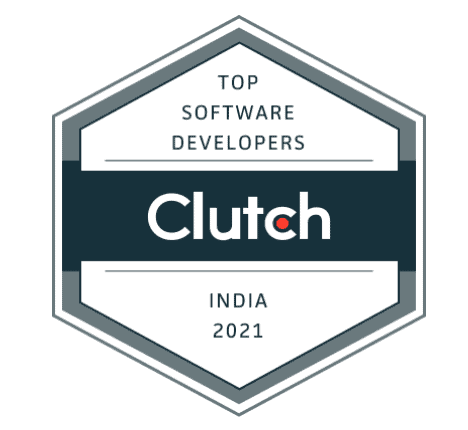 Why is Fingent recognized as India's Top Custom Software Development Company?
Our focus here at Fingent is to help emerging enterprises make a difference with improved business agility and efficiency that's powered by cutting-edge web and mobile solutions. Our goal always lies in delivering next-generation enterprise applications that streamline business processes and promises unique user experiences.
We make sure that our clients get what they expect and more. With our expertise in emerging technologies, we deliver custom, pre-packed, and hosted applications that support all operating systems and cloud platforms for improved business reach and growth.
Moreover, we don't just build software! We collaborate with businesses to understand their struggles in the market, and determine the perfect technologies that can enhance their capabilities and grant them a competitive advantage. We also make sure to bring these solutions promptly and cost-efficiently.
Here's looking back at the success stories of some of our Indian Clients!
GST Implementation in SAP: With the changing regulations of GST policies in India, our client, HOCL, an enterprise owned by the Government of India to indigenize the manufacturing of vital organic chemicals, wanted to integrate GST into their SAP system and support the GST implementation. The enterprise, consisting of complex and critical workflows, required the implementation to be quick and fast adaptive to the existing environment.
What we did was a 100% compliant GST implementation in the customer's SAP system, while carefully addressing all taxable scenarios and specific requirements. Our strategized and timely implementation of GST changes into the customer's SAP system, ensured zero deviation from the regulatory timeline, and zero effects on the business continuity.
An E-commerce Platform to Streamline Medical Procurement: Analyzing the challenges of the healthcare industry in procuring quality medical supplies, Kogland required a streamlined platform to seamlessly connect top vendors and trusted brands with healthcare organizations. 
Fingent helped the firm develop an e-commerce platform that delivered a hassle-free shopping experience for healthcare sectors, as well as a trusted selling platform for healthcare vendors. Capabilities around Magento were utilized to serve the front-end of the e-commerce functionalities, whereas advances in Odoo to structure the back-end operations of the company, including sales, purchases, inventory, and accounting.
Based on these successful projects in India, in research conducted by Clutch in 2021, Fingent stood as one of the top software development companies in India! 
Clutch is a popular B2B rating and review platform that crucially evaluates tech service and solution companies based on their client reviews and work qualities. We are thrilled and excited to have been awarded this title from Clutch, and we look forward to more successful client stories and achievements in the future.
We are also truly thankful to our clients who constantly support us by posting their honest reviews and thoughtful feedback on the Clutch website.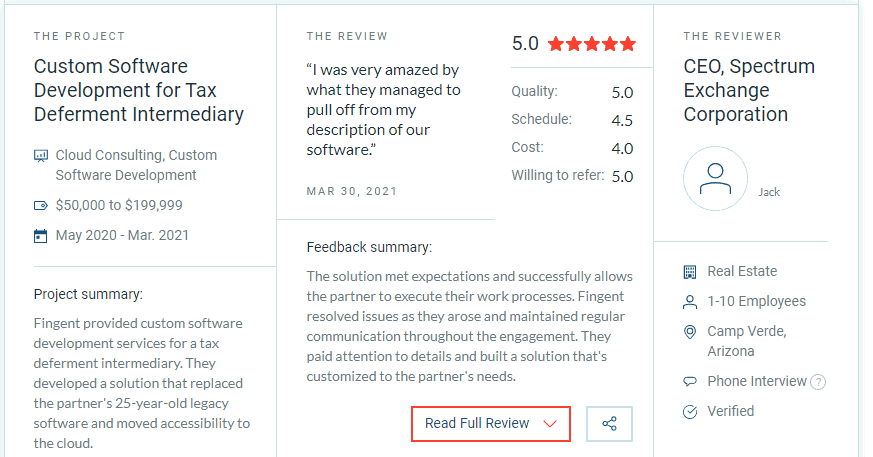 "We are recognized for our clients, and that's why we make sure that their dreams and ideas come to life with the advances and expertise we have in technology today! We are truly thankful to Clutch for appreciating our efforts."
                     – Varghese Samuel, CEO & Managing Director, Fingent.
If you are looking for a technology partner to innovate your business ideas, then contact us now, and let's talk about your project and goals.
Why Clutch Ranks Fingent As The Top Software Development Company In Australia?
Over the past 16 years, Fingent has partnered with clients across 4 continents and collaborated with start-up, mid-market, and large enterprises to solve business challenges with the latest custom software development practices. Our core values make us highly attentive to society, peers, family & self, and above all, customers. We are grateful that this client focus is recognized in reviews on Clutch and has enabled us to achieve the position of the leading software developer in Australia.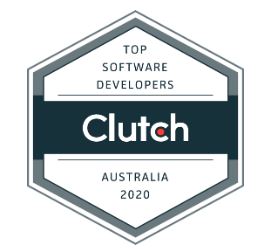 Clutch is a B2B rating and review platform with thousands of company profiles. Clutch carefully analyzes and evaluates industry data, brand reputation, and most importantly, client testimonials to craft authentic descriptions of development companies and their services. When a company is facing a business challenge, Clutch stands as a directory to browse through and find the right solution provider. Clutch connects businesses with leading performers, who receive industry recognition for their excellent services. When it comes to software development, Fingent ranks as the Top Software Developer in Australia. Here's a peek into Clutch's leader matrix, where Fingent stands top on the charts of Market Leaders in comparison to the competing companies.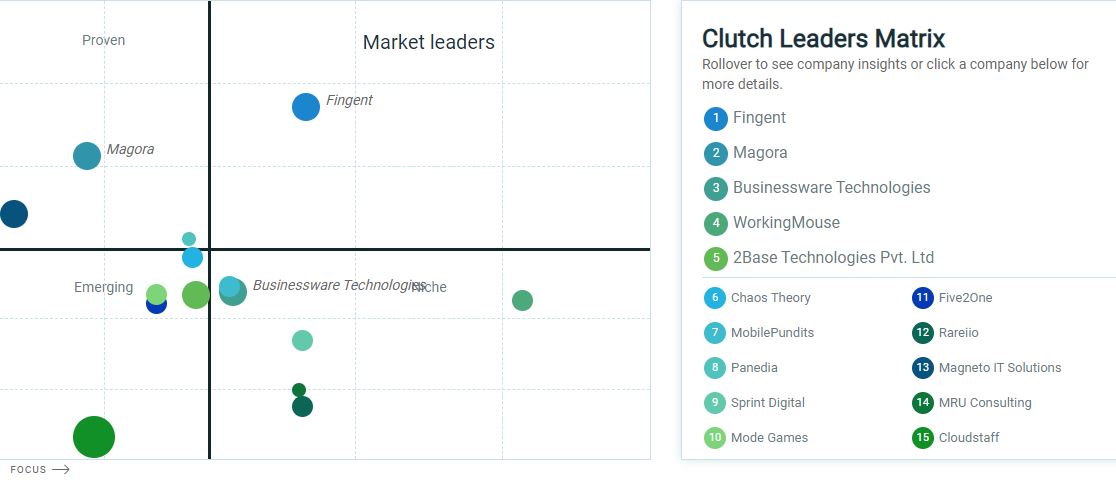 We are extremely thankful to the clients who took the time to share their experiences about Fingent solutions and services on Clutch. Most recently, Sapra & Navarra LLP left us a review on our ongoing development services for their law firm. We were hired by Sapra & Navarra LLP to build a web-based AI machine learning program. Besides receiving 5.0 stars in the Clutch evaluation categories of cost, scheduling, quality, and willingness to refer, Sapra & Navarra LLP appreciated our accessibility and efforts to prioritize being available to answer any questions or concerns. They also applauded our organization, including our robust agendas of maintaining transparency through meetings and conference calls. 
Check out a summary of the perfect 5.0 review below!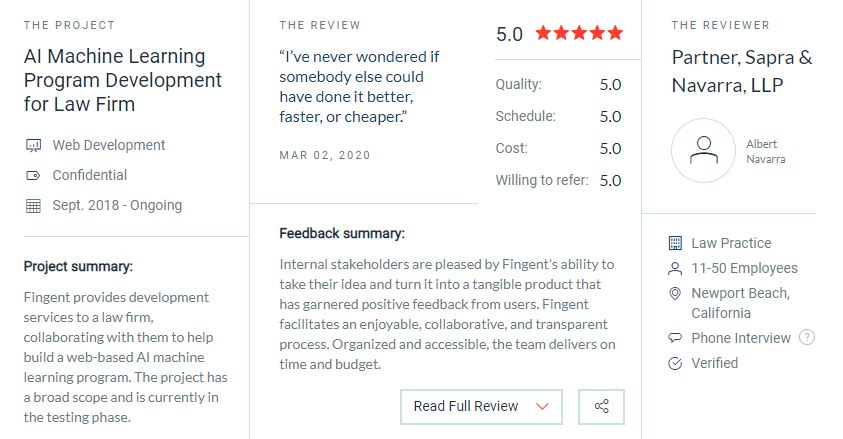 Once again, we are very grateful to our clients for sharing their positive feedback on Clutch. It inspires us to continue delivering unique, budget-friendly solutions on time. 
"We are excited to have been chosen as a top ASP.NET developer and NodeJS developer for 2020 by Clutch." 
– Stephen Cummings, Senior Vice President – Business Development, Fingent
If you're looking for a technology partner who can build a web or mobile app, deploy RPA or AI technology, or provide software consulting, please get in touch! We'd love to discuss your latest project.
Clutch Yet Again Rates Fingent As The Top Custom Software Development Company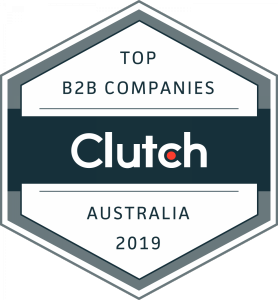 As a dominant software development company, Fingent sets the bar high in building highly affordable products for companies small and large. We've become the trusted partner in enterprise solutions for some of the world's leading businesses like Johnson & Johnson, Sony, and PwC. Our work and our strong leadership in technologies like .Net, NodeJS, AngularJS, AI enabled Chatbots and Microsoft, has once again caught the attention of Clutch.co, as they recently recognized us as Australia's top B2B company.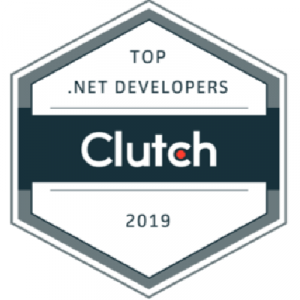 Clutch, is a B2B rating and review platform located in Washington, DC. In their latest report that we were named in, their dedicated analysts evaluated technology sub-services based on their expertise, their portfolio of work, and their ability to deliver top-notch products for their clients. Their independent review process is meticulous and transparent, and we're especially grateful to our clients for taking the time to leave a review or speak with Clutch analysts over the phone to provide feedback.
[Tweet "Getting featured on Clutch consecutively and this time among Australia's top B2B companies signify how our services have fared out remarkably well within the user community. 
@vsamuelfingent
"] [Tweet "Surely, this puts further responsibility on our side to constantly improvise the solutions that we offer so that businesses that rely on our services are better off with efficiency improvements and deliver optimal customer experiences says
@vsamuelfingent
"]
Fingent CEO and MD, Varghese Samuel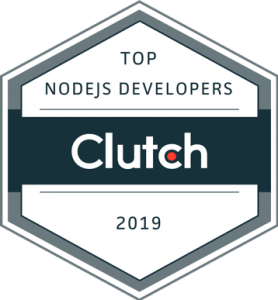 Beyond the generous reviews left on Clutch, our success is also reflected on the company's sister-sites: Visual Objects and The Manifest. Visual Objects showcases portfolios from various creative software developers, to aid prospective clients in visualizing a future project before hiring. The Manifest also helps prospective clients, through industry reports and how-to guides, that provide businesses with practical knowledge of the services and technologies used by the B2B companies. Here, we are listed and recognized for our abilities in NodeJS and AngularJS.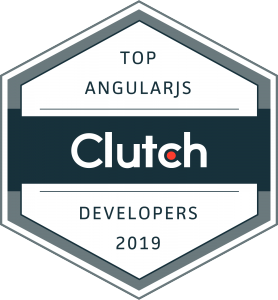 Our constant approach in redefining business with trending technologies like Microsoft and Artificial Intelligence have enabled us to rank amongst the top-rated custom software developing companies in Clutch, Visual Objects, and The Manifest.  We have repeatedly been appreciated and recognized for our capabilities in AI-driven Chatbots for enhanced user experience.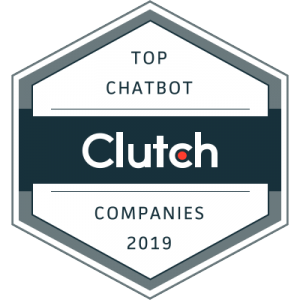 Our motive to shape the future of industries with enhanced, custom software solutions has led us to where we are today. On behalf of Fingent, we would like to thank all of our clients that we have had the pleasure to work with, and Clutch for this prestigious recognition.
If you would like to learn more about our services, check out our profile in Clutch.