Top 6 Reasons Why You Should Move to a Cloud-Hosted ERP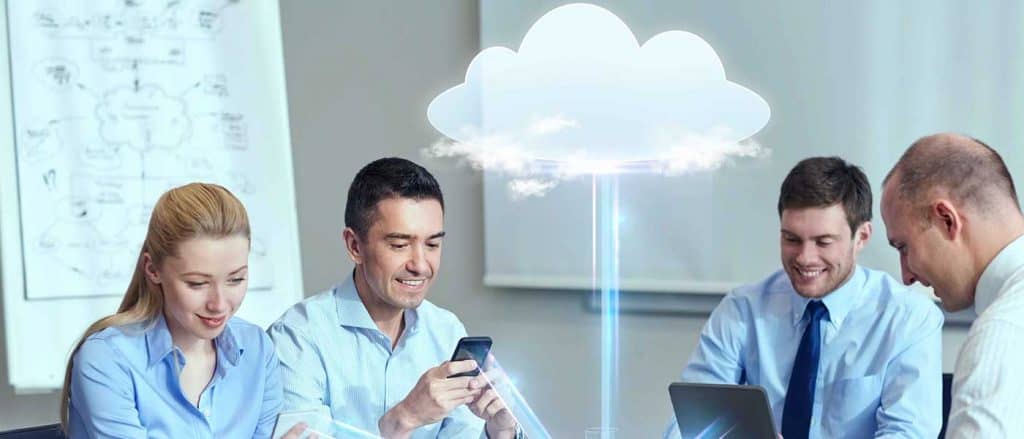 The cloud is growing at an exponential pace, with more and more businesses being sold to the innumerable benefits it offers. One software segment which has seen almost wholesale migration to the cloud is ERP. New cloud-based ERP software already had two-thirds of the global market share by 2017, and the figure is higher now. This is a big leap from 2009 when about 80% of the midmarket enterprises preferred an on-premises ERP.
Here are the key reasons why more and more businesses find it expedient to migrate their ERP to the cloud.
1. Reduced Cost and Effort
Despite the benefits on offer, implementation of the traditional on-premises ERP has been lackluster. ERP has hitherto been more-or-less limited to large enterprises, mainly owing to the huge implementation costs and the effort involved in deployment. Cloud-based ERP systems, in contrast, have a low implementation cost, and moreover, allow the enterprise to hit the ground running. With a cloud-based ERP, enterprises do not have to bother about setting up hardware, maintaining servers, or upgrade software. Enterprises are even spared of any major downtime. The enterprise may subscribe to immediately operational software, log-in, and start working.
The only cost incurred with a cloud-based ERP is a flat monthly rate fee. Doing away with the setup requirements saves the initial balloon investment or upfront cost in infrastructure. The savings incurred on recurring maintenance and upgrade costs, and doing away with the costly personnel required to maintain the system, offers even more savings.  The icing on the cake is the predictability of cloud subscription rates. With on-premises ERP, everything has to be done in-house, and making estimates on the actual costs the enterprise would end up paying is a difficult task.
A 2014 Mint Jutras survey reports respondents with SaaS implementations reaching their first go-live milestone 19% faster compared to respondents with on-premise solutions.
2. Leverage the Latest Technology Offers, Seamlessly and Effortlessly

No enterprise would be ready to sacrifice the painstakingly built on-premises system easily and would try to squeeze the last minute out of it. The invariable result is the enterprise being struck with an aging and even obsolete software when technology has advanced. With cloud-based ERP, the provider always upgrades to offer the latest technology, or risk losing business to a competitor. As such, the enterprise may leverage the latest technology to offer seamlessly, and hardware-free. Odoo is one such well known in the ERP world for its really short implementation durations and flexibility. 
3. Remote Anytime, Anywhere access
The inherent advantage of the cloud, which is anywhere, anytime access, is available for cloud-based ERP systems as well. Enterprise users may access their cloud-based ERP system from the field, from remote locations when traveling for a conference or training, when on a holiday, or even when commuting. Employees no longer have to carry around bulky laptops, or restricted in the work by lack of access to a system with the proprietary ERP software installed.
The cloud-based ERP may be accessed securely from any browser. Front-end mobile apps with smart UX and intuitive "need-to-see" designs for different employee segments make access even more smooth, seamless, and straightforward.
Such universal access was unthinkable a few years ago, and even if conceived, required a gargantuan budget to see through. Cloud-based ERP allows universal access to authorized users, without the need for any special equipment. This is invaluable in today's fast-paced world where opportunities do not last long, and success depends on how quickly the enterprise can seize an opportunity or get things done.
4. Innovation and Flexibility
Cloud-based ERP systems are flexible and encourage innovation. Traditional on-premises solutions are constrained by the deployed build and leave little scope for scalability or flexibility. The extent of innovation possible is also limited to the resources on-hand. With the cloud, the enterprises can easily scale up or scale down the resources, experiment with new things, indulge in automation and even outsource non-core activities. The cloud also makes it easy to integrate the ERP with IoT and other emerging technologies.
Cloud-based ERP leverages the easy networking and scalability that the cloud offers, to deliver the latest capabilities. Social-style collaborative features, smart and intuitive dashboards for smartphone apps, and more are some of the possibilities cloud-based ERP enables.
5. Business Intelligence (BI) Capabilities
Cloud-based ERP facilitates agile, just-in-time business processes, with real-time budgeting, sophisticated modeling, and big data analytics which the business can optimize to further their revenues.
Cloud-based ERP makes extracting data for analytics or for other uses a simple and straightforward affair. Business Intelligence (BI) suites may easily connect with the cloud-based data. In fact, most cloud-based ERP offers built-in analytics features, offering intuitive tools and graphics with drill down menus, powered by real-time data. For instance, an executive may tap into the cloud-based ERP and generate a chart based on real-time data during the course of a meeting. The transparency and immediacy offered by cloud-based ERP are invaluable for the business to base their decisions on accurate insights, and seize opportunities in a timely way. The net result is a quantum improvement in efficiency and effectiveness over the traditional method of waiting on a report in the computer room, which may anyway be based on outdated historical data.
Traditional on-premises software invariably encounters compatibility issues, and breed silos. In contrast, cloud-based ERPs easily integrate with other systems and deliver seamless integration of all facets of business operations. The easy access and analysis of cloud-based data also allow the enterprise to make sense and remain in control, in an era where data is growing at an exponential pace, and enterprise systems are swamped with terabytes of unstructured data, of all hues.
6. Heightened security
Cloud-based ERPs are more secure than traditional, on-premises systems. With awareness on the implications of security at an all-time high, cloud providers now pay serious attention to security. Advanced authentication standards, military-grade encryption, and more are some of the standard features now expected from most cloud-based systems. The cloud provider also offers secure gateways for remote access and deploys advanced document management systems to prevent download of sensitive data from unauthorized users.  The cloud-based systems also come in-built with document retention capabilities and make it easier for enterprises to comply with government regulations and standards.
In traditional on-premises ERP deployments, the enterprise is responsible for all security
More and more businesses now find value in ERP. The cloud, by eradicating the traditional pain-points associated with ERP systems and unlocking new opportunities, enable ERP to go mainstream.