Enterprise mobility: Where Does it Take Us

The boss at the table, clad in the most popular elite class of suits, taps away on his desktop computer, without taking the eyes off the system, when suddenly his lawyer calls on his smartphone asking to meet him out in 5 minutes. As he is on the way, he opens the same presentation on his smartphone, completes the work and passes it on to the assistant, who accesses it through his smartphone as well. At the client site, he uses the official iPad to show the presentation and then onto further discussions….
A classic example of how enterprise mobility slowly started influencing employees and organizations in general. According to a PwC report Enterprise mobility means "mobilizing the enterprise systems to empower enterprise workforce with mobile devices to execute their day-to-day activities anytime anywhere".
The need for enterprise mobility stems from the need for organizations to adapt to transformations in trends and consumer behaviour. From technology companies to communication industries, every single organization benefits with this trend. Mobile devices like, smartphones and tablets actually improve the productivity of employees as well as the whole organization as it is quite evident from the scenario described above.
Current scope of Enterprise mobility
As per a new forecast from International Data Corporation (IDC), "the U.S mobile worker population will grow at a steady rate over the next five years, increasing from 96.2 million in 2015 to 105.4 million mobile workers by 2020." And the by the end of the period of forecast, IDC expects mobile workers to account for almost three quarters, that is, upto 72.3% of the entire U.S workforce. That is from an employee's' perspective.
When we talk about the global enterprise mobility market, it is expected to have opportunities of up to $140 billion by 2020. This is according to a report published by the National Association of Software and Services Companies (NASSCOM) in association with Deloitte. And what this market comprises are, Mobile Device Management (MDM), Mobile Application Management (MAM), Mobile security and Mobile Business Applications. With all these, the growth rate is expected to be about 21%.
Enterprise Mobility Management (EMM) Solutions
Enterprise Mobility Management solutions basically help business enterprises manage all of the mobile devices used by their employees. It covers device management, content management, mobile security and applications management. Over the past few years, companies taking up EMM solutions had their minds set on the benefits from using this system. More often, security issues never seemed to be a problem. From a consumer-oriented perspective, since mobility empowered enterprises to reach out to their customers, as well as gain useful and powerful insights on their behaviour and buying habits, it again led to widespread adoption of this concept. Either way, mobility is the new 'in thing' and it is definitely here to stay.
Let us now take a look at some expected future trends in enterprise mobility:
Drastic shift from wired to wireless – Mobility has already begun to change the world in a big way as we all know. What seemed impossible in business enterprises, let's say, about 10 years ago, is a way of life now. To state a simple example, smartphones, which play a major role in enterprise mobility now, were something that we didn't expect would have changed things this way, right? In the same way, mobility is likely to bring about a drastic and dramatic change in the way business enterprises and industries operate. With the opening of the U.S wireless industry, there is definitely going to be a major shift from a wired to a wireless world. It will lead to faster data speeds, more bandwidth and new ways for businesses to serve consumers. All this with mobile devices. It has been estimated that by the end of 2015, almost 50%, that is half of the devices used in business enterprises would be mobile phones.
More software applications – As the business environment is undergoing drastic changes, enterprises are left with no option but to move from static business models to highly dynamic ones. This is according to Gartner. This necessitates the usage of rules, codes as well as software applications that are capable of adapting themselves to the environment, more specifically, cloud-based solutions. Businesses are likely to bring more Saas (Software as a Service) and DBaas (Database as a Service) solutions into use.
Security concerns – As the use of the cloud is increasing, be it for storage, or networking, or virtualization or computing, security concerns still remain a problem. A lot of people find issues related to data loss and leakage risks as the main reasons of concern. Other matters of concern include possibilities of unauthorized access, account hacking and the like. In Spite of all this, the rate of cloud adoption is on the rise.
Rise of MBaas (Mobile Backend as a Service) – All the things that a mobile backend can take care of like mobile ads, mobile payments, offline data synchronization, data storage, GPS, analytics and other such activities can now create a market space of their own with MBaaS. It enables the confluence of all these services into a cloud-based system. This means that developers would be freed from the hours they used to spend on backend activities.
These are some new, up and coming trends in the world of enterprise mobility. Organizations need to be well aware of these and several other advancements in this field to get a heads up and be prepared for the future.
Related Post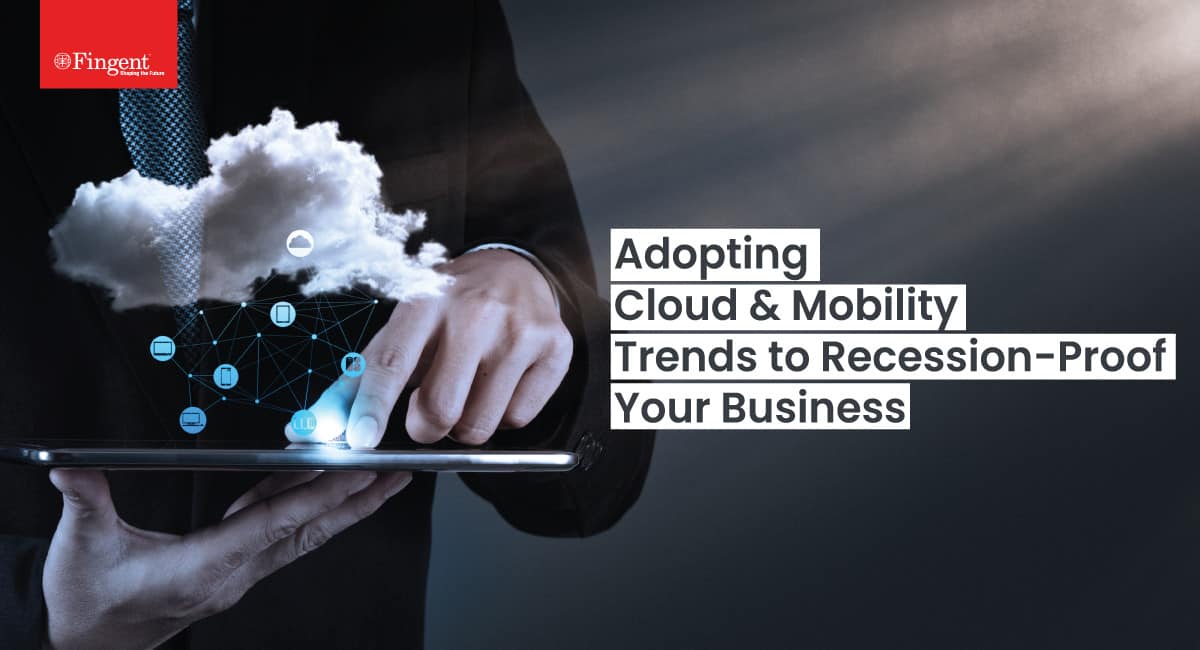 Cloud and Mobility: The two pillars to recession-proof your business……

Employees and other key stakeholders of a business now expect……
The need for remote connectivity is growing day by day,……