How a Smart Product Ordering System Helps Retailers and Wholesalers

The need to be "smart" is no more an option for businesses. Keeping up with the competition has never been harder nor has the pace of technology ever been faster than it is today. Hence, the question that arises is this: Is there a need to switch to smart product ordering systems? Won't existing systems do the job just as well?
These are some reasonable questions for businesses to ask today and this blog will help you answer them.
Why Change?
Getting right to the point, let's consider what has changed in the retail space that necessitates a change to smart product ordering systems. Rising demands from the empowered digital customer, the need for personalization, customized products and value-based experience, increased customer base and emerging markets, changing trends and consumption patterns – all these factors demand an ordering system that is technology-driven and agile.
Oracle Corporation and Capgemini recently conducted a study of 589 top supply chain executives in connection with the order fulfillment process. The study surmises that "order fulfillment processes are, in fact, becoming more intricate and that inventory management and delivery performance is slipping." This has steep consequences as the report continues: "Customer satisfaction and retention are put at risk and businesses are forced to allocate additional spending on resources and labor to address the situation. This, coupled with the rising price of raw materials and mounting transportation costs, are seen as a growing threat to the bottom line of businesses everywhere."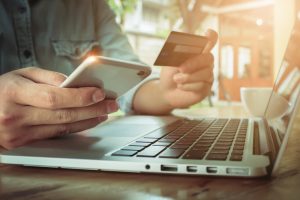 The writing is on the wall. Smart product ordering systems are vital to the survival of businesses. There is no getting around it. Though this is the verdict, it is a big decision with a significant impact on your processes, employees and your business. This calls for a deep-dive into what these smart product ordering systems are, the benefits and the impact it has on retailers and wholesalers like you. Let's walk you through it.
What are Smart Product Ordering Systems
An order management system (OMS) is the backbone of a retail operation. It orchestrates the complete process right from processing customer orders, to fulfillment and shipping. This involves tracking the status of the order at all points and seamlessly connecting the information to the relevant systems and resources in the organization. While this is the function of a traditional OMS, a smart product ordering system does more, much more.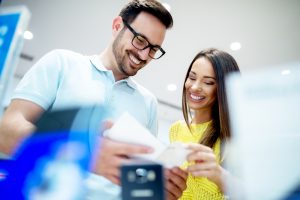 A smart product ordering system is intelligent and empowers your order management with the power of automated technology. Here is listing a few benefits to retailers and wholesalers:
Organizes and streamlines the order fulfillment process 
A smart product ordering system will create a unified system for all your data and processes. Having information on inventory levels, orders, sales forecasts and analytics continuously updated in one centralized location would help you make intelligent and instant decisions in real time. This streamlines the entire process giving you the ability to strategize better and never miss a beat on the pulse of your business.
Fulfilling an Omnichannel Demand
Retailers and wholesalers have the power of multiple shopping platforms at their disposal. While this incrementally improves visibility and sales, it also requires a much more intelligent omnichannel order management system to handle these orders. A smart product ordering system helps you find the best way to fulfill your orders by evaluating all these channels and supply sources. By synchronizing information on warehouse and store locations, shipment costs and inventory details, the system automates sourcing and allocation decisions without the need for constant manual intervention.
Powered by Artificial Intelligence, the opportunities for a smart product ordering system is endless. With insights on customer behavior and analysis of historical data, businesses will have the ability to gauge buying and purchase decision patterns, channel preferences, inventory planning, marketing campaigns, staffing, and every aspect of their business.
Consistent Customer Experience
Today's consumers expect a completely unified experience. They look for consistency in their shopping experience with no room for a slip in the product, price, service, delivery and after-sales support. This becomes further complicated when catering to an omnichannel demand. Accenture's KMI Insights To Conquer The-Omni Channel Imperative report says that "what leaders are getting right is not single-threaded. They are creating experiences that are truly centered on the customer, and they are thoughtfully connecting the dots across their organization from product to people to process to platforms in order to delight their customers and their employees."
This is what customers expect. They want a seamless experience in all touch points. However, with "buy online, pick up in store" and other options available in an omnichannel business, it is becoming increasingly difficult to "connect the dots." A smart product ordering system takes the complexity out of the process by fully automating order fulfillment. From ensuring that the product is personalized and available where the customer wants it, to streamlining the order shipment and delivery process, the customer experience is enhanced by the intelligent product ordering system.
The Possibilities
Think about what a smart product ordering system can practically do for the customer experience and your business.
Shopping enhanced – a smart product ordering system will provide insight into the buying patterns of your customers and enable a personalized shopping experience. Your inventory numbers are clearly reflected in your product catalog. This way, customers aren't left dissatisfied with a lack of products after they purchase them online. The system will also be able to capture the point of exit, abandoned cart items and search history to enable an effective conversion. Automation of order entry inputs through Smart OCRs enables Intelligent Indexing, training the system to find the shipping address and other information automatically for the next purchase.
Processing made easy – By synchronizing the order information with your inventory and shipping process automatically, the smart product ordering system ensures intelligent sourcing and allocation. By simultaneously syncing these details with your sales and marketing functions, the system enables accurate sales forecasting and effective marketing insights for the future.
Payment in a click– Integrations with billing and accounting systems ensure that the checkout process is seamless. A smart product ordering system will be able to recall customer details and enable quick payment verification thereby reducing the time to check out and enhancing customer experience.
Shipping and Delivery streamlined – By optimizing sourcing and allocation, and automatically updating shipping and delivery partners with the order details, a smart product system will make sure there are no glitches in delivery.
Imagine how organized your business could be if you had the right smart product ordering system. And yet many retailers and wholesalers do not have the capabilities to make this happen. According to the Capgemini study mentioned at the outset, 38% of respondents said that the company lacked the software capabilities to handle multi-channel orders. 34% said that they lacked the software integration needed to fulfill orders across channels.
This is where we can help you. Fingent works with retailers and wholesalers to equip their business with the software capabilities to ensure a seamless order fulfillment and customer experience. Let us know if you have any questions and we would be happy to help.