Mobility is growing at an exponential pace and mobility apps are the flavor of the season. However, it is still important to get the development right, to reap the benefits of mobility. A crucial consideration, to be taken upfront, is whether to opt for native apps or web apps.
A Native App is developed specifically for a particular mobile device, customized for the operating system and other device configuration, and installed directly to the device, usually through app stores. At a basic level, there are separate native apps for Android devices and iPhones. A web app, on the other hand, is Internet-enabled app residing in the cloud, written in web code and accessible through the mobile device's browser. Both native apps and web apps have its pros and cons. Web apps are similar to websites but more interactive.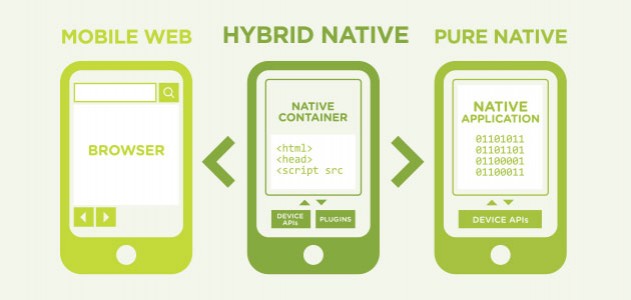 Web Apps Surge in Popularity
Native mobile architecture is on its way out. Today, about 60% of the mobile architecture is mobile apps or hybrid, and just 26% of apps remain native.
The highly fragmented mobile space, coupled with the popularity of the BYOD environment where employees are free to use the device of their choice, make it commercially and practically unviable to develop native apps for each platform.
Native apps also lose out due to the need for velocity, so essential in today's highly competitive environment. In most of the cases, the best time to roll out an app would be yesterday. Delays in rolling out the app may make the app obsolete, with competitors taking away the business. As such time to develop native apps for each platform is simply not available.
About 43% of companies now place movement as their top business capability, and they are still struggling to stay on par with the speed in which mobile technology advances.
Accessibility
Both web apps and native apps have its pros and cons, making trade-offs imperative.
On the face of it, web apps are accessible on any device, sparing the need for download onto the user's mobile device. Such apps generally require internet connect to operate, though the latest web technologies such as IndexedDb, Web Storage, and AppCache deliver offline capabilities to web apps.
Functionality-Flexibility Trade-Off
Functionality wise, native apps, being optimized for the device, work faster and are more efficient, over web apps. A native app works as a standalone entity and remains totally compatible with the device's hardware and native features, such as the accelerometer, camera and so on. Web apps, on the other hand, being generic, can usually access only a limited amount of a device's native features. The biggest stumbling block is the difficulty of web apps to access the phone's webcam, sensors, and some other hardware components. Web apps may also face difficulty in accessing the file system and local resources, but modern browsers adopt the File API, overcoming this big limitation. Generally, native apps are best suited for complex feature sets, whereas web apps are ideal when the requirement for native gestures is minimal.
While native apps, customized for the device, had a distinct superiority in the user interface, the gap has significantly narrowed in recent times, and there is very little difference in the user interface or usability between today's web apps and native apps.
Moreover, where web apps compromise on functionality, it scores in flexibility. Web apps give developers unbridled freedom as the apps do not require approval from app stores, allowing release in any form and any type. Developers of native apps wanting to upload their app in app stores such as Google Play need to comply with the stipulations laid down by the respective app stores.
Robustness and Safety
Native apps, being leveraged to work seamlessly with the device's built-in features, are efficient and faster. These apps also get the full support of the concerned app stores and marketplaces. Approval from the app marketplace denotes a high level of safety and security as well.
However, keeping native apps safe require the user to keep on updating the app at regular intervals, which is easier said than done. With web apps, the developer makes all the changes at the backend, without user intervention.
Development Approaches
The main difference between web apps and native apps is internal or in the development process.
Each mobile platform has unique features and unique set of platforms and requires compliance with its own unique development process. For instance, iOS uses Objective-C, Android uses Java, and Windows uses C++. Native apps have to comply with such requirements. Web apps, in contrast, are free of such customizations, with the developer free to use JavaScript, CSS3, HTML5, or any other Web application frameworks as per their desires.
However, there is a flip side to the story as well. Each mobile platform offers standardized SDK, development tools, and other user interface elements, using which developers may create native apps with considerable ease. Web apps do not get the convenience of such  SDKs or tools, and the developer has to do the hard grind. This is changing of late, though, with the developer now having access to several tools and frameworks for creating web apps and deploying it to multiple mobile platforms and Web browsers.
Costs
Cost wise, developing a single web app that may be manipulated to suit any device is much more cost-effective that developing native apps for each device. Native apps also cost higher to maintain, considering the need to update many versions of the app.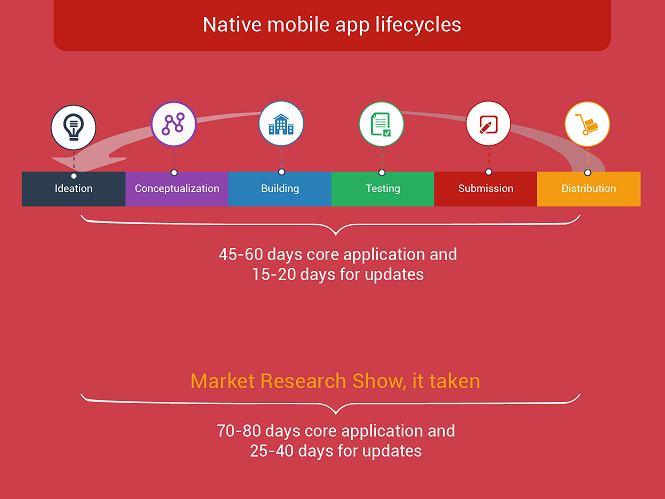 There is no definite answer on whether native apps or web apps are better. What works best depends on the circumstances. Consider the target audience who are likely to use the app, the required features and functionality, the hardware features required in the app, the timeline, and the budget to decide on whether to opt for web apps or native apps. Either way, it requires expertise to understand the exact requirement and take the crucial decision on whether to go native or web. We have the expertise to help you in this regard, the talent to roll out cutting-edge solutions highly customized to suit your requirements, and the experience to get it right the first time round.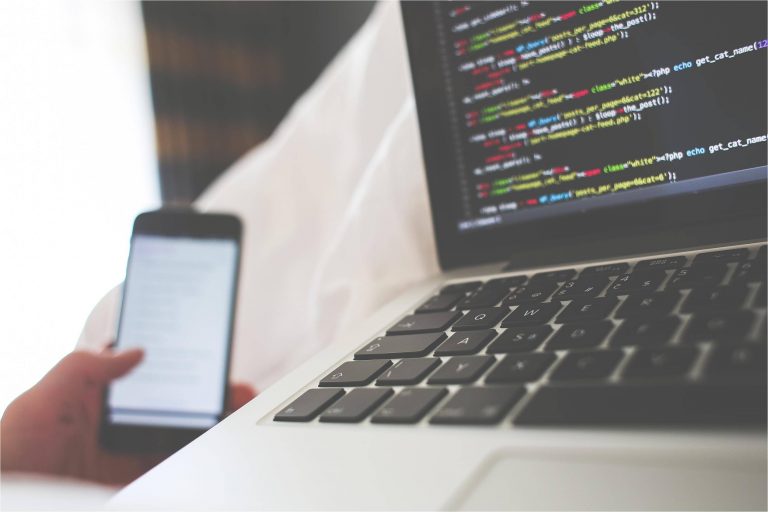 Many a time, we have come across chief business managers and executives who have had a tough time deciding on the kind of approach to adopt while developing a mobile application. That is, whether to go for a native application or a hybrid application. In order to help them make better and more informed decisions, we had put together the major features of both and some factors to consider while choosing a method of development on one of our previous articles – NATIVE Vs. HYBRID: Things to Know Before Building Your Next Mobile Application.
Here we discuss some important points on the development aspect of native as well as hybrid applications.
It is often much easier to develop a hybrid application than a native application and there are several reasons for that. Hybrid apps can also be developed a lot faster than native applications for the same reasons. These are the main development aspects of native and hybrid apps:
Programming languages used
In the case of native apps, there are specific languages used for specific Operating Systems or platforms. That is, Java is the language used for programming an Android app, Objective-C or Swift are the languages used for iOS apps and C# is the language for Windows Operating system. All of these have their own standard Software Development Kits (SDKs), which provide the necessary tools and interface elements for development. Native apps have full access to device capabilities like the camera, the contacts, the accelerometer etc. Hence, they perform better.
In the case of hybrid apps, the languages used depend on the type of hybrid technology that is used for development. Some of the most widely used hybrid technologies that are used today are PhoneGap, Flex, Corona, and Xamarin, although the latest and most popular ones are PhoneGap and Xamarin. The programming languages used for these technologies are as follows:
PhoneGap – HTML5, Javascript, CSS3, JQuery, AngularJS, Node JS
Flex – Actionscript for Flash
Corona – Lua
Xamarin – C#
The application is developed using these technologies, coded in their respective languages and is then hosted inside a native application's web view. This enables them to have access to device-specific features like the camera and contacts.
Coding
In the case of native apps, the code has to be written from scratch. That is, each time an application is developed for a particular platform, the code for its programming has to be written from the beginning. For example, if a native mobile application has to be developed for both iOS and Android platforms, the coding has to be done wholly and separately for each platform. That is why, it requires more time and effort. Separate development teams have to be employed for both platforms and separate SDKs will have to be used with separate interface elements like text boxes and buttons, all of which add to the cost of the application.
On the other hand, in the case of hybrid apps, coding is a lot easier. Most of the code written to program an application to work in a particular platform can be reused for the same application to work in another platform. For example, if a hybrid mobile application has to be developed for iOS and Android platforms, most of the coding done for that application to work in iOS can be used as such while programming it for Android as well. It basically means that the coding need not be done from scratch, unlike native apps. It is for this reason that hybrid apps take much lesser time and effort. Since a single development team can be employed for the application, the cost also is fairly lesser when compared to native apps. Along with the programming code, plug-ins also need to be coded in the respective native language for hybrid apps, in order to enable hardware capabilities access.
User Interface (UI) Frameworks
In the case of native apps, just like programming languages, the UI frameworks used for the development of each application vary with the kind of platform. UI frameworks basically provide the user interface elements like buttons, radio buttons, checkboxes and textboxes and also contribute to the visual aspects of the app. They are responsible for the look and feel of the app. For example, IONIC is a UI framework that is used to build the interface of mobile applications mostly native. It is used with Cordova when developing applications and uses the language AngularJS. Similarly, Android apps use the framework bootstrap.
In case of hybrid apps, Intel XDK provides UI elements and allows you to build apps on any platform.
Integrated Development Environments (IDEs)
IDEs provide the facilities required for mobile app development. Most IDEs consist of a source code editor, building and automation tools and a debugger. They differ with the platform in case of native apps as follows:
iOS – XCode
Android – Eclipse
Windows – Visual Studio
In case of hybrid apps, the IDE used is part of the technologies that are used like PhoneGap and Xamarin.
Dependencies
Dependencies arise only in the case of hybrid apps since they make use of plug-ins coded using native language depending on the kind of platform. Plug-ins have to be coded in order to enable access to the device's hardware capabilities as mentioned before. That way, they need code to program the app as well as for its plug-ins. In the case of native apps there are no such dependencies as they are coded entirely using their respective language according to the platform. Since they already have access to device capabilities, they do not need plug-ins.
These were the differences in the development aspect of native and hybrid apps. Even though native apps take a longer time and effort for development, they are better in terms of performance when compared to hybrid apps. Since native apps can use device features without the use of plug-ins, they are more accurate and much faster than hybrid apps.
How often have you come across a situation where you needed a mobile application and had to choose between a native or hybrid application?
We as developers, have come across a number of business heads and managers, who have had a tough time deciding on the approach they had to take for the mobile application they required. More often than not, business officials are seldom aware of the technical specifications of native as well as hybrid apps. Hence, they are often confused and unable to decide between the two.
For example, one of our clients from the mining industry specialized in providing cut and fill earthworks for residential, commercial and industrial development projects, faced a similar problem. They needed a software that enabled them to move from their paper-based project management system to an online one. They also required a mobile application that enabled their field agents to gather information from their sites and also access project information contained in the main application as well. The client was confused as to what approach to use for their mobile application. After detailed analysis of their requirements, we churned out the best possible approach for their business. Similar issues persist among most entrepreneurs today.
Hence, in this article, we take you through the significant aspects of native and hybrid applications that have helped us advice our clients in deciding between the same.
Native apps
A native application is basically one that has been developed for use on a particular platform or device. And for the same reason, they are able to make use of the specific features of the operating system as well as other software installed on the device. This also implies that native apps can make use of specific hardware features as well, that are part of the device and the latest technology available with the device like the Camera, the GPS, the contacts, the accelerometer etc. Some of the general features of native apps are as follows:
They are coded in a specific programming language such as Objective-C for iOS, Java for Android and C# for Windows operating systems.
They are easily available on an app store or a market place specific to the device and they can be installed from there.
Each native app requires its own development process depending on the platform it is being developed for.
Hybrid apps
A hybrid application is one that has combined features or elements of native and web apps. Unlike native apps, they are not built for use on a particular platform, but they are made available over multiple platforms just like a web app. The major difference between a hybrid app and a web app is that hybrid apps are hosted within a native application that makes use of the mobile device's Web View. It is more like a browser that runs full screen. Hence, they are able to utilize most of the device capabilities just like native apps. Some of the general features of hybrid apps are as follows:
They are coded using a combination of technologies like HTML5, CSS and Javascript.
They are easily available on the app store to be installed.
It uses hybrid technologies like PhoneGap (or Apache Cordova), which provides APIs to gain access to native platform features like the camera and contacts.
COMPARISON OF NATIVE AND HYBRID APPS
Now that we have a basic understanding of both kinds of apps, here we have a comparative study of the features and elements of the two.
User Interface
In terms of user interface, there is not much of a difference. There may be minor differences in the looks and the like, to enable a consistent user experience depending on the platform. Apart from that, both native and hybrid apps are designed to look and work the same way in terms of user interface and experience.
Development
Native apps, as mentioned before are developed using specific programming languages for specific platforms, such as Objective C for iOS, Java for Android and Visual C++ for Windows operating systems. They make use of standardized Software Development Kits (SDKs), user interface elements like buttons and text boxes, and other development tools provided by the manufacturer of the respective platforms in the process of development. They are developed using code specifically written for the app. It basically means that native applications are harder to develop and take more time.
Hybrid apps on the other hand, are developed using HTML or CSS or Javascript or a combination of these. As mentioned before, they are made to work inside a native app container so that they can have access to the hardware capabilities of the device. More importantly, most of the functionalities of hybrid apps are taken care of from the back end or server side, unlike native apps.
One of the most popular platforms that is being used for hybrid applications these days is Apache Cordova, which was earlier known as PhoneGap. It helps to provide a consistent and reliable set of Javascript APIs in the form of plug-ins which are built using native code, so that the app has sufficient access to hardware capabilities on the device. They take lesser time and effort to develop, as they make use of already existing code segments across multiple platforms.
Delivery method
Native apps as well as hybrid apps can be downloaded from an app store and installed on the device. Since hybrid apps make use of plug-ins to enable the hardware functionality as a native app does, even hybrid apps are available on the store, unlike web apps. For the same reason, the users need to manually download and install updates as and when they are ready.
Accessibility
Native apps, as they are developed for a specific platform, have access to all hardware and software functionalities of the device or platform on which it is installed. Hybrid apps on the other hand need plug-ins to have access to device specific features.
While choosing between native and mobile apps, some of the factors that you need to consider are as follows:
Time – Native mobile applications require a longer duration of time to be developed because we need to start it from scratch. There is a lot of effort involved in building a native app as the entire code needs to be written to program the whole app. Hybrid apps on the other hand require much lesser time as they can use already written HTML code components across various devices. If you are looking to develop a mobile application and you want it done within a short period of time, then, a hybrid app would be a better option. This is one of the reasons that make hybrid apps popular.
Budget – Native mobile applications are more expensive to build for the same reason why they require more time to develop. The effort that has to be put into making a native app is a lot more when compared to hybrid apps. Hence, the costs involved in developing native apps are more than that for hybrid apps. If you have cost concerns regarding your mobile application, then it is always better to go for hybrid applications. They are usable across multiple platforms and are available at a lesser cost.
Requirements – If you need an application that uses features like video editing and trimming, or if your application needs access to in-device features like contacts, then you need to go for a native application. Hybrid apps do not have that capability.
Scalability – This is an extension of the requirements factor. Native applications are more scalable than hybrid applications. If you plan future expansions to your application with more native features or features that require more communication with the Operating System of the device, it is always better to go for a native application. Hybrid apps can be made to have native features to some extent, but if you are planning to integrate many more features and add more functionalities to your app in the future, then you need a native app.
Speed – Native applications perform faster and are easier to work with as they use the device's built-in features. Hybrid apps, on the other hand, may not be as fast.
The basic advantages of a hybrid application over a native application are in terms of cost and time. Although, you get more efficiency and accuracy through native applications. These points will definitely help you choose better between native and hybrid apps..
Nevertheless, what matters the most is your requirement. And your final decision is entirely dependent on the kind of requirement you have.
Need more help? Talk to us! We can create powerful custom mobile applications or help you decide what works best inline with your business goals.