Factors To Consider While Migrating Your Code To Python 3
It's clear that Python 2 will be sunsetting on January 1, 2020. The Python Software Foundation (the organization behind Python) has stated that Python 2 will not be improved anymore after that day and no support will be provided to existing Python 2 users even if they find a security problem. The only option is to upgrade to Python 3 as soon as you can. Migrating your business suite from an old to a new software version comes with its own challenges. How can you ensure a successful and smooth migration to Python 3? Here is a guideline that addresses the prerequisites and key considerations. 
Related Reading: Switching to Python 3: Is It An Apt Decision For Your Business?
Steps To Successfully Migrate To Python 3
The recommended steps or course of action is to follow intermediate steps in modernizing incrementally and addressing issues progressively. Simultaneously, it is also important to aim for cross-generational compatibility without replacing the code entirely. A seamless migration process requires the following steps:
1. Drop Support For Python 2.6 And Older Versions
It is to be noted that Python 2.6 is no longer supported freely and is not receiving fixes for bugs. Hence, solving issues that come across while working with Python 2.6 or older versions will be difficult. For instance, Pylint which is used for setting up a Linter coverage is not supported by Python 2.6.
2. Specify A Proper Version Support In The setup.py File
In the setup.py file, a proper trove classifier has to be mentioned. This will help in determining whether all packages are Python 3 compatible. 
3. Ensure A Proper Test Coverage
Proper test coverage can avoid many bugs at production. For instance, your test suite must have at least 80% code coverage. The code coverage will let you know how much source code is executed during testing. coverage.py is the best-recommended tool to measure your test coverage.
4. Update Your Code
Most projects will include multiple third-party dependencies. It is thus important to ensure that all third-party packages are compatible. You can make a choice between two tools namely, Futurize and Modernize to port your code automatically.  
5. Division 
Python 3 evaluates 5/2 == 2.5 and not 2. That means, all divisions of int values in Python 3 result in a float value. Going through your code and adding from_future_import division to your files and updating the division operator to // or using floor division will do the needful.
6. Understanding The Confluence Of Text And Binary Data
It is important to decide which  APIs take text and which of them take binary data. For instance, Python 2 made sure that APIs that take text work with Unicode and APIs that take binary data work with bytes. However, Python 3 takes text as str, and binary as bytes. Additionally, Python 3.5 adds the _mod_ method to the bytes type. 
7. Utilize Feature Detection Instead Of Version Detection
Relying on feature detection helps in avoiding potential problems of compatibility errors. For instance, suppose you require access to a feature of importlib that is available in Python's standard library since Python 3.3 version. Consider the fact that it is also available for Python 2 via importlib2 on PyPI. In this situation, it is very common to write code using the version. This will create issues with Python 4. It is thus better to utilize feature detection. 
8. Prevent Compatibility Regressions
Once the code is translated and made compatible with Python 3, it is important to ensure that the code does not regress. You can use the Pylint for the same. Example, pip install pylint.
9. Check For Dependencies That Can Block Your Transition
The caniusepython3 will help you determine all projects that directly or indirectly can block your transition to Python 3.
10. Continuous Integration To Ensure Compatibility
It is important to run your tests under multiple Python interpreters such as tox by integrating them with your system. 
11. Use Of Optional Static Type Checking
A static type checker such as mypy or pytype on your code will help in porting your code. It analyzes your code and checks whether it can run on Python 3 as well. For instance, if you tend to misuse a binary data type in one particular version of Python, running a static type checker will solve the issue.  
The Python Software Foundation offers a comprehensive guide on how to achieve cross-generational compatibility for enterprises that require Python 2 and 3 to run simultaneously. More guidelines and steps to be noted while migrating to Python 3 can be found in these places: 
To learn more about migrating to Python 3 seamlessly, stay tuned to our latest articles and blogs. If you are looking for a technology partner to help your business transform with the latest digital trends, then get in touch with our experts today!
4 Top Reasons for Organizations to Move to Python 3
Python is one of the most widely used programming languages on the planet. Over the years programmers have fallen in love with Python for its increased productivity and capabilities. However, a constant argument persists on whether Python 3 is better than Python 2 and would it be a wiser decision to completely shift to Python 3.
Although Python 3 has been in existence for over 7 years, programmers are quite skeptical about using it. Most programmers tend to cling to Python 2, completely ignoring the capabilities of the new version.
This blog will walk you through some major drawbacks of Python 2 and will pinpoint 4 top reasons on why to choose Python 3 over Python 2.
Why Is Python 3 On The Rise?
Before we dive deeper into the major advantages of Python 3, let's take a look at its origin. 
Released in 2008, Python 3 was introduced to overcome the flaws of Python 2. The major reason behind developing Python 3 was to clean up the codebase and remove redundancy. Although Python 3 is the newer version of Python, it is not necessarily backward compatible with code written in the 2.x version. 
Significant features of Python 3 makes it simpler, easier and incredibly efficient to use. Here's listing the major differences between Python version 3.0 and 2.0, and the reasons why Python 3 can make a better programming partner.
1. Unicode Character Encoding
As mentioned earlier, Python 3 was introduced to address the vulnerabilities and drawbacks of Python 2. Hence, it reduces the complexities of coding and improves speed and performance. 
Where in Python 2 the character encoding is done in ASCII format, Python 3 is Unicode based. In Python 2 the strings are by default stored in the form of ASCII values. Programmers are required to add 'u', to store strings specifically in Unicode format. In Python 3 strings are stored in UTF-8 format, enabling a large number of storage features such as character value storage, different language characters, and emojis storage as well. 
Dropped deprecated features which were frequent sources of bugs in Python 2 have also been replaced by superior alternatives and retained solely for backward compatibility. 
For instance: If a file is created by олга with non-ASCII characters in the name, for the below-mentioned code, if you are using Python 2 your code is sure to throw an error 500.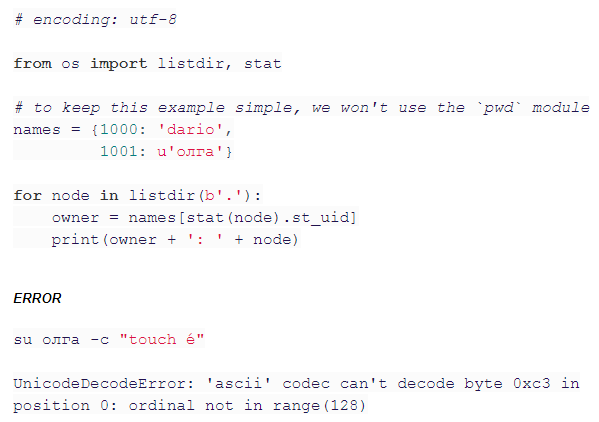 However, in Python 3  your error will be detected right away saving you the time on long code creation. Moreover, the error message is much easier to understand. Knowing that str object is owner and node is a bytes object, it is easy to recognize that the error is due to listdir returning a list of bytes objects. 

Adding listdir('.') would make the bug disappear as this would appear as a Unicode string in Python 3.
The difference in the behavior is due to the difference in how each version handles the string type. Whatever is lumped together in Python 2 is split in Python 3.
2. Improved Library Standards
When it comes to libraries, there is a huge difference between the two versions. Many libraries developed in Python 2 are not forward compatible. Hence, the new 3.x version is developed focusing on providing good compatibility. Moreover, most of the actively maintained libraries are strictly created for use with Python 3. Hence, it's suggested to keep codes compatible with Python 3 to help keep your test running on both versions. 
3. Improved Integer Division
Reducing a programmer's confusion and frustration, Python 3 is created with a syntax that's more intuitive. Python 3.x version has an elegantly designed structure that allows performing an action with fewer lines of code. Python 2, on the other hand, requires the exact input to perform a particular result or generate the expected results.
For instance: If you try a simple calculation like 5/2 (5 divided by 2), Python 2, after rounding up would give you the result as 2. To derive the exact result, that is 2.5, the input should be 5.0/2.0.
Whereas, Python 3 would right away, give you the answer 2.5 for the input 5/2, without converting the numbers to float data type.
4. End of Python 2 Support
Yes! Python 2 is expected to stop all support and maintenance by January 2020. Now, this is another major reason why you need to shift to Python 3 at the earliest. By end of support, we mean that all-new packages will be built on Python 3 and hence, it will be difficult to add any new features to the existing Python 2 projects. Major plugins are also being ported to Python 3 and thus, the upcoming updates of these plugins will be available only for the 3.x version. 
Moving forward, it will be difficult to find any Python 2 support services or developers. Also, the Python 2 hosting options will grow more scarce and costly. The Python 3.x version and the releases ahead are believed to have different syntax from that of the current version and thus, getting upgrades for existing features would be difficult to find.
Why Should You Stop Using Python 2?
Although programmers have widely accepted and loved working with the 2.x version of Python, there is quite a huge list of flaws and drawbacks experienced with it. Here's listing a few of them. 
1. Firstly, as mentioned in this post, the Python 2 text model is not Unicode capable. It doesn't handle non-ASCII files correctly. This is one of the major drawbacks of the version. Python 2 handles Unicode module names quite inconsistently, which is a source cause of multiple programming errors. That is why 3.x version of Python is designed to have a Unicode based string type by default.
2. In addition to not being Unicode capable, there is a large number of Unicode handling bugs in Python 2 standard library that might never be fixed. Fixing these bugs within the constraints of Python 2 is too difficult, and not worth the effort.
3. Python 2 iterator was designed long before the introduction of the iterator protocol. Thus, it has a lot of unnecessary and lengthy listings, which can now be made more memory efficient.
4. Programmers who have been involved with Python 2 for a long time might have noticed that the version interprets numbers in a strange way if they have leading zeros. Also, the version has two different kinds of integers. Python 2 beginners are often surprised to find that the version can't do basic arithmetic correctly.
5. The print and exec statement is also weirdly different from the normal function calls like eval and execfile. Moreover, you need parentheses to catch multiple exceptions.
6. Although list comprehensions are one of Python's most popular features, surprising errors arise on the local namespace. Also, if you tend to make a mistake in handling the errors, there might be chances where you'll lose the original error.
Eliminating all these persisting errors and flaws of Python 2, the new version 3.x is specifically designed to enhance the quality and efficiency of the programmers. Thus, it is highly recommended to start preparing for a complete shift to Python 3. For developers who would like to check on to the Python 3 upgrade packages, here's the command you can use:
[Don't forget to create a test-requirement.txt file when using the command.]
With increased competition and high consumer expectations, programmers are under constant pressure to improve software performance. With the efficiency and ease of use offered by Python 3, programming is sure to achieve greater success than before. Although Python 2.7 will be supported until 2020, the sooner the switch, the better.
If you are looking for a technology partner to help your business transform with the latest digital trends, then get in touch with our experts today!
According to Mashable, Australian schools from now on, are going to replace History and Geography with coding as per their new digital technologies curriculum. As reported by The Australian, this new curriculum ensures that 21st-century coding is taught in primary schools from year 5 and programming is taught from year 7. This is as part of Australia's new move to focus on STEM (Science, Technology, Engineering and Math) subjects at a primary level. Education minister Christopher Pyne made this last act right before he became Minister for Industry, Innovation and Science.
Pyne said, "High-quality school STEM education is critically important for Australia's productivity and economy well-being, both now and into the future."
He also talked about the need to train teachers for this new approach in teaching. Earlier this year, he had mentioned the need to strengthen the country's skills in science, technology, engineering and maths and also digital skills that are essential for the technology-oriented environment in this 21st century as well.
For this purpose, the Government of Australia will be putting in 12 million Australian dollars into four separate STEM areas. That is, computer coding introduction, innovative maths curriculum development, a site for a P-Tech styled pilot school and summer schools that provide funds for underrepresented students in STEM. Christopher Pyne said, "We know that as computer-driven smart-technology expands into every aspect of our recreational and working lives, there is an ever-growing need for highly skilled workers in this global growth industry. All children will need to understand is computational thinking and how it can contribute to their future."
Similar successful programs have been run by the United States and the UK as well, both of which had been quite successful. For example, Code.org and "Hour of code" which were implemented in the United States with the help of Google and Microsoft. The UK introduced its curriculum last year. Following their path, the Australian Govt. also seeks to equip its children with the necessary skills to work in a technology-filled world.
Estimates say that up to 75% of the rapidly growing occupations in Australia, are most likely to require excellent skills in Science, Technology, Engineering or Maths, that is the STEM subjects. Such being the importance of technology education, it seems like the right thing to do for Australia. As a matter of fact, it is actually high time that they implemented this concept because, this has been on discussions for quite some time now, especially among Australia's top technology executives such as Atlassian's Mike Cannon-Brookes. He said, "Technology education in primary and high school is going to be one of our biggest fails as a country in 20 years time if we don't fix it and it may already be too late if we don't move very fast.
If you look at what other countries are doing, we're miles and miles behind and I think it's as critical as Maths or English to every single job that's going to be done in the economy in 20 years time and education takes a long time to flow through."
With all this, it seems like the world is slowly coming to terms with the fact that technology is not only here to stay, but is bound to improve and that technological disruption is not really a choice, but a way of life. As children get introduced to technology at their young age, they get the chance to adapt themselves to it and will also be skilled enough to survive as technology takes over most industries. With the theoretical knowledge, they will also learn practical side of the Science, Maths and everything in their curriculum that makes technology possible, and thus have a basic understanding of how things work.
Even though this concept has been approved by most people, their Prime Minister, Tony Abbott was not quite supportive of it. He said that he didn't see the point in teaching primary school children coding and programming.