Tag:
Real Estate Disruption
Imagine you are a salesman and you have logged into your system with the dashboard pulled up in front of you. Viewing the dashboard with a horde of information on it can turn out to be a very overwhelming experience. Bar charts, pies, metrics, numbers, arrows, percentages, ratios and what not go swimming in front of your eyes. Do they make any sense or do they end up confusing you? Does it include an intuitive interface allowing seamless navigation or is it cluttered and poorly organized? Well, it all depends on how well the sales dashboard is designed.
Recently, Fingent was approached by a client to develop a sales dashboard for their customers who are real estate agents and brokers. The requirement was to develop a portal for the agents and brokers to log into and a dashboard which gives a snapshot of their business performance. With this real estate platform, realtors should be able to access third-party applications to help them with the various stages of their business process.
Related Read: The Tech Disruptors in the Real Estate Space: What to Implement First?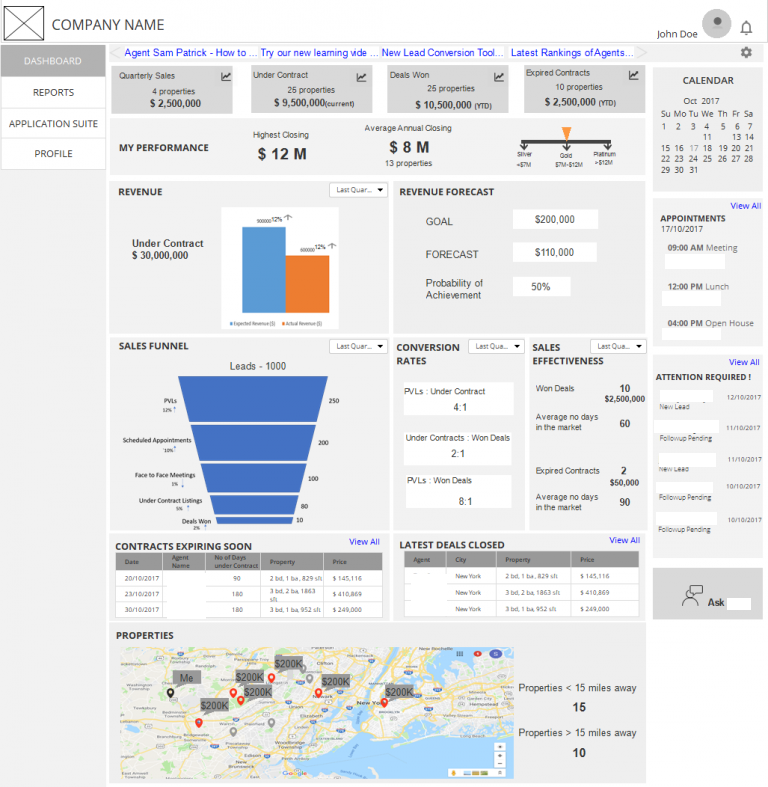 Fig 1. Wireframe of Dashboard Designed for a Real Estate Agent
Fig 2. Sample Mockup Designed for a Real Estate Agent
In the real estate industry, data is often unstructured and unaccounted. This platform allows agents to prospect leads, manage and follow up on them, view the status, close on them and ultimately account for the costs and commissions.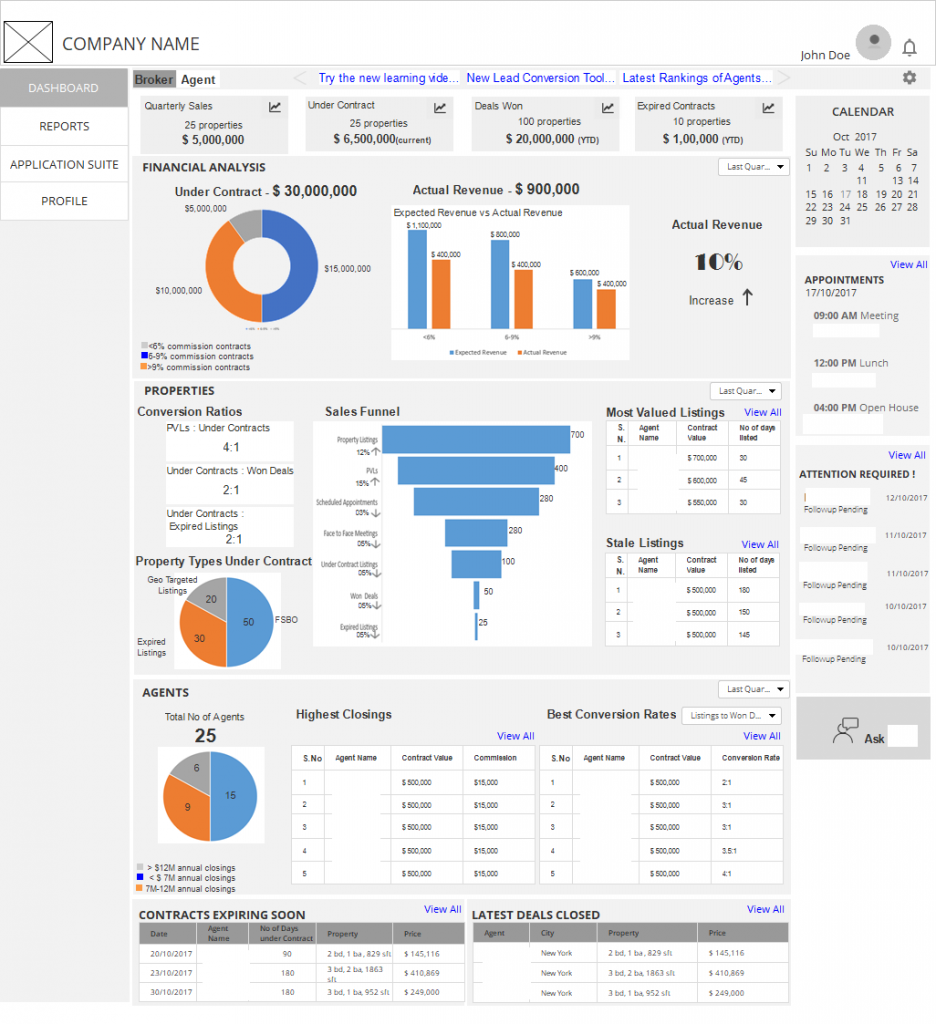 Fig 3. Wireframe of  Dashboard Designed for a Real Estate Broker
Fig 4. Mockup Template Created for a Real Estate Broker
Expectations from a Good Sales Dashboard
A well-designed sales dashboard is like a good storyteller. It tells you a story complete with the setting, the characters, the main plot, the conflicts, and a conclusion. This should all flow in a seamless, logical way as the eyes of the user move from the top of the dashboard to the bottom; gauging information, which is crucial to making accurate decisions.
Salespeople usually juggle with a lot of numbers. They have numbers related to revenue, sales pipeline, products and services, customer base, forecasts, financial data etc. These numbers help them analyze and make critical decisions on the next move to steer their business forward to success. If these numbers are all scattered around, a salesperson may end up spending precious time gathering data and in the process slip on making important decisions.
Now, imagine if all these numbers come across as a story. Accordingly, the salesperson is able to quickly view the Key Performance Indicators (KPIs) of their business, make a conclusion and plan for the next moves. That is what a good sales dashboard aims to achieve.
A good sales dashboard gives an unbiased true picture of the day to day workings of one's business. It provides an illustrated view of KPIs and other information crucial in the sales process.
Related Read: Ok Seriously, How Important Is Data Visualization?
Besides, a well-designed sales dashboard should also offer access to real-time data. With this real-time data, salespeople can continually monitor the sales pipeline and activities for making crucial decisions.
The design is yet another leading factor in ensuring better user experience. The logical arrangement of the metrics and other information contribute to effortless navigation all the while ensuring that the most important information is accessed first.
Designing a Sales Dashboard
Now, on the other hand, designing a sales dashboard is an equally daunting task. How do we represent all those numbers in a visually pleasing and logical manner? Furthermore, which numbers to choose from the many, that would ultimately matter the most to the client.
Keeping in mind the following tips will help you design an effective sales dashboard.
1. Getting Your Story Right
A good understanding of the client's business and its KPIs will help you build the story. Identifying the pulse of the business by tapping on which will give you a correct understanding of the business's lifeline is the key. Following are some metrics that are generally used in sales –
This is the key indicator denoting how well the business is doing. Revenue is compared over time (monthly, quarterly, yearly) or with the projected versus actual revenue.  It can also be compared to the costs and expressed as a return on investment (ROI). Another way of representing it is to show profits after all the costs are deducted from the revenue. Finding out from your clients which figure would best be useful to them will help you in the design.
Forecast

The client can integrate a system to predict their future sales and revenue based on their past backlog, current pipeline, employee performances, market conditions etc. Showing this data on the dashboard will help them see the direction their business is taking.
Sales in Numbers and Value
From where is all the revenue coming? Is it from just one product or are all the departments making enough sales? These questions can be answered by displaying the sales in numbers and value. This will give more clarity on the inner workings of the client's business.
 The sales pipeline reflects the number of deals in each stage of the sales process. The stages can be open leads, qualified leads, face to face meetings, proposal stage, and closed deals. The number of deals in each stage will help the salesman asses whether they have enough incoming leads to sustain their business, and also whether they have an appropriate distribution of deals to meet their sales targets. It also helps in forecasting revenue in the near future.
Negative metrics such as the number of lost deals or the backlog from the previous financial cycle, on the dashboard help in critical decision making. It can tell the salesman where their business is lacking and what it is that they need to focus on.
Conversion ratios tell the efficiency of the various stages in the sales process. Numbers such as these – the ratio of open leads to qualified leads, the ratio of qualified leads to closed deals, the ratio of open leads to closed deals etc. help in understanding where the work is getting piled and identifying the bottlenecks faced in the business.
Attention Required/Overdue items
Salespeople would appreciate if they can get hold of a list of items on the dashboard, which needs their immediate attention. Overdue tasks is another area which needs to be highlighted in the day to day functioning of the business.
 A metric that reflects the sales effectiveness or achievements of a salesperson in line with the company strategy and targets would summarize their performance and also act as a motivating factor to push them towards achieving more.  
2. Making Data Comparisons for Deriving Insights
One can gather meaningful insights from data when a comparison is made. Therefore, the way these metrics get compared side by side to derive a logical conclusion is downright important.
Should the metrics be compared with respect to each other? For example actual revenue against forecasted, lost deals versus won deals, sales backlog against the pipeline etc.
Or should it be compared with respect to time? Daily, weekly, quarterly, year on year, year to date etc. Making a comparison should ultimately help the salesperson answer the right questions.
3. Building your Story on Actual Data
Getting real-time data is really helpful in determining the best way of representing it. If it is fictional data, then one must stick to keeping the proportions right. Each chart has a specific type of data that it represents. For example, a pie is used to represent parts of a whole, a funnel represents a progression and a line displays variation over time of different series.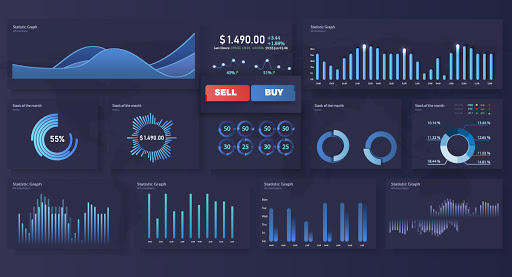 When you use actual data, you tend to realize that some charts do not look as good as you expected and maybe you should think about representing it in some other way. Or, that some numbers are better off shown as numbers itself and not compared to other figures as part of a chart, because it might end up skewing the chart in one direction.
4. Following General UI/UX Principles
Following the general UI/UX principles of good design makes the dashboard visually pleasing and easily navigable. Since most people read from left to right and top to bottom, aligning the widgets on the dashboard in the same order as the story progresses, helps in seamless navigation. The top left space on the dashboard is where the eye falls first. Placing the most important piece of information there ensures high visibility.
Leaving enough white spaces and keeping the dashboard uncluttered will help the user assimilate the information better. A sales dashboard should be concise with just the right amount of information for the salesperson to make an assessment of their business.
5. Keep Reinventing
Nobody gets it right the first time. Redesigning the dashboard a couple of times gives you a better perspective each time and helps you discover the one which will ultimately win your client's heart.
Related Read: Make Your Data Visualization go Viral: 10 Quick Tips
Wrapping Up
Bringing things into perspective or distilling the essence from a mix of information is what a sales dashboard is all about. Companies have been relying on such visual representations to get an overview of what needs to be done. Particularly in the area of sales, such close visualizations of a range of data can indeed prove helpful for salespeople to gauge information as it is intended and make decisions crucial to the sales process. Owing to its importance, it is downright necessary to build and design a sales dashboard in accordance with certain principles.
By taking into consideration the key metrics that define the sales process, it is possible to delineate the entire workflow and pipeline to an easily identifiable visual form. Such a dashboard brings more clarity in the process, enabling salespeople to understand and apply the necessary changes. We did just that with our client by formulating an effective sales dashboard. This would ultimately help them leverage sales data to contrive practices that push their business forward, all the while accelerating efficiency and ROI.
Did cell phones really help real estate agents? Yes, without any doubt. Cell phones did transform the industry by taking away all the limitations concerning mobility. Real estate agents were able to keep in touch with their clients irrespective of geographical barriers. Besides, agents can get in touch with their prospective clients while on the go and vice versa.
Technology has ushered in new possibilities in the real estate industry. Mobile phones constitute just one facet, whereas there lies a diverse array of technology tools and solutions capable of disrupting the real estate market altogether. As real estate is a people-focused business, more leads for a broker meant more sales. And real estate technology does bring in new ways to improve sales.
Being a real estate agent, thinking that technology will leave you jobless is entirely baseless. The truth is, failing to utilize the latest technologies will certainly make you lag behind and miss out on some of the huge benefits that await you. In fact, a recent survey by the real estate brokerage Owners.com reveals that home buyers are increasingly seeking technology-based tools from real estate agents.
With real estate turning more fast-paced and competitive, buyers are on the lookout for agents armed with real estate software tools to streamline the home buying process and help them make informed decisions quickly. In fact, the Real Estate in a Digital Age report by the National Association of Realtors (NAR) identifies several tech tools like social media, MLS site, brokerage's site etc. apart from cell phones and email as catalysts to produce quality leads in a real estate business.
Related Read: How Realtors Are Winning Tenants With Innovative Mobile Apps
Real Estate Agents Still Holds Significance
We all know that nowadays a majority of buyers are doing most of their home search process themselves. Different mobile apps, websites, and digital platforms open up a wide range of potential properties based on the buyer's interest. There are even alerts and notifications for new listings that exactly matches a buyer's interest.
In a majority of the cases, we find that the buyers are doing most of the legwork when it comes to actually search for property listings. But that's just an initial search and occupy only a small portion of the overall buying process. Once they find their listing, the buyer needs to call in an agent to physically get into the home and inspect it or even to draft a proper offer for submitting.
Even though it is clear that while buyers are increasingly adopting technology-based tools, they still require the guidance of a real estate agent to minimize delays and seamlessly guide the buyer to the closing process. Relying heavily on technology may present a risk, particularly in commercial property sales where the buyers are trading in millions. An agent's expertise is highly sought after to effortlessly navigate the buyer and settle on the best listings that will guarantee high ROI.
Technology-based tools allow buyers to take some steps or responsibilities of the agents themselves. They can find the listings and close in the process without the assistance of an agent. However, it will never act as a full replacement for the expertise of a professional realtor.
Related Read: Real Estate Industry in the Digital Era
Technology is still inadequate to deal with several tasks that come under the work process undertaken by a real estate agent. From consolidating the list of documents to getting around the loopholes in placing offers and drafting contract term and policies, the role of a realtor gains the upper hand and stays relevant where technology fails.
According to a report by the National Association of Realtors, buyers still prefer working with a real estate agent for around 87 percent of the time to find properties worthy for sale or purchase. Many home buyers still rely on the advice from a trusted real estate agent when it comes to acquiring, selling or leasing properties.
However, technology tools clearly lack the ability to gauge specific information concerning a property such as its future value. Experienced realtors, on the other hand, can easily assess whether a highly rated property do carry any expected value and thus guide the home buyer to make an informed decision.
Technology will actually allow an agent to do an improved business. It enables an agent to better engage with their customers, optimize their business and zero in on deals that earn them the most profit. Besides, technology makes realtors more efficient, which helps them serve a larger client base with utmost satisfaction.
Digital transformation is now a key aspect of every sector. And it has been there with the real estate industry for years. The biggest trend now is probably the change in the mindset of agents by embracing technology to serve buyers who are increasingly tech-driven.
Technology Helps Realtors Serve in Many Ways Possible
As a real estate agent, what should you do?
As an agent, can you think of doing large volumes in a traditional way? You will find that it is really hard to extend services to your customers. However, technology can help agents serve a lot more people at the same time. Selecting the right technologies will allow agents to become more efficient – to serve more buyers in less time, resulting in more revenue generated.
Using a property management software can also help real estate agents make the buying process of their clients easier. With mobile apps making a big impact on the industry, agents are provided anywhere and anytime access to data and reports thereby extending more opportunities to share with their clients. The evolution of mobile apps has made it easier for both agents and buyers to communicate efficiently, schedule showings and meetings, and moreover make the entire process simpler. Besides, most of the apps available now are trying to organize things easier for agents.
Technology gave agents access to a huge amount of real estate data. These data can support the agents to take better decisions and will eventually provide them more opportunities. With the entire world shifting to data-driven practices, leveraging big data from real estate dealings and applying machine learning and AI helps make better recommendations and crunch out valuable insights that provide agents an overview to make clear and accurate decisions, which bring out more efficiency and revenue.
Related Read: How real estate technology helps predict property prices
If the buyers are performing their own searches, they get a better picture of the market, making things more realistic about what their budget will allow. On the other side, sellers will come to know what their properties are worth. But, they still need assistance to accomplish their goal of buying or selling, which means that technology will continue to revolutionize the market. However, when it comes to decision making, the customers will keep their trust with a real estate agent.
Down the line, agents who admit technology as a tool that can be adopted as a new way of conducting business and building successful relationships will ultimately lead the way. The key thing is to zero in on the right technology means that reaps true value. Teaming up with a sound technical partner having deep expertise in crafting successful technology solutions for the real estate industry will help identify and deploy the right one.
Related Case Study: Investing in PropTech solutions aids real estate firms streamline and digitize their existing processes. See how we came up with an innovative web-based application for a leading real estate brokerage to integrate their processes around a single platform here.
[Courtesy – Saïd Business School, University of Oxford]
Over the years the real estate market has witnessed a tremendous change in the way it runs the business. Intense market competition has compelled the real estate firms to rethink traditional strategies and innovate. Therefore, modern realtors are considering various real estate innovations as opportunities to build up their valuation.
One such innovation prevailing in the real estate market today is the concept of an amenity-packed mobile app. Applications connecting tenants with a pool of amenities are the latest makeover tools adopted by realtors. These apps are now the trending treats offered by real estate companies to retain their existing tenants and attract new ones.
Amenity Apps – The Next Big Thing In Real Estate Market
Recent reports have revealed that the vacancy rate of offices in New Jersey and Westchester County, has increased to 20%. Even the overall vacancy rates of Manhattan is above 8.5%, approximately. With such high vacancy rates in the most competitive real estate markets, realtors have realized the need to adopt differentiated strategies to retain tenants. Hence, realtors are now stepping out of their specialty to foster services beyond the boundaries of property business. The most innovative approach through which builders are now keeping their buildings 100% leased is by introducing amenities.
Why Amenity Apps?
In today's world where competition is at its peak, workers often fail to maintain a work-life balance. While striving to beat the nerve-racking competition of the modern world, employees are missing out on the necessary routines of life. Regular exercises, health checkups, haircuts, laundry or even picking up a meal becomes a hassle when work is tough.
Realizing these challenging situations of today's workforce, some prominent realtors like Tishman Speyer and Sterling Bay, created amenity apps for their employees in New York. These apps are helping the workers to achieve a balance between personal and professional life. With these apps, property builders are extending their services to bring in amenities to the doorsteps of their customers.
Life hacks provided through prompt mediums like mobile and tablets are making buildings more attractive for tenants to stick on. Extending real estate services to provide better lives for tenants are not only upgrading the value of buildings but are also turning office markets to service businesses.
Related Reading: How Top Real Estate Companies Leverage Technology to Soar New Heights.
How To Woo Tenants With The Perfect Amenity App?
With amenity apps creating a hue in the real estate market, property builders are striving to introduce spellbinding services through innovation. Office landlords and building owners are integrating technology with small-scale businesses to woo their tenants. But to create an impact in the market, it is necessary to load these amenity apps with captivating features. To help realtors deduce the best amenities for their apps, here's a short list of the popular ones that are boosting the customer retention rates for some leading real estate enterprises. While food services have already become the baseline of several amenity service apps, few other amenity types are also achieving an eminent position.
Health & Fitness
With healthcare activities gaining popularity among the current young workforce, several real estate firms are loading their amenity apps with wellness services. On-suite fitness programs like massages, meditation, yoga, and other healthcare programs are the prominent features of multiple amenity apps. hOm introduced by the Brookfield Property Partners is one such innovative example of technology-packed amenity provider that offers unique fitness events to create healthy communities.
Closer Communities
Leading real estate providers are trying their best to create active and lively communities. Lack of time and rush life often makes it difficult for residents to engage well with their neighborhood.  With a motive to diminish such hostility and create more engaging communities, property builders are now incorporating emerging technologies to implement amenities that bring people together. Services like group discussions, ride sharing, community meetings, travel management, human resource services, etc. are attractive features of amenity apps.
Access to Building Amenities
Gated communities often extend a wide range of amenities for their residents. Generally, these amenities are offered through common communication channels like emails and telephones, which makes it difficult for residents to reach them. Hence, property owners are now featuring portals to bring these building services closer to tenants. Recently Silverstein Properties introduced the Residential Community App which allows tenants to access rent payments, tenant referrals, community and neighborhood maps, shuttle services, discounts, offers and much more through their smartphones and tablets.
Eco-Friendly Environment
With the increased concern of protecting nature, property owners are now focusing on amenities that serve both tenants and nature. The SL Green Realty Corp., initiated a suite called SL Living Green that connects residents with group discussions, educational talks, recycling projects, eco-friendly waste disposal schemes, etc. to enhance their wellness and style of living. These amenity features allow tenants to feel responsible towards nature which attains them a unique experience.
Other Popular Amenities
Few other personal styling and emergency medical care amenities are popularizing among tenants. Medical aids like backup child care, health screening, drug delivery etc are some of the highly accepted medical features of amenity apps. Also, few real estate firms are designing their amenity apps to deliver styling amenities like blowouts and manicures, shoe shining, hair styling etc. to desired locations.
Related Reading: Self Showing App, an IoT application built by Fingent streamlines the complete inspection and leasing procedures of real estate firms. Find more in the case study here.
How Are Real Estate Amenity Apps Winning Hearts In New York?
Isolated lives of metropolitans have marred the quality of life. The struggles to socialize, stay fit and even to groom well, are becoming the increased concern of the modern generation. Hence, the leading real estate firms are empowering their amenity apps with services to sort these hassles of the modern world. One such enterprise is Tishman Speyer, who has integrated technology with small-scale services to create unique experiences for its tenants.
Tishman Speyer, a diversified real estate firm operating properties of worth $89 billion, including the iconic Rockefeller Center in Manhattan, rolled out an app called Zo. The Zo. app is winning hearts in New York, by exclusively connecting its employees to an unparalleled collection of services. They offer exclusive deals which include wellness programs, social and interest group gatherings, backup childcare, on-site health screening, and medical services, dry cleaning pick up and delivery, personal styling, individual meal delivery, catering, and much more. These services are enhancing the living standards of Tishman workers and tenants by creating a hassle-free work environment for them.
Another leading real estate developer in New York, entering the emerging war of landlord amenities is Sterling Bay. They have introduced their own app offering expanded eye-catching amenities for their workers.
Extreme competition in the real estate market is determining the growth of property businesses on the basis of the number of people in it and not by the square footage. More than magnificent buildings, residents are now attracted to communities that deliver unique and lively environment. Tenants prefer buildings that provide amenities through advanced technology channels that enhance the living experience. Incorporating smarter technologies and utilizing real estate software, is emerging to be an essential ingredient in real estate business today.
With emerging technologies transforming communities, the real estate market is witnessing a new era of property services beyond bricks and mortar.
Related Reading: A Property Management Software can be a boon for real estate managers if adopted the right one. Find the secrets of finding the right property management software here.
Read More: Mobile App Development : 4 Tips To Consider