Mobile applications aren't anymore a luxury or simply a channel to tout your business. More than 70% of our digital media time is consumed by smartphones today. Mobile apps claim 93% of the total time spent on a smartphone, while the remaining 7% of mobile time is consumed by web browsers. This proves why the demand for
mobile application development services
is intensifying year over year.
A well-structured
native iOS
, native Android, hybrid, or cross-platform mobile app boosts your digital engagement, leading to long-term bottom lines such as unswerving customer loyalty and recurring sales. Though an astounding number of small and large businesses are experiencing the benefit of mobility, some are yet to build the right strategy. If you are planning to build a mobile app for your business or want to enhance your existing application, you've come to the right place.
This blog covers the key aspects of mobile app development, including the development process, approaches, platforms, cost of development, and the tips to avoid failures and attain success with mobile app development. Let's get started without further ado.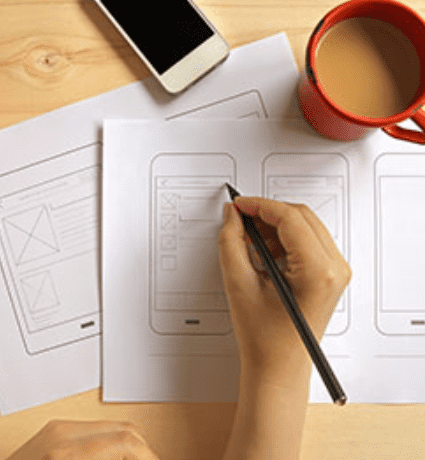 What is Mobile Application Development?
Mobile application development is the process of creating specific software applications that run on a mobile device (such as applications for smartphones and digital assistants), and utilize a network connection to work with remote computing resources. The development process involves creating installable software bundles, implementing backend services, and testing the application on target devices. In short, mobile app development is the strategic process of designing, building, and launching a mobile app successfully.
The importance of
building a business mobile app
is growing rapidly as businesses across industries aim to meet user expectations and seek real-time, convenient ways to conduct transactions and access information. By the end of 2023, it is estimated that the total number of mobile app downloads will amount to 299 billion, worldwide.
Data Source: Sensor Tower
A well-structured mobile app helps you leverage all the benefits offered by the mobile device and the OS for which it is developed. The development process takes into account the limitations of mobile devices and allows you to balance cost with functionality.
Top Mobile Application Development Platforms
Mobile application development platforms bring together all the tools you would require to build your app from start to finish under a single umbrella, as a unified software offering. A mobile development platform saves your developer from juggling different software to complete various tasks involved in the development lifecycle. This prevents data loss and eliminates the risks caused by the wrong classification of data. Using a single software package to carry out the development process – from planning to UI/UX design and testing – saves your cost and time.
Mobile application development platforms differ according to the operating system (OS) they cater to. Here is a list of the top mobile app development platforms:
Sponsored by Google, the Android mobile OS is designed primarily for touchscreen mobile devices such as smartphones and tablets. As of July 2022, Android holds 44.46% of the mobile OS market share in the United States. The biggest advantage of Android OS is that its source code can be downloaded, customized, and distributed by anyone at no cost. The Android OS supports running multiple apps simultaneously on a single mobile device and offers immense flexibility to customize the UI during development to get the desired outcomes.
Unlike the Android OS that can run on numerous hardware brands, the iOS operating system is a proprietary software that runs only on Apple's devices, such as iPhone or iPad. Developers can leverage the iOS Software Development Kit (SDK) to create mobile apps for Apple devices and distribute the apps through the App Store maintained by Apple Inc. As of July 2022, Apple's iOS holds 55.22% of the mobile OS market share in the United States.
As the name suggests, a hybrid mobile application blends both native and web programming capabilities within a single application. It allows developers to build applications for multiple operating systems on a single platform. A hybrid application is written using the web technologies – HTML, CSS, and JavaScript – and then the code is embedded into a native application wrapper, which gives it the power of a true native application that can work efficiently on any native platform. Hybrid mobile development platforms are used by organizations that wish to reach a large audience base within a short time, so they don't have to build two or more separate but similar applications for each OS type.
Mobile Application Development Approaches
Here are the top four mobile application development approaches adopted by businesses worldwide:
Top Mobile App Development Technologies
Mobile app development technology refers to the various tools, frameworks, programming languages, components, libraries, and other technologies used to create applications that work on smartphones and portable connected mobile devices. Let it be native Android or native iOS, or a cross-platform app, you need to familiarize yourself with the leading technologies and frameworks that power your app.
React Native offers a best-in-class JavaScript library for building native user interfaces for your iOS and Android apps, using a single code base that can be shared across all platforms. It allows developers to iterate at lightning speed and create truly native apps without compromising your user experiences.
This software is distributed freely to the users on a trial basis, usually with a limited-time offer. After that, the users are expected to pay if they want to continue to use this application software. Some examples of shareware are WinZip, SnapTouch, and Adobe Acrobat.
Xamarin is an open-source mobile app platform for the .NET which offers tools and libraries specifically for building apps for Android, iOS, tvOS, watchOS, macOS, and Windows.
If you are building something specific to Apple OS (native to Apple), Swift is the language to seek. Swift is a popular iOS application development language that offers advanced features with minimal coding that can be easily maintained. Swift is a powerful and intuitive language loved by Apple developers who use it for macOS, iOS, watchOS, tvOS, and so on.
Ionic is a modern, open-source mobile development framework that offers seamless app UX across iOS, Android, and the Web from a single shared codebase. Ionic is built on top of Angular JS and Apache Cordova. Ionic is the easiest way for web developers to build, grow, and scale cross-platform mobile apps.
Apache Cordova is a free and open-source mobile development framework that leverages HTML, CSS, and JS to target multiple platforms with one code base. The framework is an ideal choice if you want to extend your application across more than one platform, without having to re-implement it with each platform's language and tool set.
Sencha Ext JS is a highly comprehensive JS framework for building data-intensive, cross-platform web and mobile applications for any modern device. It offers numerous enterprise-ready tools, components, and libraries to create stunning mobile and web applications.
The list of mobile app development frameworks and tools is expanding day by day. To choose the right development technology for your mobile app, you need to consider factors such as platform feature support, speed considerations, cost of development, security risk, efficiency of the app, and after launch updates.
Mobile Application Development Process
With all the facts and trends substantiating the significance of business mobile apps in 2022, it is important to look at the mobile application development process step-by-step.
Here is an overview of the mobile app development lifecycle:
Researching
Every app begins with an idea. However, your app can be successful only when the idea benefits your customers (app users). Ensure that your analysis includes the demographics, motivations, and behavior patterns of your buyers.

3

Assessing Technical Feasibility
Mobile Application Front-End and Back-End
Front-end and back-end are two interconnected core components of a mobile application.
The mobile front-end (client-side rendering) is the visual and interactive part of the mobile application that a user interacts with, while the back-end (server-side rendering) stores, secures, and processes the data.
Some of the key front-end jobs include web designing, UI designing, UX designing, and front-end development. Back-end developers create the services to process the business logic and access the database, cloud services, and file servers to render the app on the server-side.
For applications where there is no interaction with a server, front-end and back-end developer roles can be performed by one person. For applications that require internet connection and interaction with a server, you need to hire separate developers for developing each component.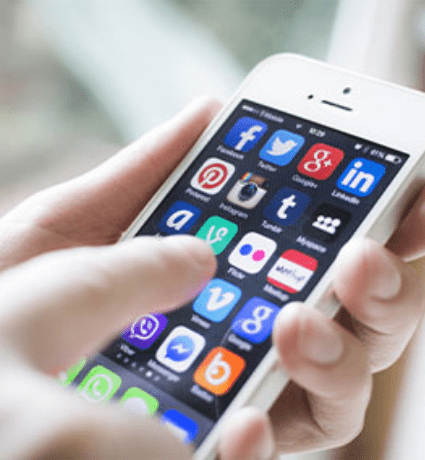 End-to-end Mobile Application Testing
To stay on top of competition in the mobile application market, you must test your application before starting the actual sprint. Here are nine steps to ensure the success of your mobile application:
These steps of mobile application testing ensure efficient performance of the entire software system.
Have you selected the right mobile app development approach? If not yet, download our white paper to learn more about native, hybrid, cross-platform, and progressive apps.
Top Trends in Mobile App Development
New research indicates that the global mobile application development platforms market is expected to reach $44.3 trillion by 2027. Technology advancements, growing consumer demands, and several other factors directly influence the mobile app development process today. Here are the top five mobile app development trends that will dominate 2022.
1. Native Mobile Applications
5G will transform the way mobile applications are created and used. By the end of 2022, it is estimated that the total number of 5G smartphone connections will be three times more than that in 2021.
5G will drastically improve the speed and efficiency of mobile apps, allowing developers to add new features without risking the app's performance. 5G is expected to boost network efficiency and traffic capacity, with an estimated 10x decrease in latency.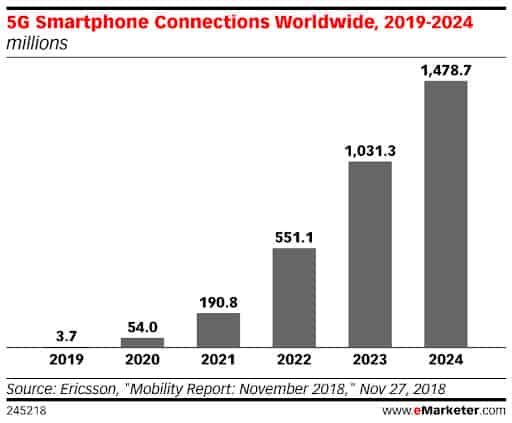 2. Augmented Reality (AR) and Virtual Reality (VR)
The use cases for AR in mobile apps is continuing its upward trend in 2022. By the end of 2024, the number of mobile AR users will reach 1.73 billion. AR is widely used by retailers, educational institutions, healthcare providers, workforce management teams, ecommerce companies, industrial manufacturing units, and other industries to create powerful mobile user experiences that help them gain a competitive edge.
Like AR, VR is also transforming mobile app development today. For example, VR can connect with phones, apps, and wearables to enhance the user experience and content perception of fully functional mobile apps. According to Design News, 29% of manufacturers reported an increase in their productivity and efficiency since they implemented AR/VR technology into their organization.
3. Low-code App Development
The increasing shift of web and mobile apps to containerization and microservices is popularizing the adoption of low-code apps today. Over 75% of the apps developed in 2021 were built using low-code platforms for reducing the time to market and addressing the shortage of skilled developers. Low-code mobile development allows businesses to quickly roll out their apps, reduce complexity in development, swiftly adapt to market changes, reduce hiring costs, and maintain a consistent user experience.
The increased reliance on digital devices, particularly smartphones and tablets, has made mobile the most preferred channel for online shopping in recent years.
Simply put, mcommerce refers to shopping through a mobile device, typically using a smartphone. Thanks to the coronavirus pandemic, the retail industry has undergone potentially the greatest digital transformation, which has pushed the online selling of almost everything we buy from physical retail stores. Millennials and Gen Zers own a massive spending power to shop widely on their smartphones. Customers seek seamless buying experiences without leaving the platform they use. Nor do they like to re-enter payment details each time they try to shop via your mobile app. Adding "Buy Now" buttons to your social media pages and introducing "one-click checkout" to your mcommerce app could turn into a major customer acquisition advantage.
According to Insider Intelligence, mcommerce volume in the United States is poised to increase from $128.4 billion in 2019 to $553.28 billion through 2024. The retail industry has reached a tipping point where a mobile app is a must for your business to stay competitive. Any single person or business selling online is ultimately trying to replicate the success model of ecommerce giants like Amazon. So, a mobile commerce app should be on the top of your list in 2022.
Predictive analytics is a ground-breaking trend in mobile app development that leverages technologies such as machine learning, AI, data mining, and data modeling to predict events using data. Netflix, for example, uses predictive analytics to recommend users TV shows and movies based on what they have watched previously.
Based on your data, predictive analytics can estimate the duration of your mobile app's development cycle, the amount of testing required to launch your MVP (Minimum Viable Product), or the expected bugs or errors on your testing pipeline. All these expedite your mobile app development, ensure the quality of your app before delivery, minimize the development risk, and increase your ROI.
Having a general understanding of how your targeted market keeps shifting based on these trends will help you adapt your mobile application swiftly.
How Custom Mobile Apps Help Grow Your Business
Custom mobile apps are tailor-made applications created to address the requirements of a specific audience rather than a massive group of people. Custom mobile app development provides the functionality and features that plain off-the-shelf solutions cannot. Compared to pre-packaged, canned solutions, customized applications offer the following benefits:
Improved Data Security
Improved Data Security
Custom mobile apps offer robust data protection against cyber-attacks by using additional configurations and measures, which off-the-shelf apps don't provide. When you have a custom-built mobile app, your confidential data will not be available publicly. A unique security code and encryption are used to hack-proof your mobile application from any such attacks.

Seamless Integration with Other Software

Highlight Your Competitive Advantage

High Scalability

Long-term Support and Maintenance
Custom mobile app development reduces your TCO by automating repetitive manual tasks, increasing employee productivity, lowering integration costs, and quickly accommodating new changes or processes. PricewaterhouseCoopers (PwC), one of our prominent customers, reported an 80% increase in productivity and a 67% faster ticket resolution rate after Fingent helped them implement a mobile-based smart ticketing system.
If you are looking for a tailor-made mobile app that can simplify your business operations and enhance your customer experience,
take a look at our case studies.
The Cost to Develop a Mobile App
The cost of developing a mobile app largely depends on its features and functionalities. The price also hinges on various other factors such as the development team's size, number of devices and platforms supported by the app, and more. Here are a few aspects that decide the cost of your mobile application.
Before starting the development project, find out what you expect the application to do. What type of features do you like to include? What are the different functionalities that you are planning to cover? Having more features and functionalities means paying a higher price to your developer. Make a precise list of features and functionalities you would like to include as it influences your app development cost.
2. Different Devices and Platforms
Regardless of the type of application you develop, ensure that your app is compatible with the latest and earlier versions of the device's OS you are opting for. If your app has more screens, you will need better design and user experience to make your app easily navigable. So the development cost also depends on the device OS and platform selection.
3. Native or Cross-platform Development
Both native and cross-platform development methods have their own pros and cons, specifically with respect to the development cost. Cross-platform gives your mobile app a uniform look and feel across all the OS that you target and is highly reusable through multiple OS. A native app, on the other hand, offers 100% hardware support and allows you to access the inbuilt capabilities of a user's device, without sacrificing on the design elements unique to the native platform.
Native mobile app development cost is higher than cross-platform or hybrid due to its exceptional personalization features, speed, performance, and platform-specific advantages. However, if you want to launch a mobile app quickly at minimal development cost, a cross-platform approach is the right choice. In simple words, the cost of developing a mobile app differs on a case-to-case basis.
4. In-house Development or Outsourcing
Arriving at a ballpark estimate also depends on whether you want to develop your mobile app in-house or
outsource your project to an external app development agency
. Building an in-house team incurs additional costs such as renting an office space, hiring new employees, and meeting hardware and software requirements.
When you choose to outsource your work to a mobile app development company, you can enjoy cost efficacy and competitive advantage. Consider the agency's location, technical and industry expertise, previous projects, size, turnaround speed, and references from their clients before engaging them. You should also define the scope and complexity of your app and back-end scalability requirements before employing a third-party developer.
More insights on mobile app development cost:
Are you planning to develop a mobile application for your business?
Explore our template
and share your requirements with us. Our team will get back to you with a ballpark estimate.
Five Reasons Why Mobile Apps Fail and How to Prevent the Letdown
Though mobile application development technologies advance year over year, failure of mobile applications is a major concern for entrepreneurs. Only poorly-executed and ill-planned apps are subject to fail in the market. Here are five pitfalls you should avoid to prevent your app from losing out: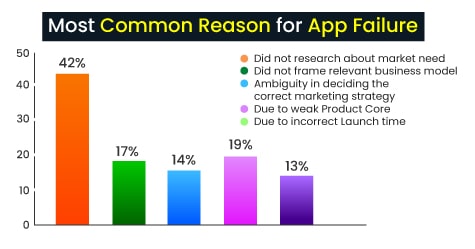 1. Lack of Market Research
If your mobile app does not address the needs of your target market, it will not enjoy sufficient downloads. Data shows that 80 to 90% of mobile apps downloaded are abandoned after the first use.
First, do not rush into creating a mobile app just because your business needs it. Conduct a detailed market study to understand what your users actually need. Ask yourself, "Which solution should my app provide that my target audience needs?"
To answer that question, you must define your target audience and analyze their buying patterns, online behavior, and overall customer habits. This will help you create a mobile app tailored to your goals and customer needs.
Second, know who your competitor is. Do a competitor analysis to improve your mobile strategy and connect your idea with your target audience.
2. Absence of a Robust Mobile Strategy
A poor strategy can fail your app. It takes a bit of creativity and thoughtfulness to incorporate customer needs into a mobile app that can accomplish a specific task quickly and effectively. Proper goal setting improves your mobile app strategy. Here are some questions you can ask yourself:
Clearly defined goals are crucial in mapping out a robust mobile app strategy.
Users will ditch your app in the first eight seconds if they find your app's design and usability unappealing. Substandard coding and outdated technology can cause epic failures.
Remember, great designs bring happy customers. Nearly 58% of iOS apps failed in 2021 due to insufficient testing. Smart mobile app developers take time to conduct several QA tests throughout the different phases of app creation. End-to-end testing ensures that your app is bug-free, user-friendly, and intuitive.
4. Failure to Execute the Plan Precisely
It's common for new business owners to encounter aggressive competition, manage conflicting priorities, or run out of cash. How can you resolve these predicaments and launch your mobile app?
5. Failure to Market Your App
After all the hard work, it might still fail if you do not market your app rigorously. Here are a few tips to boost your marketing efforts:
Tips to Build Successful Mobile Apps
According to a report from data.ai, the global app downloads reached 37 billion in the first quarter of 2022, with the biggest ever consumer spending on apps hitting a whopping $33 billion. The message is clear. There is hope for every mobile app. Here are three important tips to help you approach app building with confidence.
Staying agile and responding quickly to the ever-changing customer needs take you to success, but it comes with a price. It is important to know when to be agile. So pursue realistic goals.
It is good to be enthusiastic and optimistic about your product, but be wary of the risks and problems. Identifying the risks early will help you react faster and more accurately.
Make your users feel unique and appreciated. Transparency and trust boosts genuine interactions between your application and its users. To achieve this, you can create a trustworthy rating or review system and a functional service system.
Develop Your Mobile Application with Fingent
As we enter the second half of 2022, it's evident that mobile is the key to success. Investing in a mobile app is the most effective way to match your business model to your key audience's behavior. If you are an influential enterprise with an active mobile app in the market, your mobile app growth strategy should focus on improving your existing product and deliver more value to customers.
Fingent specializes in mobile app development and our experts can position your app for success, right from idea to launch. Leveraging insights from the above mobile app development tips and guidelines can help you get a leg up on the competition, cut costs, improve your brand's visibility, and engage your customers in incredible ways. Contact us to know more.