Tag:
logistics tracking software
Technology continues to disrupt logistics and supply chain processes by changing it altogether from its core. Consequently, logistics became more refined and fast, which changed the way how materials, goods, freight, sales orders, inventory, and production are managed.
As efficiency and speed became the determining factors, logistics adopted a new approach to deal with the rising demand and complexity of processes. A viable solution that manages the flow of things so that the right product reaches the customer within the specified time.  
With the use of logistics software, the entire base of logistical operations was streamlined that took away the hassles involved in the process. Organizations that invested in logistics management software have produced good end results with noticeable improvements in process, operations, and delivery.
In this article we take a look at logistics management software in the following aspects:
What is Logistics Management Software?
Challenges in Logistics Management
Pros of a Having a Logistics Software
Trends that reshaped Logistics Management
Choosing the Right Logistics Management Software
Checklist of Essentials in an LMS
How Logistics Software Improves Efficiency
The Future of Supply Chain
An Overview of Logistics Software
In order to understand how the software works for logistics, it is important to know about logistics management. Logistics involve the flow of things from its point of origin to the point of consumption usually general customers or businesses. The selection of vendors, transportation means, routes and delivery methods constitute an important part of logistical operations.
Logistics management is a part of the supply chain that uses planning and implementation to store and deliver goods and services to the customer. It coordinates several key activities of the supply chain that ranges from the development of the product to its commercialization.
Typically a logistics management system includes the following:
Inbound and outbound transportation management

Warehouse management

Fleet management

Processing orders

Inventory control

Managing third-party logistics service providers

Planning supply and demand
Related Video: Top Challenges Faced by Logistic Management
Logistics management constitutes several functions such as production planning, sourcing, procurement, packaging, and dispatching. It also involves finding the right means to deliver goods and services to the end-user. Inbound and outbound traffic is vital in logistics management. Inbound logistics is a linear flow of raw materials from suppliers into a warehouse and then a production unit.
Shifting the products from the warehouse inventory into the hands of the customers falls under outbound logistics. An example of inbound and outbound logistics at play is that of a manufacturer of electronic goods, which requires several raw materials in the form of components, nuts and bolts, cables, casting, packaging cartons etc. to build products.
Improve logistics to deliver measurable ROI for your business
Our logistics management software is the perfect fit for your logistics requirements. Get in touch with us to garner the advantages of logistics software solutions. 
Get A Free Quote Now! 
Challenges in Logistics Management
Logistics is prone to several issues that occur mostly due to simple human errors or other factors. Weak decisions usually result in delays in the transport or delivery of goods leading to dissatisfaction among the customers. Besides, another challenge that logistics usually face is in the safe transport of goods. The goods can become damaged or faulty if not handled accordingly while in transit.
Customer demand has also become higher as they want more transparency in the delivery process. Moreover, logistics and supply chain are facing the still unsolved issue of cost control. The rise of fuel charges combined with a steep increase in energy, freight, and labor rates have put further pressure on logistics providers.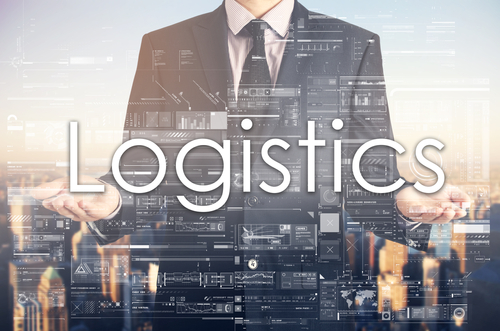 Means to effective risk management and directing the relation between the suppliers and partners is also vital. A reliable solution that covers all these individual challenges in logistics is thus becoming a necessity. The use of logistics management software (LMS) can streamline the flow of things in logistical operations, which guides a logistics provider or business deal with them appropriately.
What is Logistics Management Software?
Essentially, logistics management software (LMS) simplifies operations by refining the production cycle and making it easier to access important information quickly. What a logistics management software does is help businesses manage the multifarious process that goes into the production cycle from the delivery of raw materials to shipping the finished products to the consumers.
Logistics software has become wider in its scope and functionality to deal with a wider array of operations and processes. It shares similarities with supply chain management software (SCMS), which contains a set of tools that help deal with transactions, processes, and suppliers. The functionality of a logistics management software extends to areas such as:
Processing customer requests

Processing purchase orders

Inventory Management

Suppliers Management

Sales and Distribution
A logistics management software gets rid of all the conventional approaches like paperwork and spreadsheets to simplify management. It comes in three variations such as warehouse management systems, enterprise resource planning systems, and integrated supply chain management suites.
Companies that have an in-house logistics or supply chain division and third-party logistics providers utilize any of these different versions according to their own requirement to manage their logistical and supply chain operations efficiently.
The Pros of Having a Logistics Software
In the area of logistics, handing over the process to a logistics management software has its own advantages. With logistics management software, a company or 3PL could avail the following benefits.
Refine Transportation

– Transportation being a pivotal area of logistics incurs the most charges in the form of fuel, energy, labor, tolls and shipping fees. Relying on logistics software can help manage the various transportation means and leverage the data to automate the process. This allows for easy analysis, which a company can utilize to make relevant decisions for maximizing efficiency and reducing costs.

Faster Delivery – Logistics being a linear flow of goods and services come across several issues that affect delivery and cause delays. By incorporating a logistics software, a singular benefit that businesses derive is in the faster delivery of products to the customers. A logistics management software can improve the speeds in delivery by interfering in the production cycle and selecting the right shipping service, which cuts short any delays to a large extent.
Minimize Human Errors

– The other notable advantage of having a logistics management software is in reducing human error. Analysis of transportation data results in huge quantities of data that is difficult, time-consuming and prone to errors when processed manually. A logistics software can process these data without any errors in less time, which will seamlessly push forward the operations with zero chances of delays.

Automates Functions

– Automation is another boon to integrating a logistics software to deal with the processes. Certain functions like creating shipment routes, load planning, and tendering of load to carriers are easily automated and managed by using a logistics software. Moreover, it eliminates paperwork, which helps deal with the processes in a more efficient and timely manner.

Reduce Costs

– Savings is the other end result as the logistics software can automatically compare different shipping services, delivery agents and transportation methods to find ones with the least pricing. The other way by which a logistics software reduces costs is by lowering the expedited shipments through improved planning of the shipments.
How Trends Reshaped Logistics Management Using Software
Logistics is on a forward growth and several trends have changed it remarkably. The demand for logistics has peaked with the widespread popularity of e-commerce.  As a result, logistics is constantly evolving to accommodate the rising demands of each industry that depends on it. One area where logistics clearly transformed is in the digitization of its processes and resources.
With the introduction of logistics management software, the entire nature of logistics changed allowing a business owner to supervise the operations across different levels. Digitization combined physical devices and software solutions to streamline the entire cycle of logistics by putting the owner at the center.
Software as a service (SaaS) is clearly gaining the upper hand as this model continue to find widespread acceptance in logistics management and supply chain. It is a reliable model since it offers the security and convenience that logistics managers can depend upon along with the benefits of cloud computing.
The use of AI is another significant trend in logistics and supply chain. It holds the most potential to disrupt the field of logistics in the near future. Some of it is already a reality now such as in the automation of specific tasks and is slated to advance further with gesture recognition and autonomous delivery via self-driving vehicles.
Moreover, the trends also clearly hint at an improved collaboration in the processes that govern the logistics and supply chain. Emphasis is also given on managing risks and promoting resilience in the supply chain, which increases the dependence on logistics software for dealing with the processes more effective than before.
Opting for the Right Logistics Management Software
With the trends shifting logistics management in a progressive direction, the need for software solutions in the field has become indispensable. Businesses, whether focussing on e-commerce or delivering services, can benefit from having a logistics management software. However, the real question is finding the right kind of logistics software since the requirements vary for each business.
A Checklist of Essentials in an LMS
Prior to settling on software for logistics management, it is vital to understand the requirements and challenges that a business face on a daily basis. Carrying out a detailed analysis can help identify weaknesses in the existing logistical operations of a business. Besides that, it can suggest measures to redeem any discovered weaknesses in the cycle.
When deciding on logistics management software, there are several essential factors to consider. Firstly, it should contain a basic set of functions that can aid in simple logistical management operations.
Besides that numerous other things should also be present in the software to tackle the wide base of logistical operations and processes that each business undertake. Some of the key features to look for in a potential LMS are:
Compatible Multi-Client Architecture

– A logistics software that comes with multi-client architecture support is necessary if a business handles multiple customers. Software with inventory and purchase orders have more emphasis since the process deals with several customers simultaneously or in different phases.

Forecasting –

The ability to forecast is a needed trait in a logistics and supply chain management software since it can bridge gaps in supply and demand by enhancing the business processes. Demand, supply and price forecasting can help supply chain management with proper scheduling of production, improve customer satisfaction, minimizing stocking out of inventory, etc.  

Finance Integration

– Having tools that integrate the financial side of the supply chain is another key requirement in the software. Key financial aspects like general ledger, account payables, and receivables, when included in a logistics software can guide manage the bookkeeping and records of transactions conveniently.

Inventory Tracking

– Having an inbuilt inventory tracking feature can make a logistics management software more dependable. Since logistics involves transactions of various kinds, an inventory control feature enables easier processing while making sure that the customer gets the invoice on time.

Customizable and Streamlined Interface

– A good logistics management software should contain a streamlined interface that allows for effortless navigation across its chief functions. A customizable logistics software can easily accommodate the unique infrastructure and methods implemented by a business.

CRM

– A proper logistics software should also cover the customer side. A CRM embedded logistics software allows the customers to know the status of their deliveries. For both inbound and outbound logistics, CRM can answer the queries of the customer and supply them with relevant information along with adjustments to the delivery.  

Bill of Lading Creation

– As a key document in shipping and freight chain, it is recommended to look for a software that can generate bill of lading. This can make it easier for creating bill of lading receipts to facilitate the seamless transaction of goods under the consignee of the shipper and the logistics company.  
Bill Of Lading - Logistics
Refer the chart below to get a grip on the overall profile of any software logistics management: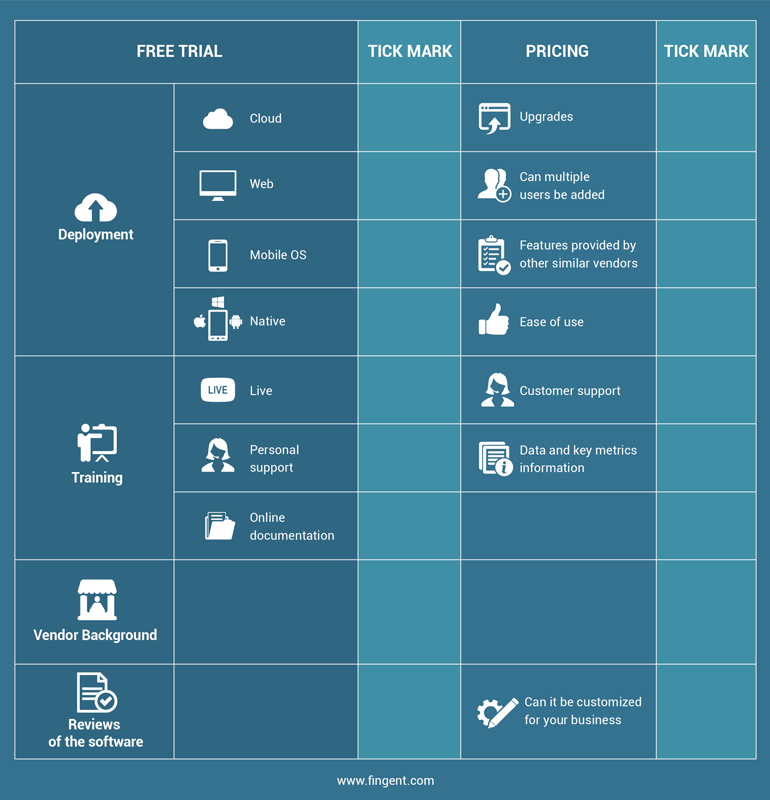 With logistics pushed to the forefront of business operations, leveraging the right technology can make your business compatible with the changing environment.
Outsourcing to a software development vendor will help deploy a scalable software for logistics management into your entire supply chain operations. A global software solutions provider like Fingent can give you the advantage of custom logistics solutions built solely with your requirements in mind.
Logistics Software Upholds Efficiency and Speed for Businesses
Having a logistics management software can guarantee more efficiency and control over the logistical and supply chain operations run by a business. It means simply substituting the existing methods with a software-centric solution. The array of features in an LSM can refine the entire cycle of logistics right from its center. For owners, vendors and the end customers, the use of an LSM model opens up improved collaboration, which is the essence of effective logistics management.
Opting for a logistics software requires considering all the above-mentioned criteria. For a business, it involves addressing their needs and then choosing one that wraps around their existing processes. By integrating an LMS into their operations, businesses could ratchet up their turnaround times, streamline the overall cycle of planning and delivery all the while keeping up with the customers' requirements.
Transitioning into Cloud-Based SaaS – The Future of Supply Chain
With cloud computing gaining momentum, a whole new way of processing data is left open where services and functionalities are offered via the web. This latest innovation has also made its influence on the web of operations involved in supply chain and logistics. With the rising adoption of supply chain and logistics solutions, there now exists various options that shift from premise-based software into that of a SaaS model.
Predictions estimate that a subscription-based SaaS model will clearly dominate supply chain management in the coming years. Adopting a cloud-based supply chain solution has its own benefits in the form of flexibility, robustness, and affordability. This is increasingly becoming the choice for several logistics providers and organizations as several cloud services have opened up cloud computing to a wider extent.
The benefits that businesses and providers can reap from having a cloud-based SaaS supply chain solution are numerous. It gives a comprehensive outlook on the overall operations in logistics by making it more transparent and collaborative. Implementing a cloud system could reduce the upfront and operating costs along with the ability to scale up in accordance with the needs all the while enhancing the efficiency of supply chain operations as a whole.
Summing Up
Opting for a logistics solution is one step to simplifying the entire cycle of logistical and supply chain operations. Effective management of each process from procurement to delivery requires a custom solution that can accommodate the demands of each provider. For instance, an organization lacking an in-house logistics department need a software management tool that can wrap around their existing methodology and improve it.
By partnering with a vendor specializing in software development, businesses can deploy logistics management software customized with their individual requirements. Pioneers in software development like Fingent who have experience in the field for over a decade can assist businesses from wholesale to e-commerce with the advantage of custom logistic solutions to spearhead their operations in a swift and efficient manner.
Logistics is of critical importance in today's highly competitive world. The success of an enterprise largely depends on its internal efficiency and the extent to which it can delight its customers. A well-oiled supply chain and seamless logistics are essential to realizing both these objectives, and this by and largely depends on deploying the right logistics management software.
Good Logistics Software Solutions Gets the Basics Right
The basic function of any logistics management software is productivity and efficiency enhancement, in warehouse operations, aimed at saving money and improving customer satisfaction. A comprehensive suite covers everything from supply chain planning to control of inventory, and from the refining of warehouse functions such as picking, packing, slotting and shipping, to streamlining transportation routines, and much more. Side by side, it co-opts logistics tracking software to improve transparency and enforce greater control over operations.
Some of the basic features include:
Multi-client architecture to support more than one customer
Efficient costing and invoicing control functionality to process and apply service contract policies in real-time, to facilitate prompt invoicing
Real-time inventory control and visibility, to nip issues in the bud
Automated vendor-managed inventory management, to processes and record replenishment requests, aimed at speeding up the supply chain and minimize stock-out situations
Logistics tracking software, which automatically sends and receive shipping data, to improve accuracy and offering unbridled transparency into cargo movements
Comprehensive reporting capabilities, with key data such as inventory figures, product histories and shipment records are all accessible remotely at the swipe of a finger or the click of a button, and more.
Smart enterprises go in for inherently customizable and scalable solutions in software and data depositories. While this screams out "cloud," not all cloud-based tools are equal. Smart players opt for packages or solutions with the right chain management architecture, rather than satisfying themselves with a simple multi-client deployment model.
Good Logistics Management Software Facilitates Seamless Integration
While there are several stand-alone and off-the-shelf software for essential functions related to logistics, today's highly competitive and integrated business ecosystem requires either a single comprehensive suite covering all these activities or seamless integration between the various stand-alone suites.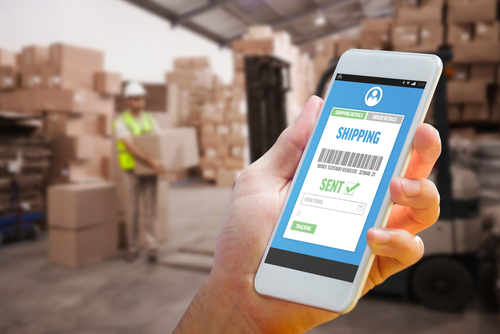 The requirements of integration extend to the ecosystem. There would hardly be any enterprise handling the entire gamut of its logistics operations, end-to-end. Outsourcing is the norm, and striking strategic alliances with competent partners is an established industry best practice and a source of competitive advantage. Many enterprises partner with 3PL companies, who in turn work closely with mainstream parcel carriers such as FedEx and UPS. The smoother the interactions with such partners, the more productive the business.
The best logistics management software requires the capability to tap into the software of all these 3PL and other partners, draw critical information from it, subject it to analytics, and present it to the stakeholders in the form of actionable information.
For instance, seamless logistics requires smooth integration of the software managing warehouse operations and logistics tracking software to the ERP suite of the enterprise, enabling decision-makers and managers to sync and plan inventory and product movement between the warehouse and the store. State-of-the-art automated logistic management software automates such a function, scheduling warehoused dispatches in sync with the movement of the cargo through the supply chain, to avoid stock-out situations. Likewise, it may schedule a slowdown of production if the cargo is blocked at some point in the supply chain, to reduce inventory glut or warehouse over-capacity situations.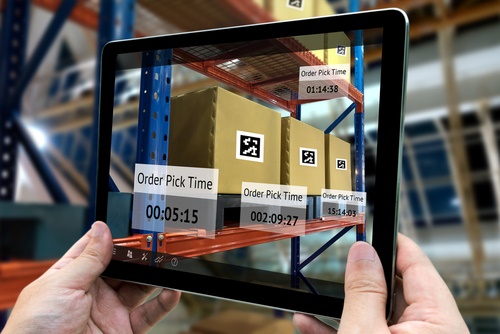 Success, however, depends on a caveat. Businesses would need to resolve the traditional aversion many businesses have, to share too much information with third-party providers, regardless of whether they are business partners in noncompeting businesses and part of the same supply chain or not.
Logistics Tracking Software Goes Beyond Offering Visibility to Aid Tactical Planning
The core of any logistics software is warehouse operations management. Likewise, logistics tracking software offers visibility and helps maintain control of the supply chain. Success depends on a well-integrated logistics software solution, integrating all these critical solutions, and deliverable to the right stakeholders in easy to use dashboards, preferably through mobile apps that facilitate anywhere, anytime access.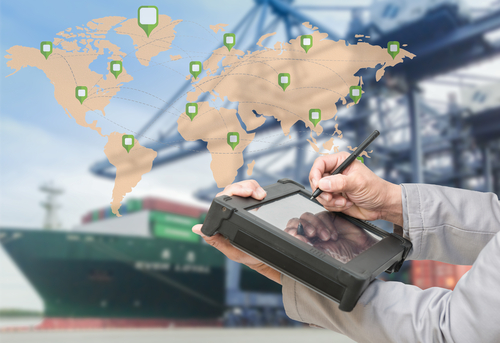 However, mere visibility is no longer enough in today's hyper-competitive age. Visibility must be combined with insights on what to do next, and here Big Data analytics step in. Embedded analytics is much in demand among today's successful logistics players.
As the business becomes more complex, the nature of the data also becomes more complex, necessitating the deployment of advanced analytical tools. The best analytics tool separates the wheat from the chaff, to pick out the relevant and timely information from the data corpus, subjects it to analytics, and presents it to the stakeholders in the form of actionable information. For instance, a consistent delay in shipment delivery over a period may be a signal to change the logistics route, or the logistics partner. An ordinary logistics tracking solution would make explicit the delay, but integration with the analytical solution would enrich the insight with possible solutions, such as quotes from other providers, alternative viable routes, or any other solution. Today' system goes beyond ironing out chinks in the armor but also become a valuable tool in tactical planning.
Good Logistics Software Solutions do not Rock the Boat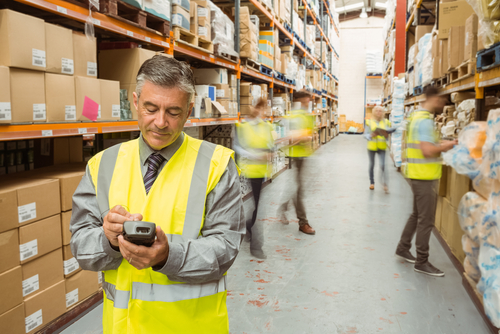 Logistics providers would do themselves a favor by having clear-cut objectives when implementing their logistics management software. Legacy providers would do well to devise a system least disruptive to their existing operations, for otherwise they would be saddled with the additional headache of managing resistance to change, a situation underestimated by most enterprises. Always review each feature of functionality in terms of why it is needed, the benefits it brings to the table, and the issues or problems it would solve. Also, have a blueprint of how the new system of functionality will gel in with the logistics operations.
Several off-the-shelf software offers valuable add-ons, such as industry research and peer-to-peer events. Nothing prevents custom software developers to co-opt such features, but the keywords are relevance. The hallmark of a good software is not an extended bucket list of features or functionality, but the extent to which the relevant features are co-opted, and implemented in a non-obtrusive way to the smooth functioning of the enterprise.
Developing and deploying a robust logistics management software is well-nigh impossible in-house for logistics firms, as their core competence and focus are elsewhere. Implementing a brand-new logistics system isn't a cheap affair either. To get maximum bang for the buck, logistics firms are better off roping in the services of a reliable and competent tech partner who has experience in delivering cutting edge solutions.