Tag:
Real Estate Software
Did cell phones really help real estate agents? Yes, without any doubt. Cell phones did transform the industry by taking away all the limitations concerning mobility. Real estate agents were able to keep in touch with their clients irrespective of geographical barriers. Besides, agents can get in touch with their prospective clients while on the go and vice versa.
Technology has ushered in new possibilities in the real estate industry. Mobile phones constitute just one facet, whereas there lies a diverse array of technology tools and solutions capable of disrupting the real estate market altogether. As real estate is a people-focused business, more leads for a broker meant more sales. And real estate technology does bring in new ways to improve sales.
Being a real estate agent, thinking that technology will leave you jobless is entirely baseless. The truth is, failing to utilize the latest technologies will certainly make you lag behind and miss out on some of the huge benefits that await you. In fact, a recent survey by the real estate brokerage Owners.com reveals that home buyers are increasingly seeking technology-based tools from real estate agents.
With real estate turning more fast-paced and competitive, buyers are on the lookout for agents armed with real estate software tools to streamline the home buying process and help them make informed decisions quickly. In fact, the Real Estate in a Digital Age report by the National Association of Realtors (NAR) identifies several tech tools like social media, MLS site, brokerage's site etc. apart from cell phones and email as catalysts to produce quality leads in a real estate business.
Related Read: How Realtors Are Winning Tenants With Innovative Mobile Apps
Real Estate Agents Still Holds Significance
We all know that nowadays a majority of buyers are doing most of their home search process themselves. Different mobile apps, websites, and digital platforms open up a wide range of potential properties based on the buyer's interest. There are even alerts and notifications for new listings that exactly matches a buyer's interest.
In a majority of the cases, we find that the buyers are doing most of the legwork when it comes to actually search for property listings. But that's just an initial search and occupy only a small portion of the overall buying process. Once they find their listing, the buyer needs to call in an agent to physically get into the home and inspect it or even to draft a proper offer for submitting.
Even though it is clear that while buyers are increasingly adopting technology-based tools, they still require the guidance of a real estate agent to minimize delays and seamlessly guide the buyer to the closing process. Relying heavily on technology may present a risk, particularly in commercial property sales where the buyers are trading in millions. An agent's expertise is highly sought after to effortlessly navigate the buyer and settle on the best listings that will guarantee high ROI.
Technology-based tools allow buyers to take some steps or responsibilities of the agents themselves. They can find the listings and close in the process without the assistance of an agent. However, it will never act as a full replacement for the expertise of a professional realtor.
Related Read: Real Estate Industry in the Digital Era
Technology is still inadequate to deal with several tasks that come under the work process undertaken by a real estate agent. From consolidating the list of documents to getting around the loopholes in placing offers and drafting contract term and policies, the role of a realtor gains the upper hand and stays relevant where technology fails.
According to a report by the National Association of Realtors, buyers still prefer working with a real estate agent for around 87 percent of the time to find properties worthy for sale or purchase. Many home buyers still rely on the advice from a trusted real estate agent when it comes to acquiring, selling or leasing properties.
However, technology tools clearly lack the ability to gauge specific information concerning a property such as its future value. Experienced realtors, on the other hand, can easily assess whether a highly rated property do carry any expected value and thus guide the home buyer to make an informed decision.
Technology will actually allow an agent to do an improved business. It enables an agent to better engage with their customers, optimize their business and zero in on deals that earn them the most profit. Besides, technology makes realtors more efficient, which helps them serve a larger client base with utmost satisfaction.
Digital transformation is now a key aspect of every sector. And it has been there with the real estate industry for years. The biggest trend now is probably the change in the mindset of agents by embracing technology to serve buyers who are increasingly tech-driven.
Technology Helps Realtors Serve in Many Ways Possible
As a real estate agent, what should you do?
As an agent, can you think of doing large volumes in a traditional way? You will find that it is really hard to extend services to your customers. However, technology can help agents serve a lot more people at the same time. Selecting the right technologies will allow agents to become more efficient – to serve more buyers in less time, resulting in more revenue generated.
Using a property management software can also help real estate agents make the buying process of their clients easier. With mobile apps making a big impact on the industry, agents are provided anywhere and anytime access to data and reports thereby extending more opportunities to share with their clients. The evolution of mobile apps has made it easier for both agents and buyers to communicate efficiently, schedule showings and meetings, and moreover make the entire process simpler. Besides, most of the apps available now are trying to organize things easier for agents.
Technology gave agents access to a huge amount of real estate data. These data can support the agents to take better decisions and will eventually provide them more opportunities. With the entire world shifting to data-driven practices, leveraging big data from real estate dealings and applying machine learning and AI helps make better recommendations and crunch out valuable insights that provide agents an overview to make clear and accurate decisions, which bring out more efficiency and revenue.
Related Read: How real estate technology helps predict property prices
If the buyers are performing their own searches, they get a better picture of the market, making things more realistic about what their budget will allow. On the other side, sellers will come to know what their properties are worth. But, they still need assistance to accomplish their goal of buying or selling, which means that technology will continue to revolutionize the market. However, when it comes to decision making, the customers will keep their trust with a real estate agent.
Down the line, agents who admit technology as a tool that can be adopted as a new way of conducting business and building successful relationships will ultimately lead the way. The key thing is to zero in on the right technology means that reaps true value. Teaming up with a sound technical partner having deep expertise in crafting successful technology solutions for the real estate industry will help identify and deploy the right one.
Related Case Study: Investing in PropTech solutions aids real estate firms streamline and digitize their existing processes. See how we came up with an innovative web-based application for a leading real estate brokerage to integrate their processes around a single platform here.
[Courtesy – Saïd Business School, University of Oxford]
Over the years the real estate market has witnessed a tremendous change in the way it runs the business. Intense market competition has compelled the real estate firms to rethink traditional strategies and innovate. Therefore, modern realtors are considering various real estate innovations as opportunities to build up their valuation.
One such innovation prevailing in the real estate market today is the concept of an amenity-packed mobile app. Applications connecting tenants with a pool of amenities are the latest makeover tools adopted by realtors. These apps are now the trending treats offered by real estate companies to retain their existing tenants and attract new ones.
Amenity Apps – The Next Big Thing In Real Estate Market
Recent reports have revealed that the vacancy rate of offices in New Jersey and Westchester County, has increased to 20%. Even the overall vacancy rates of Manhattan is above 8.5%, approximately. With such high vacancy rates in the most competitive real estate markets, realtors have realized the need to adopt differentiated strategies to retain tenants. Hence, realtors are now stepping out of their specialty to foster services beyond the boundaries of property business. The most innovative approach through which builders are now keeping their buildings 100% leased is by introducing amenities.
Why Amenity Apps?
In today's world where competition is at its peak, workers often fail to maintain a work-life balance. While striving to beat the nerve-racking competition of the modern world, employees are missing out on the necessary routines of life. Regular exercises, health checkups, haircuts, laundry or even picking up a meal becomes a hassle when work is tough.
Realizing these challenging situations of today's workforce, some prominent realtors like Tishman Speyer and Sterling Bay, created amenity apps for their employees in New York. These apps are helping the workers to achieve a balance between personal and professional life. With these apps, property builders are extending their services to bring in amenities to the doorsteps of their customers.
Life hacks provided through prompt mediums like mobile and tablets are making buildings more attractive for tenants to stick on. Extending real estate services to provide better lives for tenants are not only upgrading the value of buildings but are also turning office markets to service businesses.
Related Reading: How Top Real Estate Companies Leverage Technology to Soar New Heights.
How To Woo Tenants With The Perfect Amenity App?
With amenity apps creating a hue in the real estate market, property builders are striving to introduce spellbinding services through innovation. Office landlords and building owners are integrating technology with small-scale businesses to woo their tenants. But to create an impact in the market, it is necessary to load these amenity apps with captivating features. To help realtors deduce the best amenities for their apps, here's a short list of the popular ones that are boosting the customer retention rates for some leading real estate enterprises. While food services have already become the baseline of several amenity service apps, few other amenity types are also achieving an eminent position.
Health & Fitness
With healthcare activities gaining popularity among the current young workforce, several real estate firms are loading their amenity apps with wellness services. On-suite fitness programs like massages, meditation, yoga, and other healthcare programs are the prominent features of multiple amenity apps. hOm introduced by the Brookfield Property Partners is one such innovative example of technology-packed amenity provider that offers unique fitness events to create healthy communities.
Closer Communities
Leading real estate providers are trying their best to create active and lively communities. Lack of time and rush life often makes it difficult for residents to engage well with their neighborhood.  With a motive to diminish such hostility and create more engaging communities, property builders are now incorporating emerging technologies to implement amenities that bring people together. Services like group discussions, ride sharing, community meetings, travel management, human resource services, etc. are attractive features of amenity apps.
Access to Building Amenities
Gated communities often extend a wide range of amenities for their residents. Generally, these amenities are offered through common communication channels like emails and telephones, which makes it difficult for residents to reach them. Hence, property owners are now featuring portals to bring these building services closer to tenants. Recently Silverstein Properties introduced the Residential Community App which allows tenants to access rent payments, tenant referrals, community and neighborhood maps, shuttle services, discounts, offers and much more through their smartphones and tablets.
Eco-Friendly Environment
With the increased concern of protecting nature, property owners are now focusing on amenities that serve both tenants and nature. The SL Green Realty Corp., initiated a suite called SL Living Green that connects residents with group discussions, educational talks, recycling projects, eco-friendly waste disposal schemes, etc. to enhance their wellness and style of living. These amenity features allow tenants to feel responsible towards nature which attains them a unique experience.
Other Popular Amenities
Few other personal styling and emergency medical care amenities are popularizing among tenants. Medical aids like backup child care, health screening, drug delivery etc are some of the highly accepted medical features of amenity apps. Also, few real estate firms are designing their amenity apps to deliver styling amenities like blowouts and manicures, shoe shining, hair styling etc. to desired locations.
Related Reading: Self Showing App, an IoT application built by Fingent streamlines the complete inspection and leasing procedures of real estate firms. Find more in the case study here.
How Are Real Estate Amenity Apps Winning Hearts In New York?
Isolated lives of metropolitans have marred the quality of life. The struggles to socialize, stay fit and even to groom well, are becoming the increased concern of the modern generation. Hence, the leading real estate firms are empowering their amenity apps with services to sort these hassles of the modern world. One such enterprise is Tishman Speyer, who has integrated technology with small-scale services to create unique experiences for its tenants.
Tishman Speyer, a diversified real estate firm operating properties of worth $89 billion, including the iconic Rockefeller Center in Manhattan, rolled out an app called Zo. The Zo. app is winning hearts in New York, by exclusively connecting its employees to an unparalleled collection of services. They offer exclusive deals which include wellness programs, social and interest group gatherings, backup childcare, on-site health screening, and medical services, dry cleaning pick up and delivery, personal styling, individual meal delivery, catering, and much more. These services are enhancing the living standards of Tishman workers and tenants by creating a hassle-free work environment for them.
Another leading real estate developer in New York, entering the emerging war of landlord amenities is Sterling Bay. They have introduced their own app offering expanded eye-catching amenities for their workers.
Extreme competition in the real estate market is determining the growth of property businesses on the basis of the number of people in it and not by the square footage. More than magnificent buildings, residents are now attracted to communities that deliver unique and lively environment. Tenants prefer buildings that provide amenities through advanced technology channels that enhance the living experience. Incorporating smarter technologies and utilizing real estate software, is emerging to be an essential ingredient in real estate business today.
With emerging technologies transforming communities, the real estate market is witnessing a new era of property services beyond bricks and mortar.
Related Reading: A Property Management Software can be a boon for real estate managers if adopted the right one. Find the secrets of finding the right property management software here.
Read More: Mobile App Development : 4 Tips To Consider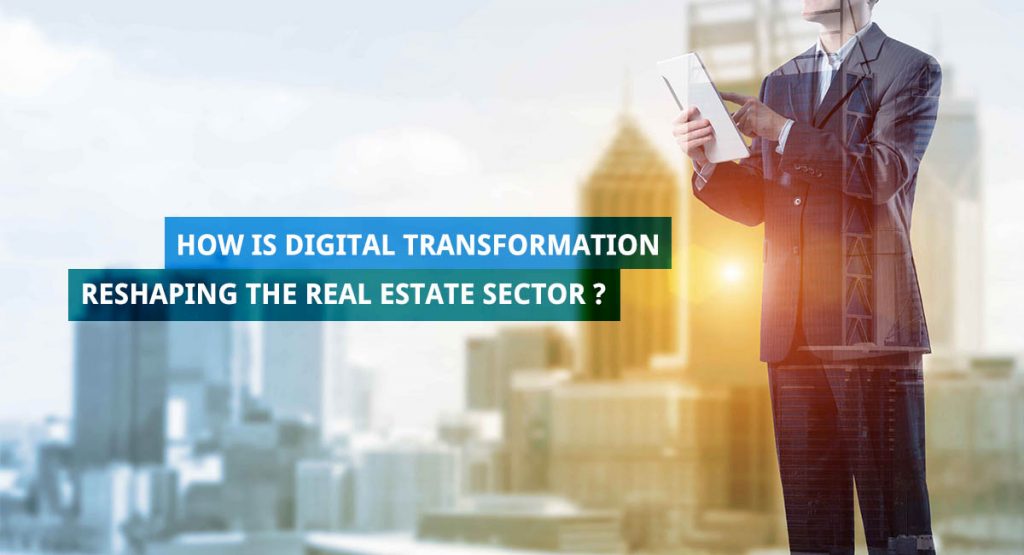 While most sectors have battled their respective digital disruption by enhancing their own digital capabilities, the real estate sector has been considerably slow to react. This is rather astonishing when you look at the size of the real estate business globally where it surpasses all other sectors to form the most valuable commodity valued at over $217 trillion.  In the digital era, no industry is safe from disruptions and this includes the real estate sector as well.
How will custom software transform the real estate business?
With the overwhelming majority of today's buyers belonging to the millennial group, the sector is witnessing an increased demand for digital innovation. From finance to aesthetics, there is a wide range of applications for technology in the real estate sector and this includes both commercial and residential assets.
What drives the need for digital in the real estate sector?
The three main driving forces behind digital adoption in the real estate sector are
Buyer Experience

Transparency

Compliance
The buyer experience is the ultimate selling point for any property today be it commercial or residential. From the discovery of the property to guaranteed maintenance operations after a sale, today's buyers need seamless services on all fronts. This could be made possible through a highly connected digital ecosystem that is spread across the entire buyer journey. There is a need for bringing a mature and trustworthy operational model for real estate dealings. Custom digital software can help bridge the gap between realtors, property managers, landlords and tenants in a multitude of ways and bring about transparency and accountability in matters where large financial transactions are involved. Besides the real estate sector draws quite a big eye from the authorities and compliance standards for safety which are amongst the toughest of all sectors. With a digital backbone, it becomes easier for compliance requirements to be validated and audited by government agencies. For buyers, this provides peace of mind and a hassle-free tenure with all risk aspects sorted, at both individual and government level.
What can digital transformation do for the real estate sector?
Now that you are well aware of the need to drive digital innovations, it is time to have a look at ways in which digital transformation can reshape the real estate sector. A gamut of technology innovations exists today that can deep dive into the various nuances in the sector and create lasting experiences for buyers and tenants and transform properties into global commodities. Let us examine the top 5 ways in which the real estate sector can transform with custom software.
Discovery of properties
In the 1980s, close to 22% of home buyers relied on newspaper ads and 8% relied on their friends to discover new properties to buy. In 2017, more than 51% relied on the internet to make a property or a home purchase decision. The internet has become the hotbed for real estate marketing and if you are not out online with full guns blazing, chances are that your listed property or home may not attract any potential interest from the buyers of today. Real estate developers and sellers need to have an attractive website for their property in addition to maintaining a sizable listing on the most popular property portals amongst buyers. Doing your homework on SEO and taking steps to include feedback from powerful search analytical tools provided by search engines like Google themselves, you can improve the online presence of your property considerably.
Related Reading: A Property Management Software can be a boon for real estate managers if adopted the right one. Find the secrets of finding the right property management software here.
Changing the role of real estate agents
Most digital disruptions have focused on massively reshaping the roles of personnel involved and here too, the picture is not different. With the rise of digital portals and custom software, buyers and sellers can connect more directly without losing a hefty price in terms of commissions. But agents are not completely left out as well. They, on the other hand, have a plethora of marketing and customer service tools to offer more privileged and customized services for buyers. The transformation can, however, be a bit painful for real estate agents dealing with residential properties as they can be choked out by a large number of digital listing portals wherein sellers can directly provide information, arrange site visits and even proceed with legal documentation without the agent's help.
Transforming site visits
By the year 2025, nearly 20 million households in the US would be owned exclusively by folks in the millennial generation. If you expect them to drop by after work or on a Sunday for a property visit, then chances are you will never hear from them after the first inquiry. In the digital age, you can use custom software to schedule and arrange for a suitable site visit time slot that is favorable for both the potential buyer and the agent. It can even facilitate pre-visit conditions such as a deposit, online application, valid document proof, etc. Going a step further, virtual and augmented reality embedded apps can provide a 360-degree walk-through of the property on the buyer's mobile phone anytime and anywhere. With such digital innovations, the target market would not hesitate in spending an extra premium thanks to the splendid buying experience.
Related Reading: Self Showing App, an IoT application built by Fingent streamlines the complete inspection and leasing procedures of real estate firms. Find more in the case study here.
Setting the terms of leasing or buying
Gone are the days, when you needed hours of documentation to create a transparent lease or buying agreement that aligns with regional laws and complies with all relevant risk management standards. Today custom real estate software can provide digital lease or buying agreements that can be validated by local, regional or national government authorities directly without middlemen leading to significant cost reduction in the entire process. A digital portal could record every transaction from the first site visit pre-requisites to valid document audits, payment information, terms and conditions of the agreement including periodic rental revision agreements, automated payment schedules, etc. Such a massive transformation can bring about significant changes to both residential and commercial real estate properties.
Preventing fraudulent transactions
Having a digital backbone brings with it guaranteed transparency and accountability for every transaction or commitment made between a buyer and a seller. Besides, digital portals having direct validation credentials with government authorities can provide digital verification of documents, identity proofs and other associated legal requirements for every transaction. This can aid in transparent pricing schemes, elimination of bribes and middlemen fees, provide streamlined tax revenue to governments for every deal in the real estate sector thereby eliminating fraudulent transactions.
Related Reading: Read through the case study to know how Fingent developed a customized all-in-one property management solution for one of their leading real estate client here.
Summing up
Though much of the transformation mentioned above is in various initial stages, the real estate sector holds immense potential for future digital innovation. Custom software for the real estate sector can challenge traditional buyer-seller relationships and even wipe out middlemen in the long run as we mentioned in one of the possibilities above. However, staying ahead and relevant at the same time in the digital era is what key players in the sector need to focus their attention on. Write to us to know how our digital transformation specialists can enable the best of real estate innovations for you.