Identifying 7 Common Mistakes in Tech Projects
As a non-tech business, you are an expert on the product or service that you are selling. That is your core competency, not information technology. Still, some businesses feel they can do it themselves. That could cost you a lot more than you think. Technology by nature is like a moving target and pinning the best technology solution requires quite a bit of work. Treating tech projects as an afterthought is a mistake that non-tech businesses make far too often. Worse yet, those mistakes can stall the growth of your business. Avoiding tech mistakes, especially the high impact ones, will be the thing that ensures the success of your business. 
What are the 7 deadly mistakes non-tech businesses make on tech projects and how you can avoid committing those mistakes? This article will help your company navigate the complex and confusing world of technology. 
Mistake #1. Skimping on Security
Most small businesses might conclude that their business isn't that big to become a target for hacks and data theft. Unfortunately, security has become the number one issue even for small businesses with increased online scams, software vulnerabilities, and networks using improper architecture. Can you imagine the impact on your business if your trade secrets, customer information, HR records, and confidential communication fell into the wrong hands!
One of the top security risks most businesses often ignore is the failure to encrypt their emails. Some discard email encryption either because it is costly and complicated, or because they feel that the threat is insignificant. You can prevent much pain and loss by encrypting your emails. Always assume that every email you send could be intercepted by unethical hackers. 
Try this: Set up an email encryption system to protect all your emails and their attachments.
Read more: Emerging Security Technologies To Consider For Your Organization
Mistake #2. Patching New Software On Old Hardware
Most often than not software publishers release new upgrades that require a significant hardware upgrade in order to run the newer version. Many businesses purchase the latest version of the software without considering its hardware requirements. The use of old computers and their hardware can be problematic since these devices generally lack the latest features, hang too often, and are slower at common tasks like launching the application, booting up, printing, and internet search. This can result in a failed upgrade and can bring your business to a screeching halt until new hardware can be put in place or until the old version is reinstalled.
Try this: Before you purchase an upgraded software, check the minimum system requirements needed for the software to run smoothly and ensure that your existing system meets those standards. 
Read more: Tips for choosing the right Business Software – Tools vs. Solutions 
Mistake #3. Skipping The Planning Phase 
Planning for IT may seem tedious and time-consuming especially when you have so many things to get done with the running of your main business. However, it is vital that every business, big or small, must plan out their IT initiatives at least once a year. Failing to map-out your technology path can impact your entire business. You must plan your budget for new software and hardware upgrades while considering the need for additional manpower and/or technical support. Planning ahead will ensure business continuity and will spare you from unanticipated problems and setbacks when something fails.
Try this: Decide on a particular month of the year for taking stock and planning your IT structure and requirements.
Read more: Plan Less and Learn Faster Through Lean Business Planning 
Mistake #4. Inadequately Trained Employees
Some of your employees may understand technology, perhaps because they had some experience with it formerly or just because they are tech geeks. This is by no means enough to put them on the job to handle tech requirements. One of the most common mistakes that many non-tech companies commit is to try to get the job done with employees who are not adequately trained to use the technology they have at work. There is no alternative to training, it is an absolute must for business growth! Forgoing on the training of employees may render well-intentioned purchases useless and result in a massive loss of ROI. By training your employees you can lessen the likelihood of mistakes and improve overall productivity.
Try this: Take the "train the trainer" approach with your software provider. It is cost-effective and helpful.
Mistake #5. Ignoring Reliable Backup And Disaster Recovery
Businesses today are reliant on their records and data, which are almost completely stored electronically. It is extremely dangerous to assume that your backup system is working properly. A sudden power outage or a server crash can delete all your data within seconds increasing your downtime and the expenses that accompany it. It is a good practice to back up a test directory, erase it, and then do a test restore to ensure that your backup device is working. Also, ensure that the proper data is backed up.
Try this: Have a right backup solution and disaster recovery procedure in place.
Read more: COVID-19- Ensuring Continuity and Building Resilience- How business leaders can respond, survive, and thrive in the new normal 
Mistake #6. Not Leveraging Cloud Computing
Most businesses either embrace cloud inconsistently or treat it as an unnecessary expenditure for their tech projects. Cloud computing has emerged as the most efficient platform for businesses than on-premise counterparts. This is because it makes it possible for employees, customers, and other authorized users to access the data at any time from any place. In most cases, cloud-based applications offer greater functionality and are less expensive. Cloud computing is more secure than an in-house computer operation that may lack proper antivirus solutions, firewalls, or backup systems. 
Try this: Prepare a cloud strategy and as soon as possible, consider moving some of your applications and data to the cloud.
Read more: Cloud Migration: Essentials to Know Before You Jump on the Bandwagon
Mistake #7. Ignoring Preventive Maintenance
The most common mistake made by businesses on tech projects is the "repair when it crashes" strategy for IT infrastructure. While it may not hurt too much on some issues, can you imagine your 10-year-old server crashing! Now that could cripple your business. If your mission-critical hardware crosses its shelf life as it were, it is time to consider replacing it well before it actually crashes. Just like your automobile, IT software and hardware require regular maintenance and adjustments. Both the software and servers need continued care to perform at optimal levels. 
Try this: Avoid overextending the life cycle of servers. Start planning to replace it well in advance. Look for the manufacturer's instructions on MTBF (mean time between failures) for your equipment.
Read more: Why Get a Maintenance Contract With Your Software Solution Provider? 
Don't Make a Costly Mistake
As a business, you are constantly juggling multiple roles and duties to ensure that everything runs smoothly. Too often, the panic call comes after a technology mistake has been done already. It is crucial to remember that a single mistake could lead to catastrophic loss of data that your business may never recover from. Don't take chances with your business. Get our experts to help you make those tech decisions and implement them smoothly. Give us a call and let's get talking. 
You are planning to build an app for your business. You zero in on the app features, then develop it and finally release your app to the respective stores. You actively monitor your app's usage and analytics. Your users are happy and they actively use your app. After a while, you notice a dip in the curve. 
Your app starts falling behind in-store listings, garners poor user reviews, becomes frequently prone to errors. Then one day you get an email from the respective app store that your app might be removed if it does not meet the latest requirements of the app store.
So, what went down?
Well, did you ever take the effort to continue maintaining the app? Delivering updates on a timely basis so that your app stays compatible with current requirements and is well ahead in terms of features, functionality, security, and performance is a vital part of app development. 
You might have built the perfect app, but how long can it remain active and not pass out as obsolete without proper maintenance?
As an enterprise app development company, our experience has shown us that creating and deploying an app is sensible and profitable in the end only if you tie it up with a regular update cycle. We put equal stress on pairing a solid maintenance contract having timely release cycles into every mobile app that we built and always insist on our clients on the importance of having one.
Ongoing maintenance remains indispensable in app development 
In 2016, Apple made a relentless push clear its App Store for all outdated apps, delisting 50,000 apps according to a report by Sensor Tower. It further revealed that 51 percent of apps haven't received any updates in a year.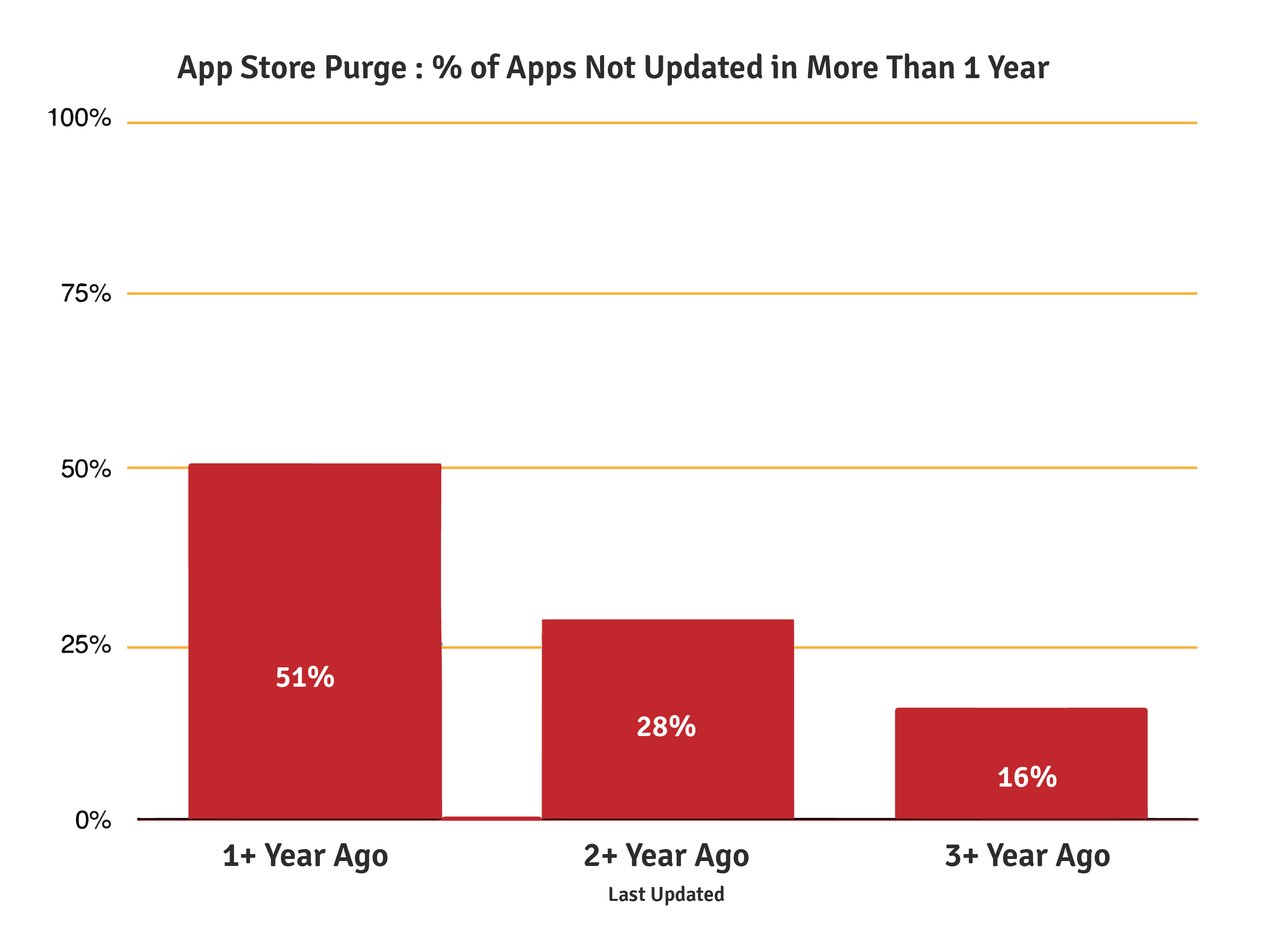 Source: Sensor Tower
Earlier, you build an app and launch it. You only need to focus on developing the app in the best possible way. However, things have changed. Ongoing maintenance is so important now that almost 80 percent of developers release some form of updates to their apps every month. 
Performing maintenance constantly, reinvent your app's functionality and fix any bugs or other latent issues. It's unlike the build and deploy once approach that was employed traditionally. 
To keep up with the ever-changing user and app store requirements, you should not only build, deploy and optimize your app for the store listing but also improvise it by regularly issuing new updates. Like a newly constructed house that requires additional investment and efforts at maintenance like cleaning, painting and other upgrades, your apps should similarly go through a regular upkeep cycle to keep it active.
Besides, setting up a maintenance plan is so important for your business as several external variables are prone to changes that can affect your app's functioning. These include: 
Mobile hardware:

As handset manufacturers keep releasing newer models each year, mobile apps can become incompatible with the latest mobile hardware, causing them to fail. With a maintenance plan, you can continuously deliver new updates that extend support to all the latest mobile hardware specifications. 

OS versions:

Android

and

iOS

are evolving with new version upgrades every year and your mobile app should take into account these changes to extend support and compatibility with upgraded OS versions. 

User Interface:

Material Design, Google's visual design language, marks the change from Skeuomorphic principles towards a fresh approach to user interface design. Keeping up with the current user's preferences meant adopting newer UI/UX design standards for the

app interfaces offering immersive digital experiences

.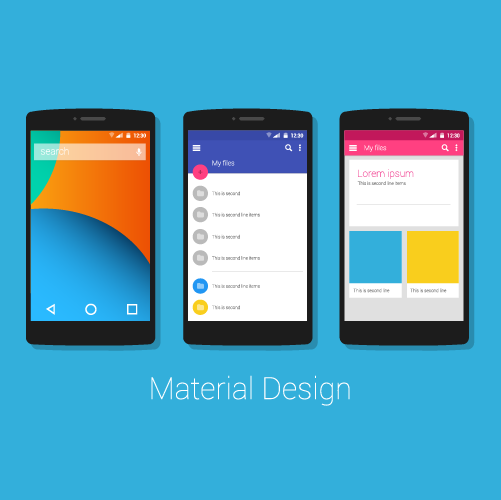 Security:

With data breaches now commonplace, you should integrate all recent security protocols into your apps to uphold privacy and security. 

Programming languages:

Programming languages use to build apps also undergo changes and your apps should stay updated considering these variations. 

Software libraries:

Third-party software libraries and dependencies used in apps go through frequent changes, which affects your app's functioning and cause it to malfunction if they are not upgraded.

Licensing:

Apps that you build has to be tied down to licensing agreements and certifications. These agreements are a limited time offer and therefore need to be renewed periodically to keep the app intact and functional throughout its lifetime. 

Hosting infrastructure:

The platform where your app's database and backend are hosted such as AWS can also be subject to changes throughout the year. 
Signing maintenance contracts save your app from getting outdated
Post completion, your vendor may ask about maintenance contracts for your app. Most businesses decline to sign up for a maintenance contract, because to them, the idea of paying extra amount for an already launched app sounds absurd and unconvincing. However, considering the necessity of app maintenance, it is mandatory that a maintenance contract is bought in and formulated alongside the actual development.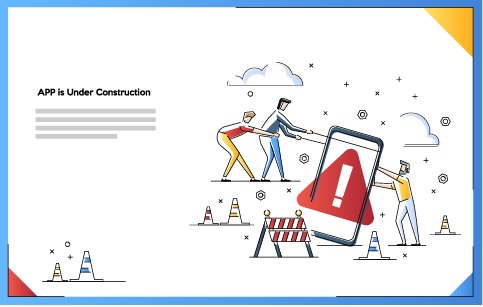 Once you sign up for a maintenance contract, you get the dual advantage of both support and regular updates. Every issue that crops up will be dealt with immediately by the development team once you enroll for a maintenance contract, thereby significantly reducing your app's downtime. Besides, when platform changes occur, such as new OS versions or hardware, your app development partner can review them in advance and plan all future updates accordingly. 
Understanding maintenance costs
Maintaining your app continually comes with its costs, which can vary depending on the scope and functionality of the app.  Clutch, in one of their surveys, outlines that post-launch maintenance can cost anywhere between $5000 – $10,000, a year after launching the app, which varies based on the vendor opted. 
However, maintenance costs follow the standard industry norm, which is 20 percent to that of the initial development cost. For instance, if your app costs about $10,000 to develop then maintenance would run around to $2000 a year. This is subject to vary as it takes into account several other factors like the type of app – native or hybrid, additional features – (push notifications, payment gateway), backend hosting platform, use of third-party analytics tools, etc. 
So, what real benefits does your business gain by signing up for a maintenance contract with an app developer? 
Lower Uninstall Rates –

AppsFlyer

in their newest report shows that the global uninstall rates for apps in a month account for about 28 percent. Timely maintenance can come to the rescue by promptly applying all the first time fixes to the app, which retain your active users lowering the chances of uninstalling. 

Sustained User Loyalty –

Constant maintenance does finally pay off via sustained user loyalty across the app's entire lifetime, which is one crucial ingredient that defines your app's success in the long run.

High Rankings in Store Listings –

Keeping up with ongoing maintenance ensures that your app adheres to quality guidelines and is constantly optimized based on updates and user feedback for properly ranking in the store listings.

Adaptation Centered on User Feedback –

Recurrent maintenance helps monitor usage patterns to retrieve business insights and create individual user funnels. Using in-app analytics tools, developers can analyze the app's functioning and resolve any crashes or bugs for flawless user experience and improved retention. 

Increased ROI –

With a solid maintenance plan in place, your app can achieve long term benefits for your business by reaping higher financial gains, leading to increased ROI. Besides, you can decrease the overall costs by monitoring the app post-launch and removing redundant features that most users ignore or skip by. 
Conceive a maintenance plan by collaborating with your app development partner
Finding a reliable app developer with expertise in building enterprise applications helps kick start your app's development and maintenance cycle. Once signed up, the development team assesses your app's performance after launch. Taking incoming feedback from users and identifying the potential issues mentioned, the team adopts an end-user development approach to detect bugs and other performance issues beforehand and proactively fix them. 
You can get the best in class maintenance support for your mobile app with our application development services. Talk to our consultants today and see how Fingent helps you conceive the right maintenance strategy for your app that yields new revenue streams and enhance your business outcomes. 
Get your Free Mobile App Specification Template