A few years back, Augmented Reality (AR) and Virtual Reality (VR) sounded revolutionary, more like the utopian world of the Jetsons. But today, with miraculous capabilities of accomplishing seemingly impossible tasks, AR and VR are invading our lives. With the popularity of Google Earth and Pokemon Go, 2017 showed us remarkable growth and awareness of these technologies. According to Statista, the global augmented and virtual reality market size is expected to reach 20.4 billion U.S dollars in 2019.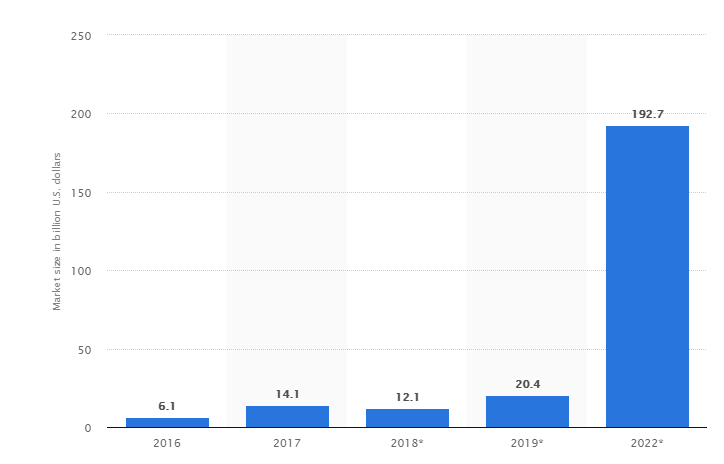 Although AR and VR are rapidly transforming various industries, thoughts like-what exactly are these fast-moving digital wonders and which one would mainstream first, linger in many minds. Here are the answers to all!
Augmented Reality – Augmenting the Real World 
Augmented Reality is an interactive technology that capacitates the power of augmenting the real world environment with computer-generated perpetual information. What's amazing about AR is that it brings components of the digital world to the natural environment. With the capabilities of narrowing spaces between reality and technology, augmented reality is expected to revolutionize the world.
Fun Fact: Studies reveal that by August 2017, the total number of downloads of Pokemon Go from Google Play market alone was 100 million.
Augmented reality is known best from the Pokemon Go and Snapchat filters. The IKEA Place app has also managed to win hearts by enabling users to decorate homes using the AR technology. According to a Statista report, augmented reality is expected to generate a revenue of 118 billion U.S dollars from AR devices and 68 billion U.S dollars from AR services.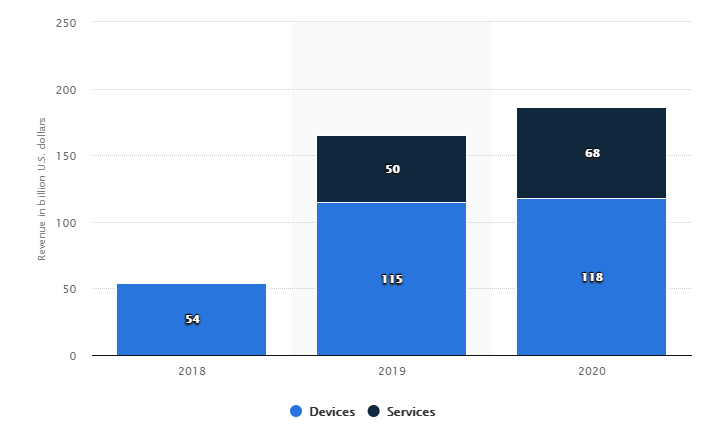 Fun Fact: The survey conducted by GlobalWebIndex in 2018 showed the following consumer's perception of augmented reality's potential in various sectors.
Augmented reality with its capabilities to deliver an interactive and enhanced experience, is expected to project its best in retail and marketing industries. Increasing the array of channels to guide purchases, AR can turn to become the next big thing for retail stores. With AR technology, advertising and marketing industries can also provide more fluid customer experience by utilizing real-time user preferences and data.
Related Reading: Augmented Reality is also growing its pace in the travel industry. Take a look at how innovative travel apps are mesmerizing customers.
Virtual Reality – Exhibiting an Artificial Reality  
Virtual Reality is an immersive technology that lets you experience a three-dimensional computer generated environment incorporating a mixture of interactive hardware and software. This technology blinds you out from the real world and takes you to a virtualized reality or an artificial environment. Literally speaking, virtual reality possesses the power to make you believe that you are teleporting.
The most popular forms of virtual reality we witness today are the VR Headsets. Google Earth and the other 360 degree videos on Facebook and YouTube are also versions of the VR technology. According to Statista, the market size of virtual reality hardware and software is predicted to increase from  2.2 billion U.S. Dollars seen in 2017 to more than 19 billion U.S. Dollars by 2020.
Experts predict VR to project rapid growth in entertainment and education industry. Possessing abilities to provide an immersive experience and a unique level of interaction, VR has the potential to evolve faster in these industries. With virtual reality headsets and mobile games, VR has already marked a significant position in the entertainment field.
Fun Fact: According to a survey in 2018 conducted by the GlobalWebIndex, the following is an estimate of consumer's perception of virtual reality's potential in various sectors.

Although, adoption of VR in the education industry is very much in its infancy, yet it is expected to transform classrooms and the way students explore colleges in the near future. The one VR miracle that has already gained popularity among students is the Gear Up NC VR app that is enabling students to screen through North Carolina colleges hassle-free.
Fun Fact: Nearly half of the population (42%) predicts that the education industry will become commonplace for VR projects to grow in the next five years. 97% of the people who have used VR for teaching have agreed that VR has the potential to engage students better.
Case Study: Fingent assists the university in developing projects involving upcoming technologies such as AR, VR, and AI
AR or VR – The Technology to Create the Big Impact  
Although both the technologies have their own share of pros and cons, augmented reality has a lower awareness rate as compared to virtual reality. This, however, could be due to the age group engaging with the technology. According to a survey, both AR and VR technologies have engagements mostly clustered around the 25-34 age group.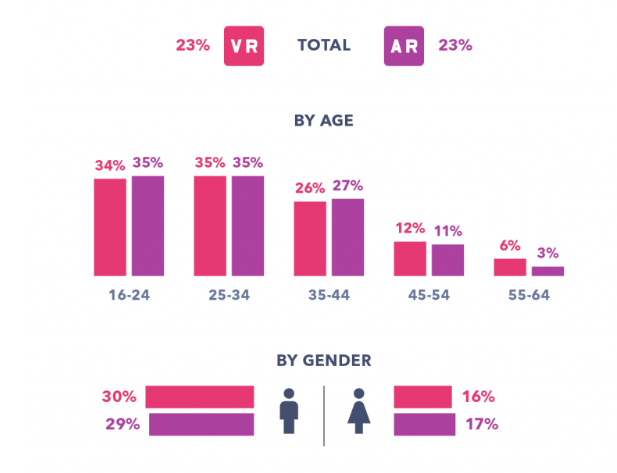 Speaking of potential, although AR is statistically proved to be less popular, yet 50% of the population who have used both these technologies, believe AR to have more potential than VR. Only 47% of these technology users believe VR to create a big impact in the future.
With both augmented and virtual reality offering very different experiences, the fight on which technology ranks the best still remains as an unsolved puzzle. Like how Google's Clay Bavor once tweeted – "VR vs. AR cheat sheet: VR can take you anywhere. AR can bring anything to you. Both are important. Neither will win".
Only the future can decide on which technology would steal more hearts and create a big bang. Some experts believe that with the development of more equipment, the line that delineates these two technologies will probably start to get blurry. However, in today's world, both augmented and virtual reality are equally transforming industries in its own ways. To learn more about how AR and VR can reshape your business, get in touch with our tech consultants now!
Augmented Reality is a hot emerging technology that modifies a real-world plain-sight view by superimposing a real-time computer-generated sensory image, sound, video, GPS data, or graphics, in a semantic context. Through such superimposition, Augmented Reality offers a composite view of the environment and an enhanced perception of reality.
Augmented Reality is riding high on a wave of expectations, and many experts tip the technology to transform many walks of life, including the workspace, like never before. Augmented Reality blurs the line between the physical and digital realms. It brings computer-generated graphics to life, making what the employee actually sees interactive and manipulative. The potential applications are endless, limited only by imagination.
1. Better Management of Work
Augmented Reality tool such as HoloLens allows supervisors and managers to remain in better control of the situation, as they are fed with real-time information in the actual context. Instead of taking time out to analyze the situation in a computer or smartphone, they gain real-time insights in the course of their work. They can also make changes and issue instructions using hand or head movements, and voice commands.
Augmented Reality enables trial-and-error, without the usual costs and time associated with the process. An interior designer, could, for instance, use an AR headset to test color schemes, or a jewelry designer could visualize an idea and share it with the customer, before committing to make it. An architect designing a new office could view a real size hologram from all angles, to optimize the settings. A salesman could share his product line with clients in 3D.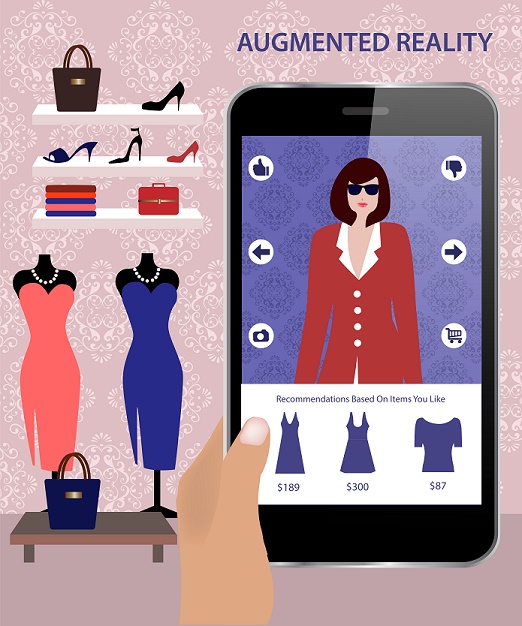 2. Better Insights
Using AR powered glasses could offer field technicians insight into the working of machinery, annotating the parts, making explicit fluid and other levels not easily discernable, identifying parts which have failed or not working to the set parameters, and more. Overlaid animations would guide the technician on what to do next. What hitherto took specialists with considerable years of experience and training could easily be handled by a novice technician.
Lockheed Martin is already applying such technology to good effect, employing AR to aid design and make production floor personnel familiar with procedures. DHL is using similar AR technology to make sure employees load carts in the most efficient way possible.
3. Improved Productivity and Efficiency
Augmented Reality delivers optimal and accurate information, in the ideal format, at the precise time, to increase efficiency and productivity manifold. While conventional technology may bring in all details about a customer who walks in at the computer console, AR technologies bring it in front of the worker's eyeballs. Workers no longer need to stop what they are doing to seek the required information or worry whether the information they gathered is accurate.  Gestures and voice replace the inconvenient keyboard, mouse clicks or swipes.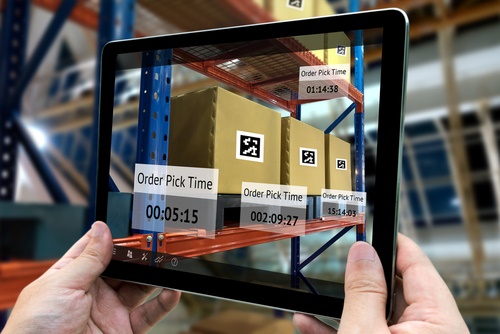 Moreover, the field of view information offered by AR may change dynamically along with the task being performed. For instance, a worker in the warehouse may be guided to the area where a requested item is stored. In a factory, it could notify workers of resource levels or problems on the assembly line on the fly. Conservative estimates peg a 32% efficiency increase when deploying AR.
4. Enhanced Training
AR transforms training, taking it to a whole new level. It enables enterprises to speed up the training process and make it more effective.
Google Expeditions, a virtual reality platform, offers an AR overlay, already allow students to take guided tours deep into the Amazon jungle, or watch a Viennese opera. Implementing similar tools in the workplace would allow trainees to learn the basics and delve into the advanced, in double quick time, with a real feel of things. New hires could be placed in a real-world situation, and be exposed to all possible scenarios, without the disruption and risks characteristically associated with on-the-job training. Augmate's InstructAR platform is an early step in this direction, aimed at imparting tech and manufacturing training using AR.
Hyper-training with augmented reality facilitates shorter learning curves, better-trained employees, and an all-around more efficient workplace. Boeing trainees assemble a mock airplane 30% faster and 90% more accurately using AR-animated instructions, compared to relying on PDF guides.
5. Furthers Organizational Creativity
Augmented Reality opens the doors for limitless creativity and innovation in the workplace. AR tools may be used to simulate different cause-effect scenarios, to determine an optimal course of action, without having to go through the underlying risks. In an ultra-fast business world brimming with change, such options help business drive much-needed agility and adaptability.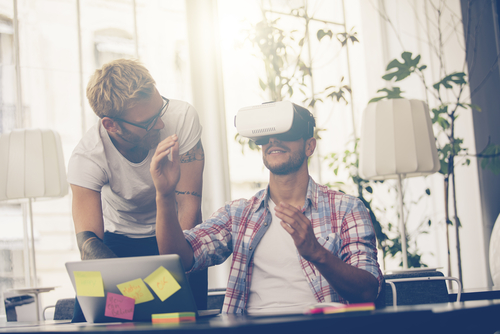 The potential of Augmented Reality to drive innovation is unlimited, especially when blended with employee collaboration, field tests, and presentations. AR can immerse a remote team, bringing employees together from across the globe in a way that feels more real than ever before, boosting collaboration at a global scale.
Augmented Reality also helps enterprises devise innovative ways to effectively deal with contingency scenarios, such as how best to tackle hazardous workplace conditions, how to plan for a contingency such as a live wire falling to the ground in the construction industry, guiding the workforce on protocols in the eventuality of emergencies such as a fire, and much more. AR can take the remote workforce further than existing tools can.
6. Deepen the Engagement
Marketers leverage AR in many innovative ways, from embedding a product brochure with personalized messages to offering a snap preview of a new location, and more. Blippar, a New York-based advertising company has taken the lead in offering augmented reality games with everyday objects, offering ample scope to deepen customer engagement. One innovative Pepsi ad allows users to aim a ball to a goalpost with their eyes, and "kick" it with a quick gesture. The rich data collected on customer habits and behaviors are spin-off benefits.
While AR technology has been in existence for some time now, growth has been sluggish over the years, mainly owing to the limitations in enabling technology. The popularity and easy availability of wearable devices have however changed the scenario, and AR is all set to go mainstream in the near future.
Augmented Reality is all set to enter the boom phase. IDC estimates shipping 99.4 million Augmented Reality headsets by 2021, a tenfold increase from the 10.1 million shipped in 2015, indicating a compound annual growth rate of 58%.
As the adage goes the early bird catches the worm. Your business will surely be better off by introducing Augmented Reality technologies for both internal and external facets of operations. When you partner with us, you can leverage our highly skilled, talented, and experienced team to develop state of the art, cutting edge AR solutions. Get a free consultation.