6 Ways Cognitive Analytics Contributes To Business Profitability
The ocean of data is deep and seemingly limitless, and its levels are rising exponentially. To stay afloat in the competitive market today and reap good ROI, businesses must learn to connect their data analytics strategy to their business decisions. Here, we are discussing the multiple ways in which cognitive analytics can help your business maximize revenue by converting your data into actionable insights.
What is Cognitive Analytics?
Cognitive analytics is a field of analytics which equips a computerized model to imitate the human thought process, which in turn supports business intelligence and a better decision-making process.
In other words, this branch of analytics draws inferences from the patterns deduced from data provided, and then draws conclusions based on the available knowledge. It then puts the findings back into the knowledge base and thus keeps building a system that gets smarter with time, just like a human mind. These patterns, inferences, and conclusions enable businesses to make smarter decisions and reap increased ROI.
Related Reading: What is Cognitive Computing?
The leading market research firm MarketsandMarkets estimates that by 2022, the cognitive market size will increase by USD 10.95 billion at a Compound Annual Growth Rate (CAGR) of 42.9%.
The report forecasts that many businesses are turning to cognitive analytics to increase their ROI. The challenge is in knowing how to churn data into useful insights that will augment your business growth.
Churn it Right to Get True Insight
Economic Scholar W. E. B. Du Bois once said: "when you have mastered numbers you will in fact no longer be reading numbers, any more than you read words when reading books; you will be reading meanings." How true that is with cognitive analytics! When you do it right, you gain incredible insights that help you make smarter and better decisions; which in turn will help you reap ROI.
Here are a few ways to effectively apply cognitive analytics in your business:
1. Start small, with a focus on the long term
As businesses are moving from preserving data to sharing it, they also need to learn how to create and capitalize on new opportunities. To achieve your goals, you need to make detailed plans in collaboration with technology experts. Since cognitive technologies generally support individual tasks, scaling up would require integration with processes and existing systems.
Approach cognitive analytics with the focus on modernizing your existing systems. Such an approach minimizes risks, maximizes revenue, solves business issues, and redefines customer experiences.
2. Don't get hung up on perfection
If you are trying to source data either through commercial or open sources, it is smarter to have specific use cases in mind. Additionally, to drive new insights, it is helpful to have different data sets interconnected. This helps you fill the gaps between data and increases the quality and usability of the data. Clearly, it is not enough to achieve or build up complex data, which could take years. Aim to start with what you already have.
3. Do not hoard data ownership and access
Cognitive analytics can successfully reap ROI when the organization gives data access to as many people as is necessary. This includes all those who are involved in data definition, data verification, data creation, data curation, and data validation. If you want to tap into the true value of data, it is imperative to design an effective data governance policy.
4. Ensure talents matches the task
If you want to get your frontline staff to use the data insights, it isn't enough to upgrade your software. It is important to integrate insights into everyday workflow. Find ways to eliminate the underlying distrust of analytics among individual members of your staff. Ensure that everyone involved receives the necessary training and analytics literacy. Matching the right talent with the right task ensures that your organization has better insights and can help you make better decisions which leads to higher ROI.
5. Use a secure and reliable hybrid cloud
Having a secure and reliable hybrid cloud enables your organization to link data across multiple cloud environments. It also makes sure that your staff can search and locate data quickly from the cloud.
Related Reading: Why Cloud-First Businesses Should Consider Hyper Hybrid Cloud?
6. Encourage generating counterintuitive insights and new ideas quickly
To keep your business on the cutting edge, your staff should feel free to come up with new ideas and try them out before you finalize or discard an idea. To this end, it is vital to provide the appropriate environment, tools, and technology to your staff. Encourage them to find new features quickly, run correlations and perform the analysis.
Set up Fundamental Building Blocks
We have seen the fundamental building blocks of cognitive analytics.
Besides transforming the execution of core business functions, it is also changing the nature of competition. To achieve the true purpose of cognitive analytics, that is, churning data into insights, you must strengthen your business's fundamental building blocks.
Stay ahead of your competition by utilizing Fingent's analytics and visualization services. Develop the ability to read not just data or numbers, but to infer insights, and use them to increase your return on investment. Take the next step in analyzing your big data by connecting with our expert.
How To Leverage A Hybrid Cloud Infrastructure For A Positive Business Outcome
The modern IT world has Hybrid IT transformations happening every single day. Different enterprises have infrastructure and applications from different vendors. These applications when crossing through clouds are weighed down significantly by enormous amounts of data. The proprietary tools gathered from various vendors do not communicate with each other either. Here comes the need for integrating advanced infrastructure and management to bring the clouds together. This is called Hybrid Cloud management (HCM).
Why Consider A Hybrid Cloud Infrastructure For Your Enterprise?
Most organizations are skeptical of going public or private cloud especially when it comes to dealing with sensitive data. 
A private cloud, also known as an enterprise cloud, is a model of cloud computing where IT services are rendered over a private IT infrastructure. This is dedicated to the use of a single organization and is managed through internal resources. On the other hand, a public cloud is a computing service model that renders storage and computational services via the Internet to the public users. Public cloud is what is referred to as 'Cloud Computing' generally. 
Features Of A Good Cloud Management Solution
A good cloud management system should facilitate as a bridge between the private and public cloud infrastructures. The role of a great HCM (Hybrid Cloud Management) platform is unifying and streamlining the cross-cloud activities of the Hybrid IT infrastructure, applications, and all of its associated services. 
The existing Hybrid Cloud Management tools are classified into 3 major categories such as the following:
Cloud and Service Fabric

– For provisioning, deploying, and managing public/ private cloud resources.

Service Management

– For optimization of cloud services.

Application/ Infrastructure Management

– For provisioning, deploying, and managing of various business applications as well as cloud services. 
The following are the key benefits leveraged from an effective Hybrid cloud management platform:
Improved Analytics

– Obtaining an insight into the minutest of details is essential in every multi-cloud environment. All operational concerns, gathering information on underutilized assets, making effective resource distribution, etc are made possible via a proper hybrid cloud management platform.

Optimized Cost Management

– The spending limits for various projects can be added via a great hybrid cloud management platform. It provides visibility into budgeting and controlling of various cloud resources, at a granular level. 

Increased Efficiency

– Hybrid cloud management platforms enable access to cloud resources for developers and users. This on-demand self-service access empowers users to be efficient and productive. For instance, activities such as resizing of assets, and reclaiming are made automated through a hybrid cloud management platform.
This is where a Hybrid solution is required. Hybrid cloud management is a process as well as a platform via which a hybrid cloud is managed. 
Cloud Management Platform: Why Is It Critical In Making A Hybrid Infrastructure
Amidst the pressing confusion of enterprises to choose between a private and public cloud infrastructure, the current environment involves the majority of businesses choosing a hybrid approach. 
A multitude of vendors sells cloud-based services based on customized requirements. In this scenario, the challenge with a hybrid cloud management platform is that they are puzzled about the deployment of a cohesive cloud management platform. This should provide a bridge amidst the public and private cloud infrastructures. 
Managing The Intersection Between Private And Public Clouds
In a private cloud, data resides in a hosted data center or the intranet of a firm. Here, all the data is protected behind a firewall. Businesses who can use their current infrastructure can benefit out of the private cloud strategy as they already have expensive data centers. However, since the entire management and maintenance of these data centers is taken care of by the enterprises, replacement of the servers can be a very costly affair. Private clouds, but, offer an increased level of security. 
The public cloud environment, on the other hand, stores data on the provider's data center. The public cloud environment considerably reduces lead times in testing and in deploying services. 
The management of the intersection between the public and private clouds is thus necessary for the following key reasons:
1. Relying On Multiple Cloud Vendors: Handling Management Complexity
Different vendors provide unique platforms and services with a different set of rules. Relying on multiple cloud vendors can thus make management a daunting process. For instance, access management becomes a complex process when there are different services deployed by multiple vendors. It is hence important to partner with a single managed service provider to create a hybrid cloud management platform by taking various critical factors like the above mentioned into account. 
2. Concerns Of Security Threats And Breaches
An enterprise or an internal cloud environment stores its data in a single place. Unlike this approach of a private or an on-premise cloud, a hybrid cloud environment does not require to reside in a single place. This can lead to security or compliance breaches. 
Businesses must learn where their data is hosted physically to avoid potential threats. This can be accomplished by an effective hybrid cloud management platform where the insights are provided across multiple cloud landing regions.
3. Cloud Computing And The Dangers Of Shadow IT
Shadow IT arises from two main cloud solution features, namely external hosting of solutions and the pay-as-you-go feature. IT-related risks such as those associated with data security, disaster recovery, data privacy, and system reliability, etc rise from the former. The latter gives rise to risks associated with the financial aspects of cloud deployment. This by-passing of the in-house IT as a whole leads to security and compliance issues. 
An effective hybrid cloud management strategy is thus the solution for preventing such risks and managing the platform proactively. 
Future Of Hybrid Cloud Management
By the year 2020, Gartner forecasts that 90% of enterprises will adopt the hybrid cloud infrastructure. Incorporation of machine learning, artificial intelligence, and automation into hybrid cloud platforms will continue to create technological breakthroughs. 
Vendor collaboration is seen as the next big strong feature of hybrid cloud management. 
With the support of the right partner, your business can optimize your cloud investment strategy to reap desired outcomes. Call our experts right away to learn more about how you can make the best out of your hybrid infrastructure with a cloud management platform!

That the cloud is the backbone of this IoT revolution goes without saying. Reports from the January 2016 Consumer Electronics Show (CES) reveal most manufacturers equipping their devices, be it refrigerators, cars, dishwashers, running shoes, thermostats, and every other conceivable device massive cloud-based back end, to enable such devices to join the IoT bandwagon. The investment in cloud capabilities comes from the twin need to enable these devices to become "smart" by receiving and transmitting data, and to give these devices long-term value by making them instantly upgradable. The cloud facilitates both these IoT objectives.
For IoT to work, the connected device needs to communicate with other "things" and also with whoever holds the control strings. The "thing" connects with cloud servers to receive and transmit data, and store instructions and commands.  At another pane, the "small" data from each connected yet disparate "thing" accumulate and become big data in the cloud. The convergence of huge quantities of critical data in a common cloud pane, accessible anytime and anywhere, enables real-time analytics.
The possibilities of such cloud powered real-time analytics to make life better, and for businesses to unlock new opportunities are endless. A few cases in point:
Traffic controllers can source in small data from hundreds of IoT-enabled traffic signals, and subject it to real time big data analytics in the cloud, to ensure synchronized operation of traffic lights, and deliver seamless movement of traffic.

Smart sensors attached to a pair of running shoes may clock the runner's pace and notify them when it is time to replace the shoes. Small data from millions of such shoes would allow shoe manufacturers to predict demand accurately, and target prospects with precision.

IoT-powered refrigerators can let the homeowner know when food products are reaching their expiration date, or when the stock is running out. It may also transmit data to the supermarket, who can then predict demand accurately, and get their inventory right. In fact, the refrigerator may send off a replenishment order to the supermarket automatically.
Millions of sensors embedded on things already monitor and track data of all hues, and deeper insights from the analysis of such big data facilitate better-informed decisions and responses, cutting across industries and sectors.
But is the cloud really necessary for all this? Can IoT make itself useful without the cloud?
The IoT ecosystem that enables the possibilities would not be possible without back-end cloud-based applications that churn, translate and transmit valuable intelligence.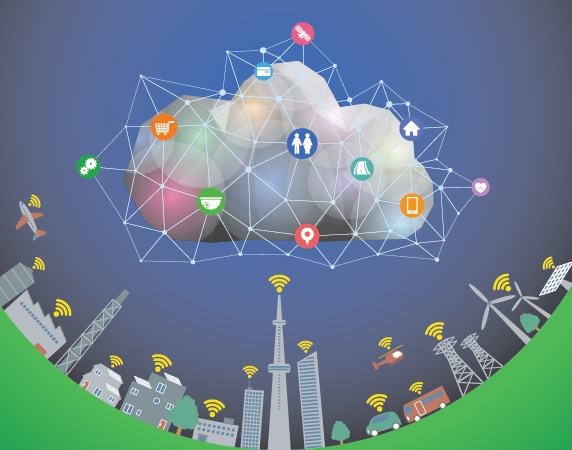 With terabytes of data flowing in from millions of disparate connected "things," the cloud is the only viable platform that can filter, store, and enable access of the required information, in useful ways.
The amount of incoming data from connected devices sensors often fluctuates widely. A sensor may generate 1000 KB of data in a day, 4TB on another day, and may not generate any data at all on a Sunday. The elasticity of the cloud enables scaling up or scaling down resources to absorb such wide fluctuations of data.
Hybrid cloud systems facilitate IoT-enabled services to communicate with  geographically distributed back-end systems. This anytime anywhere connectivity is indispensable for real-time analytics, and to enable path-breaking business models and public services.
The cloud back-end does away with the near-impossible alternative of regularly updating thousands of individual "things." Updates are a part and parcel of any system's life, and is unlikely to go away anytime soon.
The built-in security of the cloud assures that data is protected and compliance standards are baked into the platform.
For all the enablers of the cloud, security remained a drawback. For instance, IoT enabled driverless cars, with cloud servers providing navigation instructions to car, but what if someone hacked into the public cloud server and send the passengers to Kingdom Come! Newer purpose-built clouds that device developers may share or use exclusively offers viable solutions to such security risks, combined with newer tools that protect from information leakage and iron out the few remaining chinks in the cloud armor.
The cloud and IoT being an inseparable couple cuts both ways. Even as the IoT requires the cloud to work, the cloud is evolving to better serve IoT. In fact, IoT is now a chief focus of the cloud.
As the number of connected devices increases exponentially, cloud infrastructure is on the threshold of  a massive scale up, to accommodate the data swell. Unique, custom build hybrid cloud deployment models, leveraging the latest advances in software and networking, designed to meet the needs of customers' unique workloads, enable IoT players to maximize the potential the cloud offers, without being hassled by availability, performance and security issues. Side by side specialized cloud-based service software, systems and skill development is in a boom phase, as is bandwidth improvements to facilitate transmission of data between "things" and the cloud.
A case in point, Microsoft's recently launched Azure Functions, a "server-less compute," allowing developers to create apps that automatically respond to events is one such path-breaking service  launched recently. Microsoft's Azure Service Fabric platform-as-a-service (PaaS) platform makes it possible to decompose applications into microservices, for increased availability and scalability.
The IoT revolution is well underway, but as things stand, only the tip of the IoT iceberg has been touched, with just 0.06% of things that could be potentially connected to the Internet being currently connected. However, growth is exponential, with 328 million new "things" being connected to the IoT ecosystem every month. The cloud infrastructure is gearing up simultaneously, to enable a whole new world of cloud powered  IoT.
Fingent delivers technologies to enable your IoT solutions— cloud, networks and gateways, heterogeneous device support, systems capabilities, and data analytics. We provide industry-specific solutions that improve productivity and operational efficiency, with exceptional reliability and security. Learn about Fingent's IoT System