How CEOs Can Gain Value from Software Development Outsourcing
In-house creation of a complete and sophisticated software application requires large amounts of resources and time. Maintaining an in-house team amid the coronavirus lockdowns has added to this and become increasingly complex. Frankly, in these turbulent economic times, software development outsourcing can prove more profitable to your business than ever before. 
Software development outsourcing offers limitless possibilities to CEOs. As the world is connected by the power of the internet, you can access the talent you would normally be hard-pressed to find. Additionally, finding an expert offshore software development company that meets your fast-approaching deadlines is another benefit. 
As CEO of your company, before you take full advantage of software development outsourcing, you need to know how you can leverage outsourcing effectively. Here is a comprehensive guide that will help you understand various aspects of the offshore software development process and prepare you to face the challenges it can bring your way.
Does Your Business Need Offshore Software Development? 
For most businesses, hiring an offshore development partner's services has helped them breathe easy and take the load off their shoulder. Here are a few scenarios where the offshore software development model will prove to be the best solution for your company.
1. Do you require talent with narrow expertise?
Software development outsourcing improves the quality of your team as it gives you access to a vast talent pool with narrow specialization. Such resources allow you to leverage both international perspectives and onboard the best talent. 
2. Do you need to scale your team?
If you lack an excellent in-house team that can undertake multiple projects simultaneously, it is time to consider offshore software development. This allows you to scale up your team of experts without spending a fortune or risking output quality. 
3. Do you want to concentrate on your product?
Software development outsourcing can help you automate most mundane operations such as payroll and accounting. This will help you concentrate on the growth of your company and innovation.
Read more: Offshoring Software Development: Here's All You Need to Know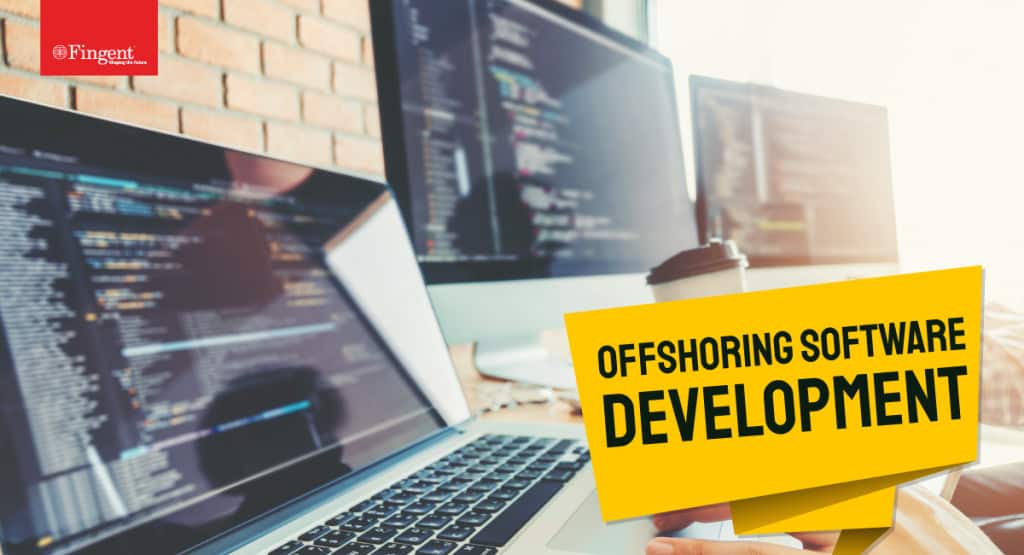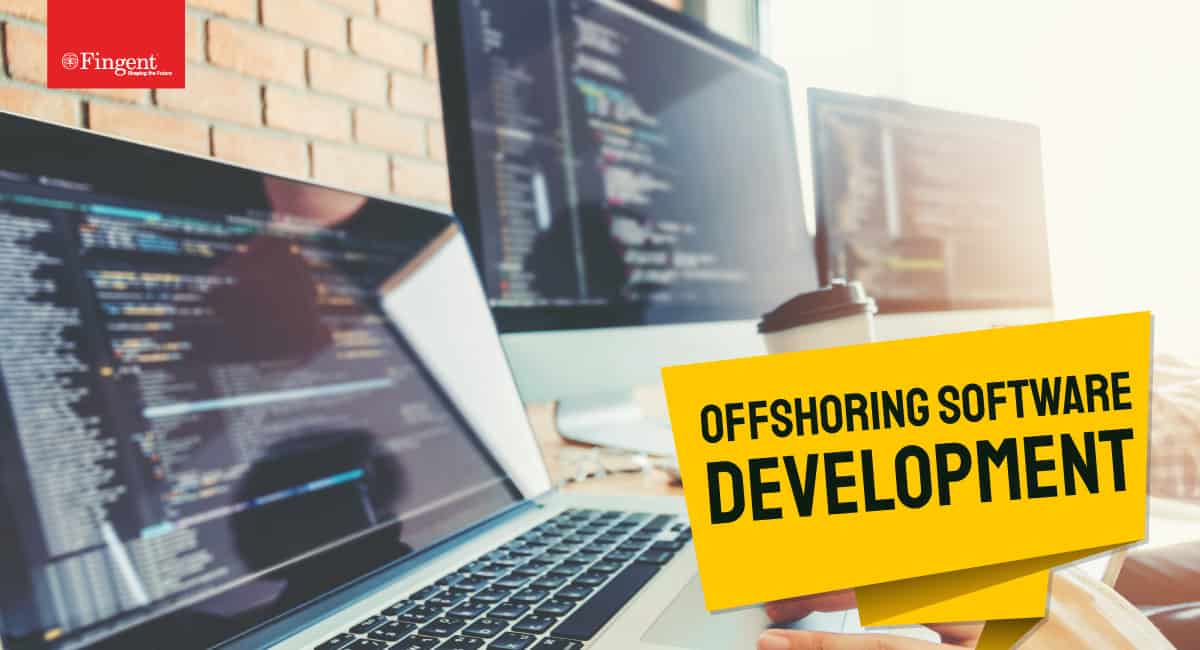 Advantages of Software Development Outsourcing
Software development outsourcing can help your company experience higher production levels without spending too much money or energy. Partnering with the offshore software development team will help you carry out temporary tasks, improve the pace of your growth, and reduce your labor costs. In other words, it gives your company a much-coveted competitive advantage by improving customer service while ensuring limited-budget product quality. Here are some specific benefits of offshore software development.
1. Saves costs
Cost-saving is one of the most significant benefits of software development outsourcing. Whether you want to scale up your employees or scale down, outsourcing a whole project is much cheaper than hiring each developer separately. The difference in salaries across the globe can save you millions of dollars. Offshore development allows you to get the same amount of work done, with the same quality, in the same amount of time at a much lesser cost as different countries have different living costs. For example, the average offshore software development rate in India per hour is $30, whereas, in the USA, the hourly developer rate will cost around $100.  
2. Flexibility  
Once you offshore your development requirements, you do not have to spend time recruiting, training, and housing new employees. Besides, it is impossible and impractical to hire a full-time in-house contractor for your short-term projects. Software development outsourcing gives you the option of choosing developers for a single project. You can find talent that fits perfectly without investing in a permanent position. This will give your core team some relief as they can concentrate on mission-critical activities essential to run the company and focus on the development process. 
3. Saves time
Offshore software development relieves you from searching for new developers and preparing them to suit your needs. It can also improve speed to market as it helps your management and key employees to focus on the core business. Since it can eliminate secondary tasks, you can redistribute your services for more essential aspects of the organization. 
4. Centered approach
One of the most competitive advantages is the ability to have a focused strategy. If the in-house team needs to deal with several projects simultaneously, they may be forced to compromise on quality. However, Software development outsourcing can streamline your business process. This will allow your employees to take a centered approach and produce high-quality output within the set timelines. 
5. Technological advantages
Businesses seeking to gain a competitive advantage will develop cutting-edge innovations using the latest technologies without expending an additional amount of time and resources in learning them themselves. This is possible when they team up with strategic offshore development partners with a proven track record. 
6. Compensate for the lack of in-house experience
Software development outsourcing can bring in additional knowledge and power to reach your business goals. Outsourcing offers the flexibility to use your resources where there is a need as it allows you to scale up or scale down as required. It means that you can either let go of certain talent in one field while allowing you to quickly add specialists to your pool of experts in another field. You can employ a team of varying size, complexity, and cost.  Such a team will be able to find optimal solutions contributing to the growth of your company.
Read more: Why Software Development Outsourcing is a Smart Move Now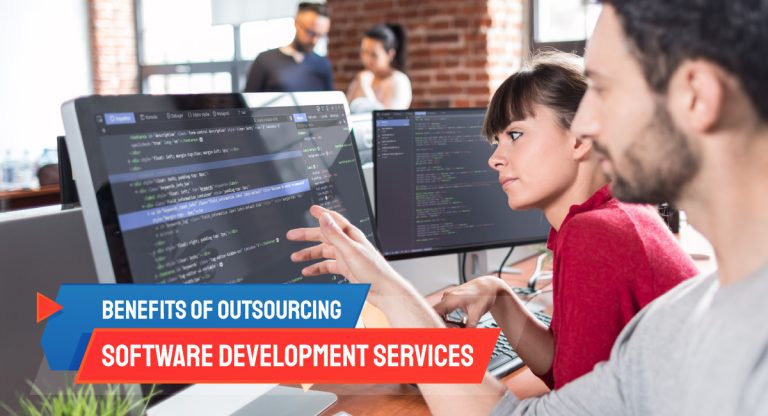 Best practices to follow while offshoring software development
Here are a few points to consider when you decide to outsource your software development project:
Get introduced to all the developers who are supposed to work on your project.

Ensure to have a full-time on-shore lead and an offshore lead to help establish necessary coding standards, solve technical issues, and mentor the offshore team.

Use video conferencing to arrange regular meetings to handle any problems and resolve the same in a timely and efficient manner.

Use appropriate tracking tools (project management tools) to plan tasks efficiently and prioritize work accordingly.
Read more: Selecting the Right Engagement Model for Business Software Development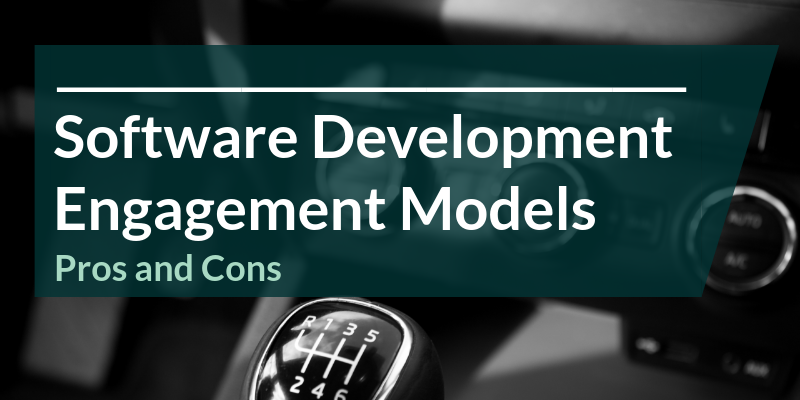 Offshore Software Development with Fingent
Since 2003, Fingent has been a reliable and capable offshore partner for leading global brands, including many Fortune 500 companies. With an impeccable track record as an offshore software development team, Fingent has helped improve cash flow and increase business efficiency for many clients. We help your organization scale up as required without the need to hire or fire any of your team members. 
Our diverse offshore talent pool includes experienced developers and tech professionals who leverage the latest software development trends, such as automation, cloud computing, Artificial Intelligence (AI), Internet of Things (IoT), Augmented Reality (AR), Virtual Reality (VR), 3D Web Configurator, Robotic Process Automation (RPA), Mobile application development (native, hybrid), Microsoft solutions, SAP solutions, and so on. 
Our experts are available to provide you with inputs on your project. Let's get talking and find out which process fits your project.
Stay up to date
on whats new
Fingent Yet Again Ranked Amongst The Top Developing Companies of New York
Utilizing enterprise technology, Fingent develops best in class software solutions for businesses, to help them prepare better for the future. With our customized web and mobile applications, leading enterprises of variant industries have transformed efficiently to provide quality customer services and remarkably grow in the market. Recognizing our hard work and dedication to our clients, we are yet again ranked amongst the top developing companies. 
We're excited to announce that Fingent has been featured as a top-performing New York developer on Clutch!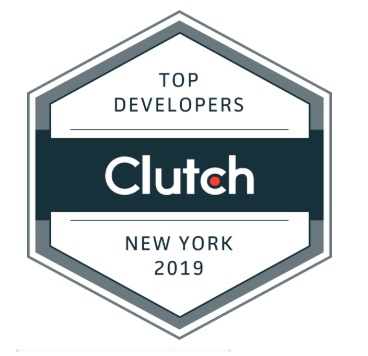 Clutch is a ratings and reviews platform for B2B agencies like ours, and they are dedicated to showcasing the best companies around the globe. We earned recognition as a top custom software development firm from Clutch after being evaluated on several different factors, including our market presence, our extensive online portfolios, and, most importantly, verified reviews from former clients. Since we value our client's opinion above anything else, we are proud to see their positive reviews on our Clutch profile. Here's just one example of our awesome reviews that have resulted in a 4.9-star rating on Clutch: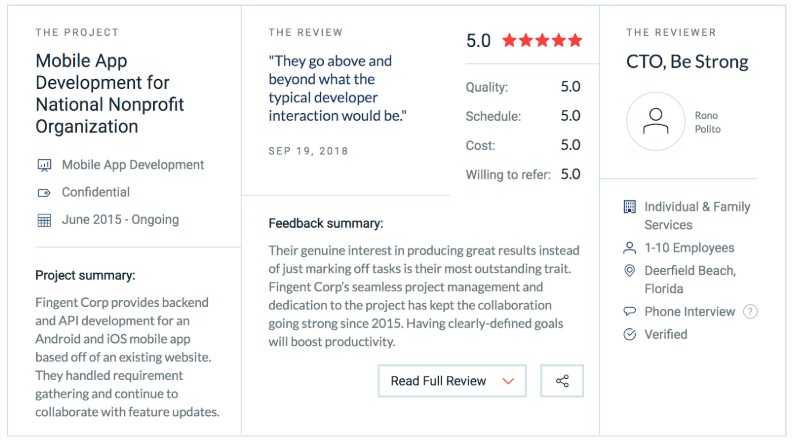 We're grateful to Be Strong and to 26 of our other clients who have taken the time to leave us a review. Our CEO and MD had a few words to share with the Fingent community about winning this award: 
"Clutch's new assessment putting us at the forefront as a leading development company in the United States once again testifies to the sheer quality of services that we offer. Being included in the report highlights our core capabilities as a professional development company that constantly upholds exceptional development standards and service integrity." – Varghese Samuel, CEO & MD, Fingent
We would also like to highlight our presence on The Manifest, Clutch's sister site and business how-to resource. We are also featured on Visual Objects, a platform that equips buyers with a digital portfolio of the past projects of various B2B agencies. 
To know more about why Fingent is constantly rated as the top developing company of New York and how our skills and expertise can bring your business the competitive advantage to excel, contact us now! 
Stay up to date
on whats new
The mantra of success in today's hyper-competitive and tech-neutral age is offering unmatched value, topped up by incredible experience, to customers. With the focus on the end product, most enterprises overlook the fact that the software development team are often the front lines in delivering superior service. The software developing a glitch when an urgent work is pending, searching in vain for an essential feature overlooked by the development team, a convoluted process to achieve a simple thing are an all-too-common experience which frustrates a customer or the end user of the software.
Often such drawbacks are not because of any deep-rooted incompetency or incapability, but a result of lack of focus, or not paying attention to development process it deserves. The name of the game in keeping software developers happy, engaged and productive, all factors which have a proven correlation with end customer satisfaction.
Facilitate the Developer
The basic requirement to make developers happy is facilitating them. It is innate human nature that creativity and mentally intensive tasks such as writing quality code thrive only in an environment of freedom, where one can express their suggestions without fear of repercussions.
An open and transparent culture, with free flow of information, and without data silos is the basic and essential requirement.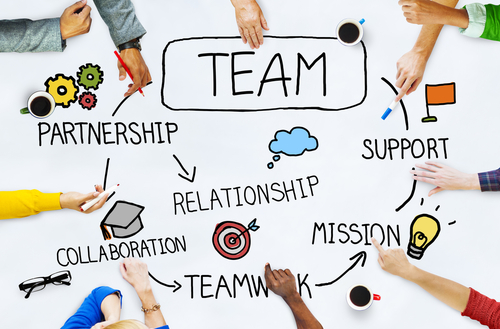 Developers need to be empowered to take their own decisions, without having to run to their project manager for every small thing. Allowing developers to engage with the customer or end users directly, and freedom to make any changes that do not alter the scope of the project, goes a long way in empowering them and making them happy.
Side by side with creativity, human beings need very high levels of precision, focus and concentration to be able to write quality code. They require a comfortable atmosphere, with ready access to resources required to do their job well.
Another essential requirement, almost indispensable, is flex-time, and freedom to work from home. Creativity and inspiration never follow a 8 to 5 schedule.
Empowerment often creates a level playing field, allowing small startups to compete effectively with large behemoths, where the salary may be higher, but where organizational morass has set in, with an entrenched bureaucracy stifling creativity and freedom. There, developers may have to spend more time in paperwork, playing by the "rules of the game," or worse, pampering egos, than do what they are meant to do – writing high-quality code.
Offer Perks
Lucrative salaries attract top talent, but perks ranging from on-site massages to unlimited coffee breaks, the ability to work from home, and more are the real motivating factors that attract top talent. The trick lies in understanding what developers want and design the perks likewise. HR plays a crucial role in this dimension, by talking to developers, and understanding what motivates them, especially during the recruitment stage. Flexibility, topped up by innovation in the delivery of perks and other benefits help the enterprise scale new heights in job satisfaction. Happy, engaged software developers produce high-quality results, which impacts everyone else involved in the development, delivery, marketing and sales of the product.
Forge a Shared Culture
The time-honored management concept of "hire for a fit"  has never been more relevant than now. Competency aside, what matters above everything else is a cultural and emotional fit or shared values. Shared values, in essence, mean the company and the employee being on the same page with regards to striving to delight the customer, and seeking excellence in whatever work is done. On the software development front, this translates to the engaging the end user enthusiastically from the start to finish, resolving any questions and issues with calm professionalism. A solid project management system, complete with a collaborative platform, helps.
Create a Learning Organization
Peter Senge, the management guru advocates creates a "learning organization," where the workforce continuously enhances their capabilities and keeps themselves relevant. From the individual, it requires inculcation of the attitude "Learning is a journey that has no end," and the enterprise has to play the role of a facilitator, both by providing learning opportunities and forging a culture that encourages and value learning.  Developers especially like playing with flashy new technologies. A competent developer, confident of his or her knowledge, is sure to add immense value to the end customer.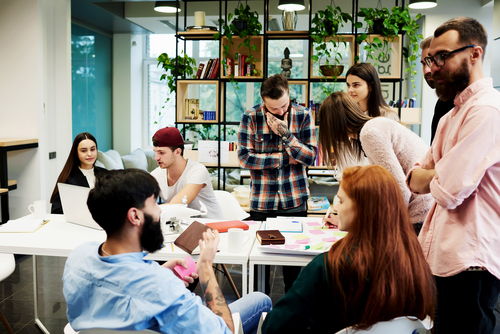 Forge a Clear Career Path
A brilliant artist or a top developer needn't necessarily be a good manager / a leader. A well-deserved promotion up the corporate ladder may actually do more harm than good, both for the individual, who find his expression of creativity stifled and for the enterprise, who is stuck with a bad manager. The onus is on the enterprise to forge a career plan for their power-employees, with lateral promotions, or flexibility to continue the same job with a higher position if the situation so requires.
The stakes are high. The problem with an inferior product rarely ends with dissatisfied customers. In today's hyper-connected age marked by the dominance of social media, customers can and do vent their feelings, resulted in a spiraling effect of bad image and lost potential customers.
The scramble for top talent has made developers, a pampered lot. A software developer who is even just a little bit better than the competition has the potential to generate a result that will bring exponential non-linear returns on the investment. Just as in professional sports, even a one percent advantage makes a big different in the end result. However, enterprises needn't necessarily enter the talent rat-race. They can just as well enter into a partnership with us, who have a ready team of highly intuitive and professional app developers, ready to do your bidding. We have a track record of delivering several highly customized and dynamic mobility and other solutions to customers across the globe, cutting across industries and sectors.
Stay up to date
on whats new