Custom Healthcare Software Development – Ultimate Guide!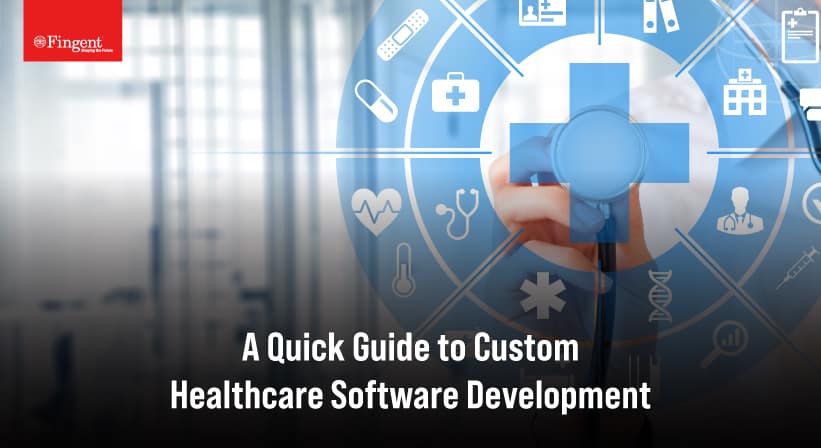 The world of technology keeps evolving and waits for no one, so it is our responsibility to keep up with it rather than fall behind. The healthcare industry has for a long time been using software development systems to monitor and ease work-lifestyles; now it is time to customize this software to make them function and run exactly the way you need it to. Custom software development has made life and business significantly easier for innumerable industries and is poised to revolutionize the Healthcare Industry as well. This article will tell you all you need to know about it.
Importance Of Healthcare Software Development  
Healthcare software systems provide innumerable benefits to hospital management, from improved productivity to reduced medication errors. It streamlines the workflow, enhances data quality, drastically reduces errors, and boosts patient experiences. Rising technological advancements also help with hospital administration and operations. 
Benefits Of Customized Healthcare Software Development 
The overall benefit of using customized healthcare software is overall progress and betterment. This should be reason enough to convince anyone to adopt custom healthcare software but if it is not, listed below are a few of the other benefits of this type of software development:
Increased security – Thanks to the

inculcation of software in healthcare, hospitals are now sending, storing, and retrieving data through the web.

Custom software solutions will guarantee the safety of this personal medical data. 
User-friendly experience – The target audience's desired product is taken into consideration by software designers and user interface designers. Software designers can also consider specific aspects of an application to make it more alluring and interactive. 
Customizable features – Customization is the buzzword right now, and custom software provides it like no other. Customer feedback is prioritized, and the generated product is more streamlined and efficient. Customized software will handle specific problems, and this aspect makes it attracts and brings in more loyal customers or patients. 
Quality of diagnostics – Technology is well known for its brilliance in efficiency. Diagnostics run by a customized software solution have

proven

to have outstanding quality and accuracy because these solutions imbibe knowledge from innumerable sources and compare results faster. Hence, healthcare providers can proffer improved healthcare if they rely on custom software solutions. 
Read more: How Can Custom-Made Software Provide Superior Customer Service In The Healthcare Industry?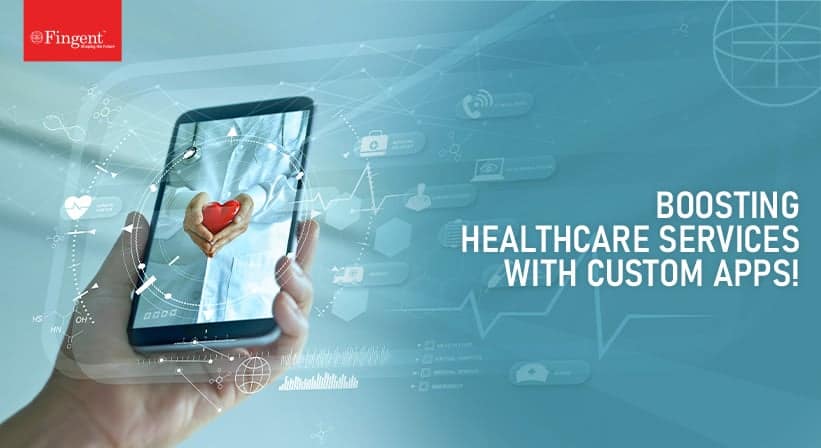 Understanding Healthcare Software Development 
Healthcare software development is the creation of any software for the healthcare sector to facilitate hospitals and improve equipment management. It also helps with administering electronic records, managing health records, providing diagnoses and treatments, improving patient care, and reducing costs. 
Healthcare software development plays an important role in everyone's life. For doctors – it reduces paperwork and increases collaboration with other specialists. For patients – it enhances patient outreach, improves healthcare quality, and eases access to medical data. Lastly, it improves medical business management and streamlines management processes for organizations. 
Healthcare organizations, just like any other organization, have their own set of challenges that cripple them. Custom Software can address most of these challenges and fix them. 
Cyberthreats – The skyrocketing rate of cyber security attacks threatens to endanger the personal medical data of patients and, ultimately, the reputation of a healthcare center. Custom Software can fix this with its exceptional security firewalls and customized cyber security.
Patient Experience – When patients experience favorable care, they are more likely to 

heed medical advice

and this is essential for better healthcare outcomes, boosting patient retention rates and lowering malpractice risk. Custom software can help here, too by enhancing the user experience and user interface by creating more interactive, customized, and enticing products. 
Key Considerations for Healthcare Software Development
Now that we have established the importance of custom healthcare software development, here are some key considerations:
1. Compliance And Security – 
Medical records are very sensitive data, and it is the responsibility of the healthcare facility to protect them carefully. Abiding by the international security laws of HIPAA, PCI, and IOS is a must, along with deft investments in specialized medical data security. Ensure that your partner conducts adequate software checkups to detect any potential vulnerability.
2. User-Centred Design – 
Customized healthcare software's main target is its audience, so focusing on their comfort or ease is a top priority. Inclusivity of all kinds, from senior users to less literate users, is a crucial thing to keep in mind when designing an interface for the organization. Properly incorporated user-centered designs are vital for an intuitive and efficient workflow. Software Designers usually build a simple and easy-to-use user interface (UI) and a user experience (UX). 
3. Interoperability and Integration – 
Interoperability, in simple words, is the ability of a software or system to work compatibly with other products and systems. It helps facilitate organized and effective data exchange between data systems. To avoid complications with regard to personalized information or reports of customers while sharing data between systems, especially when introducing new versions of the same software to different platforms, efficient interoperability is important. 
4. Scalability and Flexibility – 
Scalability and flexibility are other critical considerations to remember. It is imperative to design a product capable of scaling up as your healthcare organization grows. Ensuring that your customized software developed is flexible and can change and segue according to wavering customer demands. 
5. Data Analytics and Insights – 
Data analytics is essentially the process of studying raw data in order to determine trends and enable enhanced decision-making.  This transformation of data done by custom software into insights can drastically leverage data to enhance decision-making, patient outcomes, and overall operational efficiency.
Read more: AI in Healthcare – Know what's trending and what's upcoming!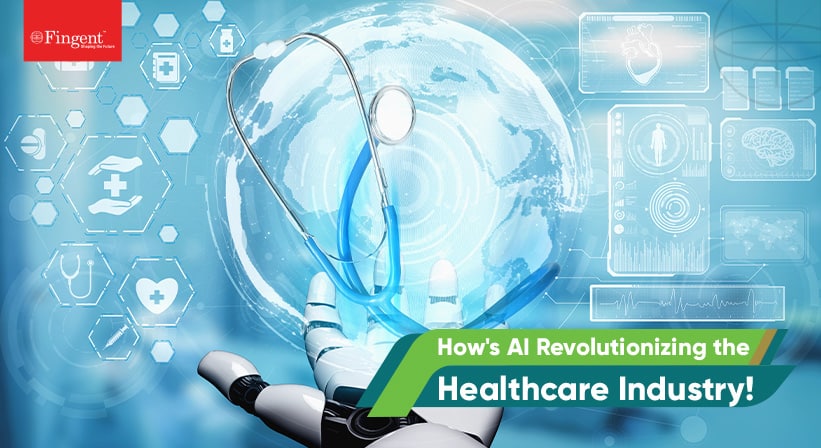 Steps in Custom Healthcare Software Development
Let's now get into the development itself. Here are some steps to ensure that the development goes smoothly and provides the best outcomes: 
1. Requirements Gathering and Analysis – 
It is always best to make a detailed analysis of your organization, its needs, and budgets before diving into a custom software development project. Consult well-versed software designers and healthcare professionals, jot the requirement details, and communicate with your team members to obtain an unbiased perspective.
2. Design and Development – 
In this step, the analysis generated is used as input and software infrastructure for implementing software development. Software developers first draw a synopsis of the details for the application, including specific aspects such as User interfaces, System interfaces, Network and Network Requirements, and Databases. 
Following close behind the design stage is the development stage. It is the stage where coding starts and all components of the software are implemented. The use of agile methodologies and interactive interfaces to improve user satisfaction, flexibility, and feedback incorporation is crucial during this phase of development. 
3. Quality Assurance And Testing – 
The testing period begins at the end of the coding stage. Here the modules are circulated for testing. Although testing may not seem like a necessary step, skipping it will ultimately result in the downfall of software. The developed software should be tested thoroughly, and developers fix any vulnerability discovered. There are various tests that need to be conducted after coding of software; these include – functional, usability, and security testing. 
4. Deployment and Training – 
After the product has been sufficiently tested, the software is deployed into the market or organization scheme. In the case of UAT (User Acceptance Testing), a production environment is created, and the customer, along with the developers, partakes in the testing. 
Case Studies
Fingent has been a leader in custom software development for the healthcare sector and has created unmatched solutions for its clients. Here are a few examples:
A Data Analytics Solution for NHS: With the wide range of hospitals under its governance, the NHS required a data visualization tool that would help them compare healthcare performances across the hospitals and showcase the best ones. Fingent helped develop a solution that was customized to the NHS's specific needs and designed an application with interactive visuals and real-time access to insights. 
Fingent's portfolio includes top-notch solutions like this, including an online engagement platform for NovitaCare and a patient care solution to promote effective communication in the healthcare ecosystem. Working with clients globally, Fingent has been able to have a direct impact on simplified patient care, operational efficiency, and cost savings for healthcare providers. 
Future Trends In Healthcare Software Development

 
The future evidently holds great plans for healthcare software. We have only skimmed over the uses and possibilities that technology has introduced to healthcare; there are so many more possibilities.  
1. AI in Healthcare
Artificial Intelligence is the most beneficial factor of technology for the healthcare industry. It can effortlessly mimic human cognition in analyzing, interpreting, and evaluating complex medical data. AI can perform data analysis through the healthcare system and can be widely used to predict patient admissions and improve clinical workflows. 
2. IoT in Healthcare
IoT (Internet of Things) has the potential to enable healthcare professionals to supervise their patients more accurately. It can equip healthcare workers and professionals with the tools to deliver excellent care and treatment to patients. Exploiting this technology and several tech-powered wearables that enable real-time tracking, end-to-end connectivity, and remote monitoring are some of the other areas that IoT will assist.
Summary 
Healthcare Software Development benefits institution staff, patients, and administrators. Although it might seem quite diverse and may come across as a daunting task, with the right partner on your side your journey will be successful. 
Look for a partner in Fingent, and we will help you navigate the complexities and compliances that come with the development of healthcare software solutions.
Reach out to us today, and let's get talking. 
Related Post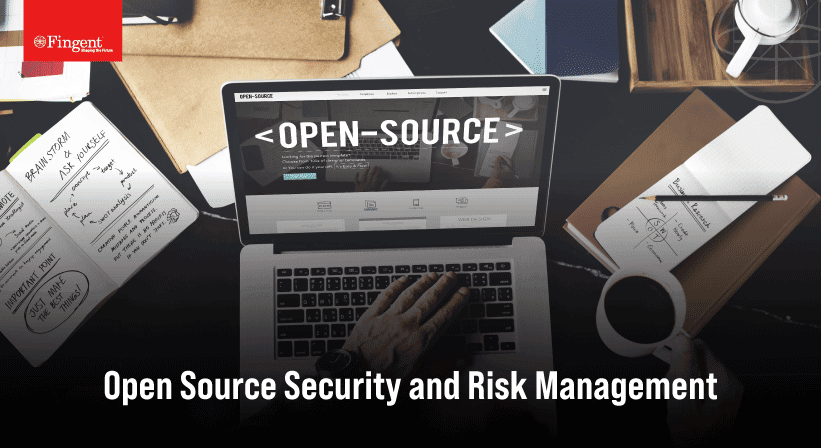 "In the digital era, privacy must be a priority. Is……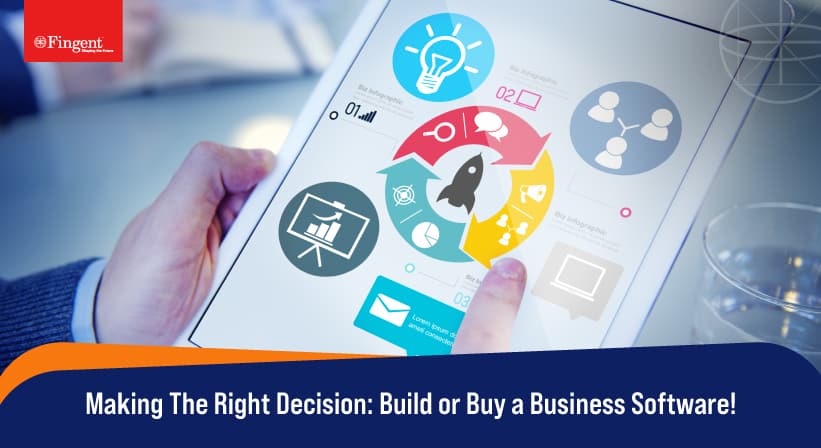 The right software can serve as a growth catalyst for……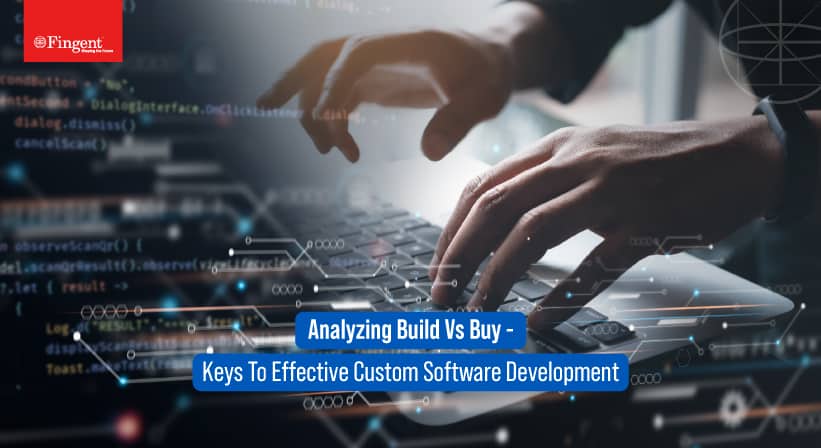 To build or to buy has been a million-dollar question……