Category:
News and Updates
Clutch Hails Fingent as India's Top Software Developer for 2021
We are thrilled to announce the news!!!
Fingent is once again recognized by Clutch for its many innovations and robust industry solutions. And this time we are ranked as the Top Software Developer for 2021, in India!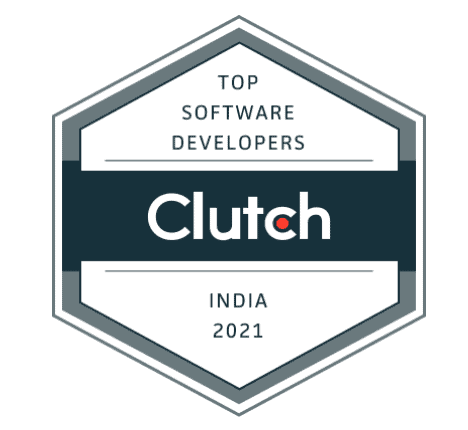 Why is Fingent recognized as India's Top Custom Software Development Company?
Our focus here at Fingent is to help emerging enterprises make a difference with improved business agility and efficiency that's powered by cutting-edge web and mobile solutions. Our goal always lies in delivering next-generation enterprise applications that streamline business processes and promises unique user experiences.
We make sure that our clients get what they expect and more. With our expertise in emerging technologies, we deliver custom, pre-packed, and hosted applications that support all operating systems and cloud platforms for improved business reach and growth.
Moreover, we don't just build software! We collaborate with businesses to understand their struggles in the market, and determine the perfect technologies that can enhance their capabilities and grant them a competitive advantage. We also make sure to bring these solutions promptly and cost-efficiently.
Here's looking back at the success stories of some of our Indian Clients!
GST Implementation in SAP: With the changing regulations of GST policies in India, our client, HOCL, an enterprise owned by the Government of India to indigenize the manufacturing of vital organic chemicals, wanted to integrate GST into their SAP system and support the GST implementation. The enterprise, consisting of complex and critical workflows, required the implementation to be quick and fast adaptive to the existing environment.
What we did was a 100% compliant GST implementation in the customer's SAP system, while carefully addressing all taxable scenarios and specific requirements. Our strategized and timely implementation of GST changes into the customer's SAP system, ensured zero deviation from the regulatory timeline, and zero effects on the business continuity.
An E-commerce Platform to Streamline Medical Procurement: Analyzing the challenges of the healthcare industry in procuring quality medical supplies, Kogland required a streamlined platform to seamlessly connect top vendors and trusted brands with healthcare organizations. 
Fingent helped the firm develop an e-commerce platform that delivered a hassle-free shopping experience for healthcare sectors, as well as a trusted selling platform for healthcare vendors. Capabilities around Magento were utilized to serve the front-end of the e-commerce functionalities, whereas advances in Odoo to structure the back-end operations of the company, including sales, purchases, inventory, and accounting.
Based on these successful projects in India, in research conducted by Clutch in 2021, Fingent stood as one of the top software development companies in India! 
Clutch is a popular B2B rating and review platform that crucially evaluates tech service and solution companies based on their client reviews and work qualities. We are thrilled and excited to have been awarded this title from Clutch, and we look forward to more successful client stories and achievements in the future.
We are also truly thankful to our clients who constantly support us by posting their honest reviews and thoughtful feedback on the Clutch website.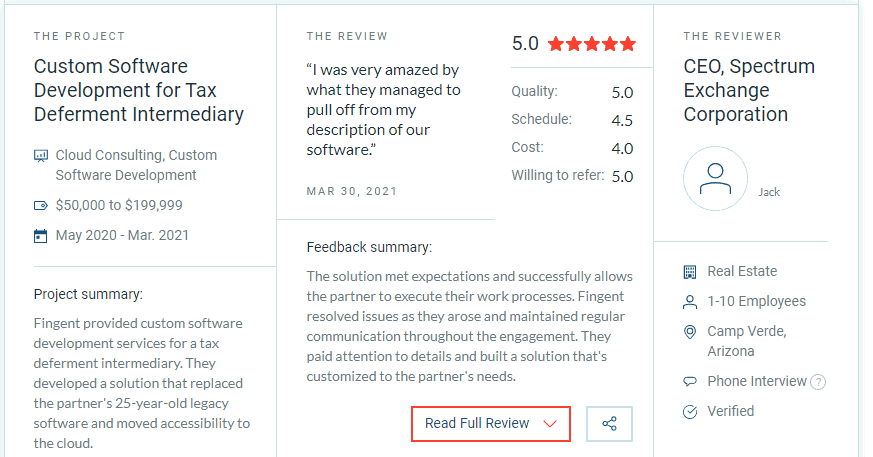 "We are recognized for our clients, and that's why we make sure that their dreams and ideas come to life with the advances and expertise we have in technology today! We are truly thankful to Clutch for appreciating our efforts."
                     – Varghese Samuel, CEO & Managing Director, Fingent.
If you are looking for a technology partner to innovate your business ideas, then contact us now, and let's talk about your project and goals.
Fingent Designated as a Great Place to Work-Certified™ Company 
Fingent is proud to announce that we have been Great Place to Work-Certified™ by the prestigious Great Place To Work® Institute. 
The award recognizes the best workplaces and company cultures based on employee responses to the Great Place To Work® Trust Index© employee survey conducted by Great Place To Work® Institute.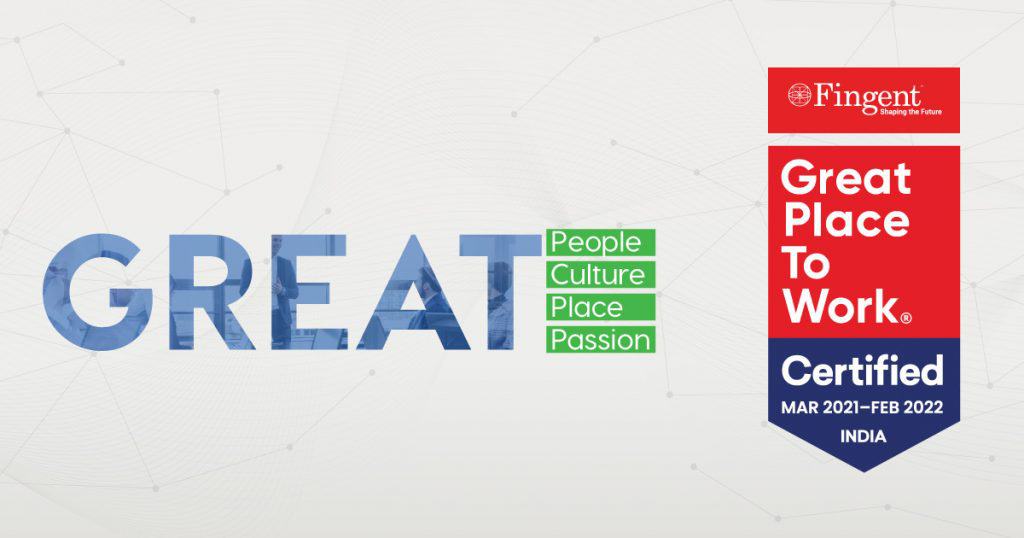 In today's dynamic and competitive talent environment, culture and workplace values are the critical criteria that distinguish a company from its opponents. To hire faster, bring more capable players on board, and retain niche talent, companies need to establish and sustain a strong culture. Good people drive successful collaborations and enable companies to exceed customer expectations. Our people are our greatest asset, and our outstanding hiring practices have constantly led us to success. 
That's why we are super excited to announce that we've been officially recognized as a Great Place to Work-Certified™ organization.
They say, "Truth should come straight from the horse's mouth." True to this adage, the Great Place to Work certification is purely driven by employee feedback. It's a research-backed survey in which the Great Place To Work® Institute gathers opinions straight from the people of all roles at an organization. The certification will be issued if a minimum of seven out of ten employees share a consistently positive experience at work. Fingent has ranked well above this average, with most of our employees testifying the company as a Great Place to Work. 
"At Fingent, we strive to create an environment that makes people feel engaged, appreciated, and motivated to succeed. The Great Place to Work certification proves the trust employees have in us and encourage us to deliver our promises better," says Samuel Varghese, Chairman, and CEO at Fingent.
Our vibrant culture is built on the four pillars of influence that drive our people, work, purpose, commitments, and decisions at Fingent. We define the four pillars of influence as Customers, Peers, Family & Self, and Society. The ingrained core values and culture followed by us drive success across these pillars, defining our approach and behavior in what we do. 
Great Place to Work® is the global authority on high-trust, high-performance workplace cultures. We are so proud to be on the Great Place to Work list this year and will continue to work towards making Fingent a Great Place to Work in the coming years!
InfinCE to Sponsor a virtual conference organized by the Digital Workplace Experience!
It is no doubt that the spur in remote working culture, posed by the COVID19 pandemic has disrupted the smooth functioning of businesses worldwide. With an aim to help companies overcome such challenges and still unlock new opportunities within this realm, Digital Workplace Experience is organizing a series of virtual conferences for enterprises worldwide, from the 11th of February, 2021. InfinCE, the flagship product of Fingent, is the keynote sponsor of the conference! 
The event promises inspiring talks from innovative and well known Business Thought Leaders, giving away tips and secrets of predicting challenges before they occur. InfinCE will also exhibit its virtual booth to illuminate business leaders with technology that enhances collaboration, communication, data security, as well as eliminate the many challenges prevailing in today's business world.
The conference aims to bring together thousands of enterprise executives to share their real-world company culture, employee experience, and digital workplace platform challenges. Business leaders from across the globe are welcome to attend the series of events which includes talks, in-depth workshops, insights into the world's best digital workplaces, and candid case studies to enhance business leadership qualities and skillsets.
Digital Workplace Experience is gathering together the world's most influential companies and intelligent workplace leaders to sponsor the events. InfinCE, which is an infinite cloud platform, aims at simplifying remote work with upbeat technologies. Sharing the similar objective of assisting businesses from around the globe with a unified business management platform that redefines how office-work tech is provisioned for today's business, InfinCE is honored to be a part of this virtual conference as the keynote sponsor.
Watch more on how InfinCE equips business owners and employees with next-gen cloud technology!
About InfinCE
InfinCE is an all-in-one collaboration platform that redefines the enterprise cloud by bringing together all the IT resources needed for an organization and its workforce to operate from anywhere. InfinCE offers customizable dashboards with smart tiles for data visualization, a full complement of collaboration apps and productivity tools, and a curated business app marketplace. It also lets business owners control their information assets through a single admin panel, with minimal effort. The platform also offers customizable websites, business emails, a company-branded mobile app, and more, delivering a competitive edge to business users. 
Fingent Takes Up the Title Sponsorship of Kerala's First Women's Cricket Team's Maiden UAE Tour
Amid the uncertainties posed by the COVID-19 pandemic leading to the cancellation and adjournment of cricket tours, Kerala witnessed its first-ever women's cricket team make its maiden UAE tour, in December 2020. Fingent proudly announced to be the Title Sponsor of the team, giving it the name, The Fingent Pathbreakers!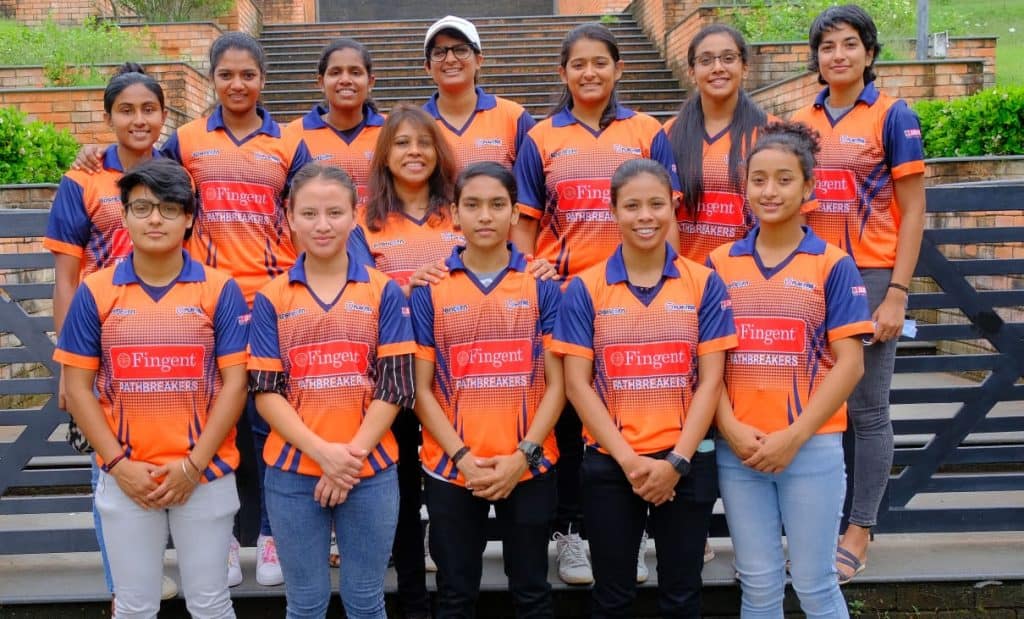 The tour was organized by a player-management company, Play True, as part of their girls-empowerment initiative, "For HER"; in association with Dubai-based G Force Cricket Academy. The 10-days long cricket tournament, which commenced on December 18th, saw the team Fingent Pathbreakers play a series of six friendly matches in Ajman, Sharjah, and Dubai against various cricket clubs and academies in the UAE.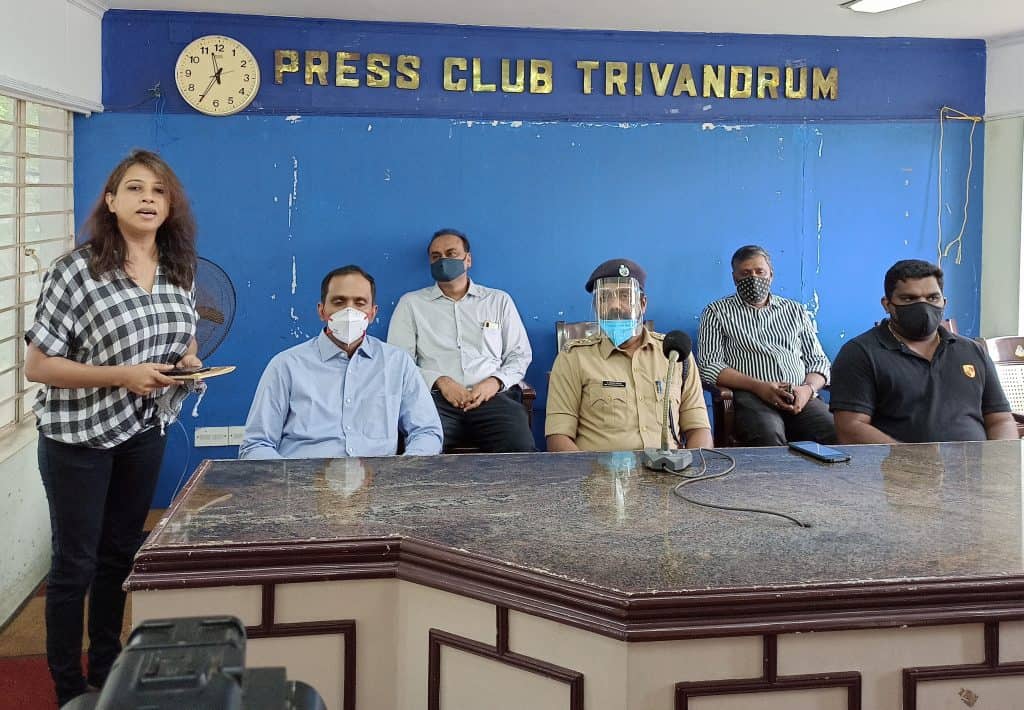 The team was flagged off by Stuart Keeler, Assistant Commissioner of Police (Control Room), at the Press Club in Trivandrum on December 18, 2020. The team's playing jersey was also unveiled by Dileep Jacob, Sr. Vice President – Global Operations Fingent, and other co-sponsors, during the press meet.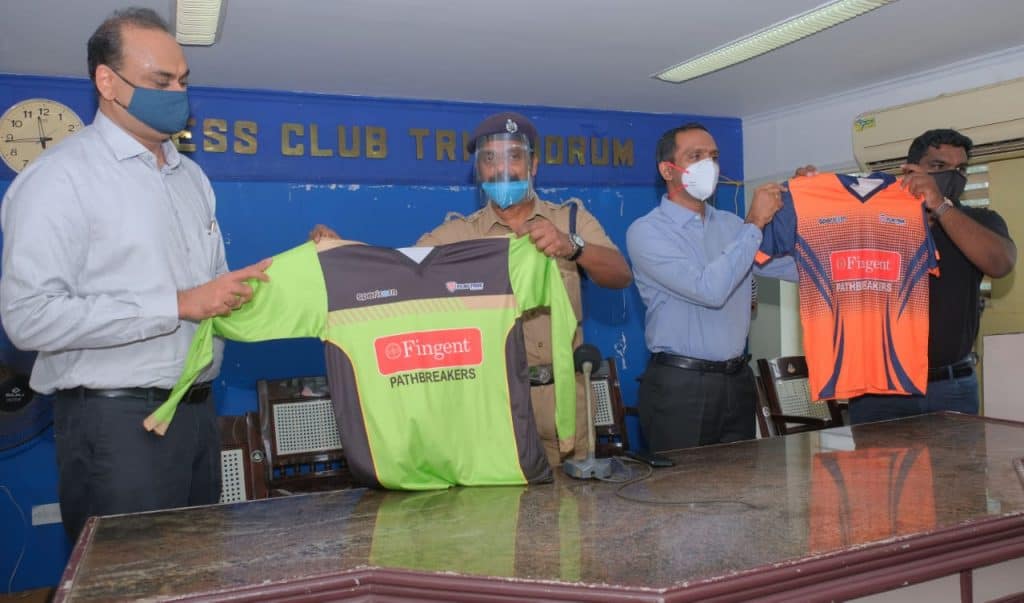 Here's a peek into the press meet conducted at the Press Club, Trivandrum on December 18, 2020.
"Social impact is one of our core values, and this pioneering tour fits the bill. We are truly honored to be a part of this women empowerment initiative", said Dileep Jacob in the meet. He also went forward to express how Fingent is driven by its core values that aim to influence clients, peers, family, and society. This initiative, also aiming to bring a positive change in society, perfectly aligns with Fingent's core values, and it gives the company great pleasure in supporting the team in its splendid journey.
Watch more: Fingent Pathbreakers at UAE, Empowering Women in Indian Cricket!
The press meet was covered in various local news channels, and news articles highlighting how the event was made possible with the support of the sponsors, and how the platform empowered women athletes with this amazing opportunity.
Here's more on the journey of the players.
Source: Mathrubhumi
It is the first time ever in India that women players have been given such an opportunity to tour overseas and explore their capabilities with strong teams over friendly matches. Thus, this extraordinary story made way to several popular online channels and articles, including The News Minute, and Kerala9.
Watch more: The Fingent Pathbreakers share their experience of the International tour!
A few blogging channels, Krbuzz, and the Magzter have also covered the story illuminating how the idea came in place and what challenges the team and the organizers faced in making the event a success.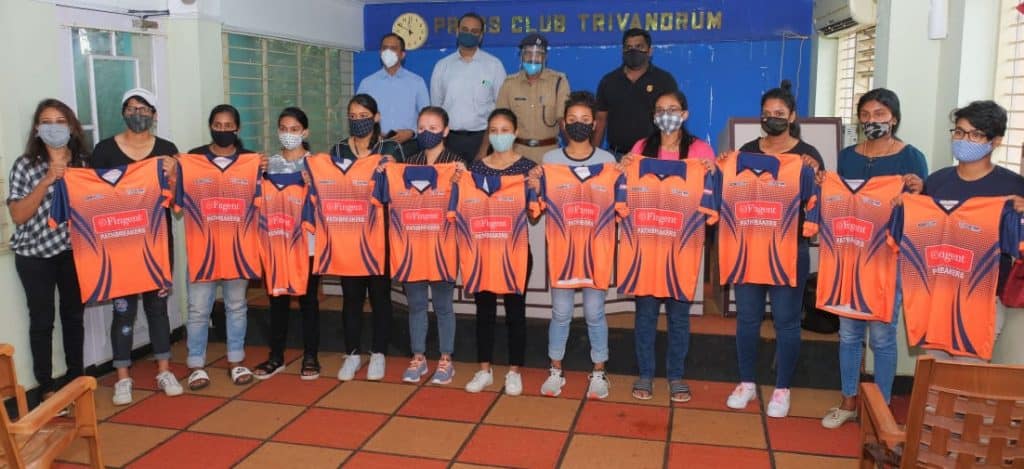 The team Fingent Pathbreakers, formed by state players from Kerala, Meghalaya, UP, and Karnataka, with their captain, Debasmita Dutta from Meghalaya, showcased a splendid performance during the series, winning four out of the seven matches, against Spring Sports Academy's women team, UAE.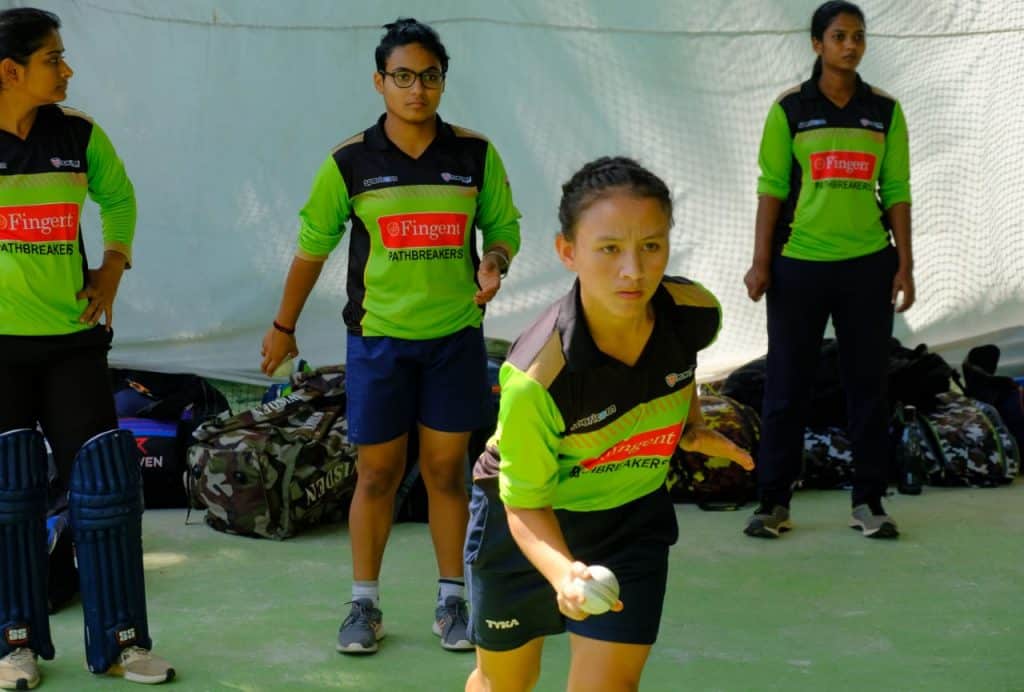 The matches displayed impressive skills of the players, especially of Saee K Purandare, who pulled 321 runs in seven innings at an average of 107, which included three half-centuries; and KK Aparna, an off-spinner, who showcased a deadly spell of six wickets in one of the matches.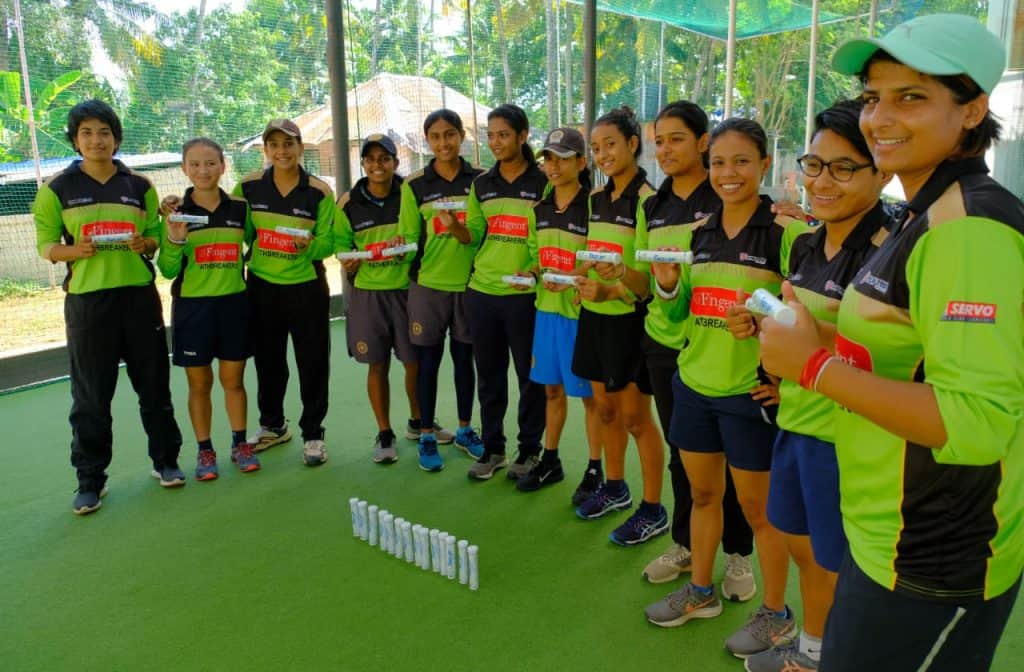 When concluding the successful event, Sonia Anirudhan, CEO and Co-Founder of Play True, thanking the sponsors and inspiring the players of the team, said: "Play True's vision of empowering girls through sports is based on growing evidence that women and girls who play sports are increasingly likely to excel in both, on the playing field and in life."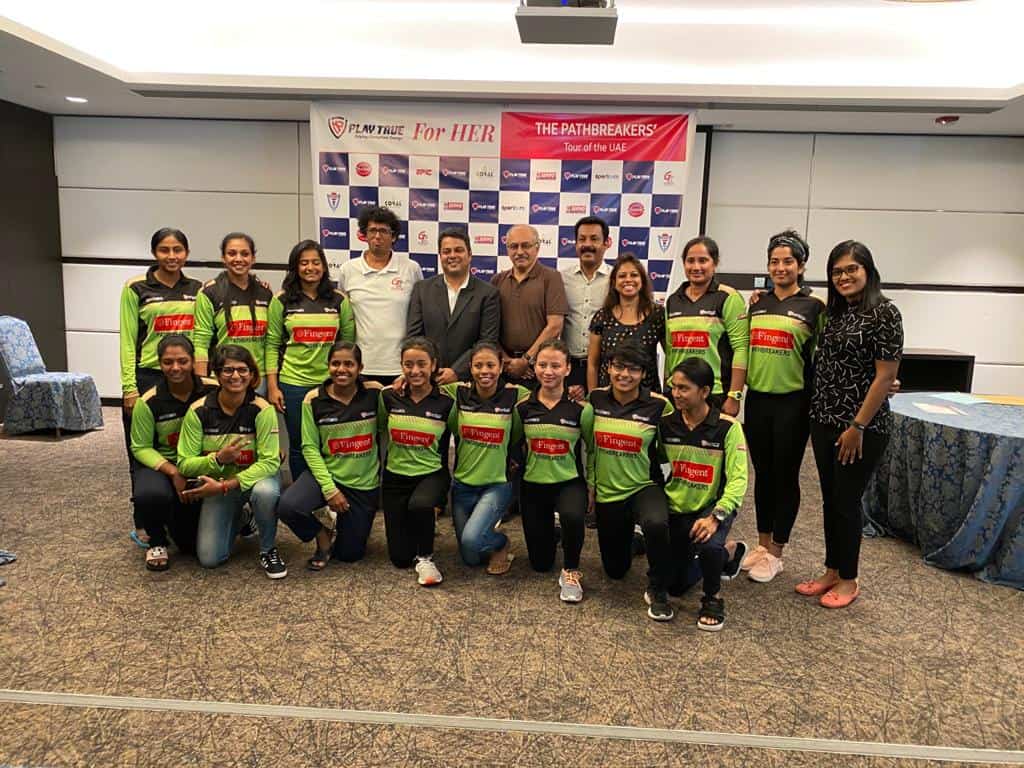 Fingent has always believed in creating a difference with innovation, be it for businesses, or society as a whole. Being a part of such an innovative idea, that is backed by inspiration and empowerment, was truly a pleasure for Fingent.
Watch more: The Fingent Pathbreaker's massive victory in UAE!
Catch InfinCE on NewsWatch!
InfinCE, the flagship product of Fingent, will be featured on the award-winning television show NewsWatch on November 30th at 7 AM EST. 
NewsWatch is a popular TV show that covers technology, consumer, travel, health, and entertainment news for a broader audience and airs nationwide on the AMC Network and ION Network. 
Over the years, InfinCE has transformed into an all-in-one cloud built for the demands of modern businesses. Featuring a unified cloud, InfinCE packs in advanced collaboration and remote working tools to empower the global workforce to work and collaborate from anywhere. Business owners, on the other hand, can easily manage their IT assets and data from a single location via the centralized administration capabilities of InfinCE. Moreover, nascent entrepreneurs can quickly set up their entire IT from email to website and collaboration tools on branded IT infrastructure at an unbeatable price!
Don't forget to tune in to NewsWatch on your preferred network. To know more on program schedules, visit the NewsWatch website.
Watch this short video to discover how InfinCE transforms enterprise collaboration with its next-gen cloud technology. 
Fingent launches Odoo Zoom integration module in Odoo Apps Store
Are you managing your crucial business functions like ERP and CRM via Odoo and scheduling your online meetings via Zoom? 
Very often, you'd have faced this difficulty of logging into Zoom separately to join the meetings. Some of you would've even missed the appointments or run late to join, just because you got too busy to track your Zoom calendar. 
Spending your whole day on Odoo and switching to Zoom in between is annoying. Being an Official Partner of Odoo, Fingent has always catered to the needs of various customers and streamlined their operations thus saving their costs, time, and resources. Now you can easily schedule your Zoom meetings from Odoo using Fingent's new plugin that integrates Odoo with Zoom, inclusive of updating Odoo based calendars. Participants can join the meeting using the meeting link and ID. Both the organizer and the participants need not require individual Zoom accounts as the meeting can be scheduled from within Odoo. 
Click here to check out our Odoo Zoom integration module launched in Odoo Apps Store. 
Features
Easy flow between Odoo and Zoom

Automatically syncs meetings scheduled via Odoo with Zoom

Sets passwords to join the meeting

Manages time-zone considerations

Support for Zoom's advanced meeting settings

Multi-user and multi-company support
Want to integrate this custom business logic to extend and amplify the functionalities of your Odoo CRM/ ERP suite? Get in touch with us. 
We just received exciting news here at Fingent! Clutch analyst Austin Ellis just called our founder to let us know that Fingent is again listed as one of New York's top custom software, web, and mobile app developers! Custom software, web, and mobile app development is more important than ever for businesses to stay on top of trends. That is why we're thrilled that Clutch labeled us as one of the top custom software, web, and mobile app developers for 2020!
Clutch is the world's leading source for B2B ratings and reviews. Featuring the top providers across an array of B2B segments, Clutch has the resources for you as you seek to find your next B2B service providers. Clutch is the gold standard of B2B ratings and reviews platform because of their unparalleled trust. Each and every review is independently verified by their superstar staff, so that you can feel confident in Clutch's ratings, reviews, and awards!
We love to show off our stellar average across all of our reviews on Clutch! We have reviews from clients around the world who praise our work, which is why we were awarded by Clutch.
In a recent review, the VP of Advanced Solutions at Casenet praised our web app development for their healthcare company!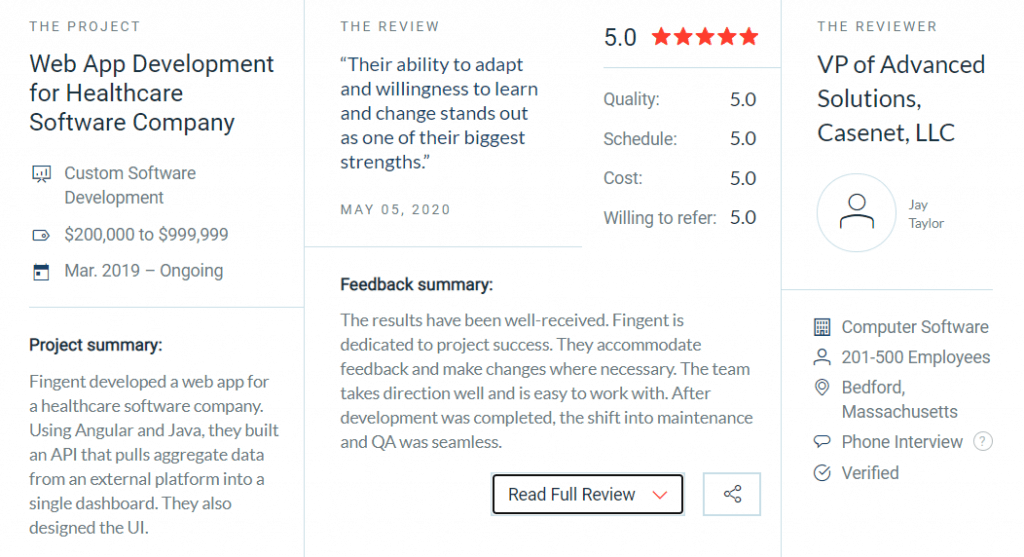 We're extremely grateful to Casenet and to 34 of our other clients who have taken the time to leave us a review. 
CASE STUDY
Partnering with Casenet's Advanced Solutions Group Fingent helped develop TruCare Insights as a reliable and nimble population health management platform.
Click here to download!
Our CEO and MD had a few words to share with the Fingent community about winning this award: 
"Clutch's recent assessment putting us at the forefront as a top development company in New York once again testifies to the sheer quality of services that we offer. Being included in the report highlights our core capabilities as a professional development company that constantly upholds exceptional development standards and service integrity." – Varghese Samuel, CEO & MD, Fingent
We would also like to highlight our presence on The Manifest, Clutch's sister site that offers business news and how-to resources for innovators, entrepreneurs, and SMBs. We are also featured on Visual Objects, a platform that equips buyers with a digital portfolio of the past projects of various B2B agencies.
We're incredibly blessed to be one of New York's top B2B providers and custom software, web, and mobile app developers according to Clutch. If you want to join our ranks of satisfied customers, please contact us today!
5G and the World of Work – An Overview
COVID-19 to act as a Catalyst
Did you realize? The working world is evolving, forcing organizations to think and act differently. Nothing happens without a trigger. In most cases, these triggers are trends.
What are these trends? Globalization, Mobility, Changing Demographics, and Technology are a few to mention.
If we focus on Technology alone; Big Data, Collaboration Tools, Wearable Devices, IoT, Cloud Computing, and 5G are some of the recent trends. This blog will take you through how 5G is enabling organizations to Reimagine and Rethink the way they work and how 5G is solving a lot of tech headaches. 
It was already predicted that an economic recession will spur investments in technology. The owners and CEOs will need to find alternate ways to increase efficiency, drive revenue, and meet customer needs. Remote work is one such measure companies are adopting to make it work. As firms worldwide embrace remote work in the wake of COVID-19, we expect remote working culture to be the next trend.
Remote Work: Story so far & Roadblocks
In fact, remote work culture was one of the most defining tech trends of the past decade. The report by GetApp found that remote work expanded by nearly 400%. Quoting the report "The rise of remote work during the last decade has been driven by the proliferation of powerful mobile devices, ultra-fast internet connections, and the pervasiveness of cloud-based storage and SaaS solutions." 
With all the above-said factors which enhanced the adoption and acceptance of remote work culture, companies also faced a lot of tech headaches in implementing it properly. The shoddy WiFi network will lead to the slowdown of internet speed, digital distractions, inefficient communication, poor video calls, heavy buffering, etc. Besides, in-person sociability or daily face to face interaction is a major factor that boosts employee productivity. 
5G to the Rescue
To accelerate business capabilities, 5G is addressing the fundamental needs such as: 
Connecting more devices faster than it is now

Reduce the lag time between devices

Enabling the bulk volume of data transmission from a large number of devices with better responsiveness 

Higher bandwidth & lower latency
The above concerns can be addressed once 5G is implemented. Thus, 5G is going to reinvent the way people are working from home and the above factors enable 5G to host new business applications.  
The current internet revolution makes it possible to work remotely without many disruptions, but 5G will enable VIRTUAL WORKING. 
Let us look at the changes it will bring to different work functions:
5G will augment changes in remote work, virtual meetings, hiring, training, or other work functions.
According to the Consumer Technology Association, once complete, 5G will be 100 times faster and 5 times more responsive than today's networks. Download speed of 20 gigabits-per-second means 5G will enable more specialized tasks at the workplace like: 
Hold remote meetings in virtual spaces, remote trouble shootings,

remote business meetings

, thus saving the operational cost

Interactive digital whiteboards – 5G enables transmitting a lot of data in a very fast and responsive way and thus digital displays will be able to interact with mobile devices, applications, and cameras.

Virtual and augmented reality – With 5G, it will provide more immersive & interactive content experience, to make it as fully-realized collaborative technology.

5G will enhance highly data-intensive services Multiperson video conferencing.

5G will empower IoT by allowing real-time collaboration between employees and things

Real-time cloud processing will be easier with 5G as the speed and processing capabilities increase. It will boost productivity. How 5G Will Boost Enterprise Investment In Cloud
Read more: How 5G Will Boost Enterprise Investment In Cloud
Impact on Video Conferences
It seems that the combination of 5G and increased remote work will lead to more video conferences. This may be a piece of welcome news to people who have suffered through meetings, whether it was due to video freezing up, or forgetting to put the mute button on before making an awkward comment. 5G is all set to eliminate these deficiencies. Let's see how: 
Speed: As mentioned above, 5G will be 100 times faster and five times more responsive than today's networks. The increase in speed can improve streaming speed, download speed, video calls, and conferences with much more ease. More devices can work much more quickly and simultaneously with 5G.
Bandwidth: The increased bandwidth, which is approximately allowing for 1,000 devices per meter on a connection will boost the network speed and fewer dropped connections. 5G bandwidths are projected to be 10 times higher than 4G LTE. 
Video Quality: Better speed and bandwidth can facilitate calls in HD and 3D without lag, latency and other interruptions
Mobility: Mobility is one of the underrated advantages of 5G,  one can easily connect with their partners, stakeholders, and colleagues via video, anytime, and anywhere. This is possible because 5G relies on higher frequency radio bands. The frequency of 5G ranges from 30GHz to 300GHz while 4G operates at 6GHz. It is a massive improvement. 
Impact on AR and VR
5G can improve virtual meetings with the help of Virtual Reality and Augmented Reality. With 5G remote meetings could be held in virtual spaces. What would this look like? Each participant could be at home but feel like they are sitting around a table with the other participants, thus making use of VR technology.  Also, new capabilities like digital whiteboards would also be available.
AR augments elements and other things in the real-world environment, whereas the task of VR is to immerse users fully in a virtual environment. The objective here is to manipulate and trick the minds of employees to feel and enjoy the immersive experiences. Although VR & AR is in use now with 4G, it hasn't attained it's full potential yet.  AR and VR  solely rely on network connectivity. Any disturbance in the connectivity will result in an unsatisfactory and unpleasant customer experience. By offering rich levels of computing power, 5G can take it to the next level. 
For example, the NBA has tried weekly broadcasts in virtual reality (VR). It was providing viewers with a chance to see the action from the best seats anywhere in the house. However, due to blurred pictures being reported, the VR broadcast was turned down. But with 5G this problem can be solved. 
Improved VR Training with 5G
The limitation of 4G when it comes to the application in VR is already proven. With 5G and it's better bandwidth and speed, VR training will be much smoother and effective. 5G will help unlock the full potential of VR by causing a 10X decrease in latency. In VR, users will lose interest when the latency is over 20 ms. 5G guarantees a latency of sub-5 or sub-2 ms latency, which will provide an amazing user experience. As VR is all about immersion – feeling like you are in the virtual environment – this is incredibly important. For VR head-mounted displays (HMDS), currently, it requires a powerful PC to run them, which limits the application and enjoyment of VR to a certain location. Implementing 5G will push the power consumption, storage, and processing power away from the PC and will push into the edge cloud. 
Read more: Virtual Reality: The Revolutionary Force
Improved AR Training with 5G
AR is highly data-intensive –  even a minute of AR will consume 33 times more traffic than one minute of a 480p video, so you can see the impact 5G is going to have on AR. One peculiar thing about AR is that it expands on human potential, allowing people and machines to function better together in a collaboration that what they both could do alone. AR superimposes digital information, enhancing the real world we see, offers additional information that improves the comprehension. 
Imagine the conceptualized design of a product you are going to build printed in a piece of paper, and imagine you are seeing that product right in front of you, appreciating all the specifics, and realizing what it would look like in real life, this is the difference between AR training and traditional training. AR aids point-of-need visual learning in real-time. AR training organizations can enhance the experience of training around the existing data and information. 
Organizations can train their employees and partners more effectively using AR. AR provides a highly visual and interactive format that is far better than normal text and video approaches. For example, imagine a SAAS platform or an Office Collaboration Software that enables employees to scan the product and receive direct training in a highly immersive experience. This will further increase productivity, reduce the time, and provide better flexibility. 
Read more: How Top Brands Embrace Augmented Reality for Immersive Customer Experiences
Other ways in which day-to-day work will differ with 5G
Remote work was made feasible by high-speed broadband internet, video conferencing, and other technologies, thanks to the increase in communication speed. Now, the next challenge is simulating the collaboration and co-worker interactions of the traditional workplace. That's where holographic calls come into the picture. It is possible through remote meetings that could be held in virtual spaces with the help of 5G. The holographic calls show us a 3D projection with the help of 5G. This is one such example of how day-to-day work will be different from 5G.
A holographic call allows companies to organize meetings in a shared holographic workspace. Participants can share the content, both 3D and 2D within this workspace. It will be visible to all other colleagues or clients attending the meeting.
It is also possible for anyone to interact with each other differently, like in the real world. Suppose, If a person decides to roam around the workspace, which is shared, their avatar, the disembodied version of their head and shoulders will move as well. Such movements are visible to everyone except the same person.
For digital whiteboards, 5G can further enhance connecting a large number of  IoT devices from movement sensors to smart printers to usher the workspace environment to go digital. 
Real-world example
Volvo Car is using HoloLens to demonstrate the extensive safety features of their cars to clients. The technology helps educate clients, close sales, and ultimately places the emphasis on safety, the key element of Volvo's brand. 
Read More: 5G Network Vehicle Safety and Security
Security and other concerns for 5G
Even though 5G offers huge potential for businesses around the world, it seems the technology is much more complex when it comes to security concerns. 
5G will enhance location tracking and personal data collection. Since 5G signals are short-range, it requires more cell towers covering a much smaller area. It means they know your exact location which is a piece of sensitive information. 

As per a research study by Purdue University & the University of Iowa, 5G inherits many security policies and subprotocols from its predecessors, which are more error-prone and thus raise privacy and other security concerns.
To summarize, 5G is enabling us to work in new ways while keeping us more engaged and enhancing productivity. The role of technology is shifting from being a luxury to a necessity by acting as a central nervous system for the organization, and 5G is one among them. Thus, the world of work is changing rapidly and the organizations have to adapt. Is your organization ready for the 5G revolution? Get in touch with our experts today and know how your company can embrace the benefits of 5G.
Fingent recognized as the Top PHP Development company by the TechRivewer.
Immense expertise, constant innovative thinking, and deep market understanding make the perfect blend to remarkable excellency. Proclaiming these qualities, Fingent yet again outruns its way to rank the Top PHP Development Company in 2020.
PHP is the most common programming language used in web development today. Be it the simplest applications, or the most advanced ones like Drupal, vBulletin, MediaWiki, or be it the most popular WordPress. Everything works on PHP today. And so it becomes imperative for businesses to find and rely on the right PHP development providers for best services.
Research and review hubs like TechReviewer makes it convenient for businesses to select from a vast pool of development companies. Analyzing through their capabilities, success stories, and client reviews, TechReviewer helps businesses connect with the right technology partners by compiling lists of the leading software outsourcing companies.
Related Reading: Find out how Fingent created Mohawk 360, an integrated day camp management platform, utilizing PHP.
Fingent, a web development company that has proved its worth by delivering upscale web solutions to clients across the globe, is recognized by the brand-new research & analytics agency, TechReviewer.co, as the Top PHP Development Company in 2020.
With extensive experience in delivering full-cycle PHP development services along with deep technology expertise, enables Fingent to hit the lists of leading PHP development firms, making it the most reliable, experienced and reasonable company to outsource software development.
Related Reading: Check out our case study to know how Fingent helped develop an Appointment Management System using PHP expertise.
Established in 2003, Fingent strives to solve complex business challenges with customized software solutions. With an active client base across 14 countries and expertise in over 20+ industries, Fingent is a front runner in catering PHP development services. Our research and development team is dedicated to analyzing products based on market trends and targeted audiences. This enables us to provide our clients with an extra edge that helps them sustain and relish the cut-throat market environment.
"We help our clients understand technology in a way that they can leverage the best tools to provide unique and innovative customer experiences. For us, it is not just providing software solutions to our clients, but to help them reshape and transform with technology."
              – Dileep Jacob, Senior Vice President, Global Operations, Fingent.
Being featured among the leading PHP development companies is indeed a great honor for us. We take this opportunity to thank our clients and partners who have placed immense trust in our approaches and services. We will continue to justify the trust with utmost dedication, expertise, and innovative business solutions.
Learn how we can help transform your business for a better future. Get in touch with our experts today to know more about our services, expertise, and technologies.
Also, read more on why Fingent Stamps its authority as a leading CodeIgniter developer of 2020.
Why Clutch Ranks Fingent As The Top Software Development Company In Australia?
Over the past 16 years, Fingent has partnered with clients across 4 continents and collaborated with start-up, mid-market, and large enterprises to solve business challenges with the latest custom software development practices. Our core values make us highly attentive to society, peers, family & self, and above all, customers. We are grateful that this client focus is recognized in reviews on Clutch and has enabled us to achieve the position of the leading software developer in Australia.
Clutch is a B2B rating and review platform with thousands of company profiles. Clutch carefully analyzes and evaluates industry data, brand reputation, and most importantly, client testimonials to craft authentic descriptions of development companies and their services. When a company is facing a business challenge, Clutch stands as a directory to browse through and find the right solution provider. Clutch connects businesses with leading performers, who receive industry recognition for their excellent services. When it comes to software development, Fingent ranks as the Top Software Developer in Australia. Here's a peek into Clutch's leader matrix, where Fingent stands top on the charts of Market Leaders in comparison to the competing companies.
We are extremely thankful to the clients who took the time to share their experiences about Fingent solutions and services on Clutch. Most recently, Sapra & Navarra LLP left us a review on our ongoing development services for their law firm. We were hired by Sapra & Navarra LLP to build a web-based AI machine learning program. Besides receiving 5.0 stars in the Clutch evaluation categories of cost, scheduling, quality, and willingness to refer, Sapra & Navarra LLP appreciated our accessibility and efforts to prioritize being available to answer any questions or concerns. They also applauded our organization, including our robust agendas of maintaining transparency through meetings and conference calls. 
Check out a summary of the perfect 5.0 review below! 
Once again, we are very grateful to our clients for sharing their positive feedback on Clutch. It inspires us to continue delivering unique, budget-friendly solutions on time. 
"We are excited to have been chosen as a top ASP.NET developer and NodeJS developer for 2020 by Clutch." 
– Stephen Cummings, Senior Vice President – Business Development, Fingent
If you're looking for a technology partner who can build a web or mobile app, deploy RPA or AI technology, or provide software consulting, please get in touch! We'd love to discuss your latest project.