A Quick Guide on the Cloud Service Models – Saas, IaaS, Paas!
The world is changing, quickly and fast; and to adapt to these growing changes, businesses are experiencing unprecedented stress on maintaining a robust and cost-effective IT Infrastructure. But thanks to Cloud Computing and its various service models – Saas, IaaS, Paas, businesses now have the option to move beyond on-premise IT Infrastructure for improved processing and storage capacity.
The future of computing is in the cloud! Missing out on it can definitely slow down the progress and performance abilities of a company. But before we dig deeper on how to seamlessly deploy Cloud Computing, let's shed some light on what is cloud computing and what are cloud service models?
What is Cloud Computing?
If simply put, Cloud Computing is a model that offers convenient, on-demand network access to a pool of shared resources. This may include data storage, databases, servers, networking, tools, or any other resources that can be accessed through the internet. Speaking of cloud server models, cloud computing is offered in various service models, each of which satisfies unique business requirements. These servers are mainly of three types: Software as a Service (SaaS), Infrastructure as a Service (IaaS), and Platform as a Service (PaaS), about which you will read in detail below.
Once signed up with cloud service models Saas, IaaS, and Paas, one can leverage wider possibilities to bring flexibility and efficiency to support greater business growth. Enterprise cloud platforms like InfinCE makes this transition to the cloud even more seamless, providing the right security, control, and flexibility to scale and adapt with time.
Over the years cloud services have witnessed exponential growth worldwide. The global cloud computing market size was valued at USD 274.79 billion in 2020. It is expected to grow at a compound annual growth rate (CAGR) of 19.1% from 2021 to 2028. With the COVID19 pandemic giving rise to remote work culture, and with many industries gaining opportunities from advanced technologies like AI and machine learning, cloud computing is turning key with its ability to empower businesses with the flexibility to innovate and transform with growing technologies.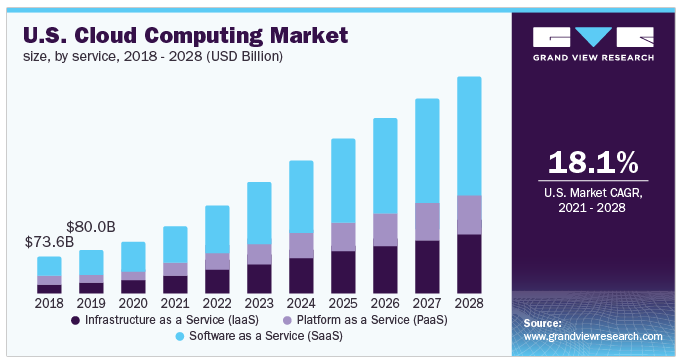 Fig: U.S. Cloud Computing Market, Source – Grand View Research

What these reports signify is a steady adoption of cloud services by businesses across the world to tackle the entire range of operations they do. Application development in cloud computing provides an extensive, flexible, and affordable way to implement cloud service models. Meanwhile, numerous leading players in the information technology sector now compete to deliver flexible cloud services for both the public and enterprises.
Increasing competition means better delivery of services and innovations, which can deeply benefit scaling up your business. Hence, now is the right time to deploy a cloud model into your business infrastructure.
What's Ahead?
Why Does Your Business Need Cloud Computing?
You must be wondering! Why do you need to adopt cloud service for your enterprise and what could it possibly do to widen the scope of your operations? Well, the pros of cloud adoption far outweigh its cons, which is one reason why you should consider it in the first place. Here are 3 major advantages of cloud adoption.
Scalable – A cloud service allows quick scaling up and down of computing resources to accommodate your changing needs.
Affordable – You pay less for a cloud service, as it eliminates unnecessary costs involved in hardware upgrades and maintenance.
Secure – By signing up for a cloud service, you are essentially making your data more secure using their industry-grade security protocols.
If you have envisioned a goal of making your business more dynamic, then the cloud is the way. And the question comes down to this: what type of cloud service model would you implement and which one will fit your unique business requirements?
Read more: How InfinCE, an integrated cloud platform, simplifies business management & collaboration!
What are Cloud Service Models?
Cloud computing services come mainly in three types of service models: SaaS (Software as a Service), IaaS (Infrastructure as a Service), and PaaS (Platform as a Service). Each of the cloud models has its own set of benefits that could serve the needs of various businesses.
Choosing between them requires an understanding of these cloud models, evaluating your requirements, and finding out how the chosen model can deliver your intended set of workflows.
Looking for Cloud Strategy Consulting?
The following is a brief description of the three types of cloud models and their benefits.
1. SaaS
SaaS or Software as a Service is a model that gives quick access to cloud-based web applications. The vendor controls the entire computing stack, which you can access using a web browser. These applications run on the cloud and you can use them by a paid licensed subscription or for free with limited access.
SaaS does not require any installations or downloads in your existing computing infrastructure. This eliminates the need for installing applications on each of your computers with the maintenance and support taken over by the vendor.  Some known examples of SaaS include Google G Suite, Microsoft Office 365, Dropbox, etc.
2. IaaS
IaaS or Infrastructure as a Service is basically a virtual provision of computing resources over the cloud. An IaaS cloud provider can give you the entire range of computing infrastructures such as storage, servers, networking hardware alongside maintenance and support.
Businesses can opt for computing resources of their requirement without the need to install hardware on their premises.  Amazon Web Services, Microsoft Azure, and Google Compute Engine are some of the leading IaaS cloud service providers.
3. PaaS
Platform as a Service or PaaS is essentially a cloud base where you can develop, test, and organize the different applications for your business. Implementing PaaS simplifies the process of enterprise software development. The virtual runtime environment provided by PaaS gives a favorable space for developing and testing applications.
The entire resources offered in the form of servers, storage, and networking are manageable either by the company or a platform provider. Google App Engine and AWS Elastic Beanstalk are two typical examples of PaaS. PaaS is also subscription-based and gives you flexible pricing options depending on your business requirements.
Adopting Cloud – Choosing Between SaaS, IaaS, and PaaS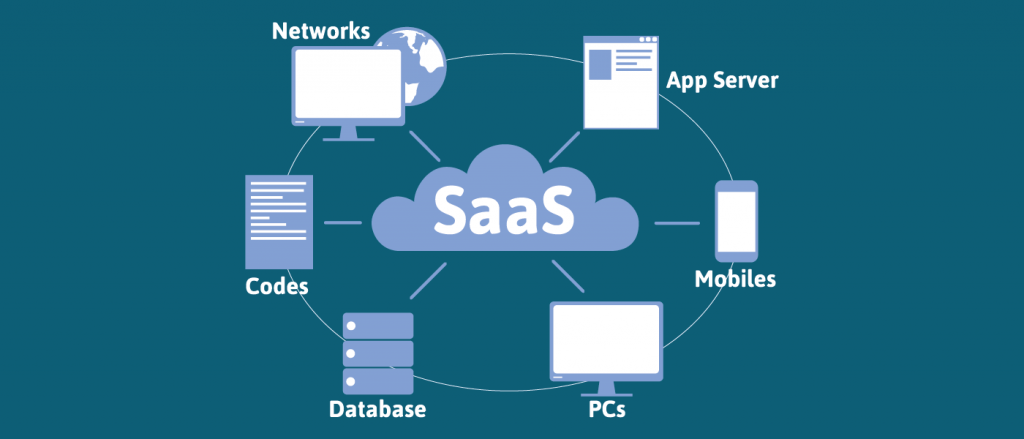 Going through the details of what SaaS, PaaS, and IaaS may have given you a general understanding of these three cloud models. Each of them differs and has a range of advantages and disadvantages that may or may not fit in with your business model.
By correlating each of these cloud models side by side, you could derive a conclusion on whether it suits your business requirements.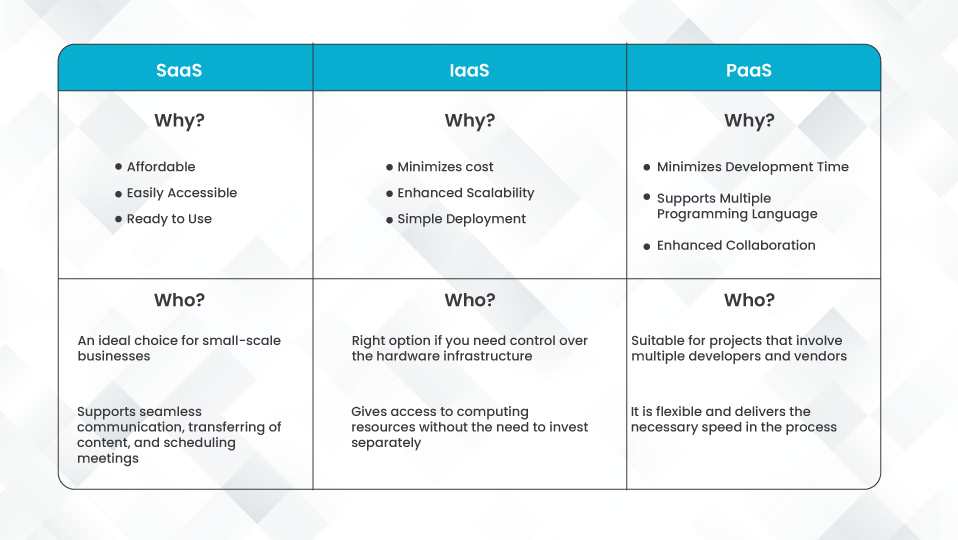 SaaS
Benefits:
Affordable – SaaS is affordable as it eliminates the costs involved in the purchase, installation, maintenance, and upgrades of computing hardware.
Anywhere Accessibility – With SaaS, you can access the services from anywhere using any device such as smartphones, which eliminates the constraints set by on-premise software.
Ready to Use – You can quickly set up SaaS services so that they become functional in no time. All it takes is that you sign up for the service to get access to fast and powerful computing resources.
Why Should One Opt SaaS?
With SaaS, communication, transferring of content, and scheduling meetings are made easy. SaaS is the ideal choice for small-scale businesses that do not have the necessary budget and resources to deploy on on-premise hardware. Besides, companies that require frequent collaboration on their projects will find SaaS platforms useful.
Studies reveal that Supply Chain Management, Business Intelligence, Enterprise Resource Planning (ERP), and Project and Portfolio Management will see the fastest growth in end-user spending on SaaS applications, through 2022.
Things to Consider Before SaaS Implementation
Opt for configuration over customization within a SaaS-based delivery model. The configuration will allow you to tailor without changing the core product, whereas, customization will make it challenging to scale with the constant updates and documentation.
Understand the adoption and usage rates carefully, and set clear objectives to be achieved with the SaaS adoption.
Compliment your SaaS solution with integrations, and security options to make it more user-initiated.
Read more: Top Trends That Will Transform Cloud Computing in 2020 and Beyond!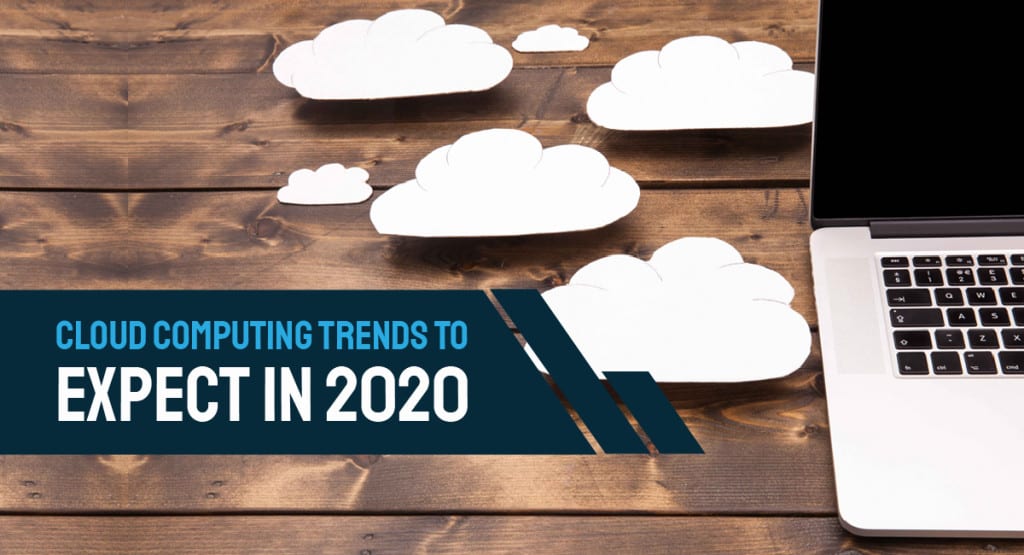 IaaS
Benefits:
Minimize Costs – Deploying an IaaS cloud model eliminates the need to deploy on-premise hardware that reduces the costs.
Enhanced Scalability – As the most flexible cloud computing model, IaaS allows you to scale the computing resources up or down based on demand.
Simple Deployment – IaaS lets you easily deploy the servers, processing, storage, and networking to make it up and running in no time.
Why Should One Opt IaaS?
IaaS being the most flexible of cloud models gives the best option when it comes to IT hardware infrastructure. IaaS is the right option if you need control over the hardware infrastructure such as managing and customizing according to your requirements.
Whether you are running a startup or a large enterprise, IaaS gives access to computing resources without the need to invest in them separately. However, the only downside with IaaS is that it is much costlier than SaaS or PaaS cloud models.
According to Gartner's latest report, the worldwide infrastructure-as-a-service (IaaS) market grew 31.3% in 2018 to total $32.4 billion, and in 2019 it's projected to be worth $38.9 billion. This growth will continue well into 2022, where it's expected to be worth $76.6 billion.
Things to Consider Before IaaS Implementation
Clearly define your access needs and the bandwidth of your network to facilitate smooth implementation and function.
Plan out thorough data storage and security strategy to streamline the process.
Ensure a disaster recovery plan so that your data remains safe and accessible at all means.
PaaS
Benefits:
Minimal Development Time – PaaS reduces the development time since the vendor provides all computing resources like server-side components, which simplifies the process and improves the focus of the development team.
Multiple Programming Language Support – PaaS offers support for multiple programming languages, which a software development company can utilize to build applications for different projects.
Enhanced Collaboration – With PaaS, your business can benefit from having enhanced collaboration, which will help integrate your team dispersed across various locations.
Why Should One Opt PaaS?
PaaS is the preferred option if your project involves multiple developers and vendors. With PaaS, it is easy to create customized applications as it leases all the essential computing and networking resources.  Being a different model, PaaS simplifies the app development process that minimizes your organizational costs.
Besides, it is flexible and delivers the necessary speed in the process, which will rapidly improve your development times. A typical disadvantage with PaaS is that since it is built on virtualized technology, you will have less control over the data processing. In addition, it is also less flexible compared to the IaaS cloud model.
A study by Market Reports World estimates that the global PaaS market will grow at a CAGR of 24.17% during 2019-2023 and will get valued at 28.4 billion USD by the end of 2023.
Things to Consider Before PaaS Implementation
Crucially analyzing your business needs, decide the automation levels, if it needs to be self-service or fully automated.
Clearly determine whether to deploy on a private or public cloud.
Plan through the customization, and efficiency levels.
Cloud Application Development?
What Should You Know About DaaS?
Desktop as a Service or DaaS is desktop virtualization provided through the cloud. DaaS is similar to the server deployment done in IaaS. However, it strictly specializes to offer desktop operating systems. As mentioned earlier in this blog, according to Gartner, DaaS is expected to have the most significant growth in the coming years, analyzing the 95.4% increase in Worldwide Public Cloud Service Revenue in 2020.
Providing device accessibility from anywhere and at any time, DaaS enables workforce mobility and enhances flexibility. Its offerings are mostly simple pay-as-a-go subscription models which makes it easy to scale up. With DaaS, an organization can rely on data security, disaster recovery, optimum performance, cost savings, and mobility. Enabling an easy to manage and simplified IT environment for desktop solutions, DaaS is now widely adopted amongst small businesses.
Benefits:
Security – Along with easy accessibility and simplified management of desktops and applications, DaaS ensures enhanced security of data.
Flexibility – As mentioned earlier, DaaS enables easy accessibility from anywhere allowing maximum flexibility. Seasonal or remote workers and contract employees can stay productive at all times with streamlined access to applications, remote desktops, and data on any cost-effective device.
Cost savings – Providing easy monthly and yearly subscription plans, DaaS reduces the capital expense and makes operational expenses more predictable.
Business continuity – Providing disaster recovery support, and easy access to apps and desktops to the workforce, DaaS helps running a business at all times, even during natural disasters and pandemics.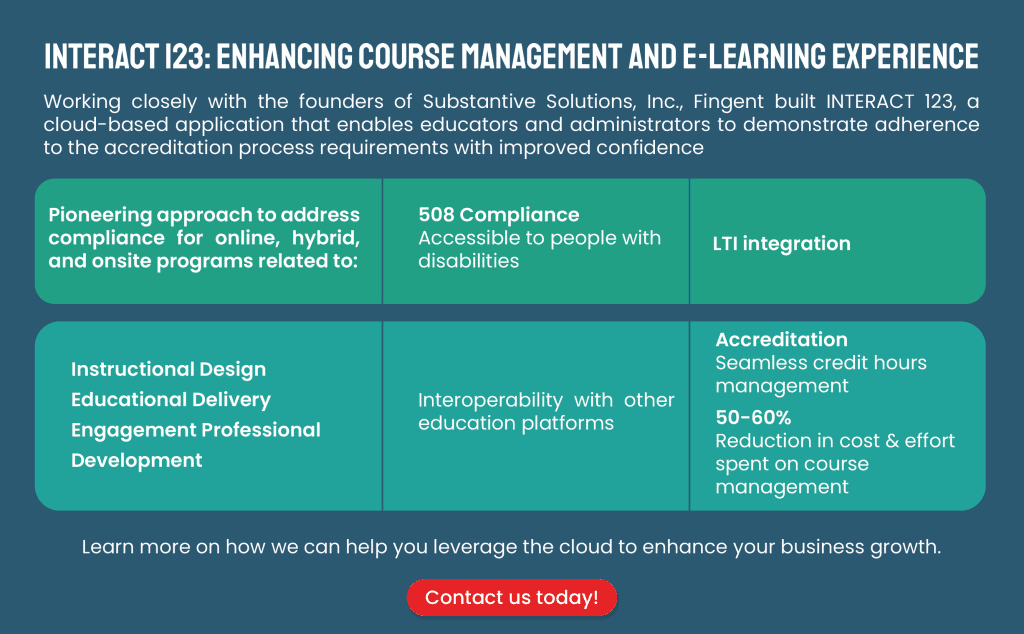 Why is it Important to Choose the Right Cloud Service Model?
The rise in remote work culture is increasing the need for streamlined collaboration and secured storage facilities. Cloud computing is one technology that has the potential to drive efficiency and opportunities for companies functioning remotely, that too without the need for significant capital investment. It goes without saying that the Cloud is rightly the superhero in town now! However, it is essential to choose the right cloud service model to truly gain the advantage and remain competitive in the market.
The ultimate requirement of enterprises today is to quickly adapt to the growing market changes and to meet the rising consumer demands. Achieving this is however not possible without leveraging the emerging technology, which is quite complex in itself. But implementing the right Cloud Service Model, that fits the business objectives, enterprise infrastructure needs, provides the right flexibility to scale, adapts easily to the company process, products, and service techniques will amplify and smoothen transformation for business, that stands imperative today!
How Can Cloud Support Your Custom Software Needs?
Although the Cloud is highly adopted for cost-effective IT operation needs, the cloud's capabilities and offerings are now not limited to data storage for the ease of system restoration. Cloud has now the ability to run a company's IT operations in bulk including setting up and running an environment for custom software development. The Cloud Service Models Infrastructure as a Service (IaaS), and Platform as a Service (PaaS), have just the capabilities to provide an ecosystem to custom software applications.
Find out which cloud service model fits better for your custom software development needs from the infographic below: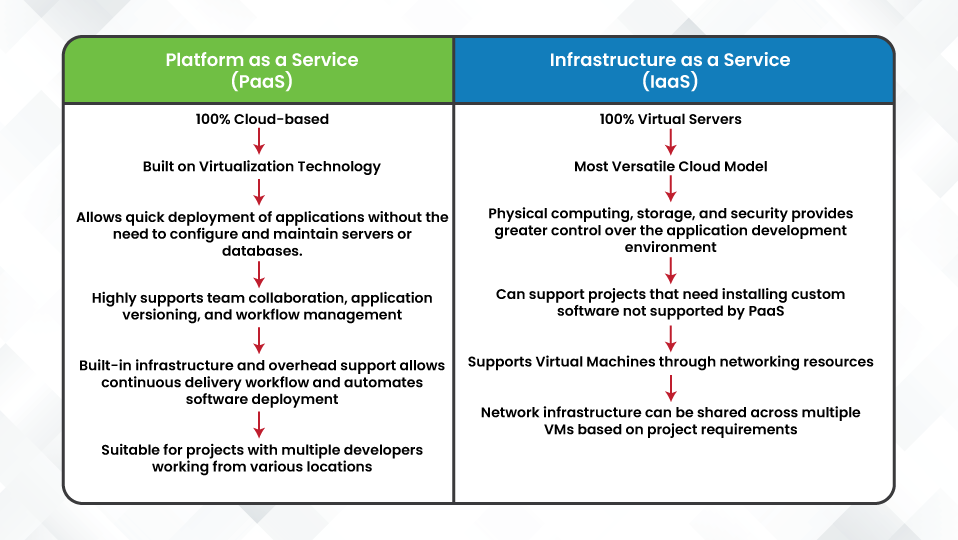 Cloud Service Models SaaS, IaaS, or PaaS: What Fits your Business?
The growing adoption of cloud services is a sign of the rapidly changing business environment. The forecasts and reports shed light on how the cloud is going to become the primary computing resource for enterprises in times to come. So, that suggests that your business should quickly adopt a cloud platform to leverage its wide-reaching benefits and in turn help you grow.
But, what cloud model would be apt as a solution that delivers the results that you are looking for. The above-mentioned details about SaaS, IaaS, and PaaS may have provided you with a peek into the nature of these cloud models. Each of them differs and it is up to you to address your business requirements and select one that you find apt for your needs.
To summarize, SaaS would suit your business well if you need cloud-based software like email, CRM, and productivity tools. IaaS is the perfect option if you require a complete virtual computing platform with powerful resources. If your requirement is a platform to develop and test your software and applications, then it is better to opt for PaaS.
Get in touch with our experts today to know more about our cloud services.
In Conversation with Stephen Cummings, SVP, InfinCE
InfinCE represents the next phase of cloud for enterprises. Being a progressive approach to running IT, InfinCE democratized the cloud enabling businesses of all kind to leverage its possibilities. Unveiled at the 2018 Small Business Expo, InfinCE marks a shift in "untangling technology", which simplified how businesses utilize the cloud for refining their processes and operations. InfinCE delivers a secure cloud model that encompass all the essential IT requirements of enterprises.
As a radically different enterprise cloud system, InfinCE really invoked my curiosity to know more about its simplified cloud model. Stephen Cummings, the Senior Vice President of Business Development at Fingent Corporation was earnest enough to spare a little time from his busy schedule and give me a firm background about InfinCE in accordance with the questions that I presented. He elaborated on the features and functionalities of InfinCE, which got me well informed of the capabilities of this platform.
Thank you, Stephen, for your time. Let us begin this short interview with a brief description of what InfinCE is about.

So, can you tell us a bit about InfinCE and who is it aimed at?
Up until now, cloud technology has been structured for use by, and marketed to, a technical audience of developers and IT professionals in large corporations. We developed InfinCE to both simplify how businesses get the software and related support and to dramatically lower their IT-related costs. By building upon the latest developments in cloud-based systems, and incorporating available open source software, we have been able to pull together the things a small business needs to have a secure, modern IT infrastructure  – from a company website and mail server to full-featured enterprise software and desktop tools.
InfinCE is the new way for small businesses to run IT.
Business owners don't have time to learn about digital tools or to manage them, and they don't have money to waste. We give them high-value technology options that are intuitive and affordable. Our concierge support services are at hand whenever there is a technical question or concern.
What led you to develop a cloud platform like InfinCE?
Survey after survey showed that a large percentage of small businesses were not taking advantage of technology that would help them significantly improve their ability to serve their customers. In today's internet-focused world, their lack of technology puts them at a serious disadvantage to their more nimble competitors. Many companies were discouraged from using existing open-source software, which, though free of cost, did require technical knowledge to get set up.
At the same time, we knew that new developments in cloud and communications technology were making it possible to deliver solutions for them in a completely new way. For open source specifically, we knew if we could automate the setup process, a further barrier to its use would be eliminated. What we were able to do is to make software set up a "one-click" process and to do the same for support services.
Business owners can not only get up and running easily and quickly, but they can do so without anxiety because they can easily use a "life-line" to have someone knowledgeable lend a hand.
Yes, technical complexity and jargon are preventing businesses from adopting the technology. In view of that, can you elaborate on the challenges that you came across while developing this platform?
To make a system both powerfully featured and easy to use meant we had to meet a number of design challenges. How could we make the setup fast and automatic, even for business owners who may not be very technical themselves? How can we make it easy -whether a business owner is technologically intrepid or not – to leverage the options that make sense for their business?
How can we make application software developed by many independent developers work well together? How can we accommodate a flexible and economical infrastructure that works for simple or complex applications, and for small or large companies?
How can we make the user have a friendly experience, for example with a "single-sign-on" capability across all applications? How can we give users an even more secure system than is typical?
With data privacy and security featured again in the news, how much protection does a business cloud platform like InfinCE offer to businesses?
We have given a lot of focus on data security as it allows people to build trust within the application and its information – which is one of the most important factors. Every customer's data is hosted on a separate secure virtual server. Our secure servers and SSL built for applications ensure that there is no information that is being tracked or eavesdropped by any external entities.
How much relevance does cloud computing have in today's business environment? And where does InfinCE fit in this environment?
In today's business environment, a business owner needs to have access to her data right when she needs it, irrespective of her location or geography and the device she is accessing it from.  This is what cloud computing provides – an access to one's business data at any time and anywhere you have an internet connection. Apart from this obvious benefit, cloud computing also improves scalability, business continuity, collaboration efficiency and reduces cost. So yes, cloud computing is going to be here for the foreseeable future.
Cloud computing is an umbrella term for different types of cloud services, that include SaaS, PaaS & IaaS. InfinCE can be considered as an IaaS service as we provide the servers, storage, and networking hardware, as well as the virtualization layer.  On top of that, we also leverage SaaS to offer a plethora of tools and applications that will cover all the technology needs of an SMB. InfinCE is thus a unique combination of IaaS and SaaS to cater to all the IT needs of a small business.
Read more: Top Trends That Will Transform Cloud Computing in 2020 and Beyond!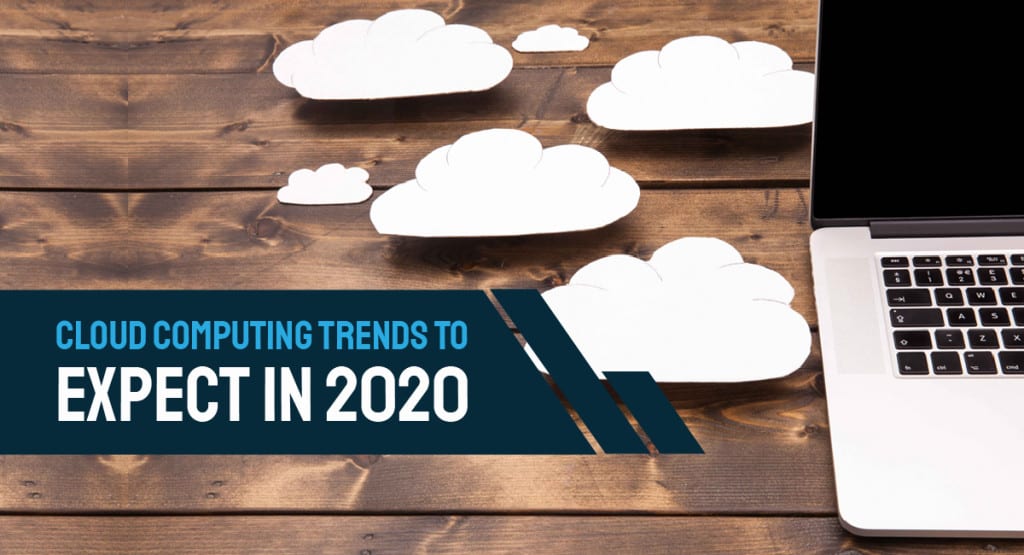 Will InfinCE's concept of cloud management for businesses lead to a better form of managing and optimizing business processes?
InfinCE is an IT solution for SMBs. A small or medium business owner needs technological solutions for a variety of business needs, but may not have an IT budget that is large enough to afford the top of the line enterprise software solutions.  On the other hand, we have a lot of feature-rich Open Source software that are competitive alternatives to Enterprise Software.
The challenge here is that installing, customizing and setting up an Open Source software requires technology experts in the team. Off the shelf SaaS products will need the employees to access various products through multiple channels with multiple logins, with no single source for all of the business data.
InfinCE is a solution to this problem. We are constantly integrating good quality Open Source and third-party tools into our App Marketplace. With a few clicks, an InfinCE customer can add the desired App to his InfinCE Workplace.
The new software will automatically be integrated through Single Sign-On, becoming part of their IT system. This ease of plugging in business apps on demand makes InfinCE a powerful IT solution for SMBs.
What are the potential benefits that small and medium businesses can derive from using InfinCE?
In terms of setting up Small & Medium businesses, the ability to collaborate with their internal team and carrying out business activities has substantially improved and can be managed accurately using InfinCE — which no platform provides. Going further, different departments within a company can be micromanaged and this increases transparency by also allowing user restrictions across InfinCE.
Security is another key area that benefits our customers, as nowadays the emails, files that we share travel through various servers before reaching us, and there can be eavesdropping and privacy can be at stake. We provide servers that are managed by us to send emails and fresh dedicated email servers can also be bought at a very less cost.
How do you envision the future of InfinCE and what new improvements and upgrades will be implemented in this solution in the coming times?
InfinCE stands for "InfinCE Cloud for Enterprise" and that's the vision driving us. By continuously integrating more and more applications in our App Marketplace and innovating our cloud solution, we aim to arm SMBs with the latest technology and tools. The business owners can concentrate on growing the business while we take care of their IT.  Our work never stops!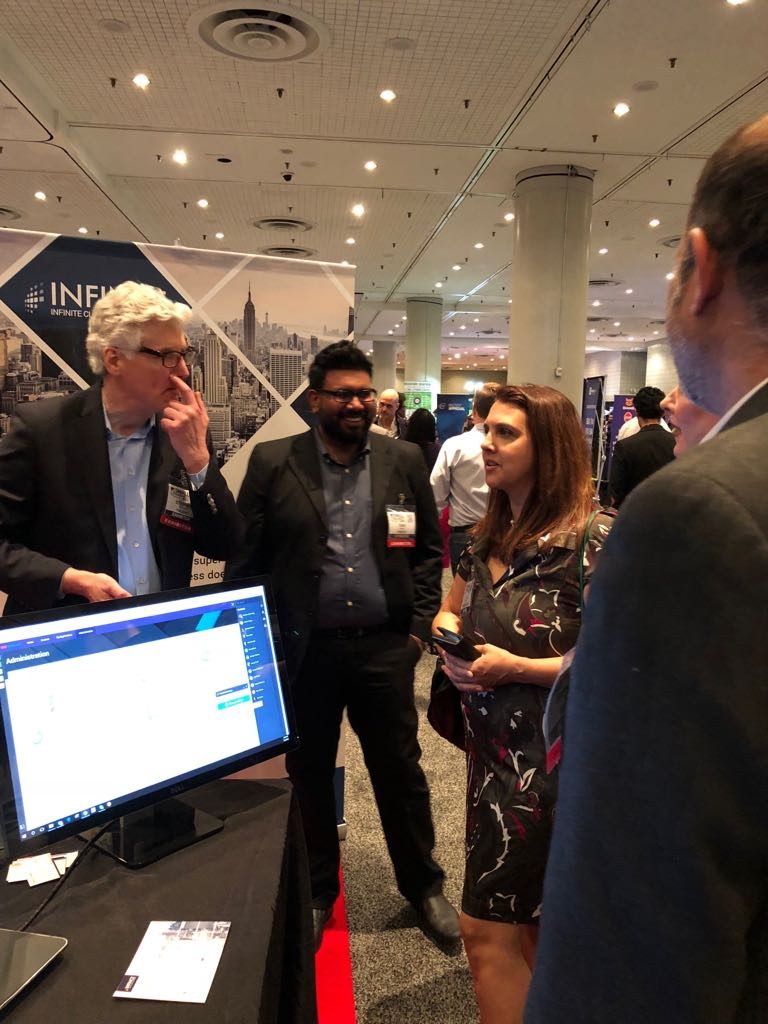 Compared to other enterprise cloud platforms, what specific features have you included in InfinCE to make it a popular dependable platform?
Compared to other enterprise cloud platforms, we are providing one-of-a-kind platform wherein business can access numerous Open Source applications, with a Single-Sign-On option to effectively run their businesses. Apart from that, all the servers, hosting and basic support for Open Source applications are offered by us and an extremely affordable cost and is secured. Our features, costing, and level of services have been brutally transparent and there have not been any hidden costs involved which sets us apart from our potential competitors.
Does the extended storage options given at InfinCE come in specific tiers?
We prescribe a minimum of 2GB storage per user.  Additional storage can be bought from a minimum of 10GB upwards. The real benefit for InfinCE customers is that they are in control of how the storage is allocated across the users. The business owner is free to do a differential allocation of the extended storage across users, as per individual requirements.
That indeed provided me with some in-depth information about InfinCE. In a way, the open accessible cloud model that you envision clearly does have much larger potential in the coming years. Deep down, I do believe in the same thing, which is that all businesses should be given the means to utilize technology to their advantage.
By creating a platform like InfinCE, Fingent Corp has indeed opened the doors of the cloud to businesses of all kind, so that they could remain technologically competitive and productive. Thank you, Stephen, for granting this interview and wishing the very best for all your ventures.
To learn how your enterprise can benefit from custom-built business applications, get in touch with our experts today!
Why Businesses With Matured Cloud Footprints Should Move To The Hyper Hybrid Cloud?
The Cloud is no longer an option. It is the revolution that has become inevitable for businesses and more and more businesses are recognizing this and moving their data into the cloud. They are implementing mature cloud strategies that call for comprehensive cloud management solutions. They need a solution, which can handle the scale and complexity involved in advanced integration and orchestration. The hyper-hybrid cloud becomes extremely important here and is paving new operational avenues for all businesses.
This blog explains the reasons why and how your business can benefit from moving on to the hyper-hybrid cloud.
Understanding What Hyper-Hybrid Cloud Is
The hyper-hybrid cloud is the best of two cloud services, private and public. Let's break it up to get the complete sense of the term.
In business terms, the word 'hyper' means greater, or more than usual, and 'hybrid' means mixed. As the name suggests, hyper-hybrid makes use of both on-premises private cloud, as well as third party public cloud resources but with increased diversity, and complexity.
The hyper-hybrid cloud forms an inter-routed plumbing system, as it were, between private and public clouds with greater flexibility according to the businesses demand, needs, and cost changes. It also provides virtualization and virtualization software management so that businesses can easily visualize hardware assets and move them to a private or public cloud as the need may be. This is the reason why many industries are moving towards the hyper-hybrid cloud instead of getting locked in with only a private or public provider.
Related Reading: Core Challenges While Enterprises Move to Hybrid Cloud and DevOps
Should Your Business Move to the Hyper-hybrid Cloud?
With the massive array of options available at hand, businesses are adopting a "multi-cloud" strategy as opposed to the cloud strategy. This means that they are adopting a hybrid cloud with at least one public cloud and one private cloud. What they need is a system with multiple applications and infrastructure services on both the cloud platforms with flexibility and maneuverability. That is what 'the hyper-hybrid cloud' is.
Although some businesses are successful with public cloud providers, a few others have found it necessary to keep some resources private due to cost, performance, and compliance considerations. Consider these questions to check if your business is suitable for a hyper-hybrid cloud model:
Is your business serving a number of verticals, each with a different IT security and performance requirement?

Do you want to optimize cloud investment without compromising the value proposition of private or public cloud technologies?

Do you want to improve security on existing cloud solutions?

Do you want a cloud solution where you can conveniently switch between public and private clouds depending on your needs and what the market offers?
If your answer is yes, then moving on to the hyper-hybrid cloud is your best option.
Related Reading: How Secure is Your Business in a Multi-Cloud Environment
Five Incredible Benefits of the Hyper-hybrid Cloud
Flexibility:

Varying IT demands can be managed with greater flexibility. The distribution of workloads across private and public infrastructure based on performance, cost and security can be easily handled in line with your business policies.
Increased automation and consistency:

As your business grows, you cannot afford to spend too much time on your resource utilization projects which must remain accurate, nonetheless. The hyper-hybrid cloud helps your business automate processes by implementing rules which allow you to access the resources according to your business requirements. This way, it ensures that the process is consistent even if it must be repeated over multiple environments.
Scalability:

When it comes to managing intensive workloads, the hyper-hybrid cloud is highly scalable. It can scale down to utilize the private cloud or scale up to utilize the public cloud according to the need of the hour.
Enhanced security:

Since the hyper-hybrid cloud integrates the public cloud model with on-premises cloud hardware, it provides your business total control over systems, security, and policies. Similar to a private cloud model, the hyper-hybrid operates behind a firewall. The security of sensitive information is guaranteed as it operates from a private cloud. At the same time, this allows your business to manage the day to day enterprise operations on a public cloud that can easily be scaled according to your needs.
Well balanced:

The hyper-hybrid cloud structure makes it easy to divide the workload between both the cloud computing models and provide the maximum capacity to accommodate the demands of your business. It enables your business to stay competitive with the aid of such a versatile platform.
Related Reading: Hybrid Cloud Infrastructure: How It Benefits Your Business
Experiencing Success With Hyper-hybrid Cloud
The hyper-hybrid cloud plays a crucial role in helping your business respond to the changing market needs and demands. It is both beneficial and critical for a business that wants to enhance productivity and security, and improve scalability and consistency. Fingent can help you successfully meet the challenges of implementing a hyper-hybrid cloud solution. Talk to us to understand how we can solve your dilemmas related to cloud platforms.

To cloud or not to cloud? That is the question. The need of the hour is to not just go beyond the hype thrown about by cloud providers to understand cloud services are indeed a better deal compared to on-premises hosting, but also distinguish between the various cloud options. Among the various cloud hosting options, Amazon Web Services (AWS), with its global presence offers the best all-around compute, database, storage, analytics and deployment services, ranks among the best options.
In 2017, AWS was ranked among the four largest public cloud providers in the world, along with Google Cloud, Microsoft Azure, and IBM Softlayer. AWS is also ranked as one of the leading information technology (IT) companies in the world, by revenue. Specifically, in the infrastructure as a service market, AWS has been noted to have a majority of the market worldwide. Amazon's share of the IaaS segment was estimated at 44.2 percent. For Amazon, AWS's IaaS revenue raked in 9.7 billion U.S. dollars in 2016.
Costs
Many business owners consider only the raw face value costs and remain oblivious to the total cost of ownership. For on-premise, the basic cost is the cost of the hardware and software required to put a solution in place. For the cloud, the basic cost is the recurring monthly service cost. However, there are other costs to consider for both models.
On-premises solutions are electricity hogs. Running the servers on a 24×7 basis, complete with cooling, consume much more energy than what normal PCs consume. An average in-house server consumes about $731.94 per year worth of electricity in the USA, including both direct IT power and cooling.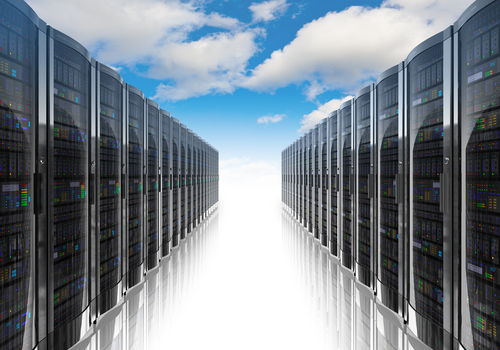 The savings on electricity alone would most likely compensate for the bandwidth costs cloud services attract. Amazon's EC2 offers about 1GB of free outbound bandwidth per month anyway, allowing small users to get their bandwidth requirements for cloud storage gratis.
Another cost to consider is the replacement cost. Organizations replace on-premise systems every five years, on average. Stretching a server lifespan beyond this point carries the risk of unexpected failure and costly migration fees as the legacy software delves much further obsolescence than it would have after five years. Even where cloud services have higher recurring costs, the replacement cost makes it very cost effective in the long run. The economies of scale of the cloud service providers offset what it would otherwise cost them the same five-year replacement costs
AWS saves customers a sizable amount. Since AWS already has a staggering infrastructure in place, unmatched by just about anyone on the planet, the cost to provision for a new account is marginal. As such, AWS customers end up paying much less than what they would do for other solutions, both on-premises, and cloud. The cost savings extend to applications as well. The AWS Marketplace offers several highly intuitive products priced on an hourly basis, with no upfront cost.
Learn more about how to optimize cost with AWS.  

Bandwidth
The cloud brings a lot of potential savings, both in direct cost and by eliminating indirect costs. The elephant in the room is bandwidth, though. Unless there is adequate bandwidth, performance issues will sap the vitality of the system.
However, it is a fallacy to assume on-premises solutions do not have any bandwidth issues. It still requires an efficient and well-designed network of switches and cabling to serve bandwidth-hungry applications inside office walls. Moreover, cloud services are getting smarter with how bandwidth is used, offering viable solutions even for those with a small pipeline to the internet. For instance, Office 365 handles massive searches across a 365 mailbox server-side, downloading in real time only pertinent emails that need to be opened. Outlook keeps a local cache of email mailbox.
It is also important to remember all cloud hosting providers are not equal. The safe bet is to opt for market leaders such as AWS who has the capability to throw in virtually infinite storage, bandwidth, and computational power when needed. Increasing bandwidth on surges in traffic is easy with a few mouse clicks or swipes, and scaling down is likewise, to avoid paying for unnecessary resources. The cloud eliminates the vexatious and unpredictable task of provisioning. With AWS, it gets even better. There is no uncertainty and IT departments can be assured of elasticity at any time of the day or night, without any hassles.
Reliability and Uptime
The cloud offers much better reliability and uptime than on-premises servers. AWS offers 99.95% guaranteed uptime, and also robust backup protocols which ensure nothing uploaded to their servers will ever be lost. At a macro level, on-premises servers face 14 days of downtime in a year, whereas the average rate of downtime for cloud servers is just 30 hours a year. The total cost of downtime for businesses run into a whopping $26.5 Billion USD every year.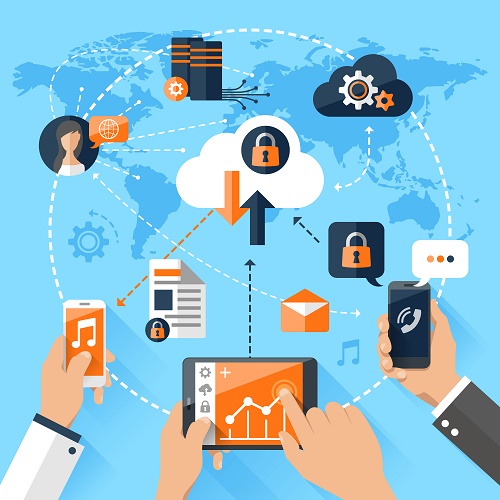 On-premise exchange servers are maintenance-heavy, requiring heavy infrastructure. Practical considerations mean the best practices are not always followed. In contrast, cloud giants such as AWS have dedicated teams and unlimited resources to throw into their core competencies, and they leverage the benefits of economies of scale, which they pass on to their customers. The vast technical backbones that power cloud data centers are technologies that are out of most individual users.
Robust Security
AWS makes affordable to small and medium enterprises many features, and the high quality of service, previously affordable only by big corporations. For instance, security has major implications, and often it is weak security that makes enterprises opt for on-premises solutions. AWS offers the same high-grade security features for a small proprietorship and a Fortune 500 firm since the security protocols in place for SAWS are for the system as a whole. And such security systems are far superior to anything on-premises systems can come up with.
The intuitive AWS Management console makes it easy to monitor and control the account, including add or decrease space, launch EC2 instances, add or remove a service, and more.
The success of moving to the cloud depending on getting the bandwidth and other configurations right, and also deploying cloud-optimized apps that allow employees to access their required functionality through the cloud.
Related Reading: Choose the right Cloud service model for your Business
Fingent is your perfect partner for delivering cutting edge applications hosted on AWS. With our wealth of experience cutting across industries, we are best poised to deliver the most optimal solutions, fully customized to our requirements, in the most cost-efficient manner.
Limited mode
enterprises, many
Limited mode
Dollars in 2016

That the cloud is the backbone of this IoT revolution goes without saying. Reports from the January 2016 Consumer Electronics Show (CES) reveal most manufacturers equipping their devices, be it refrigerators, cars, dishwashers, running shoes, thermostats, and every other conceivable device massive cloud-based back end, to enable such devices to join the IoT bandwagon. The investment in cloud capabilities comes from the twin need to enable these devices to become "smart" by receiving and transmitting data, and to give these devices long-term value by making them instantly upgradable. The cloud facilitates both these IoT objectives.
For IoT to work, the connected device needs to communicate with other "things" and also with whoever holds the control strings. The "thing" connects with cloud servers to receive and transmit data, and store instructions and commands.  At another pane, the "small" data from each connected yet disparate "thing" accumulate and become big data in the cloud. The convergence of huge quantities of critical data in a common cloud pane, accessible anytime and anywhere, enables real-time analytics.
The possibilities of such cloud powered real-time analytics to make life better, and for businesses to unlock new opportunities are endless. A few cases in point:
Traffic controllers can source in small data from hundreds of IoT-enabled traffic signals, and subject it to real time big data analytics in the cloud, to ensure synchronized operation of traffic lights, and deliver seamless movement of traffic.

Smart sensors attached to a pair of running shoes may clock the runner's pace and notify them when it is time to replace the shoes. Small data from millions of such shoes would allow shoe manufacturers to predict demand accurately, and target prospects with precision.

IoT-powered refrigerators can let the homeowner know when food products are reaching their expiration date, or when the stock is running out. It may also transmit data to the supermarket, who can then predict demand accurately, and get their inventory right. In fact, the refrigerator may send off a replenishment order to the supermarket automatically.
Millions of sensors embedded on things already monitor and track data of all hues, and deeper insights from the analysis of such big data facilitate better-informed decisions and responses, cutting across industries and sectors.
But is the cloud really necessary for all this? Can IoT make itself useful without the cloud?
The IoT ecosystem that enables the possibilities would not be possible without back-end cloud-based applications that churn, translate and transmit valuable intelligence.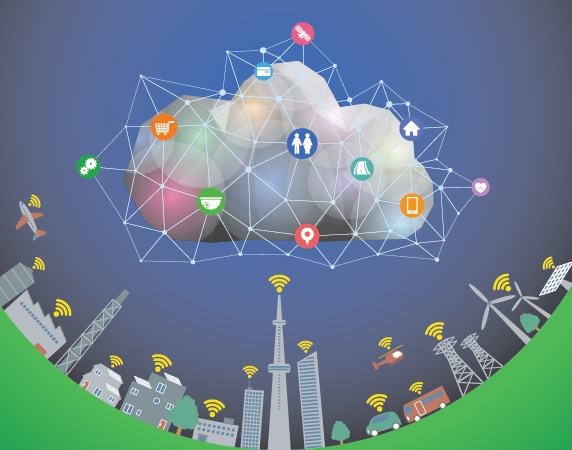 With terabytes of data flowing in from millions of disparate connected "things," the cloud is the only viable platform that can filter, store, and enable access of the required information, in useful ways.
The amount of incoming data from connected devices sensors often fluctuates widely. A sensor may generate 1000 KB of data in a day, 4TB on another day, and may not generate any data at all on a Sunday. The elasticity of the cloud enables scaling up or scaling down resources to absorb such wide fluctuations of data.
Hybrid cloud systems facilitate IoT-enabled services to communicate with  geographically distributed back-end systems. This anytime anywhere connectivity is indispensable for real-time analytics, and to enable path-breaking business models and public services.
The cloud back-end does away with the near-impossible alternative of regularly updating thousands of individual "things." Updates are a part and parcel of any system's life, and is unlikely to go away anytime soon.
The built-in security of the cloud assures that data is protected and compliance standards are baked into the platform.
For all the enablers of the cloud, security remained a drawback. For instance, IoT enabled driverless cars, with cloud servers providing navigation instructions to car, but what if someone hacked into the public cloud server and send the passengers to Kingdom Come! Newer purpose-built clouds that device developers may share or use exclusively offers viable solutions to such security risks, combined with newer tools that protect from information leakage and iron out the few remaining chinks in the cloud armor.
The cloud and IoT being an inseparable couple cuts both ways. Even as the IoT requires the cloud to work, the cloud is evolving to better serve IoT. In fact, IoT is now a chief focus of the cloud.
As the number of connected devices increases exponentially, cloud infrastructure is on the threshold of  a massive scale up, to accommodate the data swell. Unique, custom build hybrid cloud deployment models, leveraging the latest advances in software and networking, designed to meet the needs of customers' unique workloads, enable IoT players to maximize the potential the cloud offers, without being hassled by availability, performance and security issues. Side by side specialized cloud-based service software, systems and skill development is in a boom phase, as is bandwidth improvements to facilitate transmission of data between "things" and the cloud.
A case in point, Microsoft's recently launched Azure Functions, a "server-less compute," allowing developers to create apps that automatically respond to events is one such path-breaking service  launched recently. Microsoft's Azure Service Fabric platform-as-a-service (PaaS) platform makes it possible to decompose applications into microservices, for increased availability and scalability.
The IoT revolution is well underway, but as things stand, only the tip of the IoT iceberg has been touched, with just 0.06% of things that could be potentially connected to the Internet being currently connected. However, growth is exponential, with 328 million new "things" being connected to the IoT ecosystem every month. The cloud infrastructure is gearing up simultaneously, to enable a whole new world of cloud powered  IoT.
Fingent delivers technologies to enable your IoT solutions— cloud, networks and gateways, heterogeneous device support, systems capabilities, and data analytics. We provide industry-specific solutions that improve productivity and operational efficiency, with exceptional reliability and security. Learn about Fingent's IoT System
What aspect of our lives has technology not influenced right? We literally have almost everything in our lives automated and at our convenience, from home delivered groceries to mobile banking facilities. Our health too, is not left behind. With Electronic Health Records (EHRs) and other healthcare applications, there has been quite a few milestones in the healthcare industry as well.
For instance, we have wearables that allow users to monitor their heart rate or keep track of all kinds of health metrics while they are working out. We even have smartphone adaptable glucose meters for diabetics and many such other devices developed for our well being.
So, we've seen the beginning of technological advancements in healthcare, now where is it headed? Can we imagine a world where patients can probably be warned about a looming heart attack or an insulin shock for diabetics? With the help of all the health data collected from these wearable devices over a period of time, it could actually be possible, although we're not quite there yet.
The road definitely seems to be leading us to that. A significant change needs to take place in the way healthcare operates currently for that world to become a reality and the good news is, it has already started!
Here are the top 5 technology trends in healthcare that are likely to create the next big revolution in the industry:
Big data – Just like any other industry, the influence of Big data is pretty significant in healthcare as well. As healthcare is becoming more automated or digitized, the data that is collected in the process, through various points, is obviously huge, and the need to act on such data seems to be the new focus. Hence, organizations are looking for ways to store, access, as well as, garner useful insights from the data. It is a good start towards the goal of being proactive in our treatments and predicting outbreaks. It also helps in understanding diseases better and personalizing medicines and treatments, in order to improve the overall quality of care. It could even help in preventing pandemics.
The cloud – Organizations are making more use of the cloud because of its typical benefits like lower costs, scalability, and anywhere-anytime-accessibility. It also enables easier and faster implementation of new initiatives allowing all users of the data, like patients, providers and doctors to access it anytime they need. For organizations where full-fledged cloud infrastructures are adopted for all their processes, they can save a great deal on hardware and software maintenance costs, which lets them free up resources for more important projects.
Self-sufficiency – With the advent of more and more technologies designed to engage patients, like wearables, health metrics tracking apps, patient portals and other such developments, people feel more empowered and self-sufficient to take ownership of their own health. Such devices also help in generating data that can probably play a major role in delivering personalized medicines and treatment. Once such data is integrated into our healthcare systems, with course of time, it will lead to the growth of personalized healthcare.
Interoperability – The healthcare system of any organization needs to connect with external entities and systems for various purposes. Now, a basic level of such interoperability is already accomplished. The focus now is on bringing about a more advanced, safe and secure level of seamless interoperability between connected systems and external sources to provide a comprehensive view of a patient's health. This again helps in collecting meaningful data that can be used for proactive health care in future.
The pharma and healthcare – The collaboration between the pharma and healthcare has always proven beneficial for both industries. However, due to security concerns and different data standards, it has always been quite a challenge. But now, with significant improvements in the IT sector in security and cloud computing, the impact of these impediments is reduced and both industries are able to work and collaborate more freely with sufficient transparency in their processes. This also helps in providing data, such as drug trial results, genomics research, medical images and the like to different users in different industries, which can further improve the quality of healthcare as well as pharma products.
It's basically all revolving around the data, that is, collecting more data, extracting insights from the data and doing more with the data that is captured. Hence, organizations not only need to look for more ways to work with all the data, but they also need to make use of full-fledged data platforms that help in the management and real-time integration of data, in a safe and secure manner.