Interview with Varghese Samuel- CEO, Fingent Corp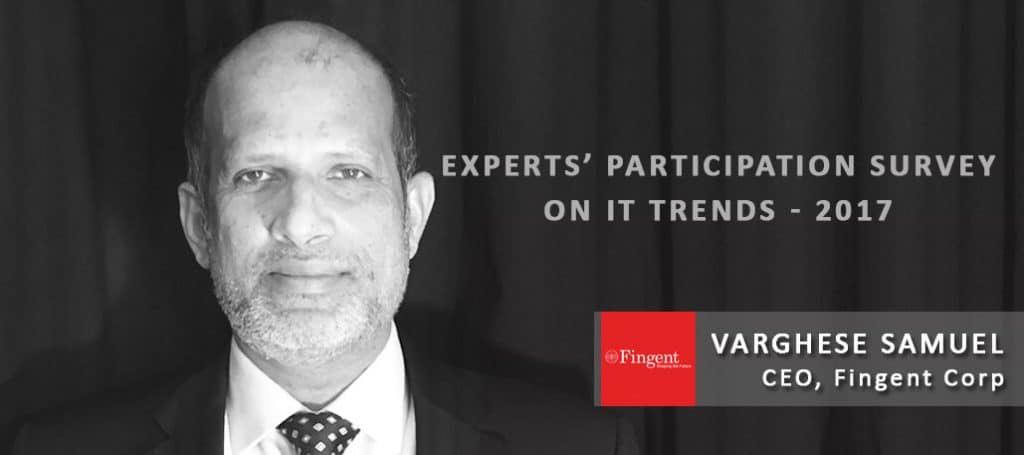 Few lines about Varghese Samuel -CEO of Fingent Corp
Mr. Samuel is the Founder and CEO at Fingent Corp, a Global Technology company founded in 2003. Samuel's ability as a leader, to span a breadth of businesses and technologies has enabled Fingent to build and deploy technology platforms which realize tangible business benefits for Enterprise businesses across the globe.
Over the last couple of years, he has led Fingent's  transformation to the cloud-based services business – Products and services that Fingent currently offers leverage modern cloud platforms and frameworks. Samuel has been a Technologist and an Entrepreneur leading technology innovations over the last 20+ years. He has a diverse background in the broader financial services and healthcare industry, and a proven track record of transforming businesses by creating innovative technology solutions. Samuel received a Master's Degree in Engineering from Indian Institute of Technology, Mumbai India.
1. Give us a brief introduction about your company.
Since our inception in 2003, Fingent has pioneered custom solutions that have become central components in our client's business success. Our technology and industry expertise enables us to partner with clients to deliver sophisticated solutions rapidly and on budget. We apply modern design principles, together with the latest in mobile, cloud and desktop technologies to help create solutions. As an organization, our primary focus is to build technology solutions that help businesses simplify/streamline their existing business processes, prepare for future growth, offer new services, reduce operational overheads, lower costs and help organizations connect better.
Fingent has been a recognized force to reckon in the technology space as we have made significant investment in producing advanced software products and platforms that will transform the technology industry.
2. What are the services you offer to your clients?
Fingent has been building custom enterprise business applications since inception for major corporations, small/medium businesses and startups across the Globe. As a pioneer in delivering technology driven innovations, we have segmented our focus areas into 8 Strategic technology Business Units, to better respond to client requirements. Our Strategic Business Units are as follows
● Microsoft
● SAP
● Enterprise Mobility / Digital
● Open Source
● Dev Ops and Infrastructure management
● QA
● Product conceptualization, including UI/UX
● Data Analytics
Most of our clients prefer to opt-in for services spanning across BUs for a single program or for multiple projects. Key areas include:
● Technology consulting ( including strategy, review, and intervention)
● Software product development including PLM
● Business process automation
● Digital Marketing
3. In this intensely competitive era, what technologies, services, and project model can give you an edge over your competitors? 
Our vision is to be acknowledged by our clients, people and our shareholders as the leading strategic technology partner in our market.
We will deliver this vision by providing high-quality Software & product development, IT infrastructure, project management & IT Consulting services enabled by our people, technology, and assets and supported by our committed vendors and partners.
4. After service is a necessary part of development. How do you provide customer support to your client? 
We have always prided ourselves as our client's extended technology wing. We have always focused on, not just building solutions, but, delivering value. And as extended partners of our client, we ensure that our solutions and products are always catalysts to their growth.  We have account managers and business analysts who act as single point of contact for every client need. Our dedicated infrastructure and quality assurance team ensure that we deliver quality solutions that keep our clients a step ahead in the market.
5. Give your opinions on how far this app revolution can make a difference in the technology world? 
We already have many personal-use apps exploiting the hyper-connected, hyper-local, hyper-personalized environments provided by mobile devices. Apps and the connected cloud-based ecosystems have dramatically transformed the personal-tech space.
However,  the Enterprise Tech world has barely scratched the surface in exploiting apps for innovation and business value creation. While Enterprise users demand mass market like apps and their cloud counterparts, security and cultural challenges remain key obstacles. The challenge is to find the delicate balance between controlling mobile devices and yet freeing employees to use them efficiently. CTOs and CIOs managing Enterprise IT teams can leverage the app (and cloud) revolution to deliver significant value by:
Placing mobility and mobile devices at the heart of their digital workplace strategies
Deploy management policies while educating users and bringing transparency to compliance
Provide the best Rewards versus Risks balance for the apps deployed across various employee segments
Manage the device lifecycle – purchase, usage, and disposal
Enterprise mobility is complex. At Fingent, we can help traditional IT teams upgrade their Enterprise Mobility strategy to deliver tangible business value, by leveraging the app revolution.
6. What latest technologies and tools you're planning to implement for mobile app development?
We prefer to use tried and tested robust technologies to create both native and cross-platform apps across – iOS, Android, Windows and Blackberry devices.  We carefully evaluate new and bleeding edge tech before considering them for production use on client projects.  While there are a number of tools we are evaluating, we are excited by the recently announced Azure App accelerator and Telerik Progress platform. Long term – we believe that AI and Machine learning will significantly alter the app development process. On a slightly different note, there is a lot happening on the wearables, AR and VR space. We successfully delivered our first Hololens project a couple of months ago.
7. What's your approach to creating interactive and addictive UX/UI of mobile apps and websites?
We approach UX/UI from the perspectives of -Understandability, Learnability, and Operability under real user conditions.  On mobile, we try to imbibe business features with the natural advantages provided by the mobile ecosystem – GPS and location tracking, Voice recognition, Cameras for Scanning, Gyro and Accelerometers, native connectivity option like Wifi and Bluetooth – in a secure manner. From a UI techniques perspective, we are looking at circular design patterns, interactive content layers, intelligent manipulation of content, cognitive interfaces and a few other areas to provide good learnability and operability.
8. What are the challenges you see in the outsourcing industry and how much you're prepared to face those challenges?
I remember reading a report recently that  70% of CIOs expect to change their mix of sourcing providers to get more business value and innovation from new partner relationships. While this is a challenge for incumbents, it is good news for the outsourcing industry as a whole. For customers, outsourcing is no longer just about cost, but also about innovation and partnership. Today, most Enterprise software outsourcing is based on the staff augmentation approach. As customers demand result oriented and value driven partnerships, we see a slow but steady shift back towards the project-based approach. This requires a greater understanding of the customer's business and higher accountability and ownership of business results.
At Fingent, we are built ground up to focus on the business outcomes that our clients wish to achieve using the product we develop for them.  Our processes secure the continuity and coherence across the CX cycle from-  Sales to Account Management to Operations and Delivery.   This, together with our focus on technology competence development ensures that we provide innovative solutions to add value to our customers' businesses. We are happier to provide our customers with solutions that add value to their business, to be accountable for the entire solution, than to body shop.  We are ready.
9. Mention the ways you use to introduce new updates to your team.
We have many different mechanisms depending upon the source, the context, and the impact. Technology updates are managed within the BU and the teams unless it has a wide-ranging cross-functional impact. Project-specific updates are introduced from the PMO since every project has a single point of contact ( for the client)  who is responsible to secure that project changes are communicated and understood by the project team.  Communication channels for an update may include one or more of- meetings, emails, blogs or updates within our PM tool. We prefer face to face communication to the extent possible, either in person, or using modern video communication tools.
10. Nearly 70% users engage in wearable tech. What's your step to enter into this revolution?
We have already started working with clients on Augmented Reality. We recently delivered a Hololens based facial recognition system for a client. We see opportunities across the entire technology stack- from chipsets to applications to cloud to data analytics and learning. Our strategy is a bimodal approach –
Leverage competence in areas where we are already strong. For e.g. Our strengths in data analytics and visualization, help us manage the structured, semi-structured and unstructured data that flows in from wearables. Our expertise in data security helps provide Security consulting services to Wearable tech manufacturers.
To focus on a few niche areas, where platform technologies are likely to succeed. For e.g. creating Augmented Reality applications for the HoloLens.
11. Examine the success and failures that your developers are facing while wearable app development?
The key challenges that we face in the wearable tech industry include:
Lack of standardization. Fragmented platforms create an overhead due to the learning curve and lack of interoperability.
Cultural challenges. Many users are not aware that by connecting wearables to the internet, high-risk information is placed in highly insecure and vulnerable environments. Risk assessments are often overlooked in an attempt to cut costs.
Nonetheless, we are optimistic about the opportunities here. These are challenges faced by any nascent industry.
12. There's a boom in native apps for wearable devices, what's your move to this technology?
Given the tight hardware integration required for many wearables, I would argue that in most cases, native is the only option. We are looking for more cross-platform tools to create apps that can be deployed across platforms at lower costs for our customers, But these are early days and we believe that such cost efficiencies will soon be created.
13. Define your future prospective and vision regarding new technologies like wearable and IoT apps?
I believe that we are at the beginning of the mass market wearable and IoT revolution. Privacy issues may lead to a temporary backlash, but these issues can be resolved.
We are looking forward to enterprise applications of wearable technology, especially in AR. Challenges around Security, Interoperability and Data mining/analysis have to be solved for Wearables and IoT to deliver tangible benefits at low risk.
14. What is your go-to-market scheme at a global level?
Currently, we are operating globally with offices across the globe. We have built many innovative solutions for our clients which are attracting other business with similar needs to reach out to us. We have a market research team that does industry research to identify the potential leads/opportunities based on the various matrix that we have developed internally. Some of the advanced project management and delivery processes that we developed with proven history convince our clients to work with us. We have most of our clients working with us for many years as a trusted partner as the organizational culture that we developed over the years focus on trust, integrity, and transparency with our clients along advanced technology capabilities.
We also share our knowledge and experience through blogs, white papers, case studies which has helped many people. We are also tapping into the power of social media platforms.
We also recognize that there is so much more than can be done to establish the Fingent Brand across the Globe.
Please tune in to hear about some major platform launches coming soon which we have been hard at work.
15. Mention the name of some of your successful projects?
We are grateful to have worked with large enterprises like NEC, Johnson and Johnson, CBN, Sony, WRI Capital, PwC and many more. We take a great deal of pride in having played a significant part in the explosive growth of successful startups like RentMoji, MFS, Lindsey Jones, Sweden Academy, Teachucator and many others.  We believe that true success is about adding value to people's lives, be it in ways large or small, at work or at home – our work with our clients has helped us do exactly that.
This post originally appeared at https://www.itfirms.co/interview-with-varghese-samuel-ceo-fingent-corp/