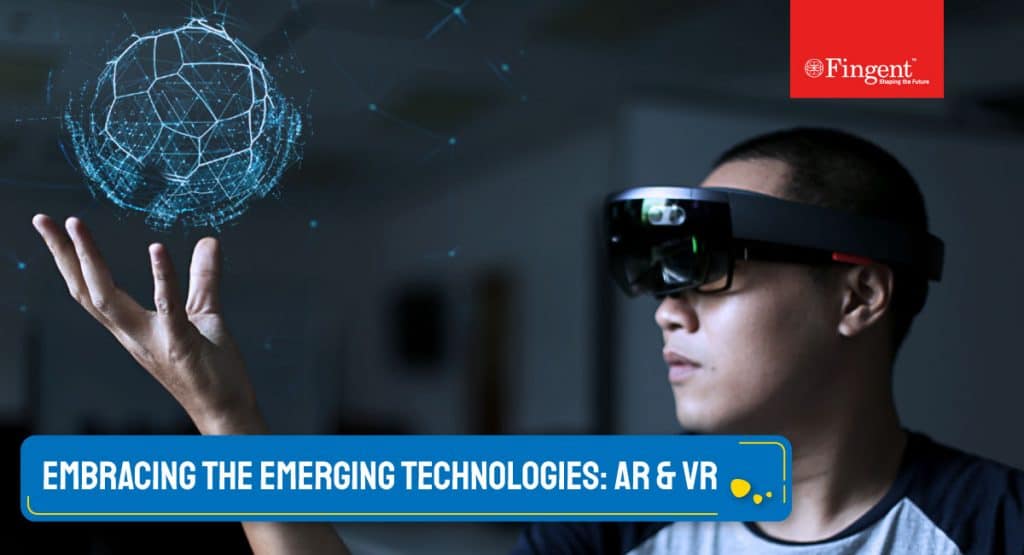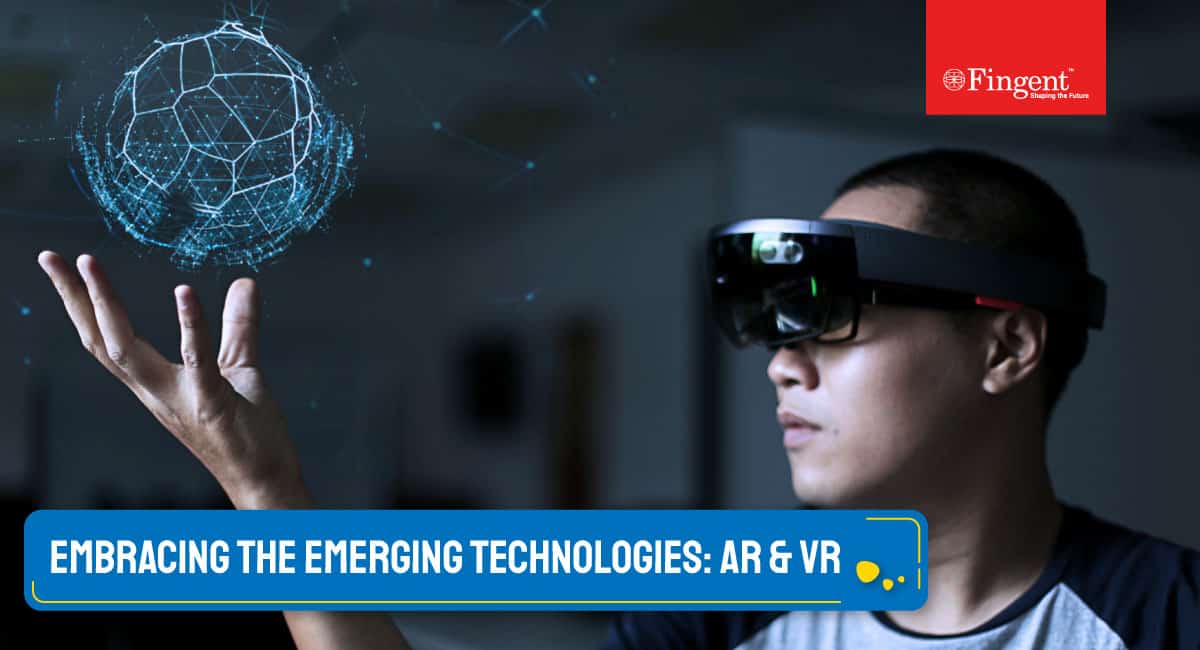 How we can expedite customers' move to emerging tech like AR & VR
Many real-world scenarios have shown us the need to keep up with technology. The COVID-19 pandemic, for example, has proved to be an unanticipated catalyst in accelerating customers' move to the new and emerging technologies and tools. As millions of consumers go into lockdown, they are forced to work from home that impacts their day to day habits of digital connectivity. 
Though COVID-19 has created a major drag on the world economy, it is playing an active role in accelerating the development and commercialization of several emerging technologies such as Augmented Reality (AR) and Virtual Reality (VR). This is especially true for innovations that automate processes, reduce human-to-human contact, and increase productivity during social distancing. This article examines how new technologies such as AR/VR can influence various industries.
Wholehearted Support for Virtual Health Care
In a survey conducted by Perkins Coie LLP, a vast majority of the respondents found healthcare and medical devices as one of the top potential growth areas for AR and VR technologies.
Telemedicine had previously not received enough support from healthcare providers, financers, and patients. But now, the need for virtual healthcare advice is accelerating the adoption of telemedicine. Various countries have authorized their healthcare professionals to expand telehealth consultations to make it easier for patients to speak with their healthcare providers.
This pandemic is also spurring the interest in asynchronous healthcare, a form of telemedicine that eliminates the need for face-to-face appointments in managing and monitoring chronic health conditions. New technologies in AR/VR allows a healthcare provider to remotely assess and diagnose a patient in an ambulance two miles away. 
Related Reading: Is Mixed Reality the Future of the Healthcare Industry?
Promising future for the Real Estate Industry
Though the present scenario has stirred unrest in certain industries, the real estate sector need not come to a standstill at this time. The use of AR/VR technologies can facilitate communication and collaboration within the industry. As a useful tool for design communication, AR/VR has the ability to ensure virtual co-location of the teams making it possible to transfer messages and work cultures.
The new tech line (AR and VR) allows all project stakeholders to take a 'walk' inside the project before it is built. Such an understanding of project data can reduce errors, facilitate faster and better decision-making, and achieve greater business and profitability. In this period when physical mock-ups and on-site prototyping are no longer viable, VR-enabled online libraries can add accuracy to design projects without additional cost.
Related Reading: Augmented Reality & Virtual Reality: Transforming The Real Estate Industry
Use Chatbots Instead of Human Punching Bags
The COVID-19 pandemic has induced changes in customer behavior and business models, which might persist well after the crisis abates. Meanwhile, chatbots can be used to reduce the surge in customer frustration. Various websites are using chatbots to answer general FAQs asked by the customers providing them a better customer experience. 
AI-powered chatbots can communicate with humans in real-time. Such personalized chatbots can be developed for your websites, social media profiles, and SMS services to generate automated responses using pre-defined keywords and categories. COVID-19 has complicated the role of the customer service representative. They have to lead the delicate dance of balancing policy and empathy with frustrated customers. 
Read our case study: Using Chatbots to Create an Enhanced and Engaging Learning Experience
Chatbots provide proactive customer service and help protect the emotional well-being of the agents. Onboarding and training new customer service representatives are not viable options when the work volume increases. Chatbots allow you to scale-up teams and multiply output within seconds. Additionally, now chatbots can be used effectively to sell products directly to users via WhatsApp (WhatsApp for Business). 
Powerful Cutting-Edge Technology: Face-Recognition 
In the span of a few weeks, COVID-19 has reshaped how the world works. This new paradigm has opened the door to the deployment of latest technologies such as facial recognition. During this period of social distancing, business and government agencies are increasingly turning to facial recognition technology. Also, face recognition payments are growing in popularity. 
Read our case study: The Future of Communication and Security Using Augmented Reality
Grand View Research, Inc. forecasts that by 2027, the worldwide facial recognition market will increase at a CAGR of 14.5 percent to reach 9.93 billion dollars.
Face recognition is already getting a lot of momentum since it avoids touching surfaces and potential infection. Another benefit to face recognition is that it can enable thermal scanning to check body temperatures, minimizing the risk of the sick infecting other workers.  
The Race To Keep Pace
Today the globalized economy is in fierce competition. Technology helps increase efficiency across industries especially during this pandemic. That is why AR/VR is emerging as a critical solution. From accelerating user collaboration to streamlining processes, the use cases of AR/VR technologies in business will only get stronger. And as IT infrastructure increases in complexity, these new technologies will deliver multiple benefits to businesses as a whole. 
Fingent helps accelerate your move to new and emerging technologies such as Augmented Reality, Virtual Reality, and Mixed Reality. Get in touch with us to find out how we help our clients deliver a compelling reality experience using these technologies.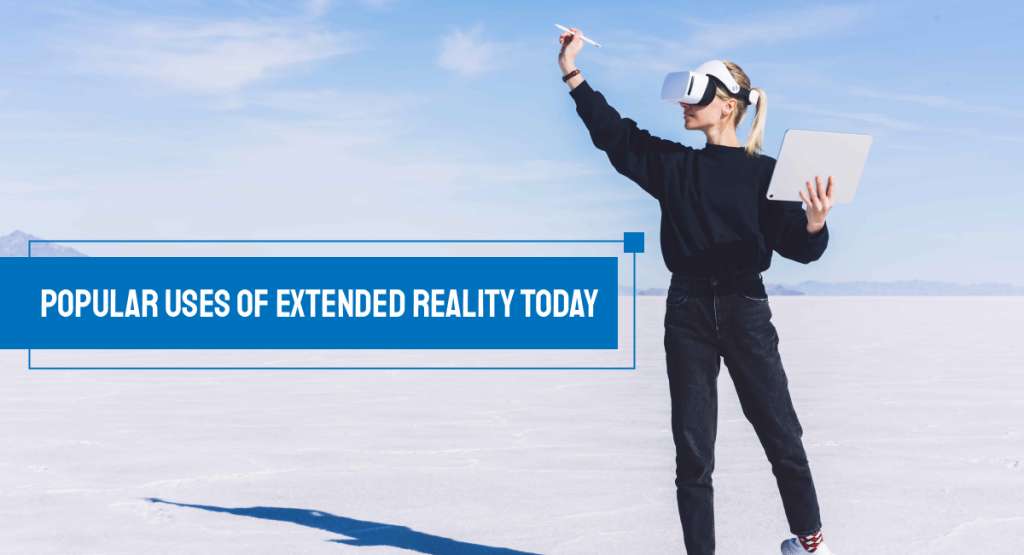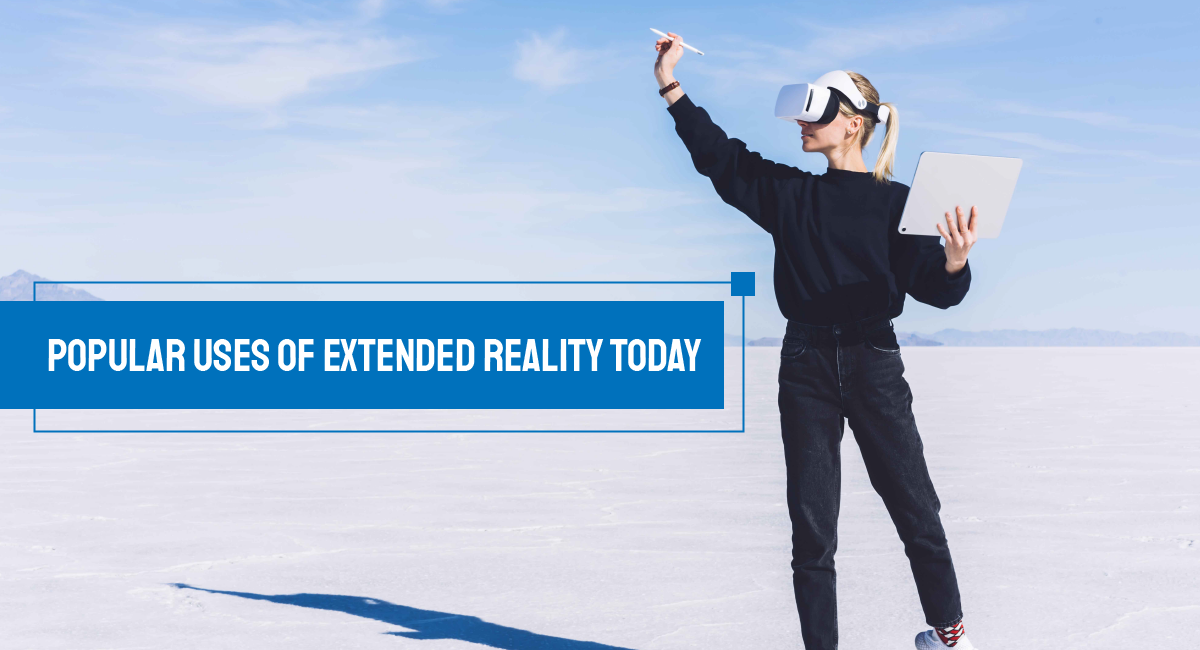 How Extended Reality Is Transforming Business Environments?
Picture yourself diving into crystal-clear Grecian waters or taking a walk on the moon, all the while sitting in the comfort of your home.  As fantastical as this may seem now, Extended Reality is making this possible as we speak. What is Extended reality and what are its powerful real-world applications? Let's check.
Understanding What Extended Reality Is
Extended Reality is a blanket term that encompasses all virtual and real environments generated by computer technology. This includes components such as Virtual Reality, Augmented Reality, and Mixed Reality. Extended Reality is poised to completely revamp the way businesses interact with the media and has the potential to allow seamless interaction between the real and virtual worlds allowing its users to have a completely immersive experience. 
Three Remarkable Components of Extended Reality
These components fall under the category of immersive technologies that can affect our perceptions. Here is a little bit about them:
Virtual reality: Virtual reality transposes its users to a different setting through a simulated digital experience. It makes use of a head-mounted display (HMD) to create an immersive experience by simulating as many experiences as possible.  Industries such as healthcare and real estate have started using virtual reality significantly. 
Augmented reality: As the word suggests, augmented reality takes the existing reality and overlays it with various types of information, enhancing the digital experience. It could be categorized as marker-based, marker-less, and location-based. It has proven useful in medical training, design, modeling and numerous other areas.
Mixed reality: Being the most recent advancement among reality technologies, mixed reality is experienced through mixed reality glasses or headsets where you can interact with physical and digital objects in real-time. 
Related Reading: Augmented Reality Vs. Virtual Reality – The Future Technology
The implementation of these technologies through extended reality is enabling businesses to create innovative solutions and increase customer engagement, reduce human error and improve time efficiency. 
5 Powerful Real-World Applications 
"The market for Extended Reality is expected to have a compound annual growth rate of more than 65% during the forecast period of 2019-2024," says Mordor Intelligence. 
Check out these five real-world applications of extended reality:
1. Entertainment and Gaming
The entertainment and video games industries are the foremost users of Extended Reality. Camera tracking and real-time rendering are combined to create an immersive virtual environment, allowing actors to get the real feel of the scene, thereby improving their performance. The extended reality also allows for multipurpose studio environments, thus reducing the cost of an elaborate movie set.
Video gaming is enhanced by the ability of Extended Reality to create a comprehensive participation effect. This allows users to dive into a completely different reality. Other entertainment events such as exhibitions and live music can also be enhanced by the capabilities of Extended Reality. 
2. Employees and Consumers
Training

: Extended Reality allows employees to be trained and educated in low-risk, virtual environments. Medical students, surgeons, firefighters, pilots, and chemists can closely simulate risky scenarios with minimal risk and less expense. The experience they gain will prove invaluable when they handle real-life situations.

Information

: Replacing physical manuals, Extended Reality can enable technicians to focus on the task without having to flip the pages of a manual. It can even connect an expert remotely to the real-time issue for his expert advice. This would save organizations a whole lot of money, and more importantly save them valuable downtime as they wouldn't need to wait for experts.

Improve customer perspective

: Simulating virtual experience brought on by specific diseases and impairments can help doctors and caregivers receive empathy training. 
Related Reading: How Top Brands Embrace Augmented Reality for Immersive Customer Experiences
3. Healthcare
Extended Reality is improving healthcare by streamlining medical procedures while enhancing patient care. Allowing surgeons to visualize the complexities of the organs in 3D, it is enabling them to plan each step of a complicated surgery well in advance. Essentially, it is ensuring that surgeons can perform surgeries in a more safe, effective and precise way.
4. Real Estate
Extended Reality makes it easier for real estate agents and managers to close a deal by enabling prospective homebuyers to get a real feel of the property. The layout scenarios that are enabled by Extended Reality enhance customer experience while providing strong business opportunities. 
Related Reading: AR and VR- Game Changers of Real Estate Industry
5. Marketing
Extended Reality enables marketers to give their consumers a 'try before you buy' experience. It allows consumers to be transported to a place, immerses them in that world and motivates them to explore it. As an example, Cathay Pacific used a 360◦ video with hotspots to help potential customers experience the brand firsthand. That increased customer awareness by 29% and brand favorability by 25%. 
Face the Future with Extended Reality
There are many more advancements and applications to be discovered with Extended Reality, and it is soon going to be imperative to competitive advantage. Make sure your business isn't left behind. Talk to our expert today. 
Mixed Reality Promising a New Improved Healthcare Industry
Mixed Reality makes it possible for surgeons to perform an operation on a patient thousands of miles away. It makes it possible for nurses to hone their skills and perform hundreds of operations virtually before even touching a patient. Mixed Reality is making the impossible possible. 
Mixed Reality combines the real world with the virtual to create solutions that we never thought possible. It enables effective collaboration between physical and digital objects and has found an integral place and application in healthcare. This blog explores some radical ways in which healthcare is using Mixed Reality for better quality treatment and customer experience. 
Mixed Reality Working Wonders in Healthcare 
By 2026, AV/VR in the healthcare market is expected to reach 7.05 billion USD showing that Mixed Reality is finding increased application in the healthcare industry.  From enabling pre-procedural planning and visualization before surgery to training nurses as they virtually workout challenges they could encounter during real-life procedures, and improving the collaboration and communication between doctors and patients – Mixed Reality is making great things happen.  Here are some ways in which this is becoming possible. 
1. Immersive Learning for Nurses and Medical Students
Skilled nurses are critical to the healthcare industry. Simulations are the most effective method of educating and preparing nurses to respond appropriately to a variety of situations they might encounter. Mixed Reality can place a nursing student in those specific or rare situations, which may be difficult to arrange for in real clinical settings. Such immersive simulations are much more cost-effective than traditional nursing simulation devices. The education company Pearson has collaborated with Microsoft to launch apps called HoloPatient and HoloHuman. These tools use holograms of patients and help in training healthcare professionals as they diagnose and treat medical problems. 
As another achievement in Mixed Reality, St. George's University in Grenada worked with SphereGen Technologies to develop what is called the 'Learning Heart.' The Learning Heart is a study aid that enables users to view the hologram of the heart from all directions and examine its functions. It responds to touch and voice commands and allows users to separate all the parts of the human heart, thus making learning immersive for medical students.
2. Reduced Time and Reduced Human Error in Reconstructive Surgery
Reconstructive surgeries enabled by Mixed Reality with the use of HoloLens have proven to be very successful at the Imperial College at St. Mary's Hospital, London. According to the team guided by Dr. Philip Pratt, Mixed Reality helps surgeons locate and reconnect major blood vessels. With HoloLens, surgeons are able to use holographic overlays to see the bones and identify the course of blood vessels which aids them in their surgery, improving the outcome for the patient. An article in The Times entitled Holograms to get surgeons under the skin of patients showed examples of a 41-year-old man and an 85-year-old woman on whom such reconstructive surgeries were performed successfully. 
3. Revolutionizing Surgery
In December 2017, Dr. Thomas Gregory undertook a live transplant surgery with the help of HoloLens. It helped him access the patient's medical information and anatomical pictures in 3D during the surgery. Since HoloLens is a standalone computer worn like a helmet by the surgeon, his hands are free for surgery. Additionally, the use of microphones and sensors allows the surgeon to communicate with other surgeons in different parts of the world making collaboration easier. All these features, along with the simulations and information it can pull up, make Mixed Reality a valuable asset in improving surgical performance.
4. Improving the Patient Experience
Building trust through efficient communication is an important aspect of a doctor-patient relationship. Mixed Reality makes this possible in a more immersive way.  For example, in a recent interview with Sirko Pelzl, CEO and CTO of apoQlar, he spoke about Virtual Surgery Intelligence (VSI) and said: "physicians can use VSI to show patients their own MRI scans and explain the surgical procedure in visual detail. We were able to illustrate in a recent study how greatly patients appreciated this education and communication."
Mixed Reality also helps in reducing response time and improving surgical accuracy, which contributes to the smooth and successful patient experience. For example, when the surgery is complicated or the patient is critical, diagnostic images with Mixed Reality can serve as a twin of the patient. This helps doctors discuss, plan, and walk through their treatment protocol, thus reducing response time in patient care.
Mixed Reality also gives doctors all the information they need about a patient and enables real-life simulations to help him in his decisions and actions. Commenting on a prototype application called "Cinematic Rendering for Surgery" Christian Zapf, head of the Syngo Business Line at Siemens Healthineers said, "The error rate dropped from 14.1 to 0.8 percent for surgeons in training and from 11.1 percent to 0.8 percent for qualified surgeons."
The future of communication and security using Augmented Reality
The Future of Mixed Reality
Mixed Reality has already made deep inroads, especially in medicine. It will continue to improve the quality of healthcare and medical training as it positively impacts the medical industry. Fingent has helped many clients build custom healthcare software solutions, which integrate applications with the latest technologies like Mixed Reality. Get in touch with us and let's discuss how we can make Mixed Reality possible for you.