3 Reasons to Embrace Prescriptive Analytics in Healthcare
From flagging an unsafe drug interaction to activating a yearly reminder call for a mammogram, healthcare providers are leveraging patient data for a wide array of healthcare tasks. Yet, a worrying number of healthcare providers struggle to understand which one of the big data analytics methods, prescriptive or predictive, is most effective for their business.
Related Reading: 5 Ways Big Data is Changing the Healthcare Industry
Understanding the difference between prescriptive analytics and predictive analytics is the key to finding the right path to viable and productive solutions for your healthcare industry. This blog discusses why you should consider prescriptive analytics rather than predictive analytics to drive value to your business.  
Predictive Analytics: The Ability to Forecast What Might Happen
Predictive analytics has been helpful to healthcare providers as they look for evidence-based methods to minimize unnecessary costs and avoid adverse events, which can be prevented. Predictive analytics aims to detect problems even before they occur using historical patterns and modeling. As the word itself suggests, it predicts. It gives you collated and analyzed data that could serve as raw material for informed decision making. 
Related Reading: Data Mining and Predictive Analytics: Know The Difference
However, the healthcare industry demands a more robust infrastructure. It needs access to real-time data that allows quick decision-making both clinically and financially.  It also requires medical devices that can provide information on the vitals of a patient up to the nanosecond. Based on the information available for the individual patient, clinical decision support systems should be able to provide an accurate diagnosis and the treatment options available. This must take into consideration the latest advances in medicine available as well. That is where prescriptive analytics comes into the picture.
Prescriptive Analytics: Reveals Actionable Next Steps
Prescriptive analytics takes it a step further by providing actionable next steps. If predictive analytics sheds light on the dark alley, prescriptive analytics reveals the stepping stones that would help map out the course of action to be taken. It empowers you to make more accurate predictions and gives you more options so you can make well-defined split-second decisions, which is critical for the healthcare industry. 
According to Research and Markets, the global prescriptive and predictive analytics market is expected to reach $28.71 billion by 2026. The reason for such an increase is because prescriptive analytics has the capacity to analyze, sort and learn from data and build on such data more effectively than any human mind can. Hence, the most outstanding benefit of prescriptive analytics is the outcome of the analysis. 
Three Reasons to Consider Prescriptive Analysis
MarketWatch states that Healthcare prescriptive analytics market is poised to grow significantly during the forecast period of 2016-2022. Here are 3 reasons why.
1. Sound Clinical Decision-Making Options
Unlike predictive analytics which stops at predicting an upcoming event, prescriptive analytics empowers healthcare providers with the capability to do something about it, helping them take the best action to mitigate or avoid a negative consequence. 
To illustrate, a healthcare service provider might be experiencing an inordinately increased number of hospital-acquired infections. Prescriptive analytics wouldn't just stop at flagging the anomaly and highlighting who would be the next possible patient with vulnerable vitals. It would also point to the nurse who is responsible for spreading that particular infection to all these patients. It could also prevent similar outbreaks in the future by helping healthcare providers develop a sound antibiotic stewardship program.  
2. Sound Clinical Action
Prescriptive analytics doesn't limit itself to interpreting the evidence. It also allows health care providers to consider recommended actions for each of those predicted outcomes. It carefully links clinical priorities and measurable events such as clinical protocols or cost-effectiveness to ensure that viable solutions are recommended. 
To illustrate, a healthcare provider might be able to forecast a patient's likely return to the hospital in the very next month using predictive analysis. On the other hand, prescriptive analytics would be able to drive decisions regarding the associated cost simulation, pending medication, real-time bed counts, and so on. Or, it could help you decide if you need to adjust order sets for in-home follow-up. It empowers the hospital staff to identify the patient with a greater risk of readmission and take needed action to mitigate such risks.
3. Sound Financial Decisions
Prescriptive analytics has the capability to lower the cost of healthcare from patient bills to the cost of running hospital departments. In other words, it helps in making sound financial and operational decisions, providing short-term and long-term solutions to administrative and financial challenges. 
Gain the Benefits of Prescriptive Analysis
Prescriptive analytics provides enormous scope and depth as developers improve technologies in the future. It is making truly meaningful advances with regard to the quality and timeliness of patient care and is reducing clinical and financial risks. Are you ready to get on board? Contact us for help. 
Automatic control, which has been the foundation of automation, has been here for centuries. As far back as the 17th century, systems with automatic control devised for the regulation of steam engines, temperature control, and other applications. Automation has come a long way since then. Its application in the Health care sector that has been especially noteworthy since it has made huge strides in saving costs, labor, and lives! This blog will have an in-depth into how automation is revolutionizing the health care sector.
The Healthcare Industry – An Overview
Before we get into the role automation has played in the healthcare sector, it makes sense to have an overview of how the Healthcare Industry has been doing. Innovation and R&D in the past few decades have contributed to more effective medicines, improved diagnostic aids, and technological solutions to non-invasive procedures. These are naming just a few of the accomplishments in the healthcare industry.  
Along with the accomplishments, there have been a few challenges as well. The availability of quality and affordable healthcare for its people is an important indicator of how well a nation fares on the Human Development Index (HDI). The problem is that even developed countries are struggling to meet this need effectively. There are many reasons for this and here are a few of them.
1) Rising Expenditures
There are huge investments being made in the healthcare sector in terms of funding drug discovery and providing facilities. This often translates into enormous hospital bills, which reaches down to patients.
A Research Gate study showed that supply expense per patient admission in the US was estimated to be $4,470! The disproportionate constraint of health insurance reimbursements makes the problem worse. The growing demand for procedures requiring medical devices is a further strain on the pockets of health care providers. For example, the National Center for Health Statistics (NCHS) predicts that the number of knee replacements will expand by 673% by the year 2030. Identifying R&D opportunities for drug discovery also involves large expenses and involves several data assimilation and regulatory challenges. Large volumes of data and insights are involved, and this expends time and cost.
Balancing costs and health outcomes require an intelligent assessment by formulary committees, which takes into consideration numerous data variables.
2) Appointment Scheduling
A survey of nearly 500 healthcare professionals on the Top Challenges for Medical Practices showed that lost revenue from broken appointments was the top challenge with 49.5% respondents voting for this. Other challenges included:
Low response to recall efforts

Not enough staff time to call patients

Keeping updated patient contact information

Lack of an efficient way to reach patients via text message

Not connecting with enough patients with a reminder phone call
3) Security
Patients entrust private information to health care providers, including social security numbers and financial details. The theft of such data could be catastrophic, to say the least. Reports show that the highest data breach resolution costs in the United States are for healthcare data breaches, which typically cost an average of $408 per record. The time taken to identify and contain a breach includes significant losses. Above all, the loss of trust and reputation with customers could deal a fatal blow to health care providers.
What is Data Automation
Automation is when manual tasks are reduced by the use of information technology. Repetitive tasks that require least human intervention benefit the most from automation. Data automation is the process when programming takes care of the assimilation, storage, and analysis of data.
Data automation usually involves:
Extraction: Multiple open data sources are mined for relevant information.

Transformation: The data is converted into a format that can be used by machines.

Loading: The data is then fed into the system to serve as the raw material for automation.
Big Data Automation (BDA), is a broad concept that makes use of innovation and IT resources to create value. A few aspects of Big Data automation were brought out in a whitepaper by WhereScape. The WP has Barry Devlin describing Big Data automation as follows:
"The creation of a high-quality data resource has always been what data warehousing has been about. And that's what automation is about too—but faster, better and more flexible than traditional tools. With automation, we can move from IT's old need—or necessity—to control everything to empowering both business and IT people to each do what they do best. Business defines what data is needed and how it should be analyzed iteratively, with IT capturing the business needs and applying quality and production values in flight."Barry Devlin
In addition to reducing manual labor in the collection and analysis of data, automation can help reduce administrative workloads and improve patient care on many levels.
How Automation Is Revolutionizing Health Care Sector
Robotic Process Automation (RPA) is the next level in automation. This uses machine learning and AI to effectively handle tasks that are done manually. RPA has made huge strides in Healthcare. A Deloitte article entitled "RPA in Health Care Can Improve Outcomes for All "puts it well: 'RPA can help health care and life sciences organizations collect and translate patient and transactional data into meaningful, actionable formats; streamline compliance-related processes; and relieve employees of some tasks they now perform.'
Here are some ways in which automation is revolutionizing the healthcare industry:
1) Solving Rising Costs
As we discussed earlier, a major cause of rising healthcare costs is the growing demand for medical devices and the innovation costs involved in drug discovery. Automation can greatly aid in this. Recently, FDA Commissioner Scott Gottlieb revealed a budget action plan, which focused on modernizing drug and device production and using innovation to minimize costs and advance public health priorities. Some of the highlights were to enlist "as many as 10 million electronic medical records to speed the regulator's ability to address emerging safety concerns for drugs, biologics and medical devices." This would help in fast-tracking the assessment of safety and effectiveness of the drugs and devices. The collection and analysis of data would also support drug discovery and new product functions.
2) Appointment Scheduling Solutions
Consider the savings in cost and time if tasks like scheduling appointments and reminders would be automated. Apps that automate these tasks have freed up valuable staff and resources allowing them to concentrate on patient care. Some features that these apps make possible:
Schedule, Cancel and Book Appointments
Email or SMS appointment notifications
Feedback mechanism.
Extensive Reporting to minimize cancellations and refine processes.
Patient management through email and mobile.
3) Security Solutions
A manual error is often the cause for most security breaches. By automating data processing and sharing, healthcare companies can ensure that handling of data by humans is minimized. With the help of AI and automation, healthcare providers can enable alerts, monitoring, and prioritization of abnormal behavior. Predictive analysis, diagnosis, and recommendations can also be automated ensuring that the system continuously learns to detect and eliminate security vulnerabilities.
While we considered just three challenges and the ways in which automation is helping to resolve these challenges, there are many more. Fingent works with various clients in the healthcare sector to design customized applications to help automate their critical processes. Drop us a message to learn how we can help.
What better place than Hollywood to see some "futuristic technology" in action, right? I'm talking about the hit science fiction series by James Cameron, "Terminator"! How many of you remember "Skynet", the global intelligence machine that set out to destroy all of mankind in Terminator?
I'm sure none of you would have missed watching that evil machine with sensors everywhere, sending out terminators on its quest to destroy humankind.
The fact to be noted here is not that Skynet is an evil machine, but the level of technological advancement brought into light. We are more interested in the rich, sensor-driven network portrayed in the movie and what it could do. The Internet of Things (IoT)! Something that we've all been hearing about for quite some time now.
Now imagine having that kind of a network in our healthcare industry. The one industry that we all rely on, for our well being at all times in life. Imagine having that kind of sync and connectivity among all devices and people in a healthcare organization! We're talking about the Internet of Things working to save the lives of millions of people.
According to a report released last year by Swiss research firm, Soreon Research, by 2020 connected wearable devices alone could be able to save an estimated 1.3 million lives. Another report from MarketResearch.com says that by 2020, the IoT market value in healthcare will be close to $117 billion.
As exciting as that sounds, it is also likely to bring with it a huge revolution for the industry. And the good news is that, it's here finally and it's here to stay. Revolution is just around the corner and it's time for healthcare organizations to gear up to facilitate the change.
Advocates of IoT say that it will make treatments much smarter and better suited to the needs of each individual patient and will also eliminate medical errors. It is also expected to change the way that severe and costly conditions, like heart diseases and diabetes are treated.
Now the real question is, how should healthcare organizations prepare and plan for such technology oriented future? Especially when concerns related to cybersecurity still remain.
Bill Betten, Principal at Sysgineering Solutions, who has also worked for firms like Nonin Medical, Logic PD and 3 PM says, " One should definitely take advantage of the connectivity by building it in; it is hard to add it in after the fact. But I would encourage device companies to have a conversation around the strategy for incorporating into the future product offering."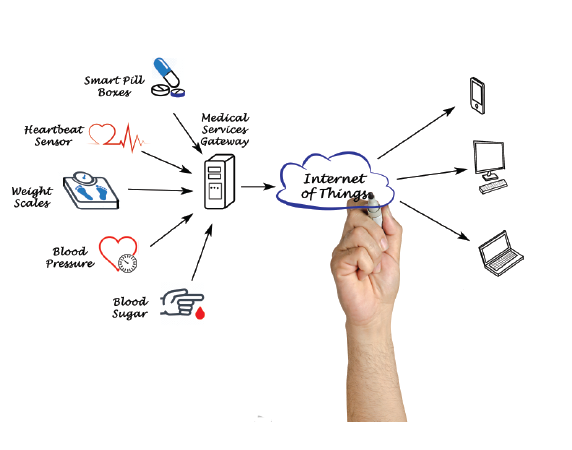 According to Betten, there are some things that could help organizations prepare for the future.
Looking back – According to Betten, a historical perspective can go a long way. He says, "I would argue that a lot of medical connectivity started in the late 80s and 90s. Looking back to this time period can give useful perspective in understanding what is happening in with IoT in healthcare."
Back then there was always the urge to digitize radiology-based imaging, but there were obviously technological and standard based obstructions for it. But in the later 90s, there were several manufacturers that came up with several methods for the same purpose and in 1997, the New York Times finally declared that digital x-ray systems were beginning to replace film-based x-rays. This was because of the DICOM standard, which evolved from the ACR/NEMA 300 standard finalized in 1985. Before the standard, all radiology images used to be disconnected. But with DICOM, images could be shared worldwide, they could be duplicated and machines from different manufactures could communicate. Other devices, such as blood pressure cuffs and oximeters, have also been advanced because of such support from the standards.
Hence, Betten says that the first lesson of the IoT is interoperability.
Value proposition – Betten feels that there is definitely a need to study the value proposition of integrating IoT into medical devices and also the entire IoT healthcare landscape, to understand how much money is being spent on using the technology for different applications. There is a need to determine the exact utility of using the technology and not just the benefits.
Although there is a lack of sufficient data supporting this fact, the most money is likely to be spent on taking care of the chronically ill. Forbes in January of 2013 had stated that 5% of the sick population is responsible for 50% health care costs. Betten feels that utilizing the IoT to bring down these figures and make the treatment of chronic diseases much more effective and efficient could be a possible investment.
Questions – As with any technology, there may be a dozen promises on the benefits of using it, but there is a need to consider the physical, social, economic and political environments as well before going ahead. When EMRs came, they had the promise of an annual savings of $81 billion annually, but in reality, they actually failed to bring down the healthcare costs. It was not a technological problem though.
Any technology like the IoT, as well as, the EMR may have great potential, but the fact remains that they may not be able to deliver the said promises because of other factors like the ones mentioned above.
The strategy needs to be thought out well and hard before deploying any solutions, considering all possible factors that can influence productivity and efficiency.
Security concerns also need to be addressed, as these days, along with the growth of technology is also the growth of ways to break in. Financial institutions are looking for advanced ways to protect the customer's money and so are hackers for utilizing identity theft to steal important data. Medical-related data always forms a huge part of such important confidential information as they can lead to Social Security Numbers and the like. Hence, it is extremely important to use high level security features with IoT.
"For the IoT to be meaningful, you need interoperability, security and a reason for putting it together. And a knack at coming up with good answers to tough questions."-
Betten