Tag:
technology innovation
Instead of reaping one of the highest revenue growth-spurts, the hospitality industry faced the toughest-time in industry history, due to the COVID-19 pandemic.
How the hospitality industry can leverage technology for a stronger resurgence in 2021 
While the industry is known as an early embracer of digital disruption, many brands struggle to gain customer recognition. Surveys reveal that even before the COVID-19 pandemic, 72% of the guests were more likely to return to a hotel having tech-led services they expected. With the onset of the pandemic, these expectations have only increased.
A recent survey by Deloitte Digital Study suggests that over 60% of travelers prefer to stay at a hotel having contactless services such as keyless room entries, voice assistants, communication with the staff using phones, and contactless check-ins and check-outs.
That said, 2021 looks promising. Travel bubbles and corridors are forming, facilitating new flows and movement and consequently hope for the hospitality industry. Some players in the industry are even leveraging technology to combat the losses due to the pandemic.
Read more: How Hotels are Using Technology for Competitive Advantage

Here, we discuss five cutting-edge technologies that can help the hospitality industry revive its lost glory in 2021.
1. Chatbots
Many hospitality industry players have incorporated chatbots in their websites, social media accounts, apps, and even phone systems.
Instead of calling a travel agent or visiting several websites to read reviews from travelers, users can simply ask their questions to chatbots. Chatbots can use data from users, interactions, and products to provide personalized deals and recommendations. Additionally, bots can make reservations, compare prices and products, and even request quotes to create convenience for customers.
Chatbots can be customized to understand complex questions, detect upset customers, and immediately direct them to a human agent who can answer them.
Interestingly, chatbots offer a good ROI. They reduce operational costs while enabling support agents and enhancing the overall customer experience.
With advances in technology, natural language processing, and machine learning, chatbots can be trained further to answer more inquiries and recognize more inputs.
Read more: 11 Tech Trends That Will Disrupt Businesses in The Next 2 Years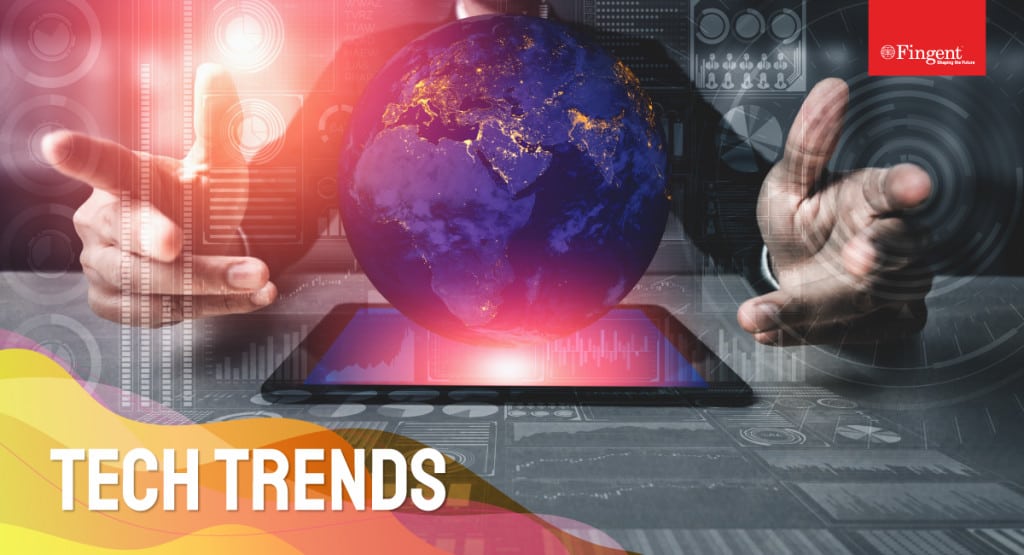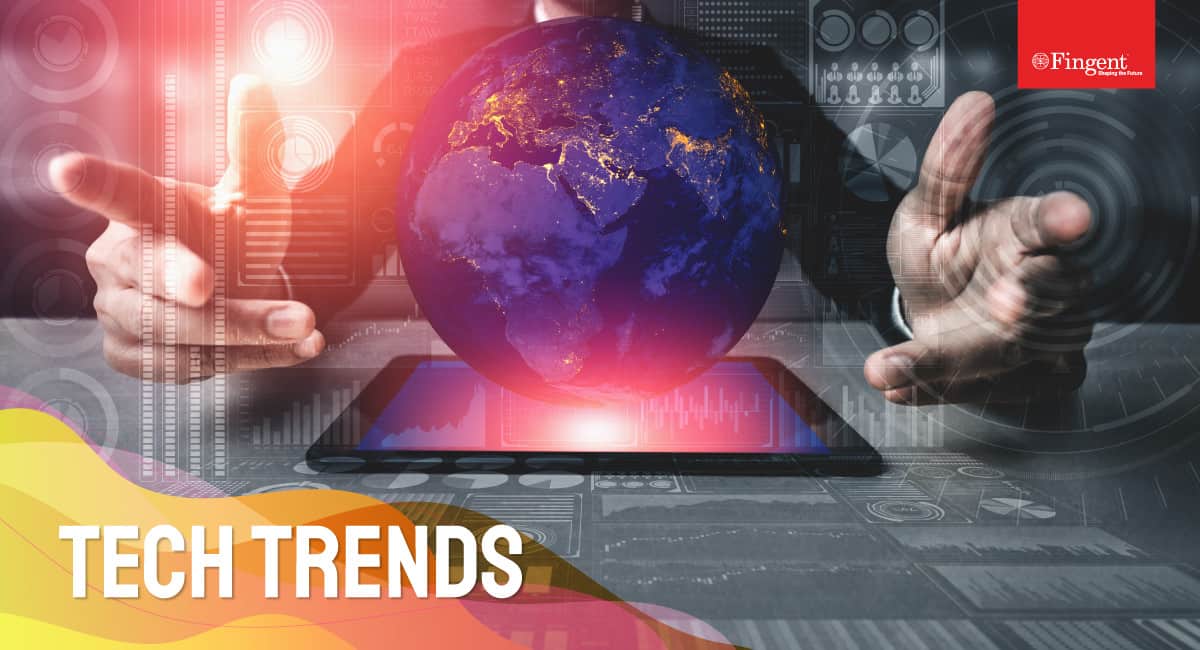 2. Cloud and Internet of Things
Cloud-based solutions help us access anything we want remotely. Along with IoT (Internet of Things) devices, cloud-based applications can help streamline operational complexities such as assigning staff duties, coordinating housekeeping, and confirming compliance with newly enforced safety and hygiene standards.
IoT helps with the remote monitoring and management of physical things in the hotel or resort premises, such as TVs, door keys, and even thermostats. Voice-based intelligent assistants such as Siri, Google, and Alexa also help control the connected devices remotely.
Simply put, hotels can benefit tremendously if their primary services are internet-based. Technology offers guests better control over their stay and experience and enables the hotel staff to get a more detailed picture of what works and what needs to be upgraded. Enhanced tools can provide guests with a superior experience, personalized communication systems, better assistance, and hygiene standards.
Read more: How Is Augmented Reality Reshaping Travel and Tourism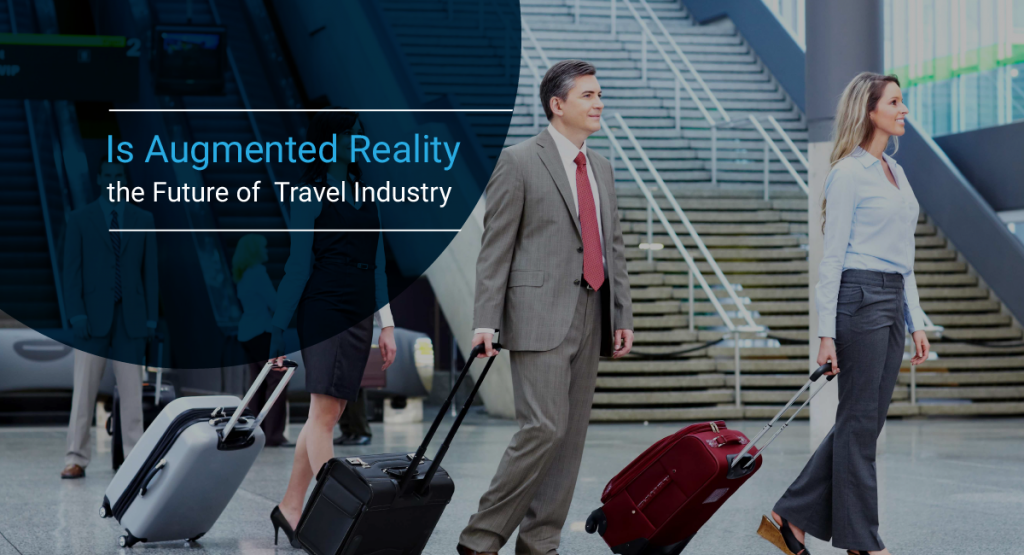 3. AI-powered systems
The hospitality industry will soon see a surge in the use of Artificial Intelligence or AI-powered systems. The system can include facial recognition with mask detection and thermal camera integration to improve safety and security within the premises.
Geofencing technologies can help brands build location-awareness apps to drive real-time updates and rebuild consumer confidence related to the tourism sector's safety. It can even allow brands to send out push notifications such as instructions, directions, special offers, or promotions to customers based on their current location or journey map. These lead to a seamless experience when combined with smart queues and touchless check-ins upon the guests' arrival or prompt them for payment on their smartphones during the check-out.
Read more: 9 Examples of Artificial Intelligence Transforming Business Today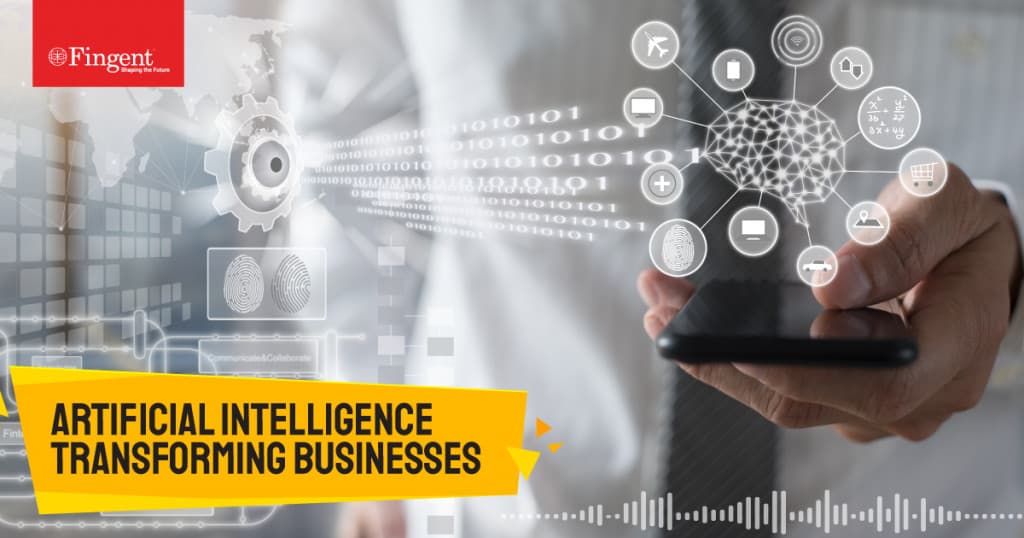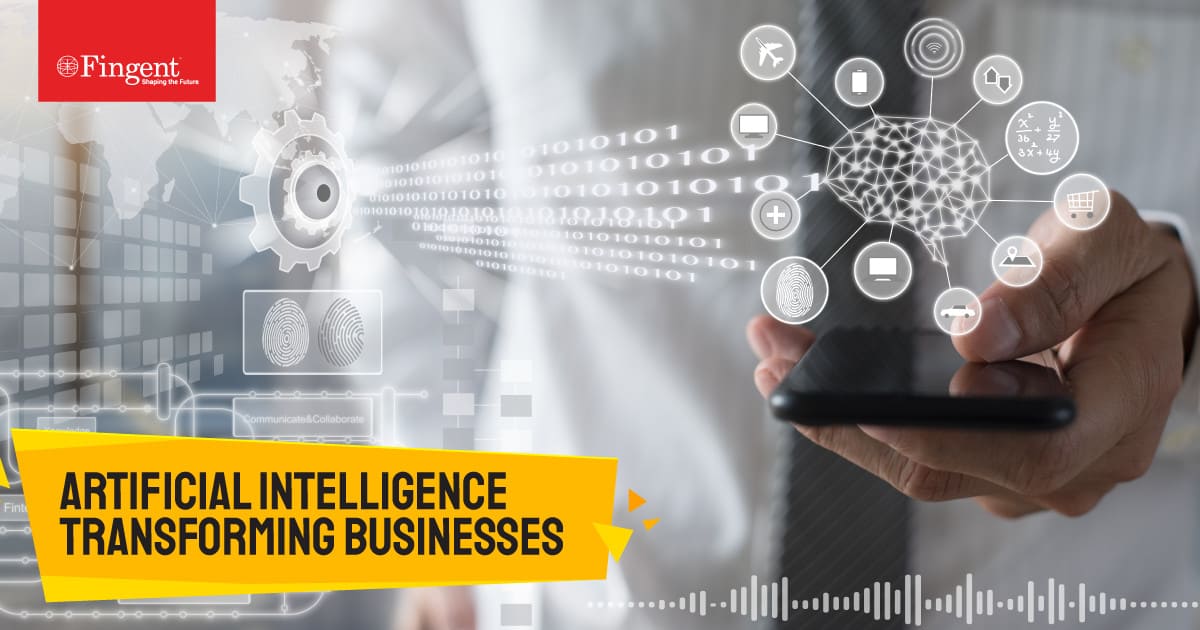 4. Mobile payment technology
Hospitality service providers can leverage mobile technology and data derived from digital payment tools such as Amazon Pay to offer personalized in-store and online purchase experiences to their customers. Typically, mobile wallets apply near-field communication (NFC), Magnetic Secure Transmission (MST), and even sound waves to communicate with the point of sales without touching it for in-store purchases. For online payments, digital wallets can autofill payment information using biometrics or fingerprints to confirm the payer's identity for added security.
Mobile banking, QR, payment links, and applications are a few additional functionalities that brands can adopt to augment and enhance the mobile payment process.
Leveraging technology to accept mobile payments come with several benefits:
While traditional payments can take around 30-45 seconds to complete, a contactless transaction is completed within 15 seconds.

Mobile payment includes two-step authentication, the limited amount that can be expended per transaction, and built-in features to prevent duplicate transactions. Additionally, the mobile payment data is heavily encrypted when stored and transferred.

Businesses can link the mobile wallet approach to loyalty programs, push notifications, special deals, and other value-added services.

Touchless/ contactless payment allows customers to keep their hands clean and restricts their exposure to the virus.
Case Study
Custom mobile app to assist travelers with personalized and quantifiable travel security content
Download Now!
5. Data Science
Restaurant chains and groups are excellent data science candidates as they generate a significant amount of data both internally and externally (social media, email, inventory, POS systems, phone calls, etc.). The pandemic is pushing restaurants and hotels to invest in systems and training their staff to make decisions based on data that would otherwise be impossible to process.
A few ways restaurants have used big data to improve their efficiency and increase sales are:
Using ordering trends and marketing analytics, restaurants can identify their most popular and least popular dishes and how a particular location and season can impact what gets ordered. This helps them optimize their menu and make informed decisions.

Big data allows hotels/restaurants to recognize patterns and predict factors that affect the inventory counts.

Through transaction data, loyalty program data, and social listening, restaurants can identify what can improve customer experience and what makes them come back.
Using data to optimize the menu can impact customer retention. Using data to improve customer retention can help modify the menu.
There's no denying that going digital is the norm today, and the hospitality industry will have to continue to adopt technology to meet the shifting customer demands. 
Read more: 10 Services Offered by Fingent to Prepare Your Business for the Future of Digital Innovation 
Fingent helps build custom, mobile-first workplace platforms for the hospitality industry that can automate your workflows, reduce your staff turnover, and enable you to deliver superior customer experiences. 
Looking to rebuild and reinvent your hospitality business in 2021? Talk to an expert right away.
Stay up to date
on whats new
Most Common Mistakes To Avoid While Implementing IoT
There are many pressing concerns about the possibilities of IoT in businesses. The most common is probably the question, "Is my business too small to adopt IoT practices?" However, as per the available statistics, the global IoT market is expected to reach $1.7T by the end of 2019.  It is surely not unnoticed that IoT implementation has helped businesses both big and small to drive growth and innovation.  
Making key errors while implementing IoT can however cause the entire business system to halt. These issues can be those related to device management, data flow across the organization, various partnerships involved, and so on. Security, scalability, cost involved, and the complexity of the system are other key factors.
Let us walk through the most common mistakes made while adopting IoT.
1. Security Concerns Associated With Technology Implementation
More than 80% of the senior executives in industries across the globe suggest that IoT implementation is crucial for positive business outcomes. Since more and more devices are connected to the global network, the highly sensitive data and applications require access restrictions to avoid any malpractices. For instance, the security scope needs to be end-to-end to support connected devices. 
An IoT implemented framework needs to be secure. The security concerns could be any of the following:
An Insecure Web Interface

Improper Authorization Techniques

Privacy Issues

Cloud Interface Insecurity 

Insecurity In The Mobile Interface

Insecurity In-Network Services

Software Or Firmware Issues

Lack Of Physical Security

Lack Of Transport Encryption

Issues In the Security Configuration
Poorly secured IoT devices and software make the IoT prone to cyber-attacks. End-to-end security is thus crucial for any IoT deployment. For instance, consider an Internet-connected car wash. Such devices use a default password. In this case, when a security concern arises, it also leads to a safety concern. 
The solution here is an external security audit of the implemented IoT device. This builds confidence to perform new IoT implementations as well. 
2. Not Being Aware Of The Critical Data Flow Forecasts
Not being able to forecast data volume can be one of the major mistakes in IoT implementation of devices and applications. According to EMC Research, the rate at which data is growing is exponential. It states that the volume of this data would be equivalent to 6.6 stacks of 128gb i-Pads which are fully-loaded, and will stretch from the Earth to the Moon!
Moreover, many businesses think that the more data they extract, the better it is for their business. Many a time, this misconception can lead to storage swelling of both structured as well as unstructured data. 
The solution is to ensure the proper working of the right IoT big data business strategy with a clear forecast on different factors. The factors could be the amount of network traffic, storage requirements, and so on. 
In case of an already existing functional data system, edge computing can be implemented to ensure intelligent pre-processing of data. 
3. Cost Factors Involved In Decision-Making Of IoT Implementation
According to recent statistics, cost savings have turned out to be the major IoT adoption criteria for over 54% of enterprises. Taking into account just the cost factor while deciding to implement IoT might turn out to be another major mistake. Various factors affect the cost of implementing IoT projects. Starting from the number of connections to the device, the type of technology used, to the type and features of the application to be loaded, there are many more. 
Hardware, let us say, is a major factor that affects the cost of IoT implementation. The cost of the IoT application is directly proportional to the number of devices used in the connection. Likewise, Infrastructure is another major factor that influences the cost of IoT projects. The infrastructure used could be wireless, middleware, or cloud-based. 
4. Lack Of Proper Plans For Device Updates And Replacements
A proper IoT device management is critical to ensure core compatibility of the IoT platform. Device reliability is the most important requirements to ensure an enterprise-ready platform. Device management operations include network, power states, device geolocation, and so on. 
Large volumes of data collection, transfer, storage, and utilization can result in malfunctioning of connected devices in the IoT ecosystem. Implementing an IoT platform enhances the integrity of connected devices. 
The solution to the pressing concern of planning can be solved through regular monitoring, diagnostics, software updates, and maintenance. Performing frequent OTA (Over-The-Air) updates helps the IoT platform in monitoring and maintaining the device software, fixing bugs, managing firmware, and in customizing the connected devices. This ensures in-depth device protection. 
Related Reading: Check out more about IoT – Where and Why should you invest!
In addition to the above-mentioned common mistakes, the following are a few other factors that can lead to IoT errors:
 Lack of setting a realistic timeline for IoT implementation – Achieving a realistic idea on the timeline of IoT implementation is necessary for a positive outcome. 
No Tolerance For Possible Failures – Implementing IoT without having a clear picture of your IoT project can be a big mistake. Leave room for scaling up new ideas. 
Relying Only On Existing Charts – IoT implementation requires dedicated decision-makers instead of relying only on existing organizational charts and decisions.
Lack Of Technical Expertise – When every part of the IoT project is either reinvented or being contracted out, you are unsure of the third-party development and deployment teams. Technical expertise is the key to a successful IoT project.
Are you looking for an efficient technology partner to help you adopt IoT the best possible way? Get in touch with our experts today for a streamlined and error-free IoT implementation for your business.
Stay up to date
on whats new
Digital technologies have permeated and disrupted almost all sectors, and logistics companies are no exception.
Optimization and efficiency, combined with speed and seizing the moment are the keys to success in today's highly competitive advantage. Technology is the key enabler allowing companies to realize these aspects.

Leveraging Technology for Strategic Planning
A report by transport and logistics analysts Oliver Wyman reveals transportation and logistics companies increasing revenue, yet having reduced profits, over a 10-year period, and come with the recommendation to "standardize and streamline structures and processes, developing industry oriented and innovative solutions, thinking and acting in terms of networks." Technology is the key enabler in this regard.
On average, transportation companies invest about 5% of their annual revenues in digital operations, with the main focus on digitizing their customer interface. The thrust these days is especially on mobile apps and solutions, to offer a personalized experience for their customers, and track the movement of vehicles accurately.  However, side-by-side companies are also increasingly using digital technology to unlock new business models, focused on the creation of value-added services and innovative solutions.

The Use of Big Data to Improve Operations
The need to cut cost and take real-time action, in a competitive environment where margins are wafer thin, require logistics companies to take greater control over their supply chain and ensure the processes take place seamlessly, at great speed. Towards such ends, logistics companies are increasingly applying Big Data technology, to capture and analyze data, to streamline their operations and optimize the supply chain.
Computers apply algorithms to crunch Big Data, unlocking insights and opportunities not possible before. Such insights enable streamlining operations and optimization of the supply chain.
Data based automation, especially automated load building and optimizing the inbound and outbound movement of cargo, enable optimal usage of available resources, reduction of waste, and facilitate lean operations.

Effective real-time fleet management solution facilitates "uberization" of trucks and other delivery vehicles, where empty containers may be utilized immediately by matching it to the nearest load. Mobile solutions enable greater transparency into the operations.

A comprehensive data based inventory and supply chain management system unlocks silos, and facilitates end-to-end visibility to inventory, orders and shipments across the supply chain. Such transparency allows improved tracking of inventory movement, facilitates the reduction of network-wide inventory levels, and enable managers to respond dynamically and in real-time to any events or issues that disrupt or hinder the supply chain.

Analytical data makes explicit greenhouse emissions and carbon footprints of truck and machinery operations, allowing companies to take steps to become carbon-neutral, thereby contributing to the cause of "Green logistics."

The combination of machine learning with supply chain management enables turning reams of passive data into actionable business intelligence. Logistics companies apply the wealth of data related to the movement of their goods and trucks to identify patterns related to customer trends, identify what works well, unearth market insights, and gain competitive advantage.
Digital Improves Security
Supply chain disruption is the number one global business risk for logistics companies. Technology enables fortifying the supply chain in many ways.
Digital locks make the inventory more secure, offer a robust layer of security, in addition to physical security.

Optimal route planning, combined with real-time tracking of cargo movement through mobile apps enable routing of cargo by avoiding congestion points and trouble spots, to minimize risks and interruption.
Internet of Things (IoT) Enhances Operations
The earliest applications of RFID and nascent IoT technology have been in asset tracking and warehouse management. For instance, rather than simply tracking inventory of pallets and crates, enterprises use sensors, beacons, RFID and other technology to gather information on the state of the connected item, such as when the "thing" requires maintenance, the expected life of the "thing," and more.
IoT contributes to highly integrated warehouse management solutions, enabling precision movement and accurate tracking of movement of goods.  The applications of IoT instruments in logistics are virtually endless, ranging from tracking transportation goods in a temperature controlled way to ensuring the correct package reaches the correct location at the specified time and more.
The trends in the immediate future include connected and 'autonomous' trucks, warehouse robotics, and smart warehouse solutions, all of which will improve efficiency manifold, speed up operations, and improve accuracy.

Technological Innovations Unlock New Possibilities
Logistics companies use technology not just to improve efficiency of operations, but also transform the way operations take place in itself. The use of robots in large warehouses, and to handle hazardous goods is already widespread, as is the driverless, remote-controlled vehicles.
The next big thing is the use of drones, especially for last mile delivery. The U.S. Government is already piloting a drone-based traffic monitoring system. Countries such as Spain, France, and The Czech Republic and others have several research projects looking into the use of drones for traffic management. The widespread use of drones would speed up things considerably, reduce the hassles, strain and inefficiency associated with maintaining an army of delivery boys, and also reduce costs considerably.
A start has already been made, with Amazon Prime Air already making legit deliveries using drones, in less than 30 minutes from the time customers place an order. When the technology becomes widespread, logistics will change like never before.

Improved Customer Satisfaction
Proactive transportation and logistics companies go beyond improving their operational efficiency and retaining greater control over their operations, to enhance customer satisfaction.
Technology propels a shift to a customer obsessed operating model, enabling the delivery of personalized and customer-focused logistics, with faster cycle times.
Hyper-connectivity facilitates not just big data, but also speed data. Speed and timeliness, manifesting in seizing the moment enable companies to match customer expectations and deliver competitive differentiation over its competitors.
It requires considerable expertise in both business operations and the latest cutting edge technology to roll out successful technological solutions acceptable by the rank and file. By partnering with us, you can piggy-bank on our vast and extensive experience in delivering highly intuitive apps and other solutions for transportation and logistics firms. Our rich talent pool, combined with extensive experience allow us to add value to your strategy, and roll out seamless apps that make your processes highly efficient, allowing you to cut costs, unlock new possibilities, and take customer satisfaction to new levels.
Stay up to date
on whats new