The COVID-19 pandemic has hit retailers hard. Overnight, malls, boutiques, and shops teeming with customers were evacuated. As the days dragged by and shutters remained close, many retailers had to let go of employees and even shut their shops permanently. We will see how, but this blog aims to show that this does not need to be the case for your retail business. You can still stay afloat, beat the competition, and rise to success with a little help from SAP!
Changing market conditions show no mercy on retailers
With the pandemic raising its ugly head, 2020 seemed to paint a dismal picture for the future of retail. Major retailers have been canceling orders and delaying payments to their suppliers. This forced some brands to store their seasonal articles or move them into distribution centers or outlets. For some retailers, the coronavirus pandemic increased the risk of bankruptcy due to store closures, while others barely made it through. 
For example, Rubana Huq, the president of BGMEA (Bangladesh Garment Manufacturers and Exporters Association), told the press that 3.18 billion orders were suspended. This had an impact on more than half of the 4 million garment workers in Bangladesh. 
At the other end, brick-and-mortar presence is seeing a shift to the online commerce environment, which picked up at an exponential pace. E-commerce proved to be a pivotal moment for retailers, making it necessary for them to invest in digital capabilities. A critical aspect of staying competitive in such unprecedented times is the growth of technology and its importance in operational success.
Read more: How Fingent Helps CFOs Gain New Insights and Reliably Enable Key Decisions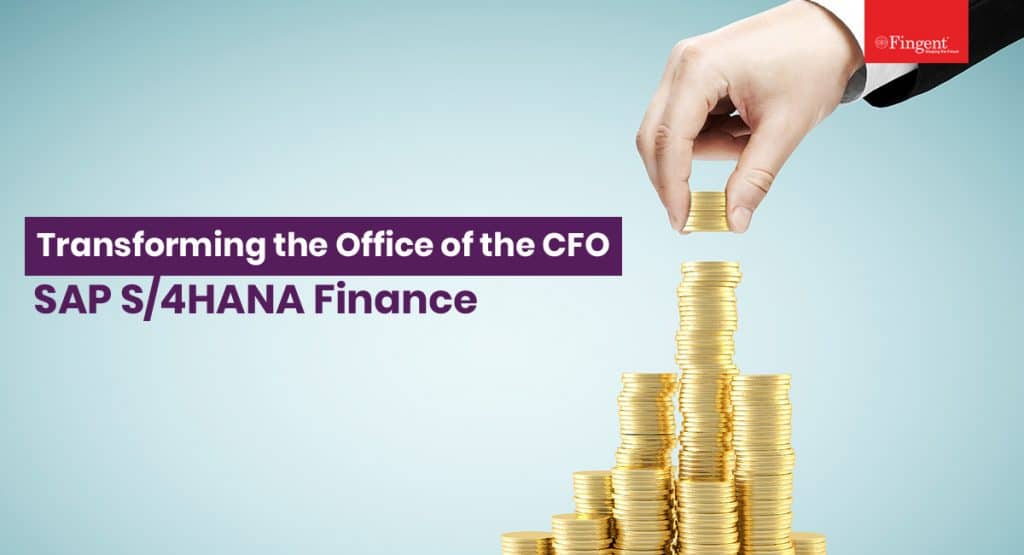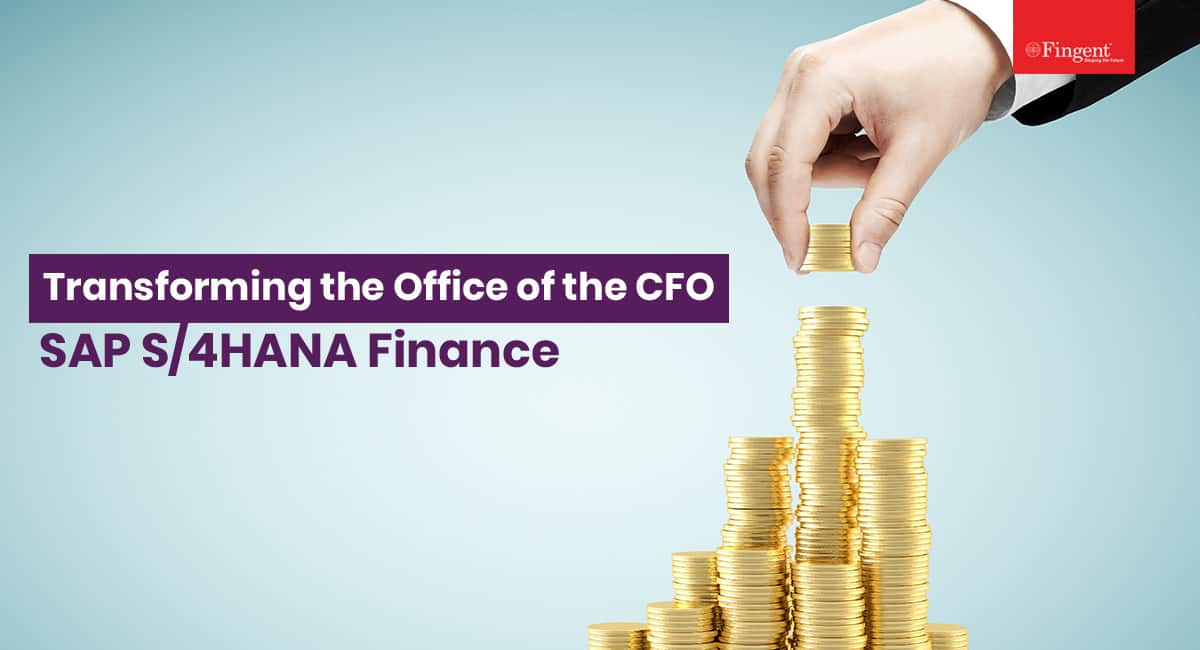 Read on to find out how SAP plays a crucial role in turning things around for the retail industry.
SAP enables a differential strategy in the competitive market
More and more companies are recognizing the advantages of implementing SAP solutions. In the current recessionary and competitive market, delaying digital transition may prove a costly misstep that retail businesses will find hard to retrieve. Solutions offered by SAP can help retailers control various aspects of their business and identify trends in customer behavior and capitalize on opportunities at the right time. 
With ever-changing customer behavior, SAP equips retailers to become customer-centric. It can help retailers analyze buying behavior by providing much-needed consumer insights. These insights will help them offer more personalized and delightful buying choices that attract customers and retain them. 
Here is how SAP equips retailers:
Provides real-time behavioral information, both online and in-store

Reduces cycle time

Helps retailers identify newer ways to find leads and build loyalty

Streamlines operational process
Also, SAP solutions can help retailers offer a real-time personalized buying experience as it influences buyers' behavior at the point of purchase. To create such a customized offering, retailers will need insight into buyers' purchase history, profile, and shopping behavior. That's where SAP solutions come to your rescue. SAP can provide retailers with all the information required to help them stay competitive. 
Case Study
Find out how Fingent automated integration between SAP SuccessFactors and SAP S/4HANA
Download Now!
SAP solutions help deal marketing and merchandise challenges
The retail industry can be volatile, especially during times like these. Retailers who manage seasonal merchandise might find it challenging to maintain multiple products and keep track of all that product data. Any incorrect data can prove costly for the organization. Such inaccurate data can also lead to a mismatch of data across all sales channels, presenting inconsistent product pricing and customers' eventual loss.
Thankfully, SAP is the backbone for merchandise management, nullifying all these challenges. It comes with a simplified data model that offers end-to-end support for all retail functions. This concept works across the product lifecycle, from master data creation to stock management. It allows retailers to create and maintain the data effortlessly while ensuring pricing consistency across all the channels. These features can increase the organizations' revenue, minimize data errors, enhance time to market, facilitate a better customer experience, and increase conversions. 
Here is an example of how SAP solution helps:
Fewer markdowns: Retailers such as consumer electronics and fashion deal with seasonal goods. To stay competitive, retailers must ensure that these products are available in good time. SAP solutions offer more efficient season management and optimized ordering. 
SAP solutions can help manage challenges in the supply chain
Inaccurate data can create challenges in planning, leading to longer response times and increasing the risk of losing the consumer to competitors. Fortunately, SAP solutions come with a single platform for all warehouse and transportation management. Features such as real-time analytics and advanced shipping capabilities can eliminate inventory challenges and enable live inventory management. 
Thus, the supply chain process becomes agile and leads to higher revenue. It can also reduce the operating cost of the warehouse. By simplifying and automating processes, SAP can redefine retail and bring value to any retail business. 
Read more: How SAP Helps Realize Voice-enabled Warehouse Operations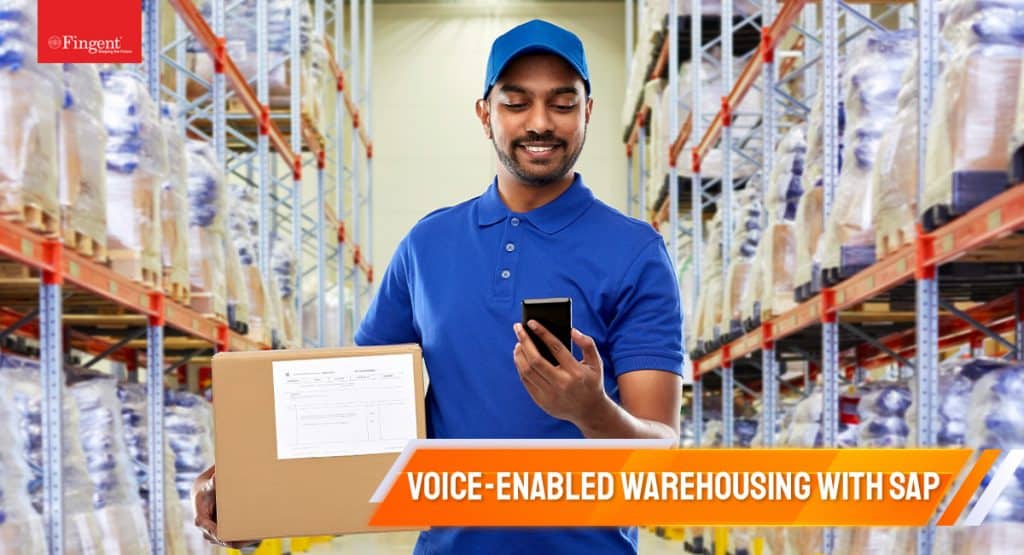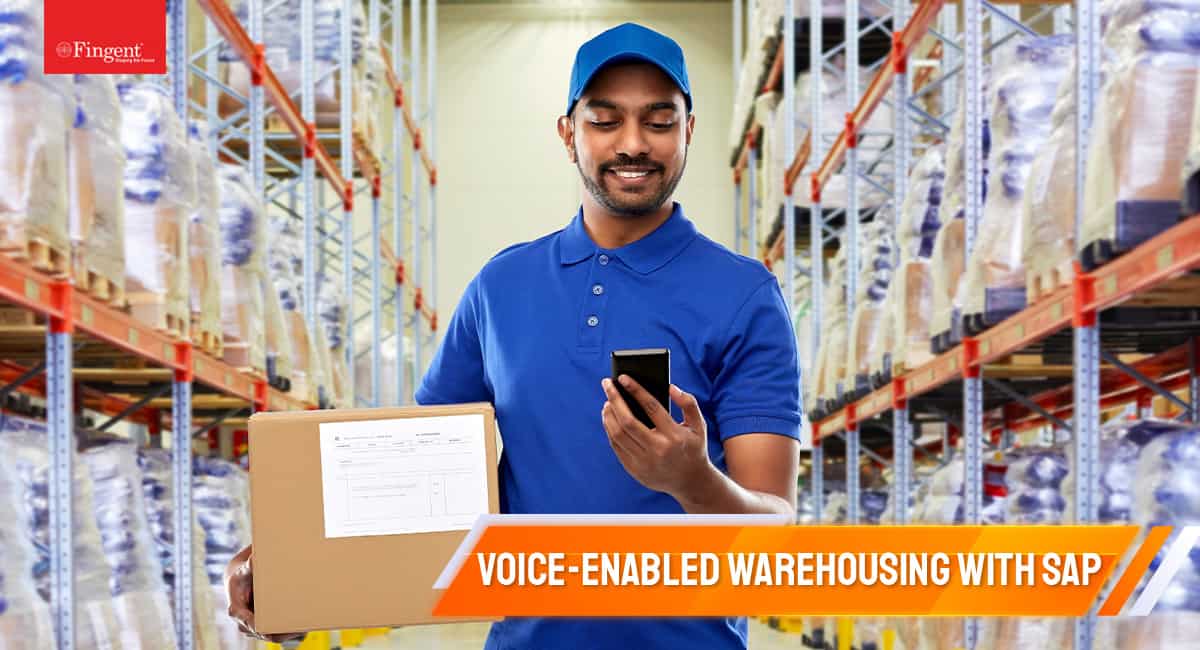 Following examples prove SAP helps with supply chain:
1. Fewer stock-outs
Supply chains are typically complex and need high levels of agility. SAP solution enables retailers to track procurement journeys automatically that helps reduce revenue loss due to the late arrival of seasonal goods. 
2. Lower inventory costs
SAP can harmonize stock information and keep it up to date. At any given point, a retailer can intervene centrally and place a repeat order when necessary. This reduces inventory carrying costs and enables better inventory management which increases revenue. 
3. Create seamless customer experiences
Retailers realize the significance of adopting sensor technology to create seamless and highly personalized business processes across all channels. SAP simplifies logistics and digital channel processes from order to payment, both in-store and online. 
Key solutions from SAP for retailers
Here are some key solutions that SAP has made available, which can help your retail business:
1. SAP S/4HANA Retail solution for merchandise management
With the SAP S/4HANA retail solution for merchandise management, you can perform necessary checks on inventory, offers, availability across stores, and more in a single, unified view. It is instrumental in engaging your customers with cross-channel interactions.
Read more: SAP S/4HANA: Redefining End-To-End Solution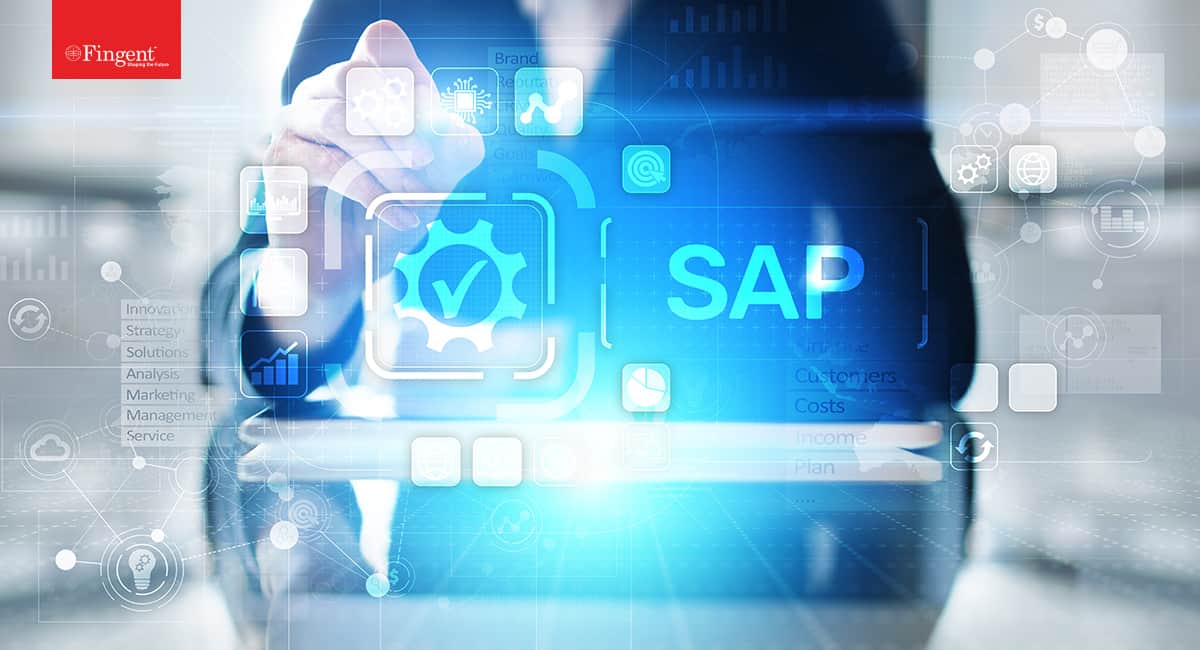 2. SAP Commerce Cloud
Through the SAP Commerce Cloud, retailers gain the ability to "launch new digital experiences with headless e-commerce capabilities." SAP Commerce Cloud empowers your retail business with Web apps, chatbots, messengers, and other capabilities to enhance your customers' digital experience, engagement, and conversions.  
Read more: Why is SAP Commerce Cloud A Complete Digital Business Solution
3. SAP Ariba Strategic Sourcing
The SAP Ariba Strategic Sourcing Suite is "a single, closed-loop, source-to-contract solution bundle for managing sourcing and suppliers across all spend categories." It helps retailers efficiently manage their direct materials sourcing without going through laborious and faulty manual processes.
Read more: SAP Ariba & SAP IBP Integration to enhance supply chain visibility in manufacturing
4. SAP Extended Warehouse Management
The SAP Extended Warehouse Management system is a brilliant solution to managing high-volume warehouse operations. It gives you complete visibility of your supply chain logistics, warehouse operations, and distribution process, giving you seamless control and maximizing the use of your resources.
5. SAP Business One for Retail
SAP Business One for Retail is a comprehensive digital solution that enables retailers to manage all their retail operations, including Point of Sale (POS) insights. It helps retailers with better inventory control, a streamlined ordering process, and seamless multi-channel e-commerce. 
Read more: SAP Business One vs. SAP Business ByDesign: Helping Businesses Pick the Best
Empower your retail business with SAP
An industry capable of adapting to new and evolving trends will rapidly recover from the pandemic's effect. SAP solutions can help retailers examine those trends in great detail. SAP is a powerful tool that allows you to gather all the essential data needed to improve your business. Powered by insights gathered with the help of SAP solutions, retailers can redefine loyalty programs and stay competitive in the current market space. 
Fingent offers custom implementation and migration services to SAP and can help you move quickly and make the best use of this technology NOW when you need it the most. Leveraging SAP solutions with a Silver Partner of SAP will give your retail business an added advantage. Drop us a message, and let's get you started. 
Gone are the days when marketing in retail, meant hours of trial-and-error based planning and strategizing. Marketing is no longer reliant on the marketer's gut feelings or intuitions. It is moving away from being an art and is becoming more of a science now.
One of the major reasons that can be attributed to this shift is big data. Yes, the endless amounts of data that are being collected by businesses on an on-going basis are changing the game for retail nowadays. Business enterprises that leverage this data through analytics, and uncover useful insights are able to make their marketing plans more effective.
Isn't it great when you are able to analyze what kind of products your customers are likely to buy, or what is the highest price that a customer of yours is willing to pay for a particular product? You get to channel your marketing efforts in the direction which is most likely to give you better profits with such information.
With predictive analytics, you get to garner all the insights necessary to personalize your marketing efforts for customers, making it much more effective and useful.
So here are some of the areas where you can use predictive analytics for personalization:
Customer engagement and revenue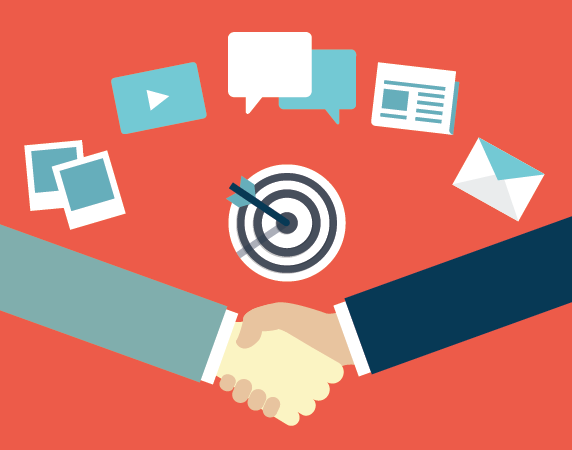 Predictive analysis helps to identify the different ways in which customers engage with retail sites. This information can be used to drive the desired level of engagement from the customers.
There are several solutions available in the market that can help you figure out or track customer behaviour. You can use those solutions to get a better understanding of what your customers are like, and have them adapt to your business model as your objectives evolve.
For example, retail giants like Amazon and Netflix, use predictive analysis to examine customer behaviour and develop solutions for their sales team to earn better and more qualified leads.
Amazon makes use of customer's past purchases, details about their virtual shopping cart items, the items they have liked or rated etc. to decide and offer future product recommendations.
Netflix makes use of ratings made by customers on TV shows and movies to offer additional movie and show recommendations.
This way, predictive analysis tools help a great deal in obtaining information which when combined with a company's already existing customer base, enables better and more effective marketing.
Better focused promotions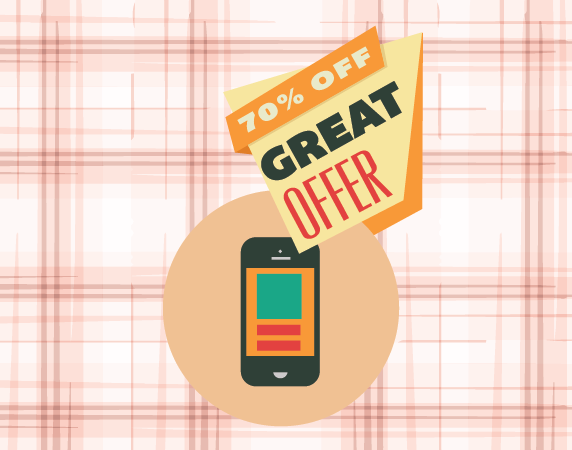 Promotions are every retail company's best friends. But to get them right and to get leads out of them, you need to make some serious effort.
Studies say that almost 98% of fast growing companies feel that targeting and market segmentation are extremely important for online merchandising but more than half of them are not completely satisfied with their promotional tools.
Predictive analysis can be used to avoid such situations and devise personalized promotional strategies that work for a particular customer or a particular segment, by combining data collected from various sources.
For example, Macy's used a predictive analytics solution that focused on targeting registered users of their website and within three months, they saw an 8 to 12% increase in online sales. They used information related to browsing behavior and combined it with product categories to send out targeted emails to each customer or market segment.
Similarly, another retailer StitchFix sends out a style survey to customers, on the basis of which the customers are given recommendations on the clothes they might like, using predictive analysis.
Inventory management
Predictive analytics can be used in inventory management as well in order to prevent out of stock situations and to reduce overstock.
One retailer that revolutionized inventory management by introducing a system of Vendor Managed Inventory (VMI), was WalMart. They made use of predictive analytics to take it to an all new level, whereby they could reduce the inventory threshold for a product if the solution predicts no immediate sales for it. This allowed them to allocate their resources on products that are greater in demand and have the potential to increase profits.

Customer service
Many retailers face issues in customer service relating to whether or not they need phone service, if yes the number of executives required for phone-based support, live chat services, prioritizing questions from customers and the like.
Predictive analysis helps to set this line straight, by building a model that specifically meets the needs of the retailer. Over time, the model or the solution can be refined and modified for more accurate predictions and improve overall customer service.
For example, Red Hat which is a Linux distributor uses predictive analysis to enhance customer service by increasing "subscriber stickiness". With their solution, they were able to provide solutions to customers, for problems they didn't even know they had.
Hotel chains like Marriott also use predictive analytics tools with the aim of exceeding their customer expectations at all times.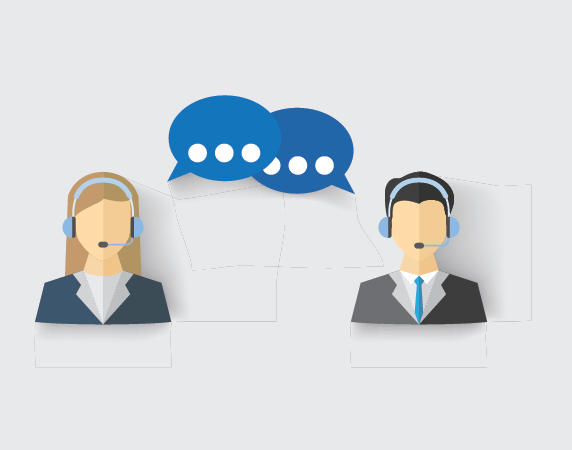 Apart from these, there are many more areas where you can use predictive analysis.
However, merely using a predictive analytics solution and dumping data in is not enough. They are not plug and play solutions, that take data in and generate revenues. You need to work with skilled data analytics personnel to make sure that your investments in predictive analytics are not wasted. You need analytics experts to make the most out of big data. Once you have the right solution as well as the right personnel in place, then you are not far away from effective marketing.
Customers these days – they want to be sitting at their favourite cafes, and be able to reschedule their IPTV installation, their annual water well checkup routine, book another appointment at their regular spa place, and also order that dress that caught their attention when they went out last night. All this at the same and from their smartphone or tablet.
That is how much consumer habits and buying behaviours have changed over time and shifted towards a more mobile centric way of things. Consumers also expect businesses to understand and facilitate these new means of interaction and commerce.
In order to meet these expectations, businesses need to adopt a more personalized approach, in their marketing and general relationship with customers. They need to embrace mobility and make it easier for customers to access their brand. To make the most of mobility, here are a few techniques for starters:
Informative online presence through mobile
Considering the mobility driven buying habits of customers these days, it is obvious that the first thing they would do when they are looking for some information, is browse online on their mobiles. They browse about the products and services they want, as well as the companies they might be interested in. Hence, it is very important that you make your mobile presence effective.
69% of smartphone users are more likely to buy from companies whose mobile sites or apps help them easily find answers to their questions.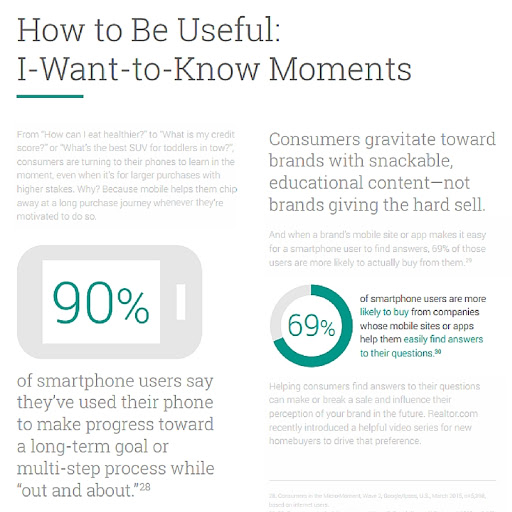 There's nothing else that turns away a customer, than a site that lacks functionality, is not easy to find or lacks important information. You don't want your prospects to leave your site and prefer your competitor's brand do you?
Well, for that you need to make sure that your site;
Shows exactly what products and services you have to offer
Shows what kind of mobile tools are available to assist in customer experience
Provides an intuitive experience for customers
Has all information related to your products and services, like features and other details, at easy access
Provides easy access to contact information about your company
Has an FAQ page, to provide a resource for customers to clear common questions related to return policy, warranty etc.
Google actually prefers responsive websites for several reasons. As a matter of fact, it has almost become the standard now.
Apart from that, time spent by the customers on the site is actually lower when it's on a mobile, which makes it all the more important for you pay more attention to site details. You need to make it possible for customers to call the company on one click.
The basic point is that, customers probably would not want to read through your entire site to get a little information, say your contact number for example. You have to give them any kind of information they are looking for and make things as transparent as possible.
Engagement
One of the most effective ways to increase brand recognition is customer engagement. It can happen through various ways like a customer call for a service booking, or a product installation call etc. For example, a live chat function can prove to be very effective in providing detailed information to customers.
You can also seek reviews and feedback through the different social media channels. That way, with the contagious nature of feedback and engagement, customers would be more inclined to respond and engage with companies that their peers have engaged with.
You need to also take feedback seriously, and address issues and questions in a timely manner, so that customers feel cared for and valued.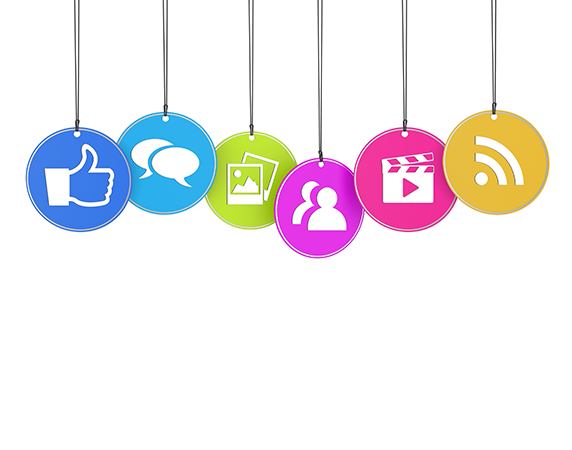 Management
Once you get an appointment from your customers, you need to be able to turn the request into an effective meeting. And for that, you need to do more than just send out meeting details through email.
People have this tendency to forget about meetings and appointments, if they are not all that important or if they were agreed on impulsively. In order to avoid such scenarios, you can make use of mobile reminders in the form of push notifications and SMSs. Whether it is just for a pick-up or a delivery, it would be good to send reminders a couple days or a few hours before the appointment.
Make sure you mention the date in the notifications or reminders you send, as most smartphones automatically detect dates in messages and emails, so as to integrate appointments into the phone's calendar. Thus, the effectiveness of reminders is increased.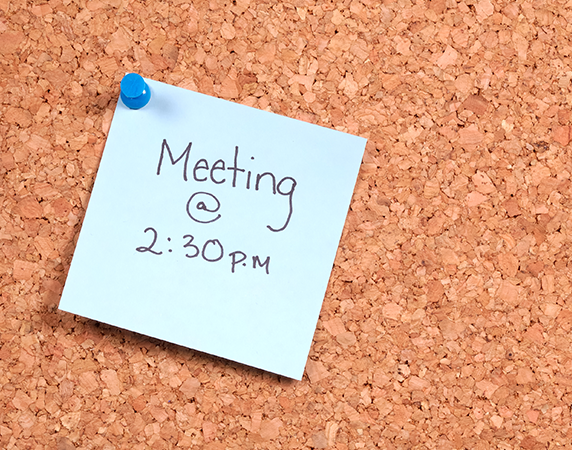 Personalization
Remember that simple thing you asked your customers to do when they first came across your site?
Registering their emails?
It is high time you made use of that. Make sure you send out personalized emails to them, depending on their likes and purchase patterns. It could be a special promotional offer for a particular customer or even a reward discount sent to their mobile.
You can also send them general information related to new promotions and offers. This makes them feel appreciated and hence improves loyalty.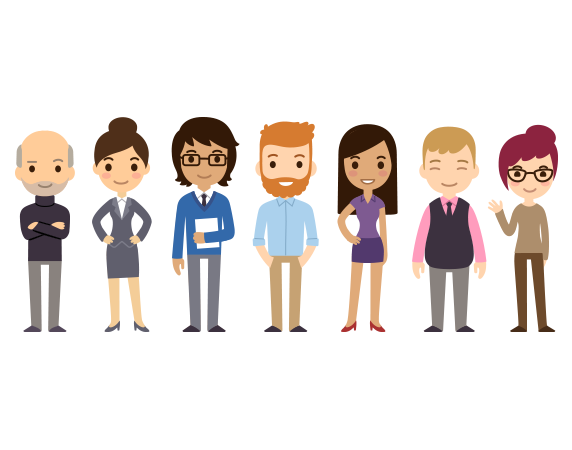 Mobility can thus have a great impact on the profits of your business, as well as your customers' satisfaction. In the long run, it will help you create a large customer base, which can be a massive support for market survival too.
Source: ThinkWithGoogle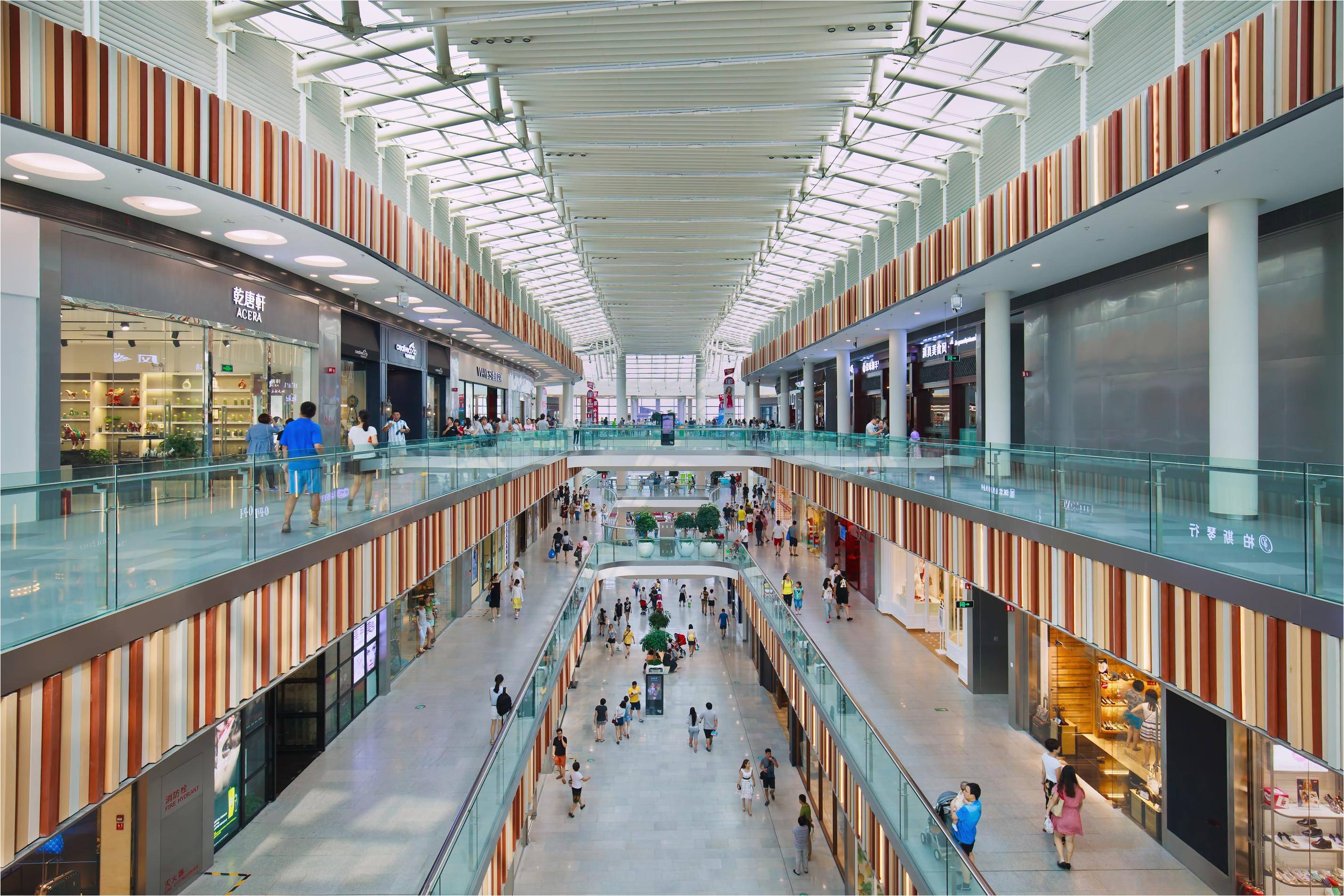 Flexibility, convenience, pleasure and less uncertainty. These are some of the factors that affect the shopping habits of consumers. According to a report by PwC, it is pretty evident that consumers are constantly looking for ways to ease their shopping experience and maximize efficiency at the same time. Hence, retailers need to think beyond regular channels in order to win over consumers and gain competitive advantage. As consumers are increasingly becoming more keen on developing their own approaches to researching and purchasing, both online as well as in stores, it is inevitable that retailers be more aware and ahead in using technology to generate more sales.
Technology is definitely the main reason for the change in consumer behaviour as is evident from the PwC report. It goes on to describe four such technological disruptions in the retail world, which are totally influencing consumer behaviour. They are as follows:
Store evolution – According to the survey, almost 36% of the respondent shoppers said that the store remains the central point of shopping for them. They go to a physical store at least once in a week. This is pretty huge compared to the ones that shop online weekly, which are 20% through PC, 10% through a tablet and 11% through a mobile phone. While the store remains to be powerful, reliable and long-lived, online shopping is increasingly becoming more popular as well. When some of the reasons were examined for the rise in online shopping, there were two predominant ones: one was the ability to shop 24/7 and another was the convenience of not having to travel to a physical store. At the same time up to 60% of the respondents also said that the ability to see, touch and try merchandise before buying them was one of the major reasons that made in-store shopping popular too. Digital disruption is taking place as there is less impulsive buying these days as shoppers depend on e-commerce websites for purchase decisions.
Mobile technology – It was proven in an earlier report of the PwC, that many developing parts of the world are fast reaching or in some cases have even crossed the US rate of mobile phone adoption. In fact, two years ago, reports had shown that 30% of survey respondents had used a mobile phone to make a purchase and this year's survey shows that 47% have. That is indeed a sign of disruption. Although, only a 29% said that they see themselves using a smartphone as the main tool for a making purchases, and only 3% of them feel smartphones to be their preferred tool for making payments and purchases. Putting this thought aside, another use to which mobile phones are being put is, comparison of prices and location of stores. It is increasingly becoming a major tool for such pre-purchase activities and serves to be medium of constant connection between the retailers and the consumers.
Social networks – When asked if their interaction on social media has led them to buy more or has affected their buying decisions, a major share of the respondents, that is, a 62% said yes, it has. It is evident in the report that the social media engagement of retailers and consumers has increased. About 34% of the respondents followed their favourite brands or retailers online, a 28% said they found brands they didn't know about or developed an interest in and another 27% said they researched on a brand using others' feedback on social media. All these figures indicate a significant increase from the previous years. Although, considering that the social media is a platform for connecting people world over, only a less majority of the people actually share their favourite products with their friends (15%) and only an 8% made the effort to connect with people who liked similar products. Aside from that, one of the major factors that attracted customers to a particular brand page was attractive deals or promotions, said by almost 45% of the respondents.
Demographic changes – Unsurprisingly, the use of social media is the most significant difference between the generation of people who have been raised in the midst of technology and social media and the other generations among the respondents. The former generation of people said to be using the social media for following brands, discovering new brands and researching, while the latter does not use it much. Another significant difference between the two generations is the use of mobile technology. When asked whether they engaged themselves in activities with a mobile device, again the "digital natives" said to be using them more often than the rest of the respondents. Most often they have used a mobile device for making payments, scanning QR codes, locating a store etc. They also seemed to want more of in-store technology as they chose in-store WiFi to be one of their favourite one. It is pretty evident from all these factors that the current generation has a different view towards shopping altogether, than the earlier generation.
All of these changes point to one thing: all the new technology, whether it is e-commerce sites, or the social media or mobile phones, they have changed the way customers shopped. There is definitely a huge impact on the retail physical stores due to such technological disruption. Customers are now looking for ways to further personalize their shopping experience and find easy ways of doing with the help of technology.
Image credits: TonyV3112 / Shutterstock.com
"Quality in a product or service is not what you put into it. It is what the client or customer gets out of it". – Peter Drucker
I couldn't think of a better explanation for the importance of service excellence than this, by the renowned business management consultant, Peter Drucker. As rightly put, service excellence is achieved when the customer or the client is most happy or satisfied with your product or service. But then again, how exactly do you achieve it?
Service excellence is an on-going journey. The better you get at what you do or deliver, the higher you will push your bar to get even better at what you do. You keep building on service excellence. I'm talking about building on your customer service excellence here. So how can you go about building on service excellence?
Here are 5 tips:
Communication – This is a bit of a cliche when it comes to quality of service. As already mentioned, customers need to be most happy. And one of the major factors to ensure that, is communicating with them. By communication, I don't just mean after sales service. You need to keep a certain level of constant communication with your customers. In other words, engage with them. It builds trust and thereby loyalty. You can have various ways to engage with your customers like special events, contests and feedback. Feedback is one activity, which not only helps in customer engagement but also helps you in knowing what your customers think of you and work on the areas where you need to improve. The more you communicate with your customers, the clearer your goals become.
Closeness – Another aspect of communication is closeness. Yes, the better you know your customers, the better you can serve them. You need to be knowing their needs, interests and expectations more than anyone for that matter. Ideally, you need to exceed customer expectations if you want delighted customers. And to exceed their expectations you need to know them today. If you get close enough, you can even predict their behaviour to some extent and you will be able to serve them proactively. Now, that is a whole new level of service excellence.
Transparency – At no cost should you compromise on transparency. Be it in terms of pricing or product or service related information or anything that is relevant to your customers. Basically, you should refrain from doing anything that might cause distrust among customers. If your customers are dissatisfied, it will reflect on your possible prospective customers as well. So, there's more at stake than meets the eye. Transparency adds to the trust factor and the benefits of that, as you know, are manifold.
Value addition – This is an extension of the principle of exceeding expectations or proactive customer service. The idea is to give your customers more than what they asked for, in terms of value. You need to add some value while providing services and for that you need to go that extra mile, pay attention to all the details, give in more than a 100% and ensure complete efficiency. You need to make your customers feel important and valued by serving them better. Following this mission of value addition in all your projects, will take you one step closer to excellence.
Standards – You need to have customer driven standards, which are realistic, measurable, attainable and time bound. By customer driven standards, I mean, ones which are determined after careful analysis of the feedback from the customers, as well as of customer behaviour through constant engagement with them. The standards so set should be implemented and measured as well, after which you can take steps to improve on them. Based on your evaluation of standards, you will find areas on which you can improve and hence set new standards.
All these are factors which basically add to the satisfaction of customers which, in turn reflects quality in the service you deliver. On the whole, it is pretty clear that it is the customers that help you achieve the goal of service excellence and the more you engage with them, the more they are satisfied, and the more you achieve.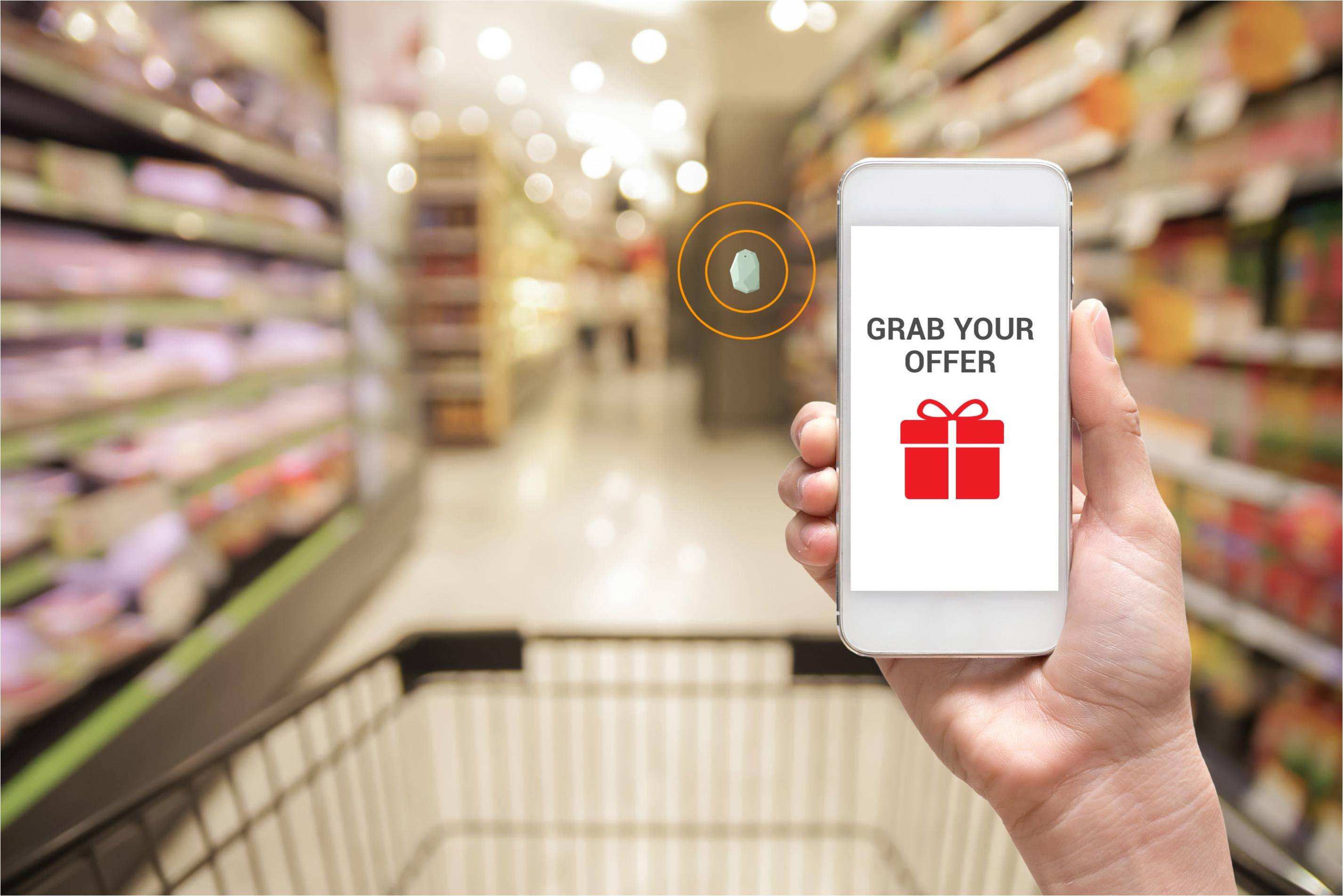 Ever since the introduction of iBeacons in mid-2013, it has increasingly gained popularity and has literally changed the way consumers search for stores and purchase products from stores, in the retail industry. That is just one industry iBeacons have influenced greatly.  There are a number of other industries which make use of this technology nowadays. Before we get into the different industry uses of iBeacons, it would be worthwhile to discuss what exactly iBeacon technology is.
What is iBeacon
iBeacon is a kind of wireless technology that uses the Bluetooth Low Energy (BLE) protocol to provide location-based information and services to devices. It was introduced by Apple and is now being used by Android as well. iBeacon makes use of a small Bluetooth transmitter known as a 'beacon'. It basically generates content or even actions through interaction with a beacon in close proximity of an app installed on your device. This works with mobile apps running on both iOS and Android devices.
For example, in a grocery store, beacons could be placed in specific places around the store and if a consumer, having an iOS or Android device walks in, the device would detect close proximity to the beacons. Retailers could use this technology to send out special offers and promotions to the consumers' devices and even make contactless payments. It Would require the use of consumer's shopping history to understand preferences and interests in order to make it more effective. This is how iBeacons can be used to enhance consumer experience.
That said, here are some other industries where iBeacon technology is being used widely:
Sports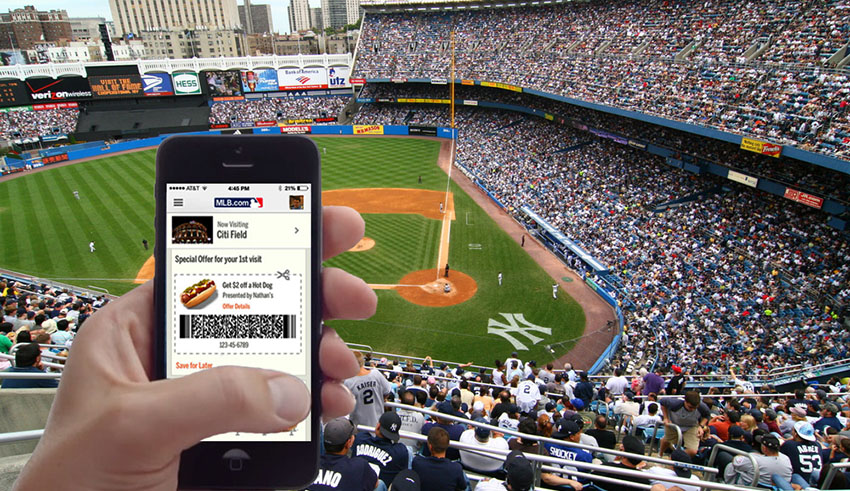 Manufacturers have tie-ups with sports associations to provide fans in sports stadiums with personalized and interactive experiences with iBeacons. For example, the Major League Basketball Association is working with Apple to serve this purpose with its Ballpark App. It welcomes fans as they enter the stadium with interactive maps that show them to their seats, gives player updates and videos about the stadium, the game etc. That way, fans feel as though they are a part of the game.
Airlines
Airports have started to enhance their services to consumers by improving on consumer experience while they are at airports. For example, Virgin Atlantic, one of the leading airline companies in the world, started an iBeacon trial at the London Heathrow Airport. The premium passengers of Virgin would receive personalized offers and alerts through their phones. Initially, they used beacons to alert consumers about keeping their electronic boarding passes ready before travel and also to send out offers regarding currency exchange. They were also able to inform consumers about entertainment facilities inside the flight before travel.
Events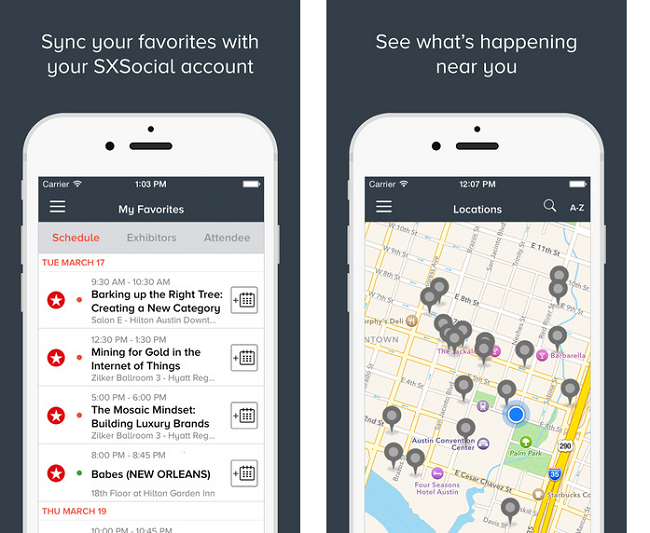 One of the most popular music and film festivals in the world 'The South by South West' (SXSW) started using iBeacons since 2014. Through their official mobile app, and with the help of beacons, of course, they were able to provide enriched customer experiences. All the attendees received their registration quick codes on their phones, as soon as they were in the vicinity of the event's registration counters. They also made use of a number of beacons placed at a number of event venues, whereby they could welcome the attendees to different sessions and also invite them to join sessions along with information about various sessions.
Electronics
In the case of home electronics, there are Apps that make your living a whole lot simpler. As a matter of fact, you don't even have to pull off your couch if using the new Launch Here app. With the help of beacons, it changes your phone into a smart personal assistant that lets you launch other apps of your choice. For example, a beacon placed in the living room sofa or anywhere else in the living room, could send you signals to launch the remote app on your phone so that you can use it as a remote or maybe even launch the TV app on your phone. You could also use beacons in other appliances like the refrigerator, to help you create a shopping list or so.
These were just some industries that use this increasingly popular technology to provide improved customer experiences. There are many other industries as well that are yet to use this, although they are well on their way. The education industry is one such example, where they are slowly coming up with new innovations that improve the interaction between teachers and students. Beacons can help a great deal in this regard.
Soon ibeacons will lead to disruptions in most industries and it will be a matter of time before they become mainstream entities in every industry. Have you seen these little beacons or better, have they made life easier for you somehow? Let us know in the comments below!