Tag: Manufacturing Industry
Evolution Of The Digital Twin Technology
What is a digital twin? Digital Twins can be best defined as digital copies or virtual replicas of physical assets. Data scientists can make use of digital twins to try and run simulations before they build and deploy actual devices. Digital Twin technology transforms the way in which the Internet of Things, Artificial Intelligence, as well as, Data Analytics is optimized.
The concept of 'digital twin' rewinds back to the year 1970 with the launch of Apollo 13. NASA's digital twin model of Apollo 13 was a famous rescue mission to assess space monitoring conditions. The concept of Digital Twins later gained recognition in 2002 at the onset of a presentation by Challenge Advisory at the University of Michigan. According to Gartner, the digital twin is one of the top 10 strategic technology trends since 2017. Gartner estimates 21 billion connected sensors and endpoints by the end of the year 2020! 
Related Reading: Checkout in detail, where and why should you invest in IoT.
Digital Twins: Enhancing IoT Enabled Industries
Data scientists build digital twins that can receive input from sensors that collect data from its real-world counterpart. The twin is then allowed to simulate in real-time. This process provides critical insights and feedback that helps in analyzing the actual system's performance. For instance, a twin car can be built digitally by validating various inputs to check on factors such as safety, mileage, etc. 
Digital Twins impact various IoT-enabled environments such as manufacturing, automotive, healthcare, financial services, urban planning and many more. The major IoT-enabled industries that can leverage the benefits of digital twin technology and how they benefit from it are as follows:
Manufacturing Industry

: The Digital Twin concept with the IIoT (Industrial Internet of Things) is implemented in the manufacturing domain. It can be designed and deployed in numerous ways such as in tracking and monitoring systems, evaluating production, troubleshooting equipment used, etc. As digital twins can predict failure chances, it helps in saving costs, time and in improving customer loyalty.

Automotive Industry:

The future of autonomous vehicles lies on well-connected road systems and vehicles. Critical data gathered from this network. The digital twins then act as simulated models that help engineers analyze the behavior of vehicles before they are used on roads. 

Healthcare:

Medical monitoring technology is used to gather critical data such as heart rate, oxygen levels, etc. This data is used in the creation of digital simulations. Digital twins help the healthcare ecosystem in disease diagnosis, remote monitoring of patients, etc. 

Urban Planning Sectors:

Vital data such as maps, blueprints of buildings, real-time data from sensors, etc are used to create digital twin models to improve urban planning services. These services include waste disposal, mobility services, providing resources like electricity and water, etc.

Asset Management:

Both worksite and remote industrial operations can be managed via digital twins with the help of remote asset monitoring services. Predictive maintenance of assets like machinery improves operational efficiencies and decreases disruption of business operations. Digital twins can also be converged with augmented and virtual reality techniques for better visualization of industrial workflows. 

Financial Services:

Customer behavior can be easily monitored with digital twin technology. It helps in creating personalized profiles for individuals via data analysis of their previous behavior in buying decisions etc. It can also simulate cash flows and balance sheets. Client needs can be analyzed better by insurance firms and asset managers and can thus provide personalized experiences for their customers. 
Digital Twin Technology: Fostering Innovation In IoT-Enabled Environments
According to Gartner digital twin will be used by 50 percent of the industries in 2021. This will result in a 10% improvement in operational efficiency in these IoT-enabled organizations. The digital twin technology is the most important Industry 4.0 technology that is available today. 
It helps in automating decision-making processes, providing critical insights into dynamic recalibration of products and other equipment in the industries, monitoring the manufacturing processes and production lines, etc. 
The digital twin technology helps in monitoring manufacturing components, assets, and critical processes in real-time. Also, it helps in improving OEE (Overall Equipment Effectiveness), increasing product quality, enhancing traceability, reducing wastage and boosting overall efficiency.
Main Data Elements in Digital Twin Technology: Key Benefits For Improved Innovation
There are three main elements in digital twins such as Past, Present and Future Data that improve efficiency in IoT-enabled industries. The past data is the data from the previous performance of individual machines etc. Present data is the real-time data from sensors, whereas the future data is the data received from machine learning algorithms and various inputs from engineers. 
The key benefits of Digital Twin IoT enabled industries are as follows:
It is important for an IoT-enabled environment to understand the relationship between different types of data within its network. This IoT data can be extracted and enhanced in the form of knowledge graphs. This helps in automating processes and improving decision-making. 
A decline in revenue is mainly due to the downtime of machines. The digital twin technology can reduce downtimes, prevent failures, and increase the life-span of machines. This not only improves productivity but also brings down the operational costs significantly and improves revenue generation. 
Digital twins provide a platform that enables IoT-enabled industries to be prompted constantly about production, operation and management activities. The virtual testing platform that it provides, simulate the real-world data into critical and meaningful insights. In addition to being a scalable solution, it also self-diagnoses problems. This makes it easy for industries to make human-machine interaction efficient and productive. 
Digitizing The Whole Industry Ecosystem
There is a rapid adoption rate of digitizing operations by industries day-to-day in order to achieve positive business outcomes. This is made possible with the steady data flow from the environmental and operational sectors of the IoT-enabled industries. 
This up-to-date and personalized data maximize profitability and productivity. In addition to being a high revenue opportunity, the digital twin technology also digitizes the working assets and processes in its entirety. 
In a nutshell, the benefits that can be leveraged from digital twin technology for IoT-enabled industries are as follows:
Reliable operations and management of equipment and production lines

Increased Overall Equipment Effectiveness or OEE achieved via reduced downtime.

Increased ability of customers to remotely configure products.

Significantly reduced maintenance costs due to preventive measures taken that aid in finding out chances of failures or machine breakdown, etc.

Improved production cycles leading to reduced downtimes.

Better productivity

Considerably reduced risks in areas of product availability, product failures, services, maintenance, etc.

Provides critical insights of past, present and future data in real-time environments.
The globe is yet to witness over 50 billion connected devices by the time period of 2020-2030 and over 7 billion customers using the web worldwide. 
For an immersive experience on how to transform your IoT-enabled industry or business with the Digital Twin technology, call us right away. We will help you gather brilliant strategies on fostering innovation with specific digital twin models!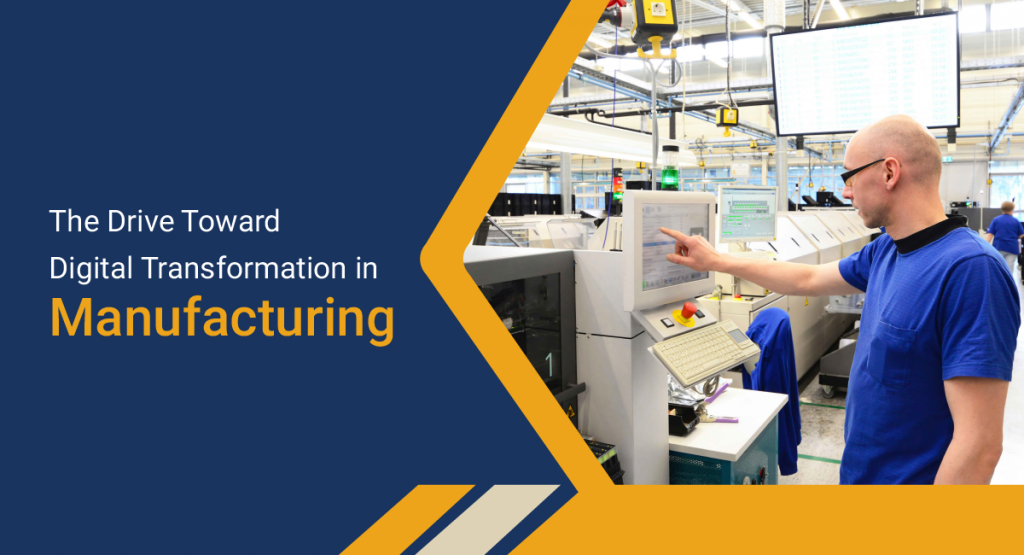 With the Industrial Internet, Industry 4.0, industrial robots and more, the manufacturing sector is seeing sweeping reforms in their processes and core functions. These reforms are making them faster, bigger and better and all of this has been possible because of digital transformation.
Digital transformation has changed the face of the manufacturing industry. From behemoth machinery and an army of workers, manufacturers have transformed themselves to a sleek, modern and more efficient entity. This blog will explore how digital transformation has made that possible. We will also see the most important digital trends in the manufacturing industry.
The Importance of Digital Transformation in Manufacturing
Change has been constant in the manufacturing industry. Right from the Industrial Revolution of the 1700s to today's Industry 4.0, the manufacturing sector has had to adapt to the changes in political climates, economic upheavals, and technology. As technology fast forwards in our times, it is imperative that manufacturers keep up. The only way they can prepare their businesses for the digital revolution of our day is through digital transformation. Here are a few ways in which digital transformation is benefitting the manufacturing industry.
1. Keeping up with Customer Demands
A recent Harvard Business Review study of 75,000 people, showed that the most important factor in building customer loyalty towards an organization is the reduction of effort. Be it in collecting information on products, customer service or getting their needs met faster and more effectively, customers value the path of least effort. This is where the speed of innovation comes in. Manufacturers need to create products that are software-enabled and connected, and they must do this before anybody else!
A digital factory design where development, production, and other cycles aren't siloed is imperative to this. Digitalization makes it possible for all these cycles to work in tandem and innovate much faster.  The vision of a "smart factory" is that it can make critical product decisions about customer demand, design, material selection, scheduling and pricing, all in one process. This would speed up innovation, create personalized products and enhance the overall customer experience exponentially.
2. Refining Processes
Manufacturing is largely a process-driven industry, so there is an incredible amount of focus on process refinement. Digital transformation makes this possible in many ways. Automation of processes is a major step in that direction. This reduces manual errors, helps automatically detect production inefficiencies, allows for the pre-testing of new ideas more economically and helps optimize the performance of workers.
Predictive disruption analytics, KPI monitoring, and other digitally enabled tools help in refining processes as they are happening. This allows manufacturers to identify weaknesses and make improvements quickly. Machine Learning enables instructions and intelligence to be built into the machines as they are developed and deployed. As these machines are intuitive, they learn from the environment and aid in the continuous process refinement.
3. Revenue Gains and Cost Reduction
A PwC survey of over 2,000 participants from companies in nine major industrial sectors and 26 countries, predicts that Industry 4.0 will drive $493B in revenue gains and $ 421B in cost reductions globally by 2020.
These numbers are realized by the many opportunities brought in by digital transformation. The digitization and integration of vertical and horizontal value chains help bring a cohesive focus to the organization's processes and production. The creation of new digitized products with analytical capabilities and integrating new methods of data collection and analysis helps manufacturers understand and cater to the needs of customers more effectively. Disruptive digital business models allow for a more agile approach throughout the organization and thus optimizes performance and cost. All this and more contribute to significant cost reductions and an increase in revenue.
Digital Transformation Trends in Manufacturing
Different technologies have opened up a wide area of possibilities in the manufacturing industry. Here are 3 Trends that are doing wonders in the manufacturing space.
1. IoT And Industry 4.0
61% of enterprises say that the "Internet of Things (IoT) plays a role in their digital business strategies with manufacturing and high-tech leading all other industries." The manufacturing industry is evidently recognizing the critical impact of IoT in gaining a competitive edge. In 2016 alone, IoT, accounting for more than $178 billion in revenue. There are many avenues where IoT has helped streamline and simplify manufacturing processes. It is also a key component of Industry 4.0 and enables connected devices. This allows for the streamlining of internal operations and the optimization of products and operations through insights from the cloud.
Industry 4.0 has also made possible the trend of mass customization, which is characterized by a better and more effective response to the demands of customers. Connectedness and mobility have led to faster innovation and response. Logistics and supply chains have also benefited greatly from this connectedness.
Related Reading: Find how IoT is reshaping industries. 
2. Machine Learning 
Machine Learning has elevated the processes and operations of the manufacturing industry in many ways. A PwC study entitled Digital Factories 2020: Shaping the future of manufacturing showed that the adoption of machine learning and analytics by manufacturers to improve predictive maintenance is predicted to increase in the next five years by 38%. Advanced machine learning algorithms are able to identify and implement improvements in processes and operations, thus leading to reduced costs and increased revenue.
A study by The World Economic Forum (WEF) discussed how manufacturers are recognizing the ability to combine emerging technologies including IoT, AI, and machine learning to improve asset tracking accuracy, supply chain visibility, and inventory optimization. Thus, in various ways, Machine Learning is greatly contributing to lowering the cost of production, improving the speed of innovation and operations and enhancing the customer experience by accurately identifying and meeting customer demands.
Related Reading: Check out this infographic to learn more on the disruptive innovation: Machine Learning.
3. Advanced Robotics
Robotics is no more confined to the realms of accomplishing repetitive assembly line tasks. Robots are now intuitive, trainable and have the ability to mimic human attributes of dexterity and critical thinking. This makes them a formidable force in manufacturing.
Robots with advanced sensors and collaborative ability are now being deployed in hazardous environments to collect information and data pertinent to the manufacturing industry's needs. This contributes greatly to providing safe working environments for humans. Apart from the physical robotic machines, Robotic Process Automation (RPA) has also grown in importance. RPA goes a step above and beyond physical tasks and replicates human thinking ability and transforms processes and operations to the next level. Recently, the term 'cobot' was coined by professors at Northwestern University in America. This underlines the significant progress in Robotic Process Automation (RPA) where robots are now able to collaborate with humans in the workspace.
Related Reading: Read on to know how robotic process can help accelerate business growth.
Owning Digital Transformation
There can be no doubt that digital transformation is the way to go if manufacturers want to keep up with competition and stay relevant. Capitalizing on these digital trends for your business need not be a daunting task. At Fingent, we help manufacturers make sense of digital transformation and adopt it successfully. We can help you make a success of your digital transformation. Get in touch with us and see how.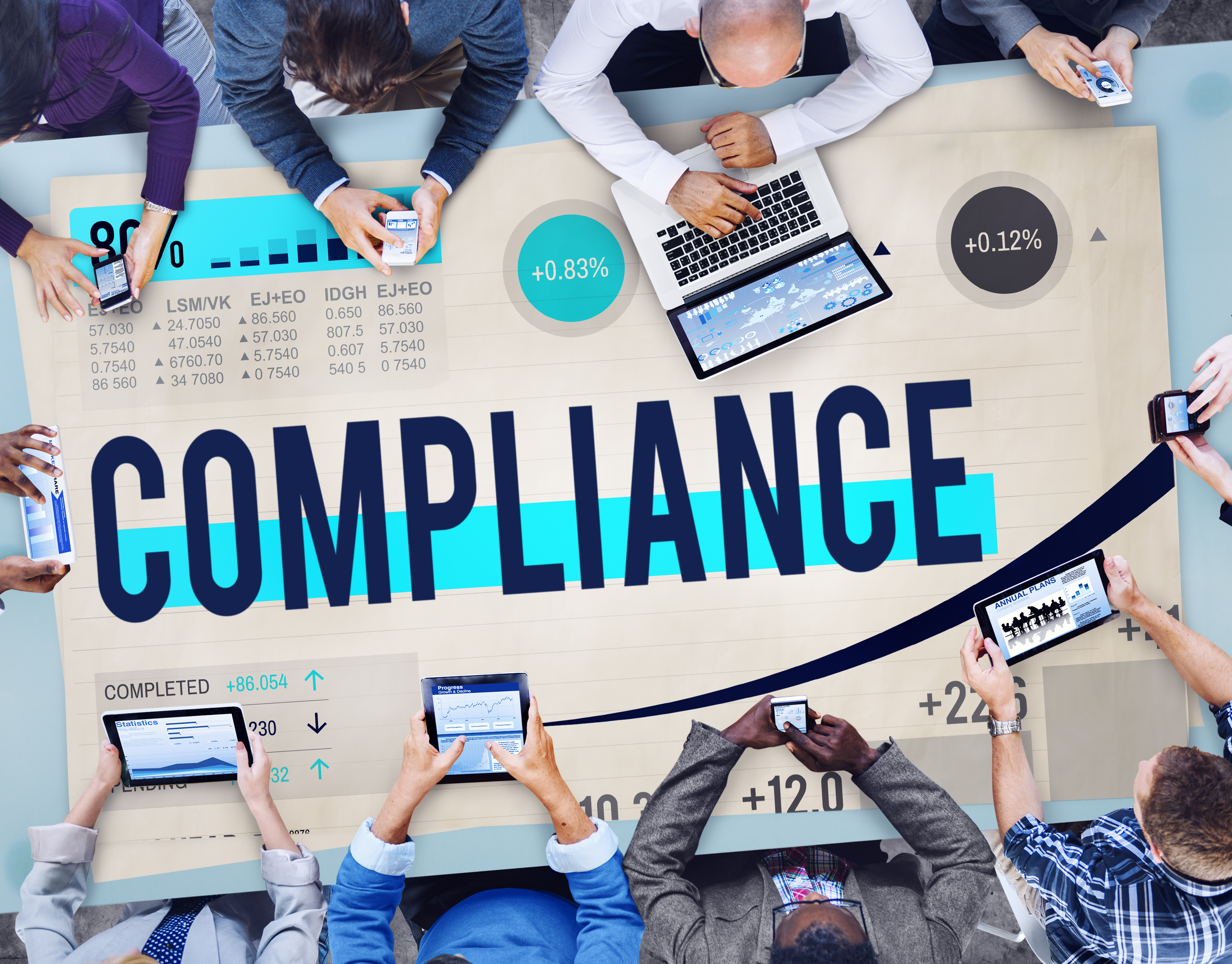 Let's think for a moment, of the technology driven world that we live in now and how much the all pervasive technology has changed the way that we all live our daily lives. From our personal spaces to the biggest businesses and industries, we have come a long way from brick sized cell phones and DVDs to sleek touchscreens and microchips to name a few of the smallest changes. With the advent of the "Internet of Things" and "Industry 4.0" or the Fourth Industrial Revolution, we have been introduced to and have infact been living with a concept called Ubiquitous computing or pervasive computing.
According to Wikipedia, ubiquitous computing in contrast to desktop computing, involves the usage of any device in any location and in any format. It basically enables a user to interact with a computer which may exist in a number of different forms such as the regular laptops, desktop computers and notebooks to sensors and terminals in our everyday objects like the refrigerator, a pair of glasses, the TV and the like. We have all come to embrace these concepts, getting used to the "things that think" around us, and having the ability to get things at our fingertips.
Such ubiquity of software has touched almost all aspects of our lives and all industries in the business landscape as well, including the manufacturing sector and the audit and compliance sector, leaving no stones untouched.
Software in manufacturing and audits
The first ever industrial robot was used in the production line in 1954, and since then, software has always played a huge role in manufacturing and production, not as a core function though, but as a supporting function. But with increasing moves towards digitization and automation of processes and procedures, especially under the Industry 4.0 umbrella, software started to assume bigger, more comprehensive roles and now we find software everywhere, from production lines to control systems. Literally every device or equipment involved in the processes are connected among each other as well as to a central unit, and are also programmable, thus making the already thin line between physical and digital even more blurred.
Considering the industry's general shift towards a more consumer-driven approach, it is indeed necessary to incorporate more flexibility, agility and control across all processes, as the pressure to deliver high quality, configurable products and services is only going to increase down the lane. All this increases the need for manufacturing companies to invest in technology, especially software based technology, so as to generate more speed and flexibility, both of which are critical to be profitable in this environment.
Business Intelligence and Performance management are two other areas in manufacturing which make use of software and data gathering on a large scale according to Gartner. Hence, the manufacturing industry assumes one of the top three positions in the list of industries looking to hire technology and software experts.
Just like manufacturing, the concept of software everywhere also redefines the scope for audits, inspections and compliance, and there are many newer challenges to face. One point of concern though, is that there may be a thousand risks and consequences associated with certain kinds of technologies and their deployments, but only little thought is put into understanding them, and even the manufacturers, lawmakers and compliance bodies know very little about many of these risks. For example, the risk of manipulation is something that most people have often overlooked and the recent scandal of the German automobile giant, Volkswagen proves this point.
The Volkswagen scandal
In September 2015, Volkswagen was issued an EPA notice after it was found by independent NGOs that they had been cheating in emission tests. It was discovered that Volkswagen cars were emitting up to 40 times more toxic fumes than permitted, which included particulates that are really harmful to the lungs especially for those with breathing related issues. They had since then admitted that they sold about 11 million cars over the last 4 years, which implies that this practice or this cheat has been going on for a quite a while.
The British newspaper "The Guardian" estimates an average of 1 million tonnes of air pollution from the Volkswagen cars every year, which is roughly the same as the emissions from all of United Kingdom, from power stations, vehicles and the like. It only means that the pollution caused by this cheat is as bad as the pollution from an entire country.
Now how did Volkswagen manage to get past all the rigorous, stringent and detailed tests conducted by the EPA, that too for a long time?
It was in the tests
All the tests of the EPA, like a cold start test, a hot start test and many others along with a 30 minute rigorous test by the Federal procedure as well, are usually specified in great detail, as are the steps in order to prep the cars for them. And unlike any other compliance tests which may have many grey areas, these tests of the EPA contain specifications, which are very thorough, detailed and extremely clear – everything that you can expect from a good quality specification.
It was this very attention to detail that enabled Volkswagen to cheat. Most mechanical parts of a car these days are managed and controlled by computers and electronic control units. These units have information about almost every single part of the car such as the speed, the angle of steering, the fuel intake etc. and such information is generated almost every instant that the car is switched on. The extremely detailed test specification and the availability of such specific information about the car enabled Volkswagen engineers to program the computers to use this information to recognize when the car was being tested. They were able to program the software to switch the car from a road mode to a calibration mode, when it recognized that the car was being prepared for a test.
Now the one thing that is crystal clear from this whole issue is the fact that it impacts all of us in the business of quality assurance and inspections. Just like cars, almost all equipment used in manufacturing and production rely on some kind of software, and software, as we know it, is a very different beast, considering the traditional equipment that we are used to, when it comes to production, manufacturing, control systems and the like.
This shows that advancements in technology only mean more vulnerabilities and challenges for compliance auditors and inspectors and more alertness from their end. So what exactly are the points that we, as auditors need to keep in mind when it comes to compliance inspections and what are the challenges that we face? Read more on our blog, Challenges For Auditors And Inspectors In The World Of Connected Devices.
Here's a webinar on the ubiquity of software in the compliance industry, by Deepu Prakash, Head of Process and Technology Innovation at Fingent Corp: